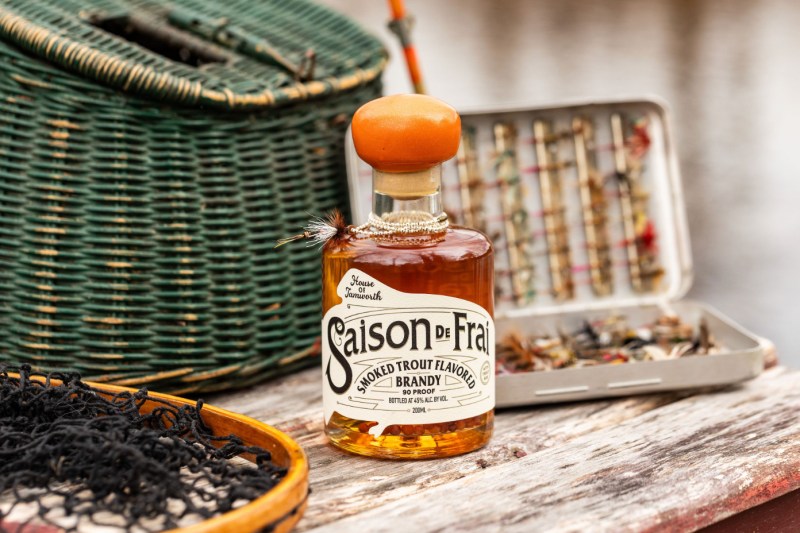 Trout is not something one generally thinks of when they imagine brandy ingredients. But if the brains behind crab whiskey taught us anything, it's to be a little more open-minded.
Saison de Frai has dropped, a brandy made with actual trout roe. Before you roll your eyes and write the beverage off as weird for the sake of weird, hear us out — this stuff is bizarre, sure, but it's also fascinating.
The distillery responsible for Saison de frai
Tamworth Distilling is behind the project. The New Hampshire Distillery is no stranger to stuff like this, having turned out Crab Trapper — a surprisingly tasty release — in the past. There's always a justifiable reason for the release beyond the obvious marketing value and shock factor. With the crab whiskey, distiller Steven Grasse was working with a surprisingly complementary flavor while spotlighting an environmental issue (green crabs being an invasive species).
Now, we've moved on to New Hampshires's state fish, the brook trout. It's near and dear to Grasse, whose distillery is set near the Swift River and its struggling population of native trout. The brandy is a collaboration with Trout Unlimited. One dollar of every bottle sold will fund the environmental organization.
What to expect from trout brandy
Let's get to the brandy, which comes in a decidedly cool bottle. It's a work of art, from the fish egg-looking top to the typography on the label. It comes wearing a dry fly (a Royal Coachman for the fly-fishing people out there keeping score at home) in the spirit of all things trout. But what of the liquid? It's made with trout roe and preserved in apple brandy. The brand likens the texture to tapioca pearls in bubble tea.
There's nothing new about flavored spirits. We've seen plenty in the last several years, from market reshapers like cinnamon and peanut butter whiskies to yuzu vodka. But we don't see nearly as many savory options, let alone fishy ones. Legend has it the distiller dreamt up the concoction while watching anglers cast for trout near his office. It follows their nature-leaning ethos, which tends to start hyper-local.
The gist is this: The brandy is made from a distillate of smoked trout, specifically sustainably farmed Riverence trout. The fish sits in brandy and then is blended with Tamworth Garden VSOP Apple Brandy (made from New Hampshire apples). It's then treated to a little scoop of trout eggs. Grasse says the beverage captures his state's terroir, with flavors of maple, orchard fruit, smoke, and a little funk for good measure. Sweet, salty, fruity, and a little wild — we're very interested.
Considering the popularity of caviar and the savory Martini craze, perhaps it's not so strange after all. You can order the brandy as we speak. We'll see if it becomes the viral sensation that the crab whiskey became.
Editors' Recommendations