You would think that, when it comes to bacon, everything has been done. After all, these days, anywhere you look, bacon is so popular that it's everywhere in some form of cheap parody. It's not just a breakfast food. I myself, at this very moment, have a tin of bacon bandaids in my medicine cabinet (they were a gift, okay?). Poor, delicious, exquisite bacon has been reduced to punchlines and tacky merchandise, and it's just depressing.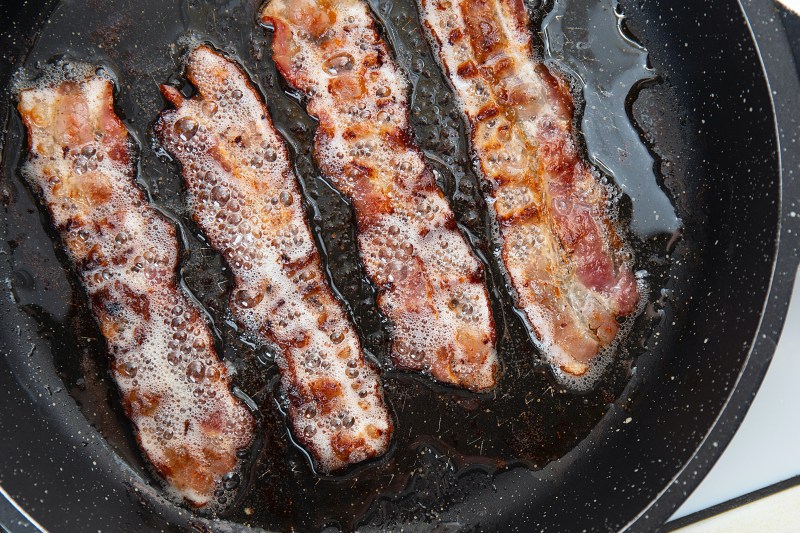 Every once in a while, though, a new tip or trick comes along that has me questioning my entire bacon-loving identity. When I learned to flour bacon before frying it, my world turned upside down. As a teenager, I started storing my bacon grease in the refrigerator, using it for…well, everything, and it's given me more delicious meals than I can count. And now, thanks to the phenomenon that is TikTok, I've learned the proper way to store my leftover bacon. Granted, it's rare that there ever is any bacon leftover, but it has happened once or twice, and this trick would have been handy in those instances.
In this video, one clever TikToker demonstrates how to use and store a half pound of bacon at a time. Her clever hack not only saves time and plastic wrap, but creates smaller slices, perfect for layering in a sandwich or fitting into an air fryer.
Without ever fussing with the oh-so-frustrating "peel here" package, she cuts the entire thing, plastic and all, in half vertically. Now holding two pieces of the bacon package, she removes the bacon from one half, then covers the remaining half with the now empty plastic packaging. She is left with conveniently shorter bacon pieces to cook (perfect for that BLT or egg sandwich), and another half pound of bacon for tomorrow's breakfast, perfectly and safely tucked away in a tidy package. Absolutely brilliant.
Editors' Recommendations