The French Dip is a classic sandwich. Originating in Los Angeles in the early 1900s (the actual origin is debatable, though there are two contenders with slightly different stories: Cole's Electric Pacific Buffet and Philippe the Original), the combination of bread, meat, cheese, and au jus is a perfect (and filling) dish for lunch, dinner, or when you're hungover AF.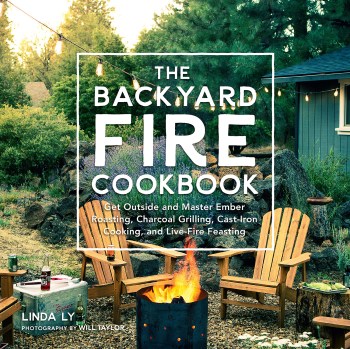 And where is one place where you might be hungover and need a meal to soak up the booze? Camping, of course. Out there in the woods, a couple bottles of cheap whiskey, a case of cheap beer, and your best buddies? We're more surprised when we don't wake up with one.
Back to the sandwich, though. We wanted a way to make this sandwich wherever we were, and a new book, The Backyard Fire Cookbook by Linda Ly (Harvard Common Press 2019) provides just the answer.
This Foil Packet French Dip recipe is perfect for camping, as it allows you to make this divine sandwich (though, admittedly not as divine as a Hot Brown), over an open fire using foil packets.
Foil Packet French Dip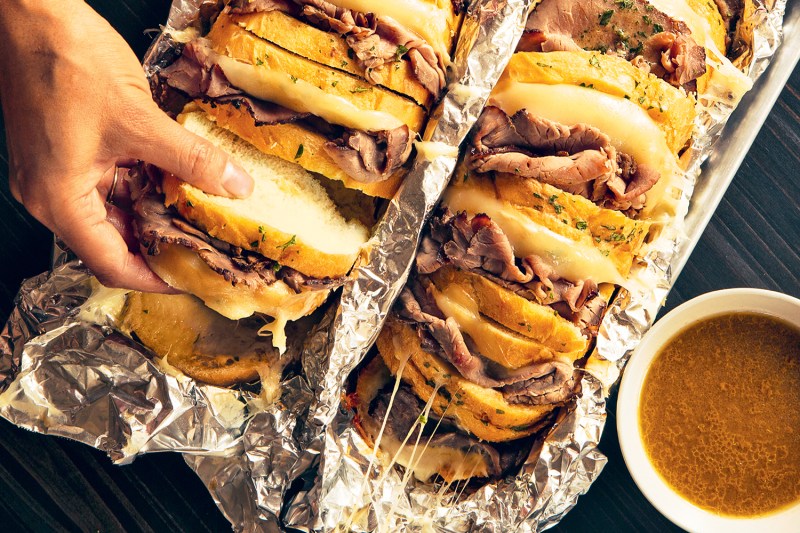 (Serves 6)
"Great for camping or casual meals at home, this nontraditional French dip is a fun pull-apart sandwich that comes together quickly, thanks to a couple of shortcuts: roast beef from the deli and a quick 'au jus' made from butter. We might not have a homemade roast or a pan full of drippings, but we definitely aren't short on flavor here. Keep in mind the au jus will only be as good as your beef broth, so it's worth using a well-seasoned homemade broth or seeking out quality bone broth from a butcher shop."
Ingredients:
Olive oil cooking spray, for preparing the aluminum foil
Ingredients for the au jus:
4 tbsp (.5 stick, or 56 g) butter
1 tbsp (8 g) all-purpose flour
2 c (480 ml) well-seasoned beef broth
.5 tsp Worcestershire sauce
Kosher salt
Ground black pepper
Ingredients for the sandwiches:
8 tbsp (1 stick, or 112 g) butter, at room temperature
1 tbsp (4 g) minced fresh parsley
1 tsp Worcestershire sauce
1 tsp garlic powder
1 tsp onion powder
.5 tsp ground black pepper
1 (1-lb, or 454 g) loaf
French bread (about 16 inches, or 40 cm, long), halved widthwise so you have 2 (8-inch, or 20 cm) loaves
Dijon mustard, for spreading
12 slices provolone cheese
1 lb (454 g) thinly sliced deli roast beef
Method:
Prepare a medium-hot two-zone fire in a charcoal grill with a grill grate over the coals.
Measure two sheets of heavy-duty aluminum foil (at least 18 inches, or 45 cm, long) and mist the surface of each sheet with cooking spray. Set aside until needed.
To make the au jus: On the stovetop, in a medium saucepan over medium heat, melt the butter. Whisk the flour into the butter and cook, whisking frequently, until the flour is incorporated and the mixture thickens, 2 to 3 minutes.
Add the broth and Worcestershire and whisk to combine. Increase the heat and bring the mixture to a boil. Boil the au jus until it thickens slightly. Season to taste with salt and pepper. Keep warm until ready to use.
To make the sandwiches: In a small bowl, using a fork, mash the butter, parsley, Worcestershire, garlic powder, onion powder, and pepper until well combined.
Cut even slits about .5 inch (1 cm) apart in each loaf, stopping just before you slice through the bottom so the slices hold together. You should have 12 equal "slices" of bread per loaf.
Spread a thin layer of the butter mixture on one side of every other slice. Spread a thin layer of Dijon on the opposite side of each buttered slice. Starting at the end of each loaf, tuck 1 slice of provolone and 2 slices of roast beef between the buttered and Dijon sides, so when the bread is pulled apart when serving they will become individual sandwiches.
Place a loaf in the center of each prepared foil sheet and lightly coat the tops and sides of the bread with the remaining butter mixture. Fold and seal the foil into packets.
Place the foil packets on the grate over direct heat. Grill for 5 to 10 minutes, turning frequently, until the bread is toasted and the cheese is melted. If you'd like to add a bit more crispness, move the foil packs over indirect heat, open the packs to expose the top and sides of each loaf, and close the grill lid. Continue grilling for about 5 minutes more, until the bread is golden brown all the way through.
Serve the French dips family style with au jus on the side and let your guests pull apart their own sandwiches.
Hot tip: If you plan to put leftover rib roast in these sandwiches, use the luscious pan drippings from your roast in place of the butter to make the au jus that much better!
Buy The Backyard Fire Cookbook here.
Recipe and image reprinted with permission from The Backyard Fire Cookbook by Linda Ly. Photography by Will Taylor. Harvard Common Press 2019.
Editors' Recommendations