What do you think of when the words "perfect sandwich" come to mind? Meat, obviously. Carbs, too. You can't forget the dairy category. Oh, and more meat (especially if it's in the form of bacon). Vegetable toppings? Sure, maybe a few. Some sort of condiment or sauce, too — you need one of them. All in all, what you should be thinking about is one specific sandwich, the Hot Brown.
Never heard of the ultimate comfort food sandwich that is the Hot Brown? Well, if you've never been to Louisville, where it was created, we will excuse you this one time. If you've spent some time on the Kentucky Bourbon Trail, though, and still have not heard of it, for shame.
Let us back up a second. A Hot Brown, traditionally, is an open-faced turkey sandwich topped with tomato, bacon, and Mornay sauce. The mix of silky sauce, crunchy salty bacon, and hearty turkey makes for a perfect dining experience (as long as you're not counting calories).
Mornay sauce is a béchamel sauce, aka cheese or cream sauce, typically made with Gruyère.
To find out more about the iconic sandwich, we sat down with executive chef Jim Adams of the historic Brown Hotel in Louisville, Kentucky, where the sandwich was invented.
The original Hot Brown, Adams says, was introduced in 1926 by then-executive chef Fredrick Schmidt. At the time, ballroom dancing was a big thing and people would dance late into the night until the sun began to peek over the horizon.
When the days got shorter and colder, business eventually declined. In an effort to find out why, the Brown Hotel staff asked their patrons.
Further Reading
"It was our guests that told us when the band would break, the only food that was offered was scrambled eggs and ham or a club sandwich. Nothing really appealing to our late night party goers! So when Chef Schmidt got the news, he quickly went into his kitchens and developed the Hot Brown sandwich. Turkeys were readily available since it was the season and the sandwich became a huge success."
The first iteration of the sandwich was topped with pimentos and served with peaches (the pimentos and the bacon being used as a pop of color on the white Mornay sauce). A little over a decade later, Adams says, the recipe was tweaked — out went the pimentos and in came the tomatoes. Eggs were also taken out in favor of heavy cream when making the Mornay sauce. Those peaches? Gone with the wind.
"There was even service here at the Brown which the delicate Mornay sauce was prepared tableside in the infamous Bluegrass room. Today you can find an easygoing recipe on the hotel website or hotel postcard throughout the Brown Hotel," Adams says.
"The recipe itself is passed down from executive chef to executive chef. Number one rule: 'Do not mess with the Mornay recipe.'"
Since the 1920s, the sandwich is one of the most popular items on the menu (so much so that they have developed a number of other iterations, including an appetizer (mini Hot Brown), half-size Hot Browns, vegetarian Hot Brown, Hot Brown casserole, and Hot Brown fries). Adams says they will make around 27,000 in a year, with 1,000 of those being prepared during the Kentucky Derby festivities. To make those, Adams says they produce 30 gallons of Mornay sauce every day.
"It takes a lot of practice to get the sauce to perfection, as a matter of fact, only three people in the kitchen know the sauce recipe and have mastered it!" he says. "The recipe itself is passed down from executive chef to executive chef. Number one rule: 'Do not mess with the Mornay recipe.' A credo every chef lives by here at the Brown!"
Not heading to Louisville anytime soon? Lucky for you, The Brown Hotel has its recipe readily available.
The Legendary Hot Brown Recipe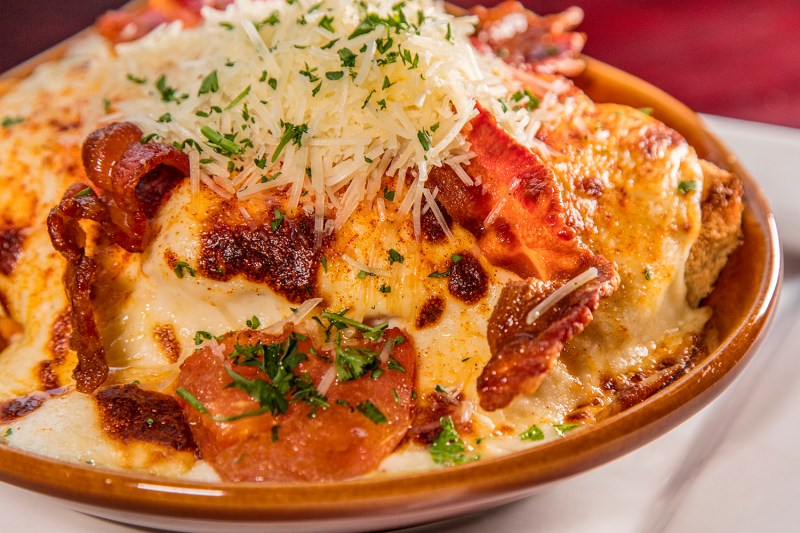 (Makes 2)
Ingredients:
2 oz whole butter
2 oz all purpose flour
8 oz heavy cream
8 oz whole milk
.5 cup of Pecorino Romano cheese (plus 1 tbsp for garnish)
Pinch of ground nutmeg
Salt and pepper
14 oz sliced roasted turkey breast, sliced thick
4 slices of Texas toast (crust trimmed)
4 slices of crispy bacon
2 Roma tomatoes, sliced in half
Paprika
Parsley
Method:
In a two‑quart saucepan, melt butter and slowly whisk in flour until combined and forms a thick paste (roux). Continue to cook roux for two minutes over medium‑low heat, stirring frequently.
Whisk heavy cream and whole milk into the roux and cook over medium heat until the cream begins to simmer, about 2‑3 minutes.
Remove sauce from heat and slowly whisk in Pecorino Romano cheese until the Mornay sauce is smooth. Add nutmeg, salt and pepper to taste.
For each Hot Brown, place two slices of toast with the crusts cut off in an oven safe dish – one slice is cut in half corner to corner to make two triangles and the other slice is left in a square shape – then cover with 7 ounces of turkey.
Take the two halves of Roma tomato and two toast points and set them alongside the base of the turkey and toast.
Next, pour one half of the Mornay sauce to completely cover the dish. Sprinkle with additional Pecorino Romano cheese.
Place the entire dish under a broiler until cheese begins to brown and bubble.
Remove from broiler, cross two pieces of crispy bacon on top, sprinkle with paprika and parsley, and serve immediately.
Editors' Recommendations