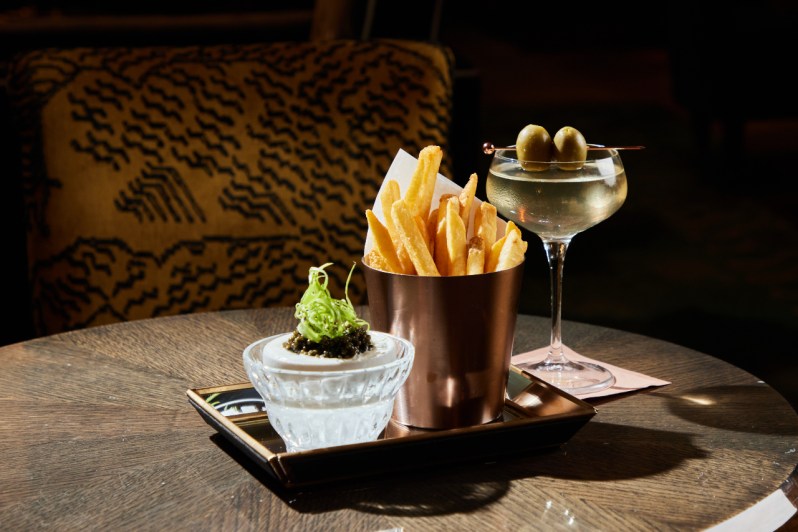 The next time you sip an elegant, icy martini, pair it with some salty, perfectly fried French fries. While the pairing might seem unconventional, it's actually a perfect combination. At Lounge on Pearl, a cocktail lounge located at The Wall Street Hotel in New York's Financial District, this pairing is a highlight for a simple reason — the contrasting flavors.
"The saltiness and richness of French fries contrast beautifully with the clean, crisp, and slightly bitter flavors of a martini," according to The Wall Street Hotel culinary team. "Both French fries and martinis are known for their simplicity and elegance. This pairing represents a combination of comfort food and a classic cocktail, creating a sense of indulgence without excessive complexity."
The best kind of frites for a martini
For the French fries or frites, Lounge on Pearl opts for the classic russet potato. To prepare, the potatoes are double-fried in a blend of oil until crispy. At Lounge on Pearl, they prefer a thicker, longer French fry (in sharp contrast to shoestring fries) and garnished simply with salt. According to The Wall Street Hotel culinary team, "We believe that simplicity is the ultimate sophistication when it comes to our classic salted fries."
While a simple mayonnaise or ketchup are great dipping sauces for fries, Lounge on Pearl recommends an indulgent accompaniment — luxurious caviar. At the cocktail lounge, they serve their caviar on top of scallion crème fraîche. The rich flavor of caviar adds a briny punch to the crispy fries that, when also combined with creamy crème fraîche, is simply delicious.
Manzanilla Martini
While there's a dizzying variety of martinis, generally, most martini recipes will be a great pairing for French fries. At Lounge on Pearl, they offer several kinds for the frites pairings, including their rendition of the classic vodka martini, the Not-So-Dirty, featuring an olive-adorned coupe with olive oil-washed Grey Goose and dry vermouth, or the Pearl Martini, a sweeter and contemporary blend of Japanese Roku gin, Italicus and Lillet. But the Manzanilla Martini is the best martini to pair with French fries if you're looking for something dry, briny, and umami.
"The Manzanilla Martini is a slightly wet (vermouth forward) martini that shares vermouth and sherry," said Amy Racine, Beverage Director of JF Restaurants. "Sherry is a style of wine from Southern Spain that is distinctive for its saline qualities. It's quite briny with aromatics, as if you are standing by the ocean. When in a martini, it's almost the effect of dirty without the flavor of olive — a bit cleaner. We love this cocktail paired with salty frites to echo the brine in the cocktail and the proof of gin to cleanse the palate."
Ingredients:
2 oz Bombay Sapphire Gin
¾ oz Valdespino Manzanilla Deliciosa Sherry from Jerez, Spain
½ oz Vermouth Routin Blanc
Method:
Build all ingredients over ice, stir to chill, and strain into a chilled martini glass.
Garnish with an anchovy-stuffed Castelvetrano olive and a lemon twist "flag."
Editors' Recommendations