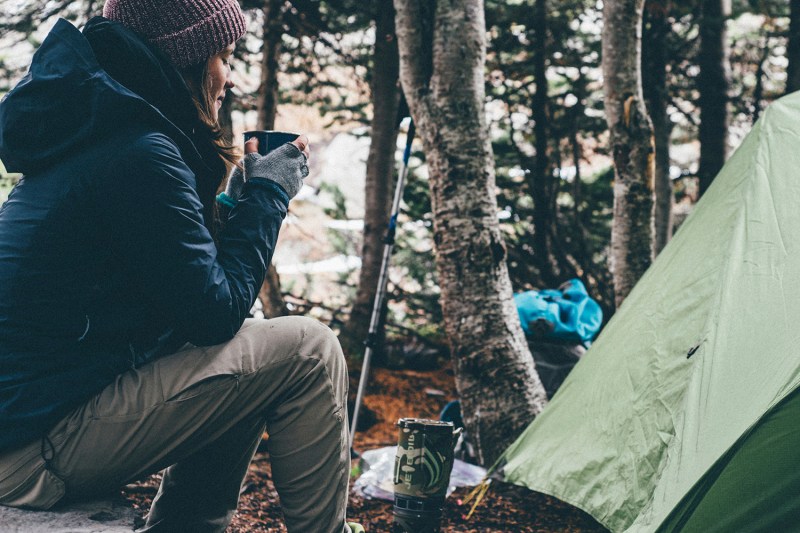 Savvy world travelers know the single most important thing to pack is their passport. Without it, nothing else matters. For most campers, that one most important thing — the crown jewel of every camp load out — is coffee. Some would rather forget their underwear, their best backpacking tent, or their significant other at home than head out into the wild java-less.
There are plenty of ways to brew the perfect cup at home and almost as many for doing so in the wild. Most campers have pretty strong opinions on their preferred method — the right way, if you will — to make the best cup o' joe. We're not here to tell you which is best, but we can help steer the ship. Here is our favorite go-to gear for making great coffee while camping (or traveling or anywhere on the go, really).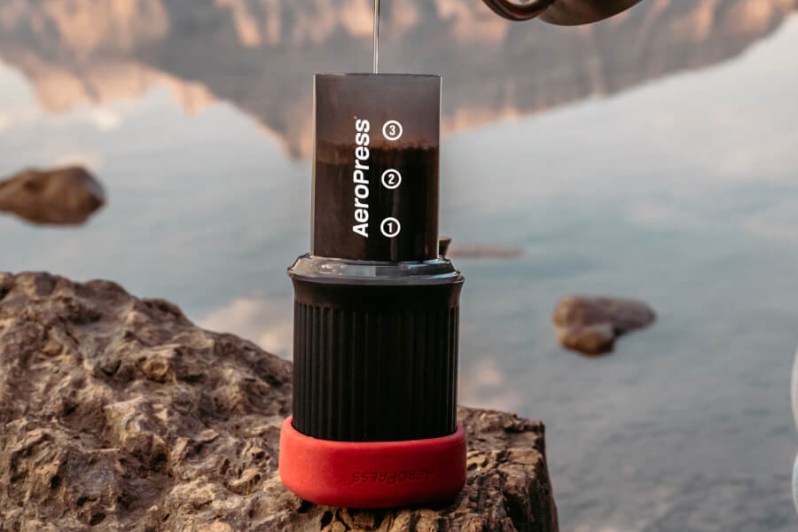 AeroPress Go Portable Coffeemaker
If you're serious about making great camping coffee, there are two real contenders: A French press or an AeroPress. We like both. But for sheer convenience, ease of clean-up, and overall taste, we give a slight edge to AeroPress, and its AeroPress Go, in particular. We also like how easy it is to adjust the brew strength.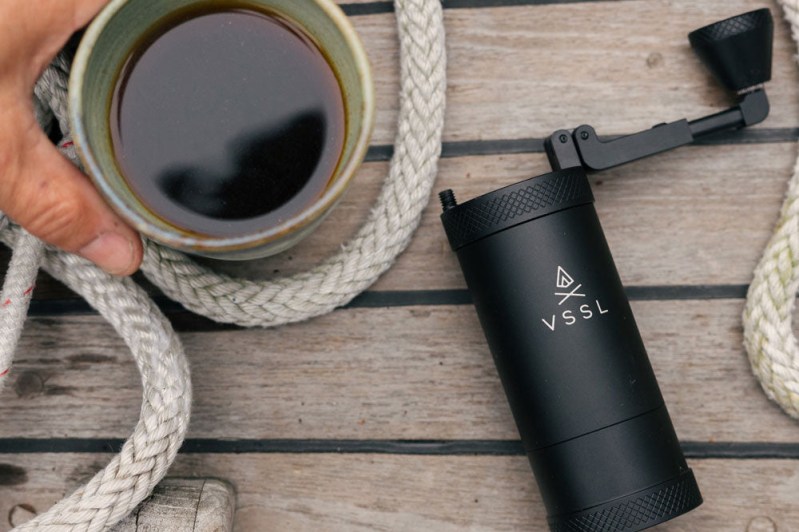 VSSL Java Coffee Grinder
Good, fresh coffee starts with good, fresh grounds (more on that below). Most of us don't want to pack the electric countertop grinder in our camping backpacks. VSSL's Java Coffee Grinder is the next best thing. The beautiful design packs down ridiculously small, so it takes up little space in your pack, and the included carabiner makes it easy to stash wherever you need it. When you're ready to brew, just pop open the handle, and you can have 20 grams of fresh ground — perfect for a single cup — in less than a minute.
Frazy Flavored Ready-to-Drink Coffees
If you're more of a "Trenta latte, extra whipped" drinker than a "double espresso, no sugar" sort, Frazy delivers the goods. The company's ready-to-go coffee drinks are completely customizable. Start with your preferred flavor — say, Vietnamese Coffee — then customize it with your type of milk and sweetness level. Every bottle comes ready to drink, so all you need to do is pop the top and enjoy. Bonus: No refrigeration is necessary, so they're backcountry-friendly.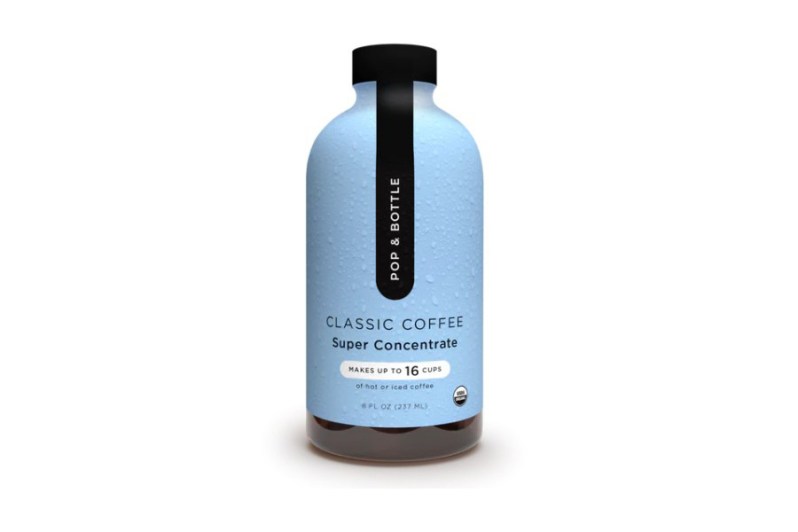 Pop & Bottle Super Coffee Concentrate
Of course, packing a handful of ready-to-drink bottles of specialty coffee is fine if you're planning to car camp. But it's less than ideal if you're eyeing a trip into the backcountry where space and weight matter. Pop & Bottle solves that problem with a unique coffee concentrate. Every eight-ounce bottle of concentrate makes up to 16 cups of joe. Drink it piping hot, add ice, or customize it with your favorite creamer or sweetener.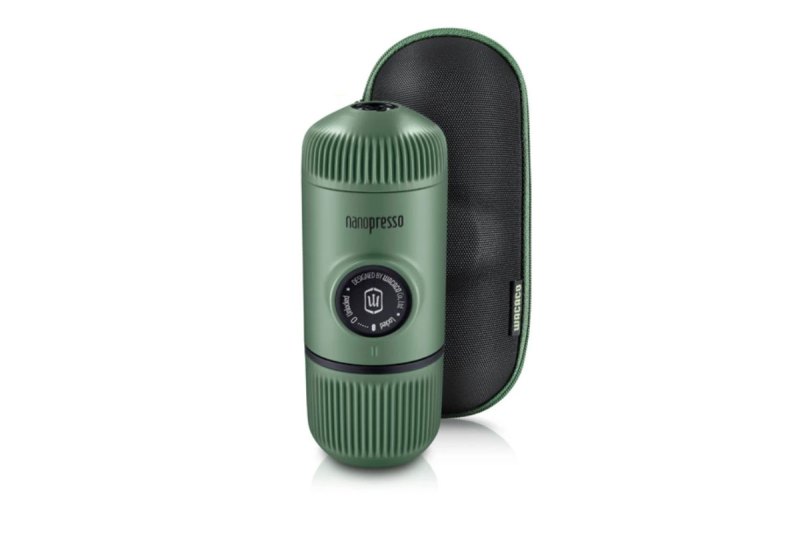 Nanopresso Portable Espresso Machine
Coffee is fine, but if espresso is your jam, you need a way to make it on the go. Wacaco's Nanopresso Portable Espresso Machine packs everything you need to make a solid cup of black into a ridiculously compact footprint. Fully collapsed down, it'll fit inside your favorite water bottle with room to spare. Plus, it requires zero batteries or electricity. Just add coffee grounds, hot water, and less than 60 seconds of elbow grease, and you have the finest espresso shot you've ever sipped in the wild.
Death Wish Coffee Dark Roast Instant Coffee
For decades, instant coffee got a bad rap. But we're living in 2023, and Death Wish Coffee finally figured out how to actually make it good. Its Dark Roast Instant Coffee is, hands-down, the simplest way to prepare a cuppa in the wild. The packets are ultra-compact and only require adding hot water and stirring with minimal waste and zero prep work involved. They're even astronaut-approved! But be warned, every packet contains a whopping 300 milligrams of caffeine — that's more than three times stronger than ordinary coffee.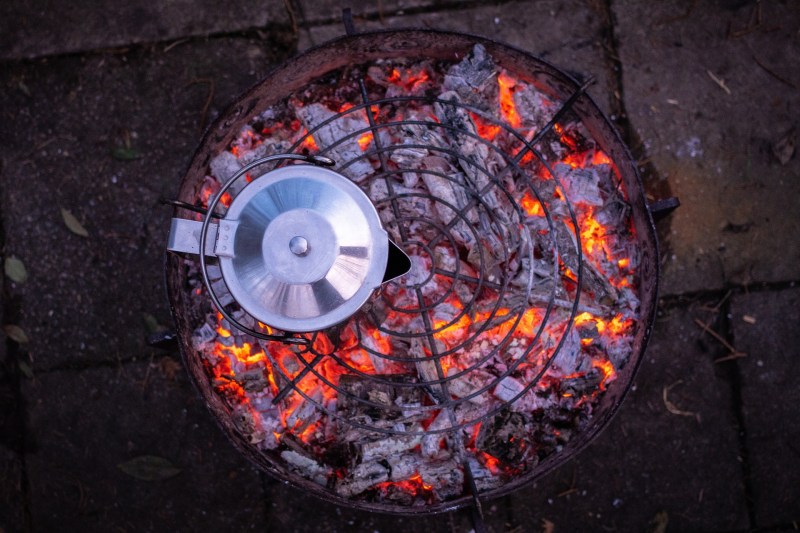 A few final tips for making great camp coffee
No matter which camping coffee-making option you choose, there are a few universal tips to ensure an optimal brew. These apply to every method, from making cowboy coffee to your camp-friendly French press to a Nanopress.
Use the highest-quality coffee you can afford
Coders and chefs know, "Garbage in, garbage out." Your final product is only as good as the ingredients you start with. Good coffee doesn't have to cost a fortune. But, in general, more expensive coffee is usually better quality. That's why we suggest buying the best quality coffee you can afford.
Start with whole beans and grind fresh
There's no denying that already-ground coffee is easier to pack and work with when you're camping. But coffee starts to go stale rather quickly once it's ground. For the best-tasting cuppa, we highly recommend grinding your beans fresh right before brewing.
Get the water temperature right
It's easy just to wait till your water's boiling to assume it's ready. But boiling water can (and usually does) actually burn your coffee grounds. The ideal hot water temperature for camping coffee is around 200 degrees. To achieve this in the wild, bring your water to a boil, then take it off the heat and let it sit for about 30 seconds. Then brew your coffee.
Editors' Recommendations