If you've never had homemade chimichurri, you've been missing out on one of the brightest, tangiest, zippiest, most delicious sauces in the culinary kingdom. Perhaps even more significant than its exquisite flavor is the fact that it's tremendously simple and risk-free to prepare, making it a rare jewel in the sauce crown. With just a few simple ingredients thrown into a blender or food processor, this luxurious condiment comes out perfect every time. No need for temperature control or worries of breaking or curdling. This forgiving chimichurri sauce recipe is divinely idiot-proof and perfect on everything from a hearty grilled ribeye to delicately fresh and briny shellfish.
With the help of a good blender (we recommend Breville's Super Q Pro), this simple chimichurri sauce comes together in just seconds and will keep in your fridge for weeks, waiting to be poured on all of your favorite dishes.
What is chimichurri?
Chimichurri is an uncooked vinegar and herb-based sauce that's often used as an accompaniment to grilled meats and vegetables. It's most often made of fresh herbs and vinegar, garlic, spices, and olive oil. When these ingredients are pulsed together, the result is a slightly spicy, fresh, and aromatic condiment with a piquant vinegar bite. That bite cuts through fatty cuts of meat beautifully and offers its own array of complex flavors to a dish.
But while chimichurri is best known for the magic it adds to meat, its versatility is immense. Use it simply as a dip with flatbreads and crudite, or pour some over your scrambled eggs in the morning for an added flavor boost. We love to mix some into mayonnaise and use it as a spread for burgers and sandwiches. You can even use it as a salad dressing to spice up a boring Wednesday lunch. And you can argue for Tobasco and lemon all you want, but until you've used chimichurri as a topping on fresh oysters, you haven't lived.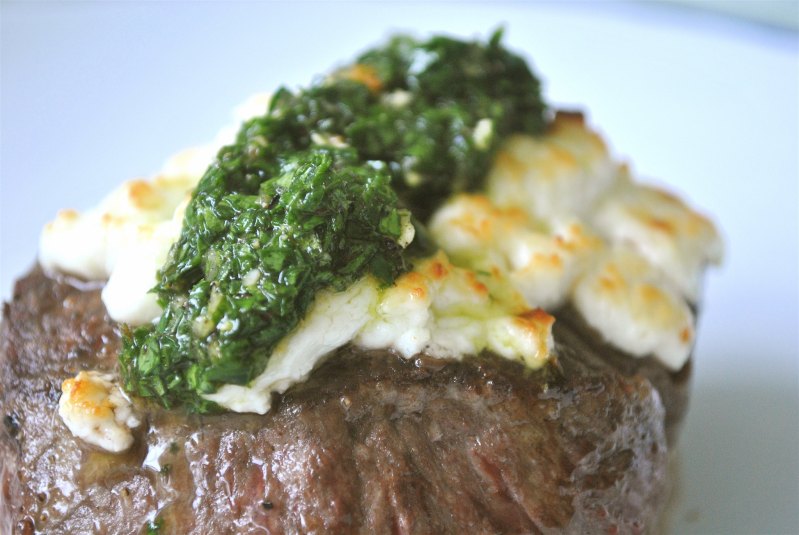 Chimichurri recipe
Ingredients:
1 shallot, roughly chopped or quartered
3-4 garlic cloves
1/2 jalapeno, roughly chopped and seeds removed
1/2 cup red wine vinegar
1/2 cup cilantro, roughly chopped
1/4 cup parsley, roughly chopped
2 tablespoons oregano, roughly chopped
1/2 teaspoon ground cumin
1/2 cup extra virgin olive oil
Salt and pepper to taste
Method:
Place all of the ingredients except olive oil in the bowl of a food processor or blender. Pulse 5-10 times to break down and combine ingredients.
With the speed set to low, slowly pour oil through the top opening.
Once oil is incorporated, increase speed and process an additional minute.
Adjust seasoning accordingly and serve. Store in the refrigerator in an airtight container.
Editors' Recommendations