Traditional holiday foods can be a beautiful thing. On Thanksgiving, we douse our turkey in ungodly amounts of gravy. At Christmastime, tins and baskets of cookies appear as if from nowhere, and we happily devour them in all of their edible glitter glory. St. Patrick's Day dances in with buckets of ale and hearty platters of corned beef with cabbage. And on Easter, people seem to be pretty equally divided between their allegiance to either ham or lamb. But, what if you don't like either? Or you're just plain bored with the same two options, year after year? What if, in your heart of hearts, you're just a good old-fashioned steak and potatoes kind of person? Well, we hear you, and we come equipped with not just one solution, but a handful of them.
While beef isn't always traditionally associated with the Easter table, there's absolutely no reason it shouldn't be. Easter is one of those holidays where families and friends gather in masses, and it's best to be prepared with hearty food that will satisfy a crowd. After all the drama of new Easter hats and shoes, Instagram-worthy family photo sessions, and dyeing and then hiding dozens of eggs (that this year will cost a small fortune), you deserve an indulgent meal.
So we turned to Omaha Steaks, the best beef source there is, for some holiday feast ideas. These are a few of our favorite beefy Easter dinner ideas with steak cuts that will defy tradition in all the best ways. But don't worry, they'll also look perfect next to that pastel egg and bunny centerpiece your mother-in-law insisted on. On that note, another not-so-traditional Easter favorite? Whiskey.
(From Omaha Steaks)
If you love a juicy, fatty, beautiful ribeye steak, this is the Easter dinner for you. This king cut of beef is not only enormous in size, at a whopping 3 pounds, but it's just as huge in flavor with its bourbon pan sauce and slow-roasted care. Serve it with any of your favorite sides, such as mashed potatoes or roasted spring vegetables like artichokes or asparagus, for an Easter dinner that will thrill and satisfy your guests.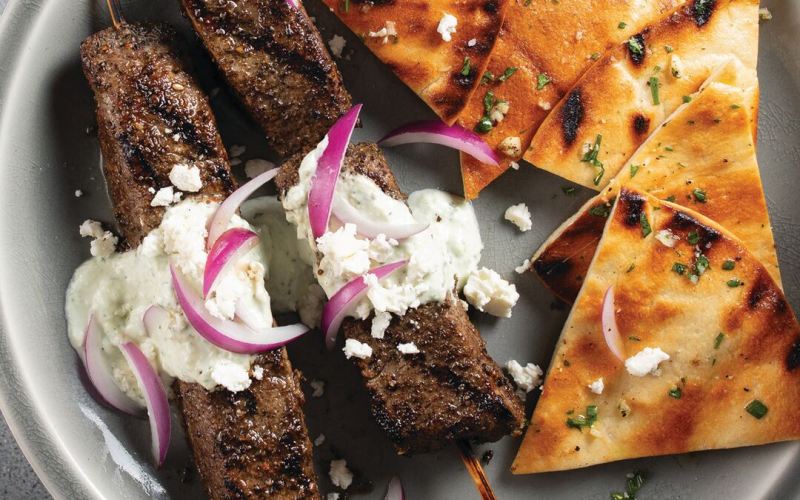 (From Omaha Steaks)
This recipe is perfect for a slightly more casual Easter celebration. Easily set out at a buffet or backyard picnic table, these tender beef skewers are non-pretentious but wildly delicious with their grilled char and homemade tzatziki sauce. We love that you can easily carry them to the picnic, skewer in one hand, drink in the other. The grilled pita is lightly brushed with a garlic-infused oil and makes an exquisite accompaniment. Just be sure you make enough to go around!
(From Omaha Steaks)
This is another gorgeous Easter spring day, outdoor dinner (or lunch) option. Imagine a sunset, alfresco Easter dinner with your favorite people, and these gorgeous fajitas sizzling on your table. We love the bold Southwest flavors and the zippy zest from the peppers and lime. This fresh and flavorful dish can be served as a family-style meal or plated more formally in individual portions. Garnish this dish with sour cream, shredded cheese, and sliced avocado. Serve with a big batch of strong and frosty margaritas, and this slightly less-than-traditional Easter meal will be one for the books!
(From Omaha Steaks)
No matter what holiday it is, from Christmas to Easter to Boxing Day, prime rib is always a good choice. And this succulent recipe comes complete with a rich, decadent dijon-herb sauce and garlicky, buttery mushrooms ready to swim in all of that sinful goodness. Serve with any form of potatoes for a traditional side, but we'll be honest — with a piece of prime rib this good, no one will be paying any attention to the side dishes.
(From Omaha Steaks)
If it's comfort food you're looking to serve for Easter dinner, this recipe is the epitome of a cozy meal. Combining the down-home, wholesome vibe of meatloaf, but with a slightly more sophisticated preparation, this meal is perfect for family elegance. Rather than just recklessly pushing together ground beef with a bunch of ingredients, this unique recipe calls for a layered and rolled preparation, resulting in a pinwheel of Italian flavor and juicy, tender, cheesy slices. To complete the Italian theme, serve this with a fresh Caprese salad and bubbly Prosecco, for a celebratory feel.
No matter how you're spending the Easter holiday this year, be it at home, at church, or with friends or family, allow yourself to let go of some of those traditions that you don't really enjoy. Like ham. Or Peeps. A wise person once said, "Traditions are just peer pressure from dead people." Holiday meals are special because of with whom they're shared, not because you've been choking down Aunt Sally's deviled eggs for the last three decades. And at the end of the day, wouldn't you much rather have one of these juicy and succulent beef dishes than a boring grocery store ham? Sounds like a much better holiday to us.
Editors' Recommendations