As St. Patrick's Day rolls around again, many of us will dutifully trudge to the grocery store, pick up our corned beef from the bulk display, head home and boil that piece of meat to death in the name of 'tradition.' Many of us are guilty of going through the motions of culinary traditions without giving a second thought to whether or not they actually taste good (we're looking at you, fruitcake). But in the case of corned beef, this is a real travesty, because this is a dish that, when done properly, is exquisitely delicious. One so good, in fact, that, if we knew better, would be on a weekly rotation, and not just an annual one.
Many corned beef and cabbage recipes out there call for a braise, which makes sense. Corned beef is most often a brisket cut, which requires low and slow cooking to ensure a tender result. Too often, though, those braises turn out flabby, lifeless, flavorless pieces of meat that we only feel obligated to eat because St. Patrick told us to. Let's put an end to that here and now. This is how to cook corned beef and cabbage the right way.
This recipe calls for a slow roast instead of a braise, keeping the meat moist and flavorful with a tented foil technique. The results are beautifully fresh and delicious, and will keep you coming back to this recipe time and time again.
Corned beef and cabbage recipe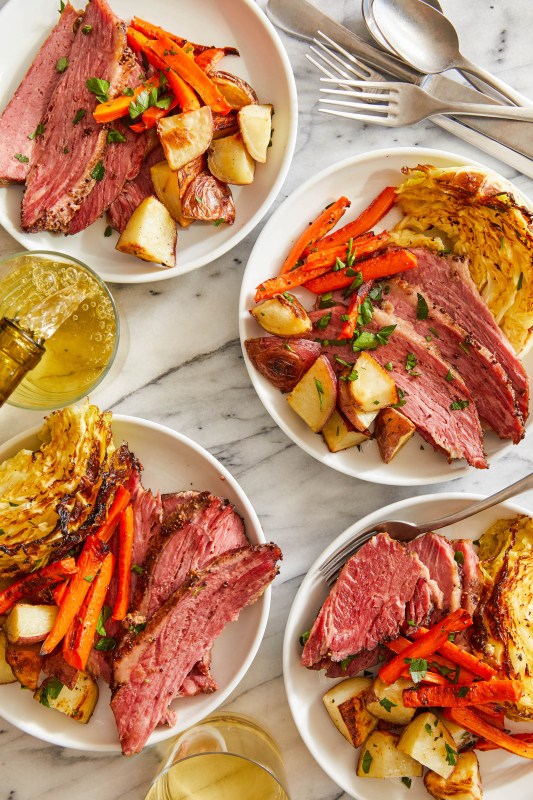 (From Damn Delicious)
Ingredients:
1

4 1/2 pound center-cut corned beef brisket, trimmed of extra fat

3

tablespoons

whole-grain mustard

1/4

teaspoon

ground allspice

1/4

teaspoon

ground cloves

Kosher salt and freshly ground black pepper

,

to taste

1

medium sweet onion

,

sliced

1

head cabbage

,

cut into 2-inch wedges

3

tablespoons

olive oil

,

divided

2

pounds

medium red potatoes

,

quartered

3

large carrots

,

cut into 3-inch pieces

2

tablespoons

fresh parsley leaves,

chopped
Method:
Place corned beef in a large bowl, submerged in cold water. Leave to rest at room temperature 1-2 hours.

Rinse beef with cold water and pat dry.

Preheat oven to 325 degrees F. Line a 9×13 baking dish with foil.

In a small bowl, thoroughly mix mustard, allspice, cloves, and 1 teaspoon pepper.

Place corned beef on the prepared baking dish.

Evenly coat the corned beef with the mustard mixture then top with onions.

Fold the foil over the corned beef, covering completely and sealing the beef inside.

Bake 3 1/2-4 hours, until tender.

Remove from oven and let the beef rest, tented with foil.

Increase oven temperature to 425 degrees F. Line two baking sheets with parchment paper.

Rub cabbage with 1 tablespoon olive oil, placing in a single layer onto the prepared baking sheet. Season with salt and pepper.

Place potatoes and carrots in a single layer onto the second prepared baking sheet. Add remaining 2 tablespoons olive oil and toss gently to combine. Season with salt and pepper.

Bake all of the vegetables until cabbage is lightly charred and potatoes and carrots are tender, about 30-35 minutes, rotating pans and stirring halfway through baking.

Cutting against the grain, thinly slice corned beef and serve with vegetables, garnished with parsley, if desired.
Corned beef and cabbage tips and tricks
Soaking corned beef in water is an important step that shouldn't be skipped. The corned beef process uses a lot of excess salt, and soaking will help to release it.
Corned beef often comes with a spice packet, which many people are used to using. We promise, this recipe is far better than any pre-made spice mix you'll find inside. Take the few minutes to mix it yourself and toss out the pre-made stuff.
Editors' Recommendations