Tequila is so much more than the woozy main ingredient of a classic margarita or the popular Paloma. The agave spirit can do it all — and in wondrous fashion. Sure, tequila can do most of the heavy lifting in a refreshing end-of-summer drink like Ranch Water. Yet, as Clinton Terry, beverage director for Nautilus Pier 4 in Boston, knows, tequila is far more dynamic than many of us give it credit for. He likes it in everything from a crafty cocktail to a ceviche dish or even splashed into some salsa verde.
From a mixing standpoint, some Terry excels at, he implores that fresh ingredients are used when making cocktails with tequila. "Nothing will substitute for actually juicing a lemon, lime or grapefruit," he says. "If you start with a good product and add a good product, it makes for a good cocktail."
Terry also champions balance. "You want to taste the spirit and you want to taste the other ingredients," he said. He also acknowledges that no two palates are exactly alike, so hone in on whatever flavors you really like. "Remember to do everything in proper proportion," he added. "You can always do shots on the side if you want more tequila."
Beyond that, it's all about keeping things relatively simple and, in some cases, just being frugal. Don't have a juicer? Get some freshly squeezed stuff from Whole Foods. "Use what you've already got," he adds. "If you don't have a shaker at home, use a pint container with a lid and ice — you can make it work."
What tequilas does he like? Terry suggested going full-boar when it comes to agave content, so look for labels touting 100% blue agave. A few tequila brands he likes to mix with include Fortaleza, Tequila Ocho, La Gritona, and Espolon. The last one, especially, offers great flavor for the price.
Talking with Terry inspired us to showcase the 11 best tequila cocktail recipes out there. In fact, the first three listed below are his work. Salud!
Related Guides
Tequila Mockingbird
The partnership of tequila and grapefruit is one for the ages, as several of these cocktails speak to. The bittersweet notes of the fruit play off the smoky, caramelized flavors of tequila wonderfully. And a splash of soda water keeps things from getting too heavy. After all, most tequila cocktails stay fairly light and mobile, so you can be the same as you're sipping in the sun (or pretending to be somewhere nice).
Ingredients:
2 ounces tequila
2 ounces roasted grapefruit juice
Splash of soda water
Sprig of rosemary for garnish
Method:
Add tequila, roasted grapefruit juice and soda water to a shaker and shake.
Strain into a glass filled with ice.
Light a sprig of rosemary on fire, waft over and plunge to stir.
Ack Nauti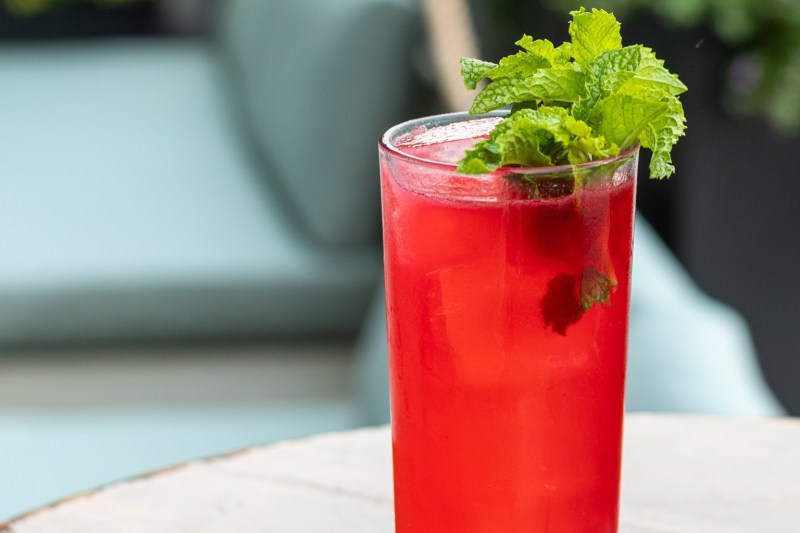 This cocktail balances the heat and spice of the tequila with some decidedly northeastern ingredients like cranberry and mint. The end result wears a brilliant color and tastes so refreshing you're tempted to call it healthy. Don't be fooled by its Bloody Mary-esque appearance, the Ack Nauti is more like a south-of-the-border take on the Cosmopolitan.
Ingredients:
2 ounces tequila
2.5 ounces fresh cranberry juice
.5 ounces lime juice
Fresh mint for garnish
Method:
Add tequila, cranberry juice, and lime juice to a shaker and shake hard.
Strain into a glass filled with ice and garnish with fresh mint.
Classic Tommy's Margarita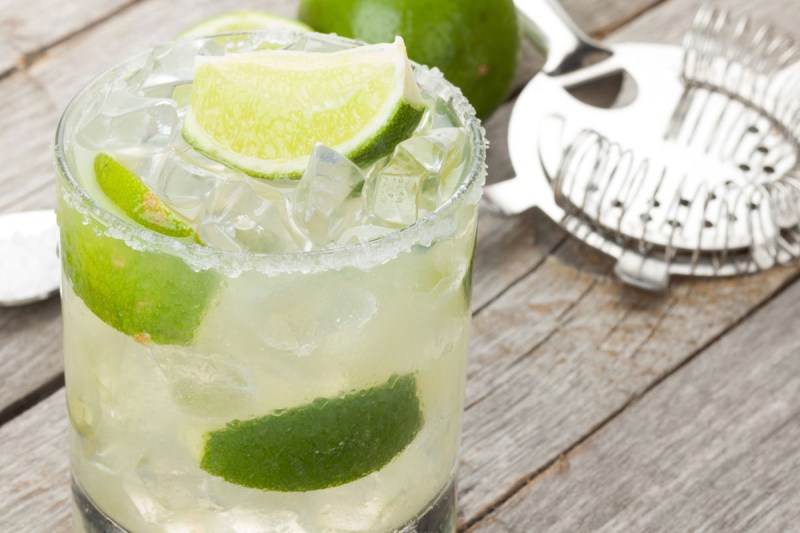 You have to have a reliable margarita recipe and this one from Terry is just that. There's nothing overly complex about it, just that perfect mix of spicy, citrusy, sweet, and salty. After all, you're using good tequila so you'll want to taste it. Remember to use flaked salt for the rim and you'll get more bang for your buck, not to mention better overall flavor.
Ingredients:
2 ounces tequila
1 ounces lime juice
.5 ounces agave nectar
Salt rim for garnish
Method:
Rim a glass with salt.
Add tequila, lime juice, and agave nectar to a shaker with ice and shake.
Strain into prepared glass filled with ice.
Spiced Apple Margarita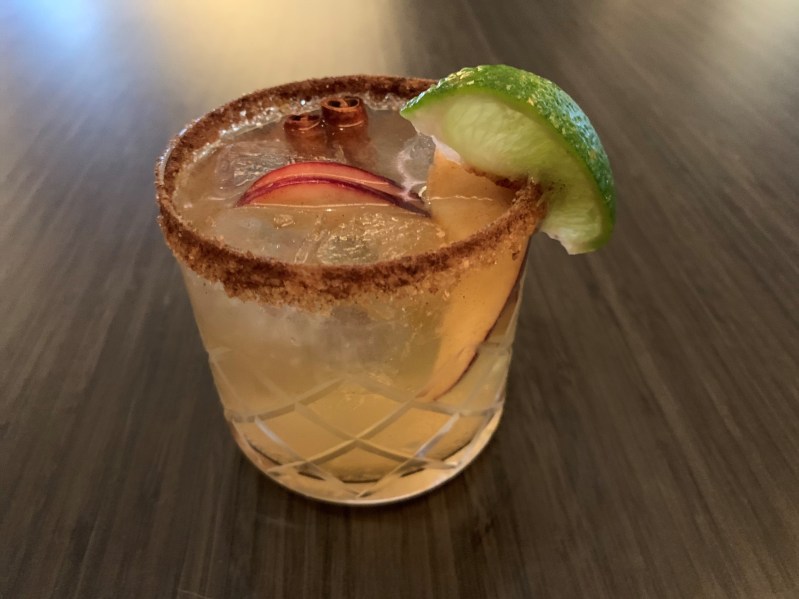 (By Frederic Najem, director of food and beverage, Bank & Bourbon, Philadelphia)
Not yet prepared to let go of your margs as the weather starts to cool down? Then this margarita variation may be the ideal drink for you. It contains the fundamental hallmarks of the traditional margarita — tequila, Cointreau, lime juice — but it replaces the more typical blanco tequila with aged reposado and adds in a healthy pour of apple cider. "Margaritas are some of our most popular cocktails, so adding apples to [these drinks] was the perfect way to make them feel like fall. [This cocktail is] warming and refreshing all at once. The reposado adds oak and vanilla flavors into the mix, which complement the spiced aroma," beverage director Frederic Najem said of his recipe.
Ingredients:
2 ounces reposado tequila
3 ounces organic apple cider
2 ounces orange liqueur (Najem uses Cointreau)
.5 oz lime juice
1 tablespoon cane sugar, to rim the glass
1 tablespoon coarse sugar, to rim the glass
.25 teaspoon cinnamon, to rim the glass
.25 teaspoon allspice, to rim the glass
.25 teaspoon ground cloves, to rim the glass
Orange wedges, to rim the glass
Apple slices, for garnish
Cinnamon stick, for garnish
Method:
Pour sugar, cinnamon, allspice, and cloves onto a plate and mix to combine. Set aside.
Add tequila, apple cider, Cointreau, and lime juice to a shaker and shake to combine.
Rub the rim of a glass with an orange wedge and roll the rim in the sugar mixture. Add ice to the glass.
Pour the contents of the shaker into the glass over the ice cube. Garnish with cinnamon stick and apple slices.
Romulus and Remus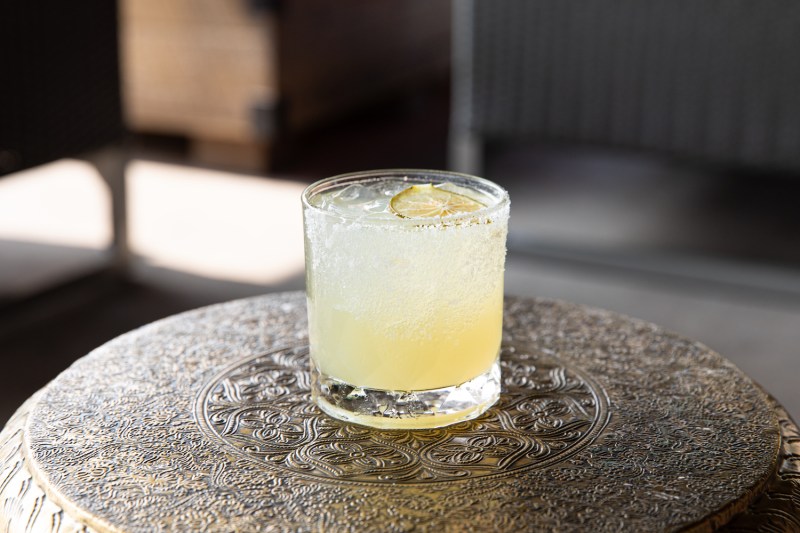 (By Ellen Talbot, lead bartender, Fable Lounge, Nashville)
If you fancy spicy cocktails the "Poblano pepper liqueur shines in this legendary, spicy "margarita." We bring out vegetal notes in the tequila with Dolin Dry vermouth, and the orange bitters brighten the cocktail. The zesty flavor profile is sure to warm you up while it's getting chilly," is lead bartender Ellen Talbot's elevator pitch for her bold twist on the margarita.
Ingredients:
2 ounces blanco tequila (Talbot uses Espolon Blanco)
1 ounces Ancho Reyes Verde Poblano liqueur
.75 ounces lime juice
.5 ounces dry vermouth (Talbot uses Dolin)
4 dashes Angostura bitters
.5 ounces dry curacao
Lime wheel, for garnish
Method:
Salt the rim of a rocks glass, then add ice to the glass.
Fill a cocktail shaker with all ingredients and vigorously shake to combine.
Strain over ice and garnish with a lime wheel.
Otoño Sangría
(By Lana Vesselova, bartender, Analogue, New York City)
The Spanish red wine punch known as sangria truly functions as an all-season beverage in its home country, but depending on the time of year, sangria makers will add different juices and fruit slices to reflect the most recent harvest. This sangria-inspired cocktail recipe features blood oranges — which begin their peak season right around Thanksgiving — and blanco tequila, which binds the citrus flavors together and creates an excellent foundation for the red wine float that completes the drink.
Ingredients:
1.5 ounces blanco tequila (Vesselova uses Hiatus Tequila Blanco)
1 ounces blood orange juice
1 ounces orange juice
.75 ounces lemon juice
.5 ounces simple syrup
1 ounces red wine, to float on top
Dried blood orange wheel, for garnish
Method:
Add tequila, blood orange juice, orange juice, lemon juice, and simple syrup to a shaker tin and top off with ice.
Shake hard for 10 to 15 seconds, until the outside of the tin begins to frost over.
Strain into a highball glass or wine glass filled with ice.
Top off with a float of red wine and garnish with a dried wheel of blood orange.
The Desert Winds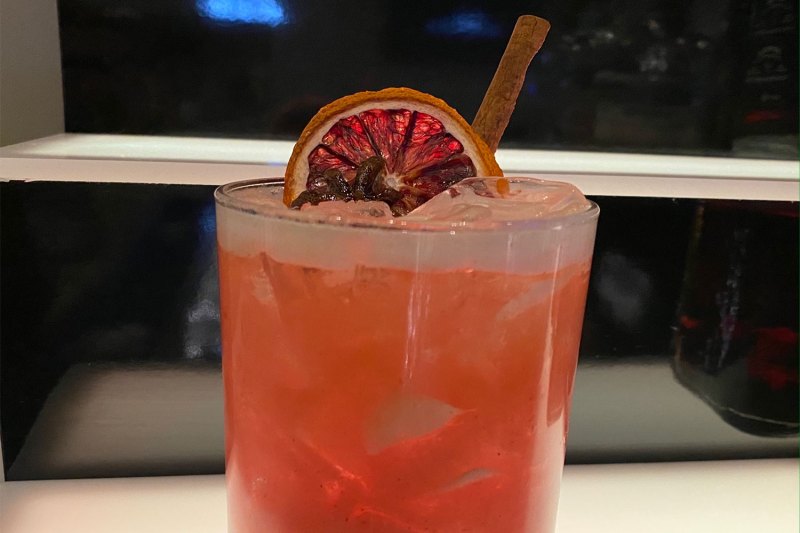 (By Kaya Villalpando, general manager/mixologist, Trece Eatery + Spirits, Las Vegas)
"The Desert Winds is the perfect pick for a fall cocktail, because it brings an abundance of flavors. [You get] the holiday-season favorite star anise, a hint of spice from the chile de arbol, and a note of earthiness from the mezcal, and the cinnamon and amaretto bring this cocktail to completion. This cocktail is perfect to enjoy in front of the fireplace on its own or alongside a hearty dinner," mixologist Kaya Villalpando said of this beverage that combines two agave spirits (tequila and mezcal) with nutty amaretto liqueur, bright tamarind syrup, and plenty of spices and aromatics.
Ingredients:
.75 ounces reposado tequila (Villalpando uses Casadores Reposado)
.5 ounces reposado mezcal (Villalpando uses Kiro Sabe Reposado Mezcal)
.5 ounces amaretto liqueur (Villalpando uses Disaronno Amaretto)
.5 ounces orange liqueur (Villalpando uses Cointreau)
2.5 ounces tamarind-chile-anise syrup (simple syrup infused with tamarind, chile de arbol, and star anise)
1 piece of orange peel
Candied star anise, for garnish
Dried blood orange wheel, for garnish
Cinnamon stick, for garnish
Method:
Add all liquid ingredients to a cocktail shaker. Add the orange peel and shake until thoroughly mixed.
Strain into a double Old Fashioned glass over ice and garnish with dried blood orange wheel and cinnamon stick.
Harvest in Manhattan
(By Sarah Berman, beverage manager, Seed Kitchen & Bar, Stem Wine Bar, Drift Fish House & Oyster Bar, Marietta, Georgia)
Pears don't get the same fall-fruit acclaim enjoyed by apples, but their subtle, floral flavor makes them an appealing ingredient in cocktails with aromatic spirits. This drink makes use of pear liqueur, reposado tequila, and sweet vermouth, and bitters — in short, it's an agave-and-pear-fueled take on the Manhattan, a classic autumn cocktail.
Ingredients:
1 ½ ounces reposado tequila (Berman uses Partida Reposado)
1 ounces sweet vermouth (Berman uses Cocchi di Torino)
1 ounces pear liqueur (Berman uses St. George Spiced Pear Liqueur)
2 dashes bitters (Berman uses The Bitter Truth Jerry Thomas' Own Decanter Bitters)
Orange peel, for garnish
Cherry, for garnish
Method:
Add all ingredients to a cocktail tin and stir to combine.
Strain into a chilled coupe glass.
Express an orange peel over the top of the cocktail and garnish with orange peel and cherry.
The Dark Reviver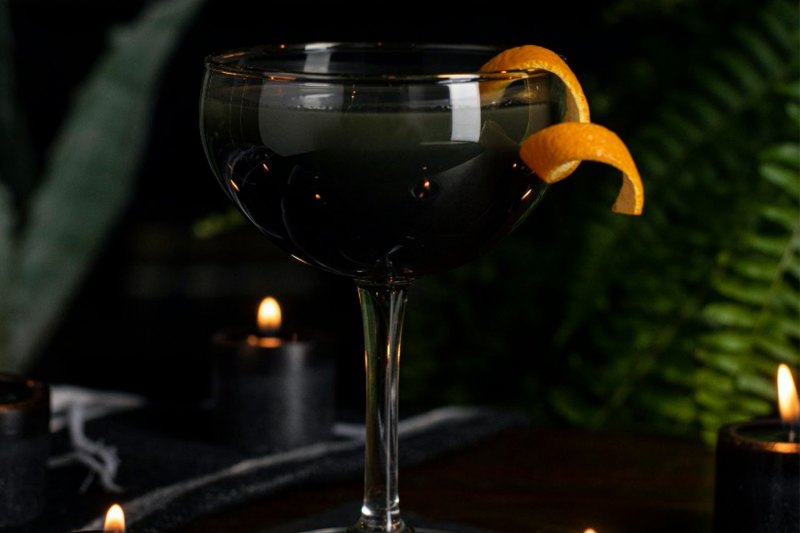 (By Jennifer Harris, bar manager, Point Loma Fish Shop, San Diego)
For a Halloween cocktail with engaging flavors and a Gothic color scheme, look no further than this tequila drink inspired by the classic tiki cocktail known as the Corpse Reviver No. 2. Bar manager Jennifer Harris uses activated charcoal powder and a flaming orange peel to bring a dark hue and a smoky undertone to this beverage, and the reposado tequila, Italian liqueur, and citrus juice make for a harmonious combination.
Ingredients:
1 ounces reposado tequila (Harris uses Corralejo Reposado)
.5 ounces lemon juice
.5 ounces orange juice
3⁄4 ounces aperitivo or digestivo liqueur (Harris suggests Aperol, Amaro Nonino,Amaro Montenegro, or Amaretto)
.25 teaspoon activated charcoal powder (or 2 capsules worth)
2 pieces of orange peel, for garnish
Method:
Add all ingredients to a cocktail shaker and shake to combine.
Use a Hawthorne strainer to finely strain the drink into a coupe glass.
Cut a thick piece of orange peel. Light a match and express the oil of the orange peel into the flame over the cocktail, then use the flaming peel to rim the glass.
Discard the flaming peel and place a fresh orange twist on the rim of the glass.
Carrot Crush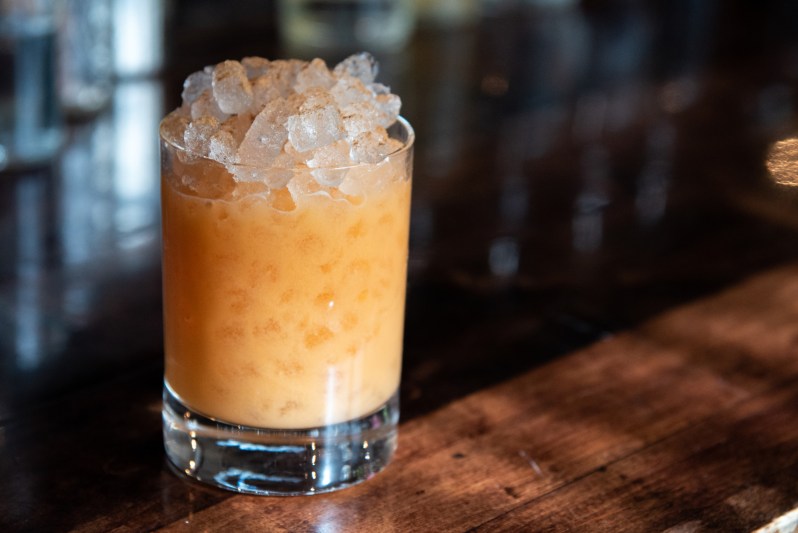 (By Jeff Rogers, bar director, Parlour, Minneapolis)
Carrot cake, but make it a cocktail? That's exactly what you're getting with this blanco tequila drink, which incorporates both a carrot cordial and a cinnamon horchata. "Baking spices are perfect fall flavors, and the carrot in this cocktail has a natural sweetness that plays well [with the spices], bringing them out on the nose. The vegetal qualities of a blanco tequila add to the freshness of the drink while the horchata gives a creamy balance to the cocktail," bar director Jeff Rogers explained.
Ingredients:
Cocktail:
1.5 ounces blanco tequila (Rogers uses Olmeca Altos)
1.5 ounces carrot cordial*
1 ounces cinnamon horchata*
2 drops cardamom bitters (Rogers uses Dashfire Cardamom Bitters)
Bar spoon cachaca (Rogers uses Avua Cachaca)
Powdered cinnamon, for garnish
Carrot Cordial:
1 (32 ounces) bottle carrot juice
1 cup sugar
1-2 grams citric acid
Cinnamon Horchata:
2 cups long-grain white rice
4 cups water
1/8 teaspoons cinnamon
.5 teaspoons vanilla extract
1 (12 ounces) can evaporated milk
12 ounces condensed milk
Method:
To make the carrot cordial, add carrot juice, sugar, and citric acid to a saucepan over low heat. Combine until fully incorporated, then allow to cool and set aside.
To make the cinnamon horchata, add rice, vanilla, cinnamon, evaporated milk, and water to a large container and allow to steep overnight. On the second day, blend all ingredients on high speed for one minute. Strain through a cheesecloth and discard solids. Stir in the condensed milk and set aside.
To build the cocktail, add all ingredients to a cocktail shaker and shake to fully combine.
Strain into a glass over crushed ice and dust with cinnamon.
Amarillo Collins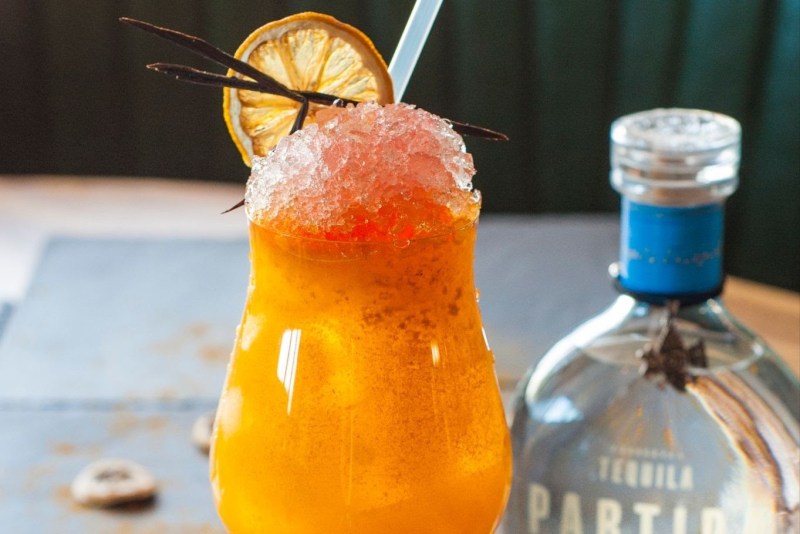 Ingredients:
1.5 ounces Partida Blanco tequila
.75 ounces turmeric-vanilla syrup
1 ounces fresh lemon juice
Coconut soda (50-50 coconut water and club soda)
Method:
Add tequila, turmeric-vanilla syrup, and lemon juice to a shaker with ice.
Shake vigorously and strain into an ice-filled wine glass.
Top up with coconut soda and garnish with a vanilla bean, dehydrated lemon wheel, and turmeric dust.
Editors' Recommendations