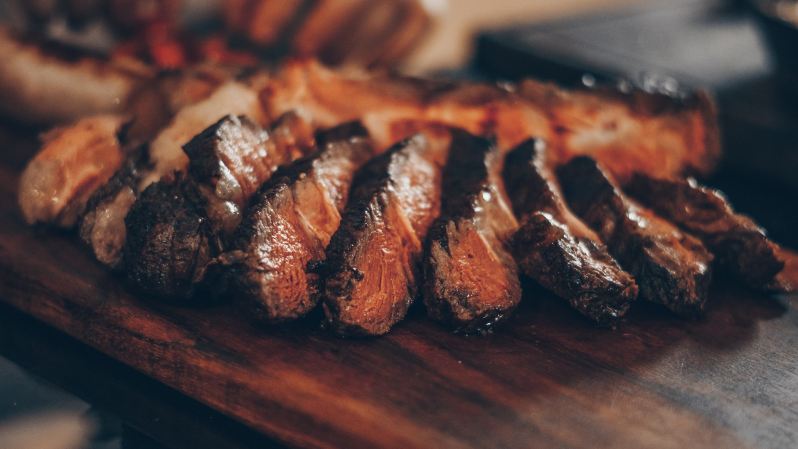 The New York Times' restaurant critic, Pete Wells, has a (very well-deserved) reputation as a discerning tastemaker who isn't afraid to express his honest opinions, whether good or bad. As a result, he's been responsible for a small but significant number of total takedowns of high-profile restaurants (his epic slaughter of Guy Fieri's now-defunct Guy's American Kitchen & Bar quite frankly deserved a Pulitzer). Wells had added another famous spot to his less-than-illustrious list: Peter Luger, an iconic Brooklyn steakhouse with a 100-plus year history and notoriously lofty prices.
When Wells dropped Peter Luger's "star" rating (a major prestige point for NYC restaurants) from 2 stars to 0 stars, he encountered plenty of differently minded New Yorkers who were appalled by his drastic devaluation of this legendary city eatery. But here's the thing: Wells is right. Peter Luger is far from disastrous, but its steaks don't qualify as exceptional, its side dishes prove even more lackluster, and the overall service standard simply doesn't pass muster.
That said, NYC still contains plenty of destination-worthy steakhouses, where you can find a better-crafted red meat repast (and in many cases, at a lower cost than Peter Luger prices). Here, we're recommending 10 New York-based restaurants specializing in steak that really know what they're doing.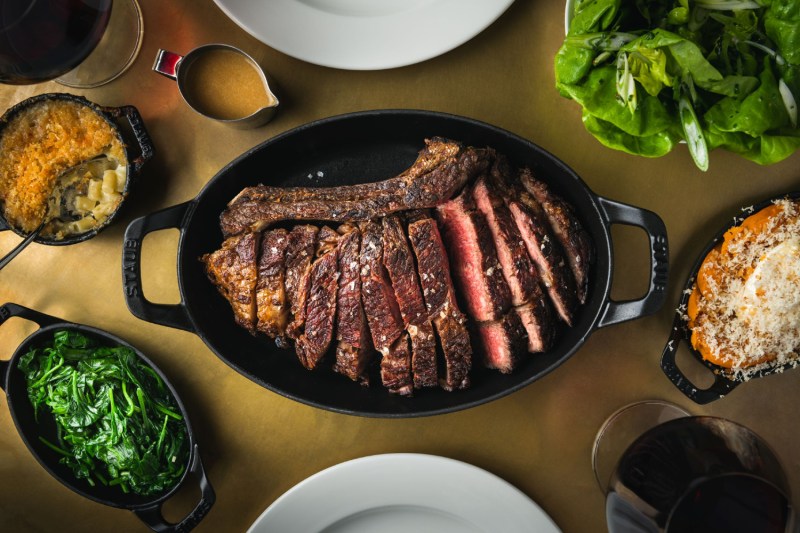 Hawksmoor
The original Hawksmoor launched in London in NYC. Since, the British steakhouse has set up shop in NYC, and it's well worth your time if animal proteins are your calling. In addition to a great cocktail program and popular Sunday roasts, Hawksmoor offers incredible charcoal-grilled steaks, plenty of surf and turf scenarios, and great mains like cast-iron filet steak or veal chop with fried oysters. This place is proof that English-inspired food is underrated and there are great meat purveyors in the northeast, from which the restaurant sources much of its protein.
Bowery Meat Company
Undoubtedly, the atmosphere is part of the steakhouse experience and in that Bowery Meat Company is a true triumph. With retro charm in every direction, the decor is as good as what comes out on the plate. There are noteworthy steaks for two, intriguing Wagyu cuts, and mouthwatering sides like shishito peppers, roasted forest mushrooms, and hash browns that enhance the meats. Look out for the extended dry-aged Tomahawk and the prime bone-in rib steak.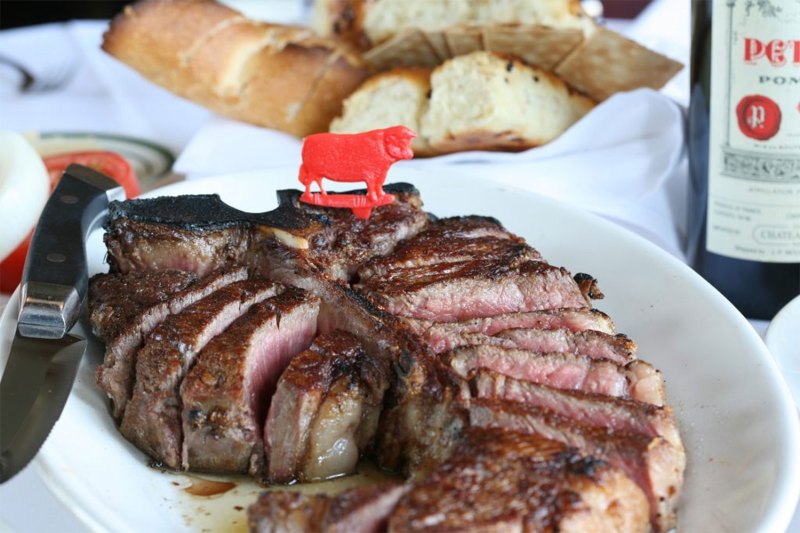 Wolfgang's Steakhouse
Sometimes, the student truly does outpace the teacher. In the case of Wolfgang's Steakhouse vs. Peter Luger, that maxim proves remarkably true. Founded in the early aughts by former Peter Luger head waiter Wolfgang Zwiener, Wolfgang's Steakhouse now boasts almost 20 worldwide locations, but its flagship remains on Park Avenue in NYC. Wolfgang's specializes in the same old-school steakhouse traditions that draw visitors to Peter Luger, but its hospitality quotient vastly overpowers that of Luger, and the meat quality proves consistently equivalent (if not superior).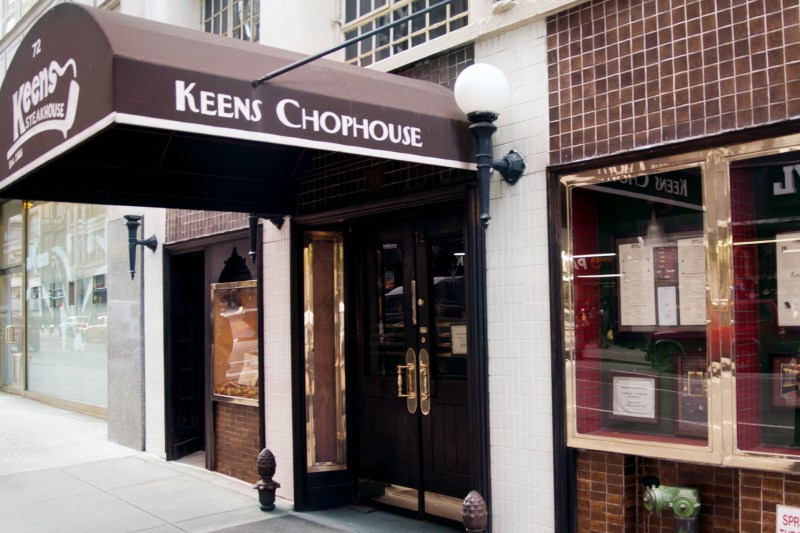 Keens Steakhouse
Peter Luger devotees speak equally highly of the restaurant's tender steaks and its classic, turn-of-the-century aesthetic. For a steakhouse that delivers on both fronts, head to Keens Steakhouse in midtown Manhattan. Established in 1885, Keens rocks a charmingly vintage aesthetic, with wood-paneled walls, framed portraits, and crisp white tablecloths. The steaks here are, like Peter Luger's steaks, expensive, but Keens' prime rib, porterhouse, and specialty mutton chop justify the high price tags. If you want a traditional NYC steak dinner experience (i.e., if you want to feel like Don Draper or Roger Sterling while enjoying a great meal), Keens is the spot for you.
Cote
American-style steakhouses aren't the only option for a hearty beef-based feast in NYC; at the wildly popular Cote in Chelsea, guests can order prime cuts of steak prepped in the Korean barbecue tradition. The carnivorous favorite at Cote is the Butcher's Feast, a prix-fixe meal featuring four cuts of USDA Prime and American Wagyu beef, along with an assortment of banchan and other accompaniments.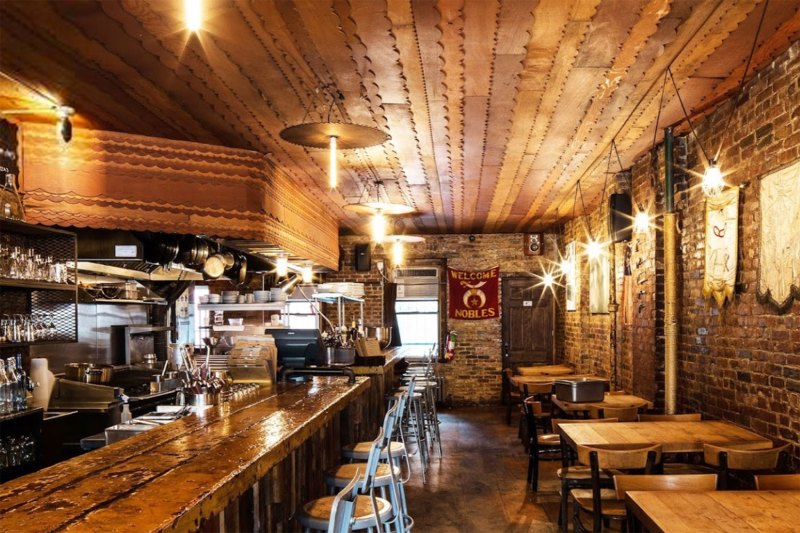 St. Anselm
Less than a mile away from Peter Luger, you'll find St. Anselm, a laid-back New American restaurant that's been challenging Luger's claim to the Best Steakhouse In Williamsburg, Brooklyn title since opening in 2011. Meat enthusiasts can find a wide range of grilled offerings here, but St. Anselm's real claim to fame comes in the form of its butcher's steak, a savory hangar cut slathered with garlic butter that, at $28 each, may represent the best beef-based deal in NYC.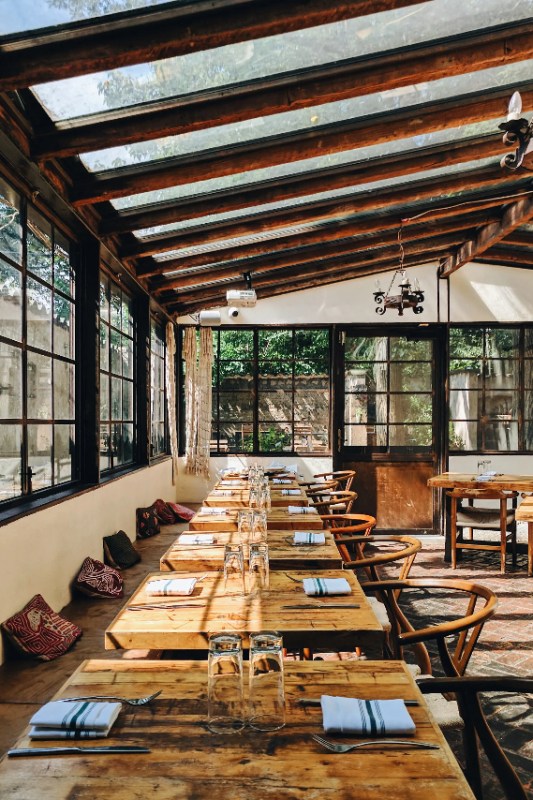 Colonia Verde
Colonia Verde's quaint Fort Greene, Brooklyn locale (in the back building of a picturesque brownstone) and lively pan-Latin menu make it a true local hit, and steak lovers find this spot especially accommodating to their gustatory needs. The dinner menu includes an entire steak section, with dishes like a bone-in chef's ribeye, picanha served with toasted cassava, and skirt steak.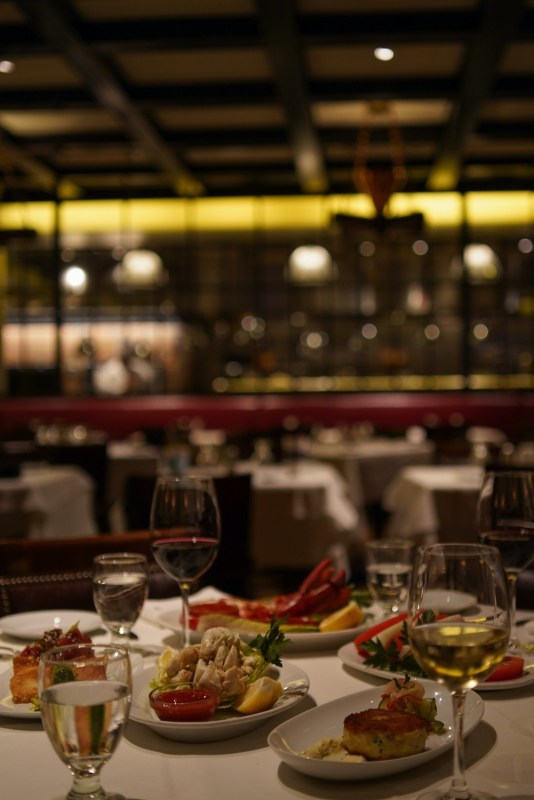 Gallaghers
Gallaghers is the kind of classic glitzy steakhouse that attracts celebrities and pro athletes. The place has been at it for almost a century and engineers a mean steak to accompany its woodsy interior, green booths, and white tablecloths. The meats are always on display in the window and the service is stellar. Vintage steakhouses like this produce vintage options, like tartare, carpaccio, New York sirloin, and lobster tail with filet mignon.
Porter House
Aptly named, Porter House is the brainchild of chef and owner Michael Lomonaco, who opened the place back in 2006. The feel is decidedly contemporary, the wine program is lauded, and the steak selection is fantastic. Try the chili-rubbed boneless ribeye or splurge for the deftly cooked porterhouse. The roast prime rib au jus is done every Tuesday and Thursday and is worth signing up for and the desserts are not to be missed. You get amazing food, remarkable views, and one of the prettiest bars in NYC. Top to bottom, it's a standout steakhouse.
Le Marais
An eclectic eatery, Le Marais is a French steakhouse that's kosher and launched by European immigrants. There's a little of this and that, from grass-fed Uruguayan beef to prime rib and hangar steak with shallot sauce. The steaks come with pommes frites, there are Moroccan sausages served with couscous, and the house-made rillettes are worth their weight in gold.
Speaking of all things meat, check out our guides on how to cook steak in the oven and create perfectly browned steak. If you're still craving some fine diving, be sure to read our features on the best restaurants in America and what Michelin-starred chefs are eating at home. Happy eating!
Editors' Recommendations