Every once in a while, a new piece of information comes along that goes against everything we've been taught, and it's pretty mind-blowing. It turns out, cursive is useless, Pluto isn't a planet, and we actually do carry around a calculator with us all the time (sorry, 1990s-era teachers). From time to time, these new truths hit the food world as well, and when they do, it's pretty exciting.
For as long as we can remember, the key to a good sear on steak has been fat and fast, high heat. Anything else would create a greyish, lackluster piece of meat that was hardly appetizing. But there's a new trick in town — water. While cooking a steak in water sounds pretty counterintuitive when it comes to proper searing, if done the right way, this technique can create a beautifully browned, perfectly seared, deliciously juicy piece of meat. So, how is this possible, you ask?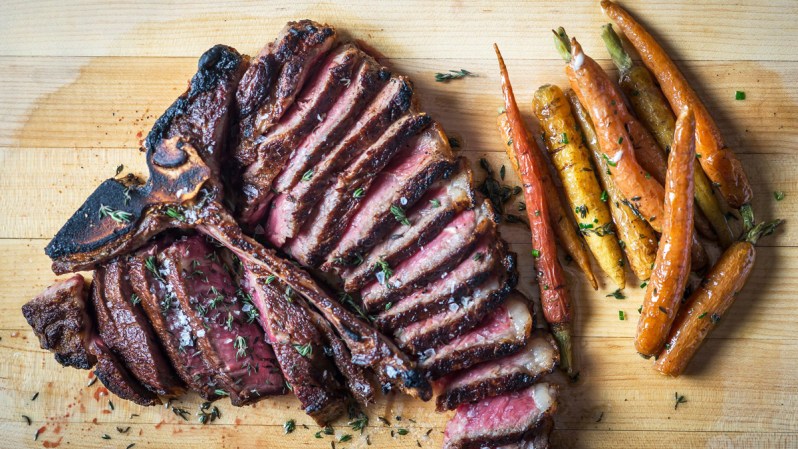 The science behind this new cooking method is pretty interesting. In cooking, there are two types of browning — caramelization and maillard. Caramelization is what happens when sugars in certain foods are heated past 300 degrees Fahrenheit. When these sugars start to break down, that's when we get browned, flavorful, sometimes jammy and sweet foods like caramelized onions. Maillard browning occurs when sugars and amino acids break down and reform in proteins like beef, pork, or chicken.
The reason water has traditionally been the enemy of good browning is because water turns to steam, which prevents pan heat from getting hot enough to create a proper sear, and that's where colorless meat comes from. If you cook your meat fully this way, it will end up searless and grey, which is just gross, any way you slice it.
However, if you add a bit of water to the pan first, and simmer your meat just until that water evaporates, what will happen is that the sugars and amino acids will release from your protein, staying behind once the water has evaporated. Essentially, the water works to pull the flavor and color out of the meat, and leaves it for you to turn into something delicious. To prevent poaching or steaming your protein, only add a few splashes of water. Remember, you're not trying to cook your meat fully. You're only giving it enough time to give up some of its extra flavor.
This method also works perfectly for vegetables, and even mushrooms, which are notoriously hard to sear properly. With a little water applied in just the right way, almost everything you make can have a beautifully browned caramelization that's packed full of flavor.
Editors' Recommendations