We love entertaining, especially during the holiday season when friends and family are feeling extra festive. But even if you're a seasoned party thrower, the holidays can be a stressful time to host a soiree. On top of decorating, shopping, baking, and traveling, inviting people over for a holiday bash can be daunting if you don't plan it accordingly. Luckily, a delicious big batch cocktail is one thing you can make in advance.
Not all punch ingredients are going to sit well in the fridge, particularly citrus juice. But minus one or two ingredients, these three punches can be made and chilled ahead of time, so you have one less thing to worry about as guests are ringing your doorbell.
Hendrick's Pom Pom Punch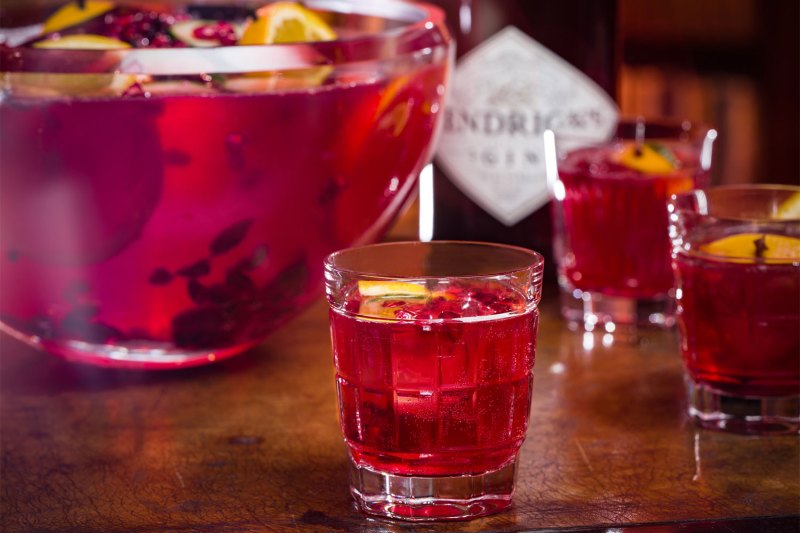 Sometimes squeezing your own juice isn't always better, especially if you're trying to save some precious time by batching a cocktail the night before a party. So, for this festive-hued punch, Hendrick's Gin ambassador Erik Andersson suggests using the bottled stuff over fresh. "The pomegranate juice might oxidize if fresh juice is used," he says. "That being said, the idea would be to use POM (the bottled juice available in most stores), and I think that one would last." We also suggest waiting until a couple hours before serving to squeeze the lemon juice to ensure this punch is as bright and lovely as possible.
3 parts Hendrick's Gin
1 part pomegranate juice
1 part lemon juice
1 part simple syrup
3 parts black currant tea
Fresh cracked white pepper
Cucumber slices, for garnish
Orange wheels, for garnish
Method: Add all ingredients in a punch bowl with a large block of ice. Crack pepper on top. Garnish with cucumber slices and orange wheels.
Partridge In A Pear Tree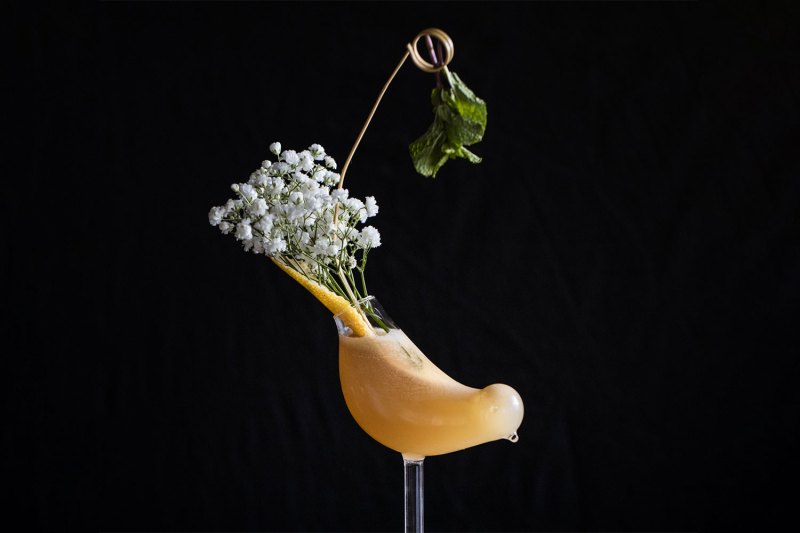 If you're craving the fresh flavors of sunnier weather but still want to serve something warming and seasonal, this bright, bold cocktail is just the thing. Created by Sunday in Brooklyn's head bartender Brian Evans for the restaurant's holiday pop-up bar, the Partridge in a Pear Tree mixes rich reposado tequila, sherry, and pear brandy with lively juices and liberal baking spices to give it a sweet, tart piquancy that everyone will love. It's the type of cocktail that could be served for any festive occasion, whether it's a nighttime soiree or holiday brunch. To batch it ahead of time, mix all the ingredients except for the grapefruit and lime juices— those should be added right be serving.
10 oz Altos Olmeca Tequila Reposado
5 oz Lustau Amontillado Sherry
5 oz St. George Pear Brandy
6 oz spiced syrup*
5 oz lime juice
4 oz celery root juice
3 oz grapefruit juice
12 dashes Scrappy's Cardamom Bitters
Grapefruit wheels, for garnish
Mint sprigs, for garnish
Freshly grated nutmeg, for garnish
Method: In a punch bowl, combine all ingredients. Serve in a decorative bird glass. If available, garnish with grapefruit peel, a mint sprig, and freshly grated nutmeg.
*For the spiced syrup: Bring 500 grams of water, three crushed cinnamon sticks, one freshly grated nutmeg, two teaspoons of whole black peppercorn, three teaspoons of crushed allspice berries, and one star anise to medium heat for 15 minutes. Add 500 grams of sugar and stir until dissolved. Let sit and cool for two hours, then strain spices.
Ponche Navideño
Sometimes a holiday punch has the power to transport you back to another time and place. For chef Richard Sandoval of New York City's Maya, Ponche Navideño reminds him of the "posadas," or fiestas, leading up to Christmas during his childhood in Mexico City. "I'd say that Ponche is just as popular as Rompope (Mexican Eggnog) and Horchata during the holiday season," he says. "I remember my grandmother would have a large pot simmering, and it made the entire house smell delicious from the warming spices used in the recipe. It was the perfect drink to savor with her homemade tamales and mole dishes." Because all of the fruit in this punch is cooked ahead of time, you can simply batch the entire recipe and let it chill overnight until ready to serve. Whether you drink it alongside rich, spicy Mexican food or simply serve it to accompany a charcuterie board, this traditional holiday punch will add a festive kick to every celebration.
6 oz blanco tequila
1 red apple, peeled, cored and sliced
.5 mango, peeled and diced
3 cups water
1 cup diced pineapple
.25 cup cranberries
6.5 tablespoons sugar
1 tablespoon brown sugar
Cinnamon sticks, for garnish
Star anise, for garnish
Method: Combine all ingredients, except tequila, cinnamon sticks, and star anise in a large pot. Simmer over medium heat for 45 minutes and reduce down to about 12-14 ounces. Allow mixture to cool, and mix in the tequila. Refrigerate and serve over ice. Garnish each glass with a cinnamon stick and star anise.
Editors' Recommendations