We ate a lot of amazing food on our recent travels to Mexico City, from chowing down on street tacos or enjoying fresh guava pastries with our morning coffee. But there was one dish in particular that piqued our interest, thanks to its rich flavor, soul-warming heat, and the ability to kick a hangover in no time flat: pozole.
"Pozole means 'hominy,' and it is a traditional soup or stew from Mexico," says Diego Garcia, chef at The Four Seasons Restaurant in New York City. "It is made from hominy, meat (typically pork), and can be seasoned and garnished with shredded cabbage, chile peppers, onion, garlic, radishes, avocado, salsa, or limes."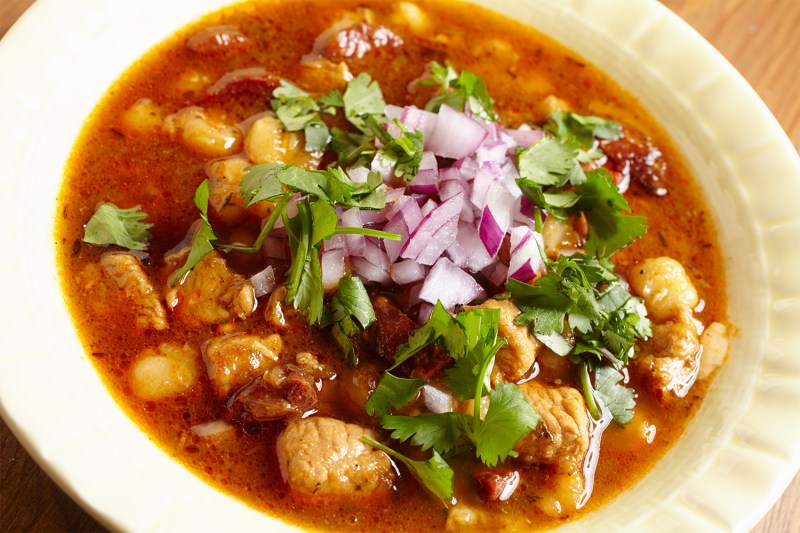 We ate pozoles with deep red broths and some that were tinted an earthy green. It's hearty enough to serve to soup naysayers, and it's a great substitution for chili if you're throwing a game-day party. It will help soothe you if you're feeling under the weather, and you can make it with meat or veggies (or both) depending on your mood. Pozole is a chameleon of a soup that you should get to know ASAP.
To help us on our pozole journey, chef Garcia gave us the recipe for his Kabocha Squash Pozole. Although this version contains chicken, he said to omit the meat and use vegetable broth if you want to make it suitable for vegetarians or vegans.
Kabocha Squash Pozole Recipe
Ingredients for the soup base:
1 small kabocha squash
1 yellow bell pepper
2 shallots
5 garlic cloves
2 qt chicken stock
.25 cup vegetable oil
Salt, to taste
Pepper, to taste
Ingredients for the garnish:
1 medium size can hominy
2 chicken breasts
1 small red onion
.5 bunch cilantro
.5 bunch kale
Salt, to taste
Pepper, to taste
Extra virgin olive oil, to finish
Method for the soup base:
Carefully peel the squash, cut in quarters, and remove the seeds and pulp inside. Slice squash into thin strips (thinness allows for a faster cooking time and better flavor distribution). Do the same for the garlic, shallot, and bell pepper.
Heat a medium-sized pot over medium heat and add vegetable oil (very important to have enough surface area and oil for ingredients to sweat evenly). Once the pot is nice and hot, add all the sauce ingredients at the same time. The oil will cool down at this point because you added cold ingredients, so take this into consideration and adjust the heat as needed. Once the temperature is back to where it's needed (medium to loud sizzling is a great way to judge this), lower the temperature to med-low and sweat gently until shallot and garlic are translucent. The squash may not be cooked through at this point, and that's okay.
Add chicken stock or water and raise the temperature to high heat, stirring every few minutes. Once it comes to a boil, reduce heat to a light simmer.
Taste taste! At this point, add a bit of salt — this helps judge how flavors are developing. After 15 minutes of simmering, the squash should be fully cooked and the base is ready to be blended.
Blend the base with an immersion blender or by pouring into a traditional blender. Once blended, strain and season to liking. Set aside.
Method for the garnish:
Dice chicken into bite-sized pieces and season with salt and pepper. Once the chicken is ready, heat up a medium saucepan over medium heat, and add chicken and sear until cooked. Set aside for later.
Rinse cilantro and chop it to your liking.
Rinse kale and cut into bite-sized pieces.
Peel red onion and cut it into a small dice.
Open the can of hominy, pour over a strainer, and run cold water over it. This will allow the excess starch to rinse off. If you like a thicker soup, this starch is perfect for adding more body to the base.
To finish:
Bring the soup base back to a light simmer. At this point, add all of the garnishes except the cilantro and olive oil.
Let soup simmer for 10 minutes and taste to adjust the seasoning if needed.
Using a ladle, transfer to your desired bowl, then add the cilantro for flavor and color and finish with a drizzle of olive oil.
Editors' Recommendations