If we reflect back on all the delicious meals we ate this year, Sunday in Brooklyn is hands down our favorite spot. Opened in November 2016 in the New York neighborhood of South Williamsburg, the all-day dining spot boasts a gorgeous three-story space with private dining room and — in our humble opinion — one of the most inventive menus in NYC. Founded by industry vets Todd Enany, Adam Landsman, and chef Jaime Young (who come from the likes of Atera and Major Food Group), the eatery was named for something that the trio never took for granted: Sunday, a day for rest, hanging with friends and family, and seeking out a new food adventure in the city that never sleeps.
You can expect everything from Sunday in Brooklyn to be fresh, seasonal and homemade, whether you're grabbing breakfast pastries from the take-out window or sitting down for a full dinner. The open kitchen's wood-burning oven turns out dishes like wood-roasted maitake mushroom with allium vinaigrette and wood-fired whole fish with mussel butter and wilted greens. The charcuterie board — made with ham, bison tongue, chicken liver mousse, and pig face — is a transcendental experience. Bar manager Claire Sprouse turns out awesome cocktails that rotate often, like the obscurely tropical Golden Coco (Japanese whisky, squash, coconut, tamarind, cachaca and lime). We don't order dessert often, but at Sunday in Brooklyn it's a must; every dessert we've had there is better than the last.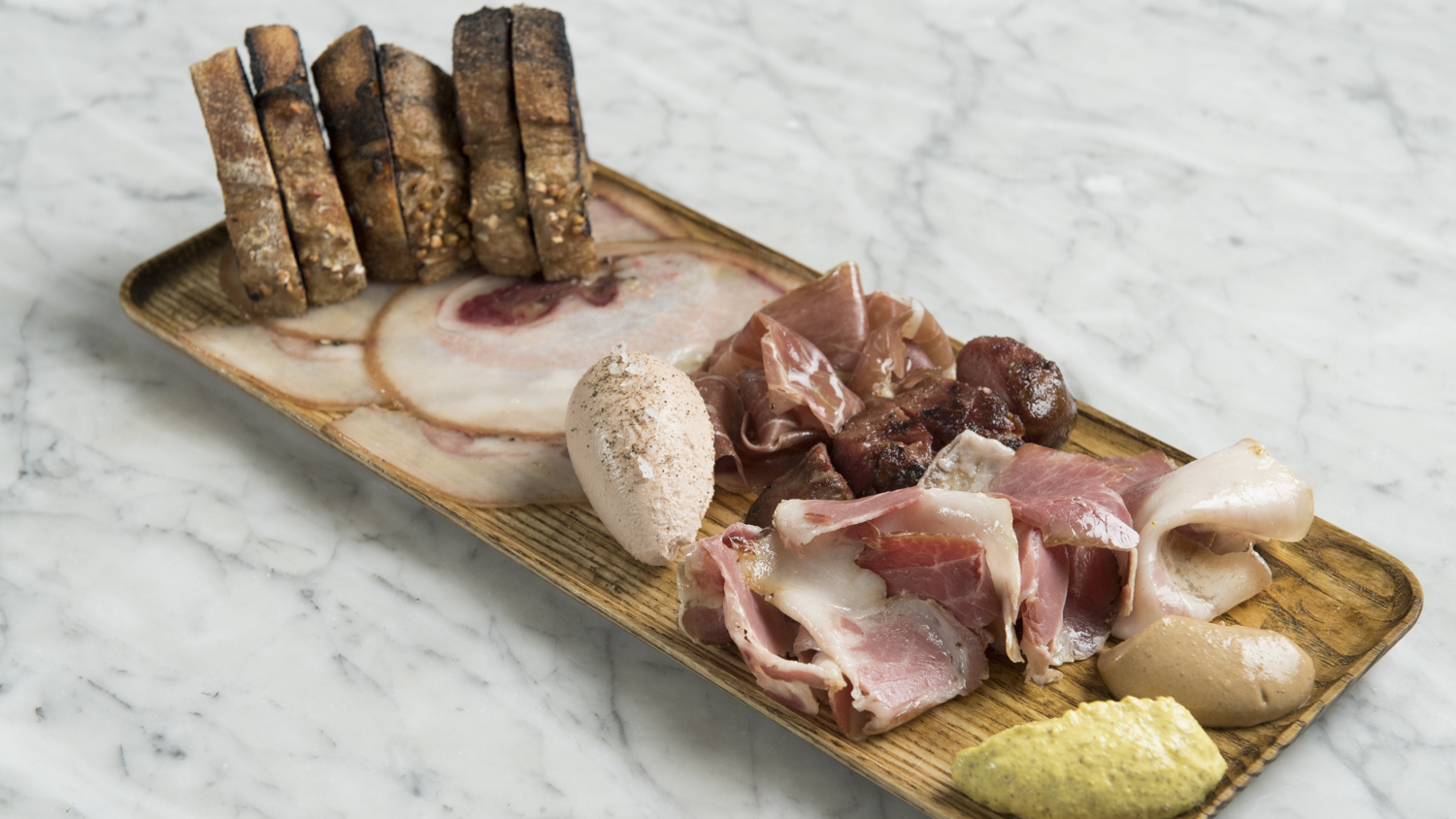 We chatted with Landsman, Enany, Young and Sprouse to learn more about Sunday in Brooklyn's sustainability initiatives, current menu inspiration and what's on the plate for 2018. The next time you find yourself on Williamsburg's laid-back Southside, pop in, grab a table or saddle up to the bar, and say hello for us.
Sunday in Brooklyn is housed in one of the coolest buildings in the borough. Just so everyone at home knows, it's a three-story restaurant with a roof garden and lots of nooks and crannies. How did you find the space? What made you decide to house your restaurant here?
Adam Landsman and Todd Enany: We have lived in Williamsburg for eight years and always loved the design of this restaurant. We had signed a lease for another space, using this space as our main design reference point. When we found out this space was available, we jumped on it!
You always strive for sustainability through your ingredient-sourcing process and dedication to a low-waste model. What are some of your current initiatives?
Jaime Young: We are constantly looking at our byproduct and are always seeking ways to repurpose them. This gets tricky, however. We want to find new ways to reuse these byproducts without making the tasks too labor intensive. It's a big discussion in our kitchen.
Claire Sprouse: From the bar's perspective, we really strive to work in tandem with the kitchen to cross-utilize the byproducts from each of our menus. Either department will often approach the other with "waste," such as pumpkin seeds, sage stems, citrus peels, and so on. This pushes us creatively — and, more often than not, it has resulted in some of our more unique offerings.
To eliminate food waste, how have some of the bits and pieces that may have been discarded ended up in a dish?
JY: For example, we use our meat trim from our flat-iron steak to make a base broth for the bone broth we are about to put on the all-day menu and brunch menu. Then we use the soft boiled meat and fry it up to add texture to our tartar.
CS: A very good example of this stemmed from a summer corn dish that featured "burnt lime," which was made by long-dehydrating lime shells that were waste from the bar's use of fresh lime juice. In turn, we took the husks and ends of the corn and infused them into white rum. The resulting cocktail was a Ti' Punch variation that tasted intensely of fresh corn.
Your menu is one of the best in the neighborhood, from your irresistible homemade charcuterie to those whole deviled eggs. What's been your current menu inspiration? Do you have a favorite dish on the menu at the moment?
JY: I have been looking to simplify concepts in terms of flavor profiles. At the moment, I am obsessed with the idea of three flavors — max! I want to try and prove a point with these flavors boldly, without any frills or distractions. I really like our new beet salad. I usually always have some sort of beet dish on the menu, but this new one is my favorite iteration. It is simply beets that have been pressure cooked with vinegar, salt and water. They are dressed in walnut oil, peperoncino, olive oil and lemon. It's served with a sabayon made from walnut butter and crackers made from flax seeds.
You sometimes have a pork chop on special that comes with a sort of mustard. We order it every time because we love it so much.
JY: This dish was meant to express what happens to flavor in fermented or aged foods as it develops slowly over time. We aged the pork for about three months with sake lees [kasu] and our shio koji marinade. We served it simply — pan roasted with a dollop of hazelnut Dijon and warmed half sour celtuce tops.
Your cocktail menu features some of the most inventive drinks in the neighborhood, and it changes often. What's your current inspiration — do you have a favorite spirit or recipe technique that you've been using a lot as of late?
CS: My approach is twofold. Our list is full of medium-ABV (right in between low ABV and spirituous) offerings that can be enjoyed all day long. The cocktails also feature seasonal and local ingredients as much as possible. The main goal is to complement chef Jaime's food while still being accessible and exciting to the neighborhood.
Do you have some favorite purveyors you've been working with since the beginning? How about recently?
JY: I have always used Regalis Foods. Ian is a good friend and always has great quality product. Currently, our favorite suppliers have been Lancaster Farm Fresh and Natoora.
What's next for the restaurant? Is there anything you're particularly excited about in 2018?
AL and TE: We hope to expand and are looking to find another location, but nothing is set just yet!