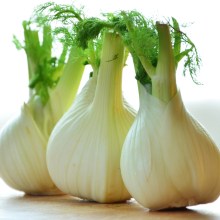 Cocktails probably aren't the first thing you think of when playing with a bunch of fresh fennel. The herbal root brings to mind bright salads and savory sausage, but it can work really well in your favorite beverage, too. Fennel has a rich, licorice flavor, but it's refreshing rather than bold. When used in cocktails, it can cool you down on a hot day, and it works as a palate cleanser in between courses of a big meal. It perfectly complements sweet, savory, and bitter ingredients, so it's easy to use whether you're a fan of dirty Martinis or Old Fashioneds.
We reached out to some of our favorite bars across the country to see how they are using fennel in cocktails, and each one is balanced, beautiful, and delicious. Stir one up the next time you're looking to impress even the staunchest cocktail nerd.
Flower & Stone
Fennel's strong anise quality can be an acquired taste. Luckily, a cocktail like the Flower & Stone can ease you in with fruity, citrusy ingredients that elevate and complement fennel's herbal, vegetal notes. "Fennel has a definite anise quality, and it ties into many foods, particularly savory Mediterranean, Middle East, and East Asian cuisines," says Tim Weigel, the chief mixologist at Hakkasan Group. "The base spirit [of this cocktail], Bombay Sapphire East, contains a "who's who" in the spice world including cassia bark, licorice, and coriander, which are also used in the aforementioned cuisines. The fennel dances with said spices to ignite the palate. The fennel and apricot liqueur have a strange affinity towards the other, can't really explain that one — it just works! Add in some accents like rhubarb and mint for aromatics and yuzu juice for some lively citrus balance, and the Flower & Stone came to be."
1.5 oz Bombay Sapphire East gin
2 dashes Fee Brothers Rhubarb Bitters
.75 oz yuzu juice
.75 oz fennel strawberry syrup*
6 mint leaves
Viola flowers, for garnish
Method: Shake all ingredients with ice and double strain into a coupe glass. Garnish with two viola edible flowers.
* Fennel strawberry syrup: Chop a fennel bulb into 1-inch pieces. Grab a pint of strawberries, chop off the tops, and cut in half. Add the fennel and strawberries to a pot with 64 ounces of sugar and 48 ounces of water. Bring to a boil over medium heat. Reduce heat and allow to simmer for 10 minutes, stirring occasionally. Remove from heat and cool. Strain into a clean container.
This Is the Martini You've Been Looking For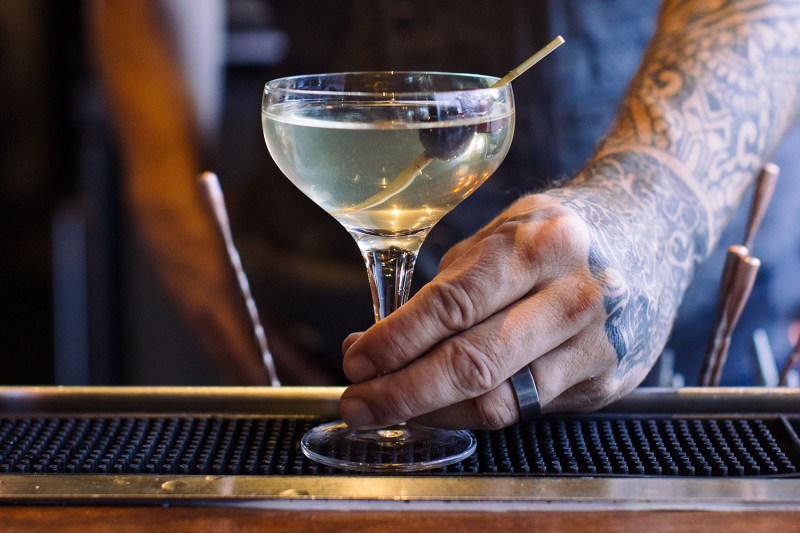 We love a dirty Martini to whet our appetites before a good meal, but olive brine isn't the only ingredient that will give the stirred classic a savory kick. Phil Clark, the head bartender of Blue Hound Kitchen & Cocktails in Phoenix, uses fennel syrup and champagne vinegar to give this Martini a palate-pleasing tang. "Death's Door Gin is an avant-garde craft American gin (and a runner-up in the Best American Gin category of The Manual Spirit Awards 2018), made in Wisconsin from just three locally harvested botanicals — juniper, coriander, and fennel," he says. "Inspired by this simplicity and my hunger for a Wiseguy pizza with fennel sausage from Pizzeria Bianco, I wanted to create the perfect pre-dinner cocktail. This is the Martini You've Been Looking For is bracing yet refreshing, and complex yet exquisitely balanced. My preference for stirred cocktail garnish is almost invariably a twist of citrus, but here I wanted to reach for the maritime salinity of Kalamata olives to highlight the depths of the fennel flavors."
2.5 oz Death's Door Gin
.5 oz Dolin Blanc Vermouth
.5 oz fennel syrup*
2 dashes Champagne vinegar
Kalamata olives to garnish
Method: Add all ingredients, save for the garnish, to a mixing glass with ice. Stir until ice cold and strain into a coupe glass. Garnish with a spear of olives.
* Fennel syrup: Bring 4 cups of water to just below a boil. Keeping on heat, add 6 cups of sugar, stirring to dissolve, creating a simple syrup. Add half a cup of fennel seeds, and bring to a boil. Immediately reduce to a low simmer. Simmer for 20 minutes, strain out the seeds, bottle, and refrigerate. Keep for 21 days.
L'Amie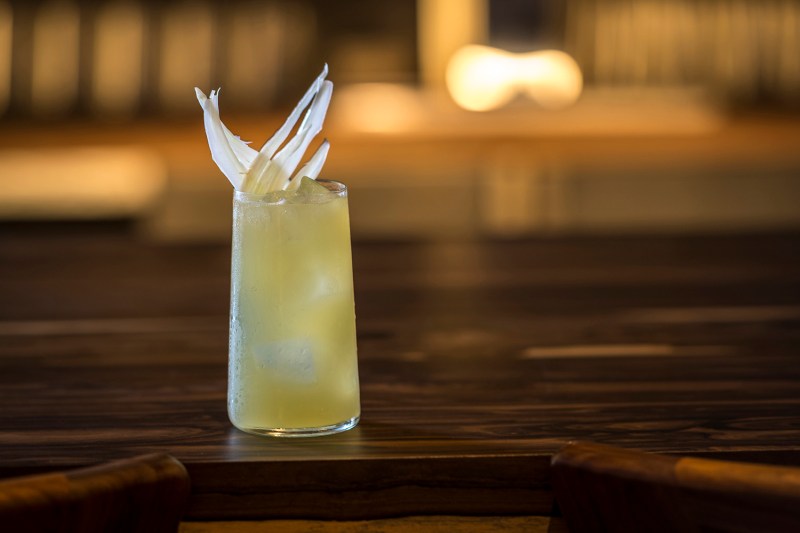 Ferris, a cozy new American restaurant that's tucked inside the MADE hotel in NYC's Nomad neighborhood, is the kind of place you wish was your neighborhood restaurant. The service is friendly, the atmosphere is lively, and the food and drinks are ridiculously good. Husband and wife team Jeremy Oertel and Natasha David, who have worked with modern iconic bars like Death & Company and Maison Premiere, created this drink for Ferris' latest menu, and it's already a tried and true crowd pleaser. A smooth base of Absolut Elyx vodka is married with fennel liqueur, Suze (a gentian-based French bitter), bright lime juice, and spicy ginger syrup to ignite all your taste buds. A topper of club soda gives it an effervescent finish for a perfect year-round libation.
1.5 oz Absolut Elyx
.5 oz Suze
.75 oz lime juice
.5 oz ginger syrup (2 parts sugar to 1 part fresh ginger juice)
Club soda, to top
Shaved fennel, for garnish
Method: Add all ingredients, save for the soda and garnish, to a shaker tin with ice. Shake and strain into a Highball glass. Top with club soda and garnish with shaved fennel slices.
Oooh, For Me???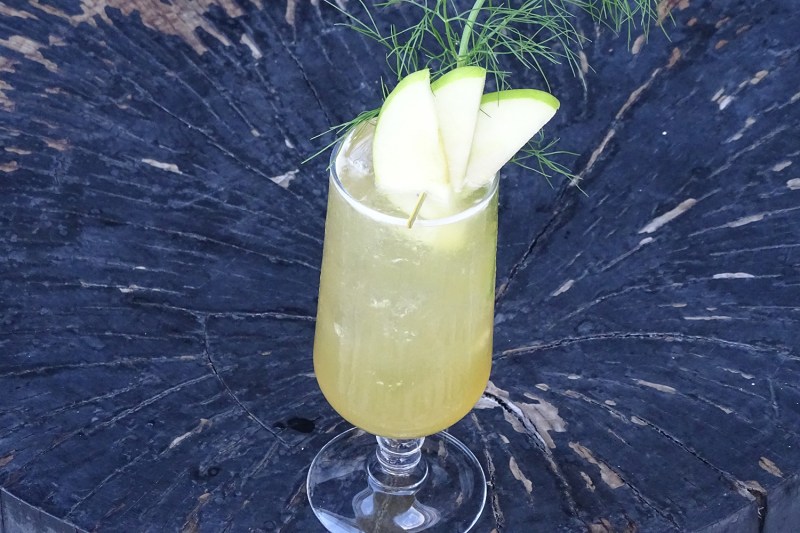 We love staying at Kimpton properties because their food and beverage programs are always as thoughtful as the hotels' design details. The newly opened Kimpton Angler's in Miami is one of our favorite places to stay when visiting South Beach, especially because on-property Minnow Bar stirs up some of the best cocktails in the neighborhood. Bar director Chris Resnick recently made us this unique refresher, and the flavor profile is unlike anything we've tasted before. "My choice of fennel was a savory compliment to the fresh apple juice and a slight nod to the seasonality of both ingredients," he says. "They both pair beautifully with the pisco." The sherry comes through first on the palate while the fennel syrup cools and the apple finishes on a sweeter note. Pisco ties it all together to make this an ideal drink to cool you down on a hot day.
1.5 oz Pisco Porton
1 oz apple juice
.5 oz lemon juice
.75 oz fennel syrup (1:1 simple syrup with steeped fennel)
1 oz manzanilla sherry
Fennel fronds, for garnish
Apple slices, for garnish
Method: Shake all ingredients with ice and pour into a Pilsner glass filled with fresh ice. Garnish with fennel fronds and apple slices.
Sassy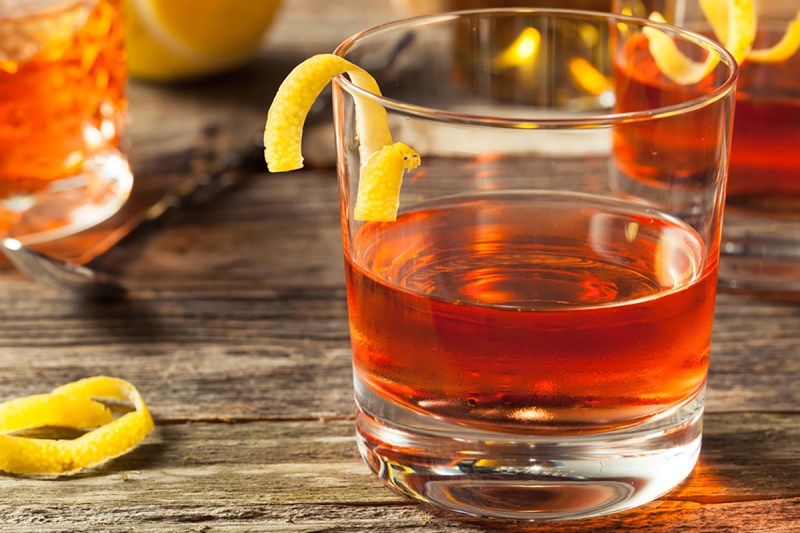 We love classic whiskey cocktails like the Manhattan or Old Fashioned, but we're always looking for new ways to highlight the spirit with seasonal ingredients and interesting flavor profiles. Matt Schulte, the food and beverage manager at Station Kitchen & Cocktails in the Embassy Row Hotel feels the same, and his bar team has been experimenting with exciting ways to please the whiskey drinker's palate. "Our bartender Jorge came up with the fennel syrup idea, and this cocktail is certainly my favorite on the new fall menu," he says. "It is very simple but brings many flavors with it. You initially smell the herbal and anise from the absinthe, the rye brings a spice to the drink, initially followed by the licorice and sweetness that mellows out the whiskey just enough. It is a cocktail I would recommend to anyone just finishing a long day at work."
2 oz Bulleit Rye
.5 of fennel syrup
3 dashes Peychaud's Bitters
Vieux Carre Absinthe to rinse
Lemon twist to garnish
Method: Spray absinthe inside a rocks glass. Add Bulleit, fennel syrup, and Peychaud's Bitters to a mixing glass. Add ice and stir for 33 full rotations. Strain into the rocks glass and garnish with a lemon twist.
Editors' Recommendations