Sometimes the best things in life happen by accident. In 1634, the beer that was being brewed by the Paulaner Monks of the Neudeck Monastery caught the attention of thirsty residents Munich, Germany. It became so popular that commercial brewers (what would've been the equivalent of Miller, Coors, et cetera at the time) banded together to try and stop the monks from making their delicious beer. The mayor rejected their petition and allowed the monks to continue brewing. And thus, Paulaner Brewery was born.
These days, Paulaner has expanded quite a bit, opening locations around the world, brewing traditional German beers and sending them straight from the fermenting tanks to the bar taps. The beers are backed by hundreds of years of tradition, so every batch is smooth and consistently delicious. And while we love the beer, we're even more interested in what's going on in the kitchen.
White & Blue — the restaurant portion of the former New York City location of the brewery chain (it closed in 2018 after four years in service) — was helmed by executive chef Daniel Kill, a Bavaria native who decided he wanted to work in kitchens at a young age because he was inspired by his grandfather's supreme cooking skills. Chef Daniel worked at two-Michelin-starred restaurant Tantris in Munich before moving to NYC in 2008. There, he was chef de cuisine at Michelin-starred Wallse before taking the executive chef position for the entire KG-NY restaurant group. His knowledge of both fine dining and Bavarian home cooking comes through in White & Blue's menu with mouth-watering dishes like crispy pork knuckle and veggie spätzle with brussels sprouts, mushrooms, gruyere, and crispy onions.
Chef Daniel is a Bavarian cuisine expert with meat being one of his specialties. He hand-selected every cut before it came through the Paulaner kitchen, is aware of the animal's diet and can tell if the meat is high-quality just by looking at the colors of the flesh and the fat. He's an expert sausage maker, a skill he actually learned when he first arrived at Paulaner. And Chef doesn't throw just any meat into the grinder. He only uses cuts that would be acceptable to serve grilled or braised on their own, and that rich quality of flavor and texture comes through in his sausages.
Daniel Kill's Merguez Sausage
Ingredients
3 lb lamb shoulder
20 g kosher salt
3 dried Thai chilies
5 g garlic powder
5 g coriander
5 g cumin
5 g paprika
30 g red wine
60 g red wine vinegar
100 g red pepper puree
.5 pint milk powder
Sheep casing
Method:
Start with a 3-pound lamb shoulder. We recommend going to your local butcher to get the best cut of meat possible. Dice the lamb shoulder into small pieces (about 1-inch cubes) if you're using a home grinder.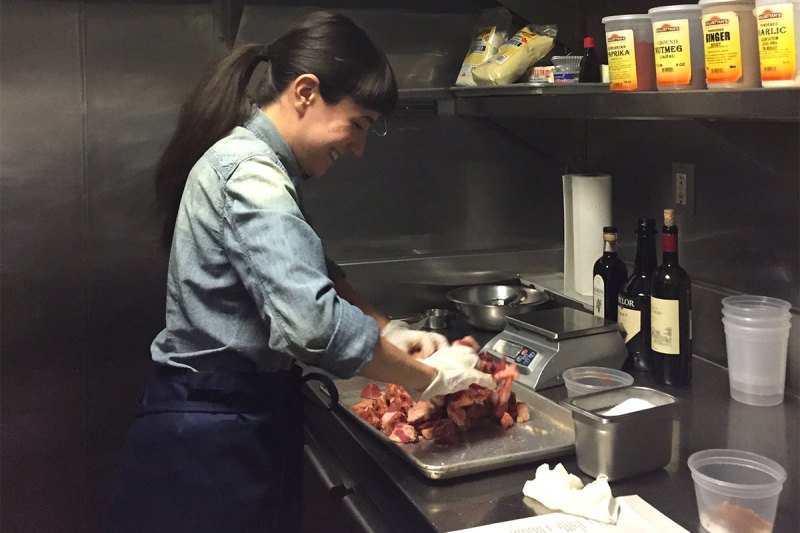 Measure out salt, chilies, garlic powder, coriander, cumin and paprika. Using your hands, coat the lamb pieces with the spice mix. Make sure to wear gloves so you don't get burned by the chilies. Spread the lamb out on a baking sheet and freeze until it's cold and firm, almost crispy, to the touch.
Slowly add the lamb to a grinder.
Grind the lamb once through a medium die.
Transfer to a mixing bowl and add remaining ingredients. Mix on the lowest speed until fully and evenly incorporated.
Pipe into a sheep casing. Once all the ground lamb is in the casing, cut the end and tie it to secure the meat inside.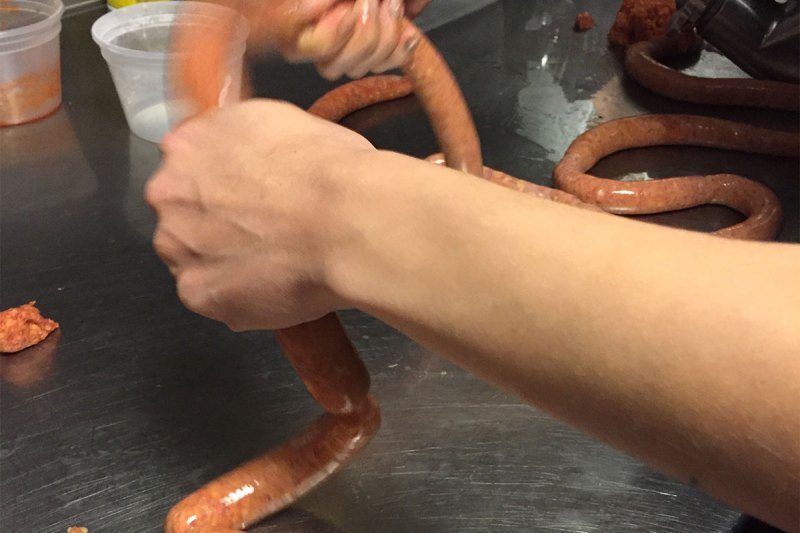 Using both hands, gently pinch about 6 inches of sausage between your index finger and thumb on both ends. While firmly holding the sausage, spin the 6-inch piece to create a link. Repeat down the whole length of the sausage until it's completely divided into links. Let the sausage dry for a couple of hours.
To cook, sauté over medium-high heat until golden brown. Freeze any sausages you don't use for future use.
Article originally published December 5, 2016. Last updated January 2020.
Editors' Recommendations