The Manual Spirit Awards recognize the best damn booze in America. Across nine categories — Bourbon, Rye, Single Malt Whiskey, Unaged Rum, Aged Rum, Vodka, Flavored Vodka, Gin, and Brandy — we blind-tasted multiple products from around the country to determine our champions. Each of the winning bottles was judged on appearance, aroma, palate, finish, and how well the product represented the category as a whole. Our focus on smaller craft distillers in the U.S. allowed us to highlight spirits that, we hoped, our readers have not tried yet.
Best Gin
Dorothy Parker Gin
To make gin, it is absolutely necessary to use juniper. In addition, other aromatics can be (and almost always are) used, but without juniper, the liquor cannot be considered gin. The base spirit can vary, as can the method by which the herbs and botanicals are infused. Gin cannot be bottled at less than 80 proof. There are various types of gin, including dry gin, Holland gin, Old Tom gin, (New) American Gin, and more.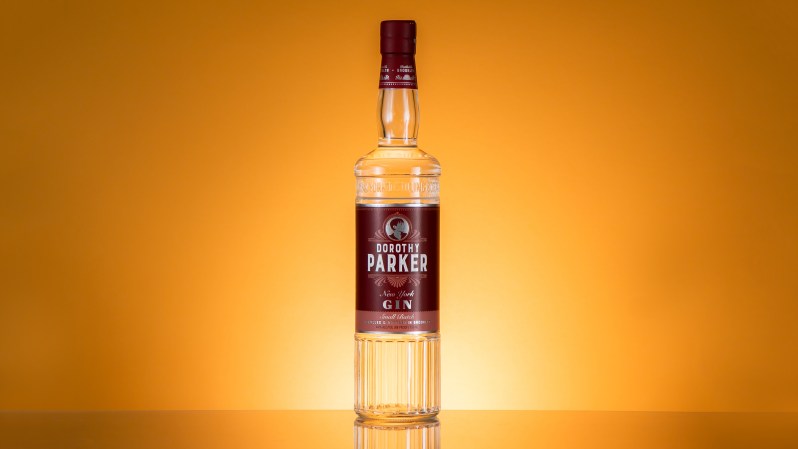 Dorothy Parker Gin (44 percent alcohol by volume) is one of the many products produced by Brooklyn's New York Distilling Company. An homage to the city and to the woman whose name graces the label, Dorothy Parker Gin uses not only the typical botanicals you might find in gin (juniper, citrus, et cetera), but also elderberries, cinnamon, and hibiscus.
Reference to one of the great American authors aside, Dorothy Parker Gin is the epitome of an excellent gin. You get juniper immediately and throughout, but you also get so much more. The other herbs and botanicals seem to jump out at prescribed times, leading to a tasting experience that changes as you sip. The different flavors and aromas also contribute to gin's flexibility in a wide variety of cocktails.
Dorothy Parker Gin is available in New York state and select stores in Illinois and California.
Tasting Notes
Appearance: Dorothy Parker Gin is clear.
Nose: As with most gins, juniper is the first thing you'll notice. The juniper does not overwhelm, however, and allows cinnamon and coriander to come through, followed by some fresh citrus and hibiscus flower petals.
Palate: A bright, bright gin. The juniper is again up front, but the hibiscus is stronger on the palate, mixing with the cinnamon to make an almost cola-like flavor. Strong cranberry notes comes through as well, turning that sweet cola into a warm holiday flavor.
Finish: The juniper and pine notes linger on a medium-long finish, with fresh citrus zest dancing across the tongue.
About the Distillery
Prohibition may seem like nothing more than a subject for AP History tests or a backdrop for mob movies, but in New York, its effects carried into the 21st century. Until only a few years ago, a Prohibition-era law set the licensing fee to open a distillery in New York at $60,000. Once the government dropped that to about $1,000, distilleries sprang up and New York Distilling Company (NYDC) was one of the first. The company quickly established itself as a purveyor of quality gin, thanks in part to its decision to open with an attached bar, The Shanty, where customers could try the products in exquisite cocktails. NYDC makes a couple of whiskeys — Ragtime Rye American Straight Whiskey and Mister Katz's Rock & Rye — but its beating heart is gin. In addition to Dorothy Parker, the brand also produces Perry's Tot Navy Strength.
How to Enjoy It In a Cocktail
Pegu Club
A cocktail that first appeared in writing in the 1930s, the Pegu Club has a history that stretches not only back in time, but across the world; the Pegu Club was the signature drink of the eponymous club, which was located outside Rangoon in Burma. With Dorothy Parker being New York City-made, it seemed that such a cosmopolitan spirit deserved a global cocktail.
Glass: Cocktail glass (aka martini glass)
Tools: Shaker, strainer
1.5 oz Dorothy Parker Gin
.75 oz triple sec
.25 oz lime juice
1 dash Angostura bitters
1 dash orange bitters
Lime twist
Method: Add all ingredients to a shaker with ice. Shake well. Strain into a chilled cocktail glass. Garnish with a lime twist.
Best Gin Runners-Up
| | |
| --- | --- |
| Death's Door Gin | Dry Fly Washington Gin |
| Death's Door Spirits | Dry Fly Distilling |
| Middleton, Wisconsin | Spokane, Washington |
| | |
| Made in Wisconsin, Death's Door is a licorice-lover's gin. A medium, earthy body carries the various botanicals across the palate in a parade of flavor. | The nose on Dry Fly is distinct and immediate. Lavender, juniper, and mint all pop out, leading to some fruity notes on the body, which is palate-coating and meaty. |
Editors' Recommendations