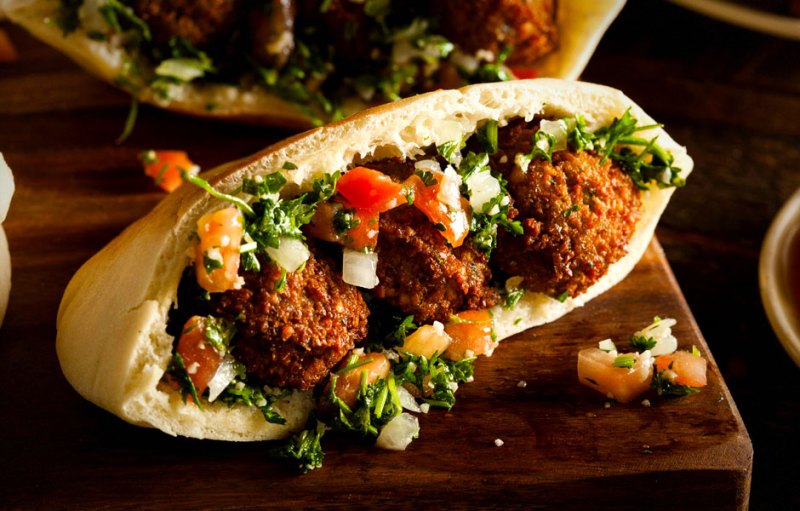 Studies have shown eating less meat could help mitigate climate change, which really blows to hear because the environment is useful and, frankly, meat is delicious. But you don't have to go full-on vegan to help ease the strain– one day a week (or even one meal a day) of going meat-free can help. Not to mention, it's beneficial to give your gut a break from the hard stuff.
Here is a full-day's menu of meatless recipes for Earth Day that will make you forget you're selflessly sacrificing for our weird little blue space marble.
Breakfast: Lemon Ricotta Pancakes
Don't be intimidated by the name: these are super simple to make and fantastically delicious. Plus, they seriously impress guests. This recipe (everything in italics) comes directly from The Food Lab, a cookbook by J. Kenji Lόpez-Alt that absolutely every man should own.
Granted, there are eggs in the pancakes, but they're technically pre-meat, right?
Makes 12 Pancakes, serving 3-4
½ cup buttermilk
1 cup fresh ricotta (drained for 30 minutes)
2 tablespoons unsalted butter (melted and slightly cooled)
2 large eggs
½ teaspoon vanilla extract
2 teaspoons grated lemon zest (1 lemon)
Vegetable oil (for cooking)
1 cup Basic Dry Pancake Mix (see below)
Basic Dry Pancake Mix: Makes about 2 cups
10 ounces (2 cups) all-purpose flour
1 teaspoon baking powder
½ teaspoon baking soda
1 teaspoon kosher salt
1 tablespoon sugar
Directions:
Whisk together the buttermilk, ricotta, melted butter, eggs, and vanilla extract in a medium bowl. Add the pancake mix and lemon zest and whisk until no more dry flour remains (the mixture should remain lumpy–be careful not to overmix).
Heat ½ teaspoon oil in a 12-inch heavy-bottomed nonstick skillet over medium-high heat until it shimmers. Reduce the heat to medium and wipe out the skillet with a paper towel. Use a ¼-cup dry measure to scoop 4 pancakes into the pan and cook on the first side until bubbles start to appear on top and the bottoms are golden brown, 2 to 3 minutes. Flip the pancakes and cook until the second side is golden brown, about 2 minutes longer. Serve the pancakes immediately, or keep warm on a wire rack set on a baking sheet in a warm oven while you cook the remaining batches. Serve with maple syrup.
Lunch: Falafel Pitas
This easy and hearty recipe comes to us courtesy of Martha Stewart. Now, Martha makes you work for it, but it's worth it: this lunch is fried! Don't worry, we've left off the instructions for making your own wax paper wrappers and how to tie the string in a nice bow.
1 ¾ cups cooked dried chickpeas or one 15.5-ounce can of chickpeas, drained, rinsed
2 garlic cloves, smashed
1 small yellow onion, cut into 1'' pieces
¼ cup chopped parsley
2 tablespoons chopped mint
½ teaspoon cumin
½ teaspoon coriander
¼ teaspoon cayenne
¼ teaspoon baking soda
¾ teaspoon salt
Juice of 1 lemon
1 egg, lightly beaten
3 tablespoons sesame seeds, toasted
½ cup canola oil
Place half of chickpeas in food processor and pulse a few times until chopped, transfer to large bowl.
Place remaining chickpeas in food processor with garlic, onion, herbs, spices, baking soda, salt, and lemon juice. Pulse to thick, chunky paste, about 30 seconds. Transfer to bowl with chopped chickpeas.
Add egg and sesame seeds to bowl and stir to combine. Cover and chill batter in fridge 30 minutes.
Heat oil in a large skillet over medium heat. When oil shimmers, drop heaping tablespoons of batter into skillet and gently press batter 2"-round patties. Cook, turning once, until deep golden brown on both sides, about 4 minutes total. Transfer to paper towel-lined plate to drain.
Serve falafel with pita bread, sliced tomatoes and red onion, romaine leaves, and store-bought tahini dressing.
Dinner: Meatless Tofu Chili
Don't run away at the word tofu! You will be surprised how well it can match the consistency of meat in chili and it beautifully absorbs the flavors. Whole Foods, oddly enough, has a particularly good recipe, but obviously you can get the ingredients from any grocery store.
Serves 6
1 (14-ounce) package of extra-firm tofu, drained
2 tablespoons extra virgin olive oil
1 large green bell pepper, cored, seeded, and chopped
1 large yellow onion, chopped
1 small jalapeño, stemmed, seeded, and finely chopped
2 cups fresh or frozen corn
1 ½ cup vegetable broth (or water)
1 (15-ounce) can kidney beans, rinsed and drained
1 (14-ounce) can diced tomatoes, with their liquid
1 (14-ounce) can tomato sauce
1 tablespoon chili powder
2 teaspoons ground cumin
Salt to taste
Arrange tofu on a large plate lined with 3 or 4 paper towels and top with more paper towels. Press firmly to release as much water as possible from the tofu. Discard paper towels, crumble tofu and set aside.
Heat oil in a large Dutch oven or soup pot over medium high heat. Add pepper, onion,  jalapeño and corn and cook for 5 minutes. Add broth, beans, crumbled tofu, tomatoes, tomato sauce, chili powder, cumin and salt or tamari and stir well. Bring to a boil, then reduce heat and simmer, uncovered or partially covered, stirring occasionally, until thickened and flavors have melded, about 45 minutes. Ladle chili into bowls and serve.
Sit back, crack a beer, and congratulate yourself on an earth-friendly day of good eats and plan the triple-decker bacon cheeseburger you can have tomorrow. Just make sure it's healthier, happier grass-fed beef.
Editors' Recommendations