The Super Bowl is less than ten days away, meaning if you don't have your snack and drinks game starling lineups, it's time to put them together. Firing up the grill is a great way to feed a hungry crowd, as you can whip up everything from burgers to beer can chicken. But some dishes are better for the big game than others.
We've assembled a list of five spectacular recipes that'll win you over this year, not matter how your team is doing (or how your spread looks). Since it's football, we've included staples like ribs, wings, chili, and more. Better, we've hit up James Beard Award-winning pros for the recipes.
Check out below, featuring the work of pitmasters like Rodney Scott and barbecue institutions like Virgil's Real Barbecue. Just imagine a full plate of ribs and wings, all while watching the big game on the big screen — that's a surefire recipe for an epic Super Bowl celebration.
Rodney Scott's Victory Ribs Recipe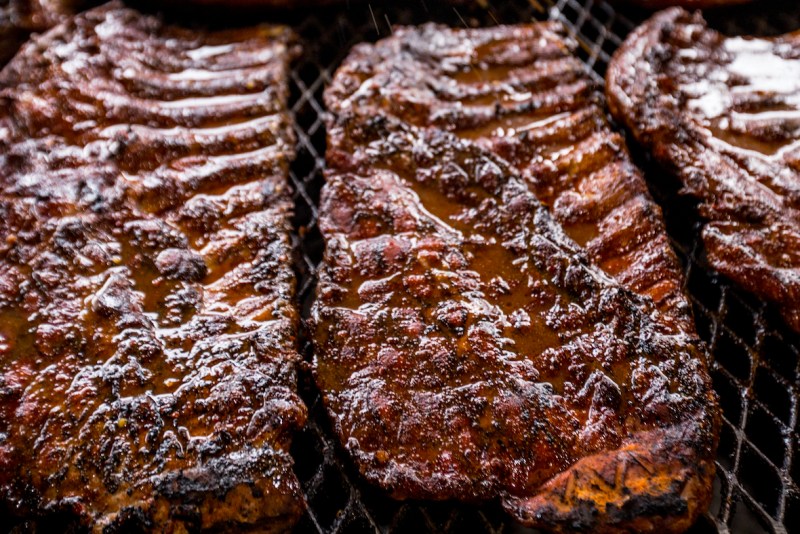 Rodney Scott is a James Beard award-winning pitmaster of Rodney Scott's Whole Hog BBQ and best-selling cookbook author of Rodney Scott's World of BBQ: Every Day Is a Good Day: A Cookbook . As an expert on whole hog barbecue, Scott's pork ribs are a delicious balance of smoke, spice, and sweetness.
Prep Time: 1 hour
Total Time: 2 1/2 hours
Yield: 4-6 servings
Ingredients
For Ribs:
3 slabs pork spare ribs, membranes removed
1 1/2 tablespoon Rodney's Rib Rub
2 to 3 cups Rodney's Sauce
For Rodney's Rib Rub:
1/2 cup kosher salt (we like Diamond Crystal)
1/4 cup MSG
1/4 cup fresh ground black pepper
1/4 cup paprika
1/4 cup chili powder
1/4 cup packed light brown sugar
2 tablespoons garlic powder
2 tablespoons onion powder
1 teaspoon cayenne pepper
For Rodney's Sauce:
1 gallon distilled white vinegar
1 lemon, thinly sliced
1/2 cup ground black pepper
1/3 cup cayenne pepper
1 1/4 tablespoons red pepper flakes
2 cups sugar
Method
For Rodney's Rib Rub:
Mix all of the ingredients together and store in an airtight container for up to 6 months
For Rodney's Sauce:
In a small stockpot, warm the vinegar over medium-high heat. After about 5 minutes, when the vinegar reaches 150 degrees Fahrenheit on an instant-read thermometer, just before it starts to simmer, add the lemon slices and continue to cook until the lemon peels begin to soften and wilt, about 10 minutes more.
Whisk in the black pepper, cayenne, pepper flakes, and sugar. Continue to cook over medium-high heat until the sugar is completely dissolved and the sauce reaches 190 F, about 10 minutes.
Remove from the heat and allow to completely cool before using. Once the lemon is removed, the sauce can be refrigerated in an airtight container for up to 8 weeks.
For Ribs:
Fire up your grill to between 200 F and 250 F.
Season each slab with Rodney's Rib Rub and make sure you get under the flap, the little piece of meat that dangles on the bone side of the ribs.
Place the seasoned ribs on the grill grate bone-side down, with the fatty end toward the middle of the grill. The middle of the grill tends to be hotter, so that will ensure that the thicker part of the rib gets cooked properly. Close the grill and cook: You are looking for caramelization on the ribs before you flip them. That should take about 1 1/2 hours.
Open the grill and look for caramelization on the bone. If it's ready, use the mop-flip-mop method. Close the grill. Bring the grill back up to a temperature between 200 F to 250 F. Cook the ribs until the second side gets that same caramelized look. To check doneness, we pick up a slab of ribs with a pair of tongs and check how much give there is. When you pick the slab up, it should sag or flop easily. If a slight tear develops in the meat between the bones, that's another sign of doneness.
Smoked Wings Recipe from Virgil's Real Barbecue

Established in 1994, Virgil's Real Barbecue has been esteemed as one of the top barbecue institutions in America. Besides slow-smoking, they also use a unique combination of wood — hickory, oak, and fruitwoods — producing a distinctive, patented flavor. Along with their original New York City location, Virgil's also has locations in Las Vegas and the Bahamas.
Prep Time: 30 minutes (2 days marination time)
Total Time: 3 1/2 hours
Yield: 4 servings
Ingredients
For Wings:
8 large chicken wings
1/2 cup Virgil's Dry Rub
For Marinade:
1/2 cup vegetable oil
1/2 cup hot sauce
4 tablespoons Virgil's Dry Rub
4 tablespoons granulated garlic
4 tablespoons granulated onion
Juice of 1/2 lemon
For Virgil's Dry Rub:
11 tablespoons sweet paprika
5 tablespoons granulated sugar
3 tablespoons chili powder
3 tablespoons dried onion flakes
3 tablespoons dried garlic flakes
3 tablespoons dried parsley flakes
2 tablespoons Kosher salt
For Sauce:
10 tablespoons unsalted butter
1 teaspoon cornstarch
4 tablespoons white vinegar
3/4 cup hot sauce
1/4 teaspoon cayenne pepper
For Blue Cheese Dip:
2 cups blue cheese crumbles, divided
1 cup mayonnaise
1/2 cup buttermilk
2 teaspoons hot sauce
1 teaspoon Worcestershire sauce
1/2 teaspoon kosher salt
1/4 cup finely chopped scallions
1/2 cup finely chopped celery
Method
To make the dip, combine 1 cup of the blue cheese, mayonnaise, buttermilk, hot sauce, Worcestershire sauce, and salt in the bowl of a food processor and blend on low until smooth.
Remove to a medium mixing bowl and fold in the rest of the blue cheese, scallions, and celery, being sure to break up the larger blue cheese crumbles. Place in a covered container and refrigerate overnight.
Mix all the marinade ingredients in a large mixing bowl. Place the wings in a large container with a lid and pour the mixture over the wings. Toss until the wings are thoroughly coated. Cover and refrigerate for two days.
Mix all the dry rub ingredients in a bowl.
Preheat the grill or smoker to 245 F.
Spread the wings on a sheet pan and wipe away the excess marinade. Sprinkle liberally with the dry rub, coating the wings all over.
Position the wings on the grill away from the direct heat of the coals or burners, and add hickory to the smoker or hickory chips on the coals or gas burners.
Cook the wings for about 3 hours, flipping every 30 minutes (their internal temperature should be about 165 F when cooked.)
While the wings are cooking, cut the butter for the sauce into 1-inch cubes and refrigerate. Whisk the cornstarch into the white vinegar, in a small bowl.
In a medium sauté pan over medium heat, bring the hot sauce to a simmer and whisk in the thickened vinegar. Return to a simmer, cook for 1 minute, and remove from the heat.
Add the cayenne and slowly whisk in the cold butter. Keep warm until serving.
Remove the wings from the smoker or grill and put half of them into a bowl, cover with the sauce, and toss. Repeat with the remaining wings and serve on a platter, with the blue cheese dip on the side.
Virgil's Texas Chili Recipe

While there's a lot of chili recipes out there, this exciting chili recipe from Virgil's Real Barbecue is upgraded with the addition of grilled skirt steak.
Prep Time: 1 hour 15 minutes
Total Time: 3 hours 15 minutes
Yield: 4-5 servings
Ingredients
For the Chili:
2 tablespoons Texas Chili Spice Mix (see below)
1/4 cup canola oil
2 lbs skirt steak
2 teaspoons kosher salt
1/3 lb sliced bacon, diced
4 cups yellow onions, finely diced
2 cups green peppers, finely diced
1/2 cup chopped garlic
1 (28-ounce) can crushed tomatoes, drained
2 tablespoons dark brown sugar
2 tablespoons dried Mexican oregano
2 tablespoons Texas-style chili powder (use 3 to 4 tablespoons for a thicker chili)
3 tomatillos, rinsed and diced
3 tablespoons corn masa flour (recommended brand: Masaca)
2 tablespoons pureed chipotle in adobo sauce
5 cups beef broth
2 (16-ounce) cans black beans
1/2 bunch cilantro, coarsely chopped, divided
1 (13-ounce) bag tortilla chips, crushed
For the Texas Chili Spice Mix (Makes 1 cup):
2 tablespoons guajillo chili powder
2 tablespoons chipotle powder
6 tablespoons ground cumin
4 tablespoons dry Mexican oregano
4 tablespoons sweet paprika
For the Chipotle Cream (Optional — to top):
10 1/2 ounces goat cheese
2 tablespoons pureed chipotle in adobo sauce
1 cup plus 2 tablespoons heavy whipping cream
Juice of 1/2 lemon
Juice of 2 limes
Zest of 1/2 lime
1/2 teaspoon kosher salt
Method
For the Chipotle Cream:
Combine all the ingredients for the chipotle cream – except for the zest – in a food processor. Process until evenly incorporated.
Remove to a medium bowl and fold in the zest. Refrigerate for at least 2 hours before serving.
For the Chili:
Mix 2 tablespoons of the Texas Chili Spice Mix with the oil to make a paste. Dust the skirt steak with salt, then baste with the paste.
Marinate for 1 hour and then grill over high heat until medium-rare. Set aside and allow to rest.
In a large, heavy-bottom pot, render the diced bacon until it is crispy. Add the onions, green peppers, and garlic, and sauté until slightly brown.
Add the tomatoes, brown sugar, oregano, chili powder, tomatillos, flour, and chipotle. Heat for 3 minutes, or until the mixture begins to thicken.
Add the beef broth, bring to a boil, and reduce to a simmer. Simmer uncovered for 1 hour.
Cut the steak against the grain into small cubes. Add the steak and beans to the chili, and simmer for an additional 20 minutes.
Add most of the chopped cilantro, mix well, and serve over crushed tortilla chips. Top with a dollop of chipotle cream and a sprinkling of fresh cilantro.
BBQ Beef Ribs Recipe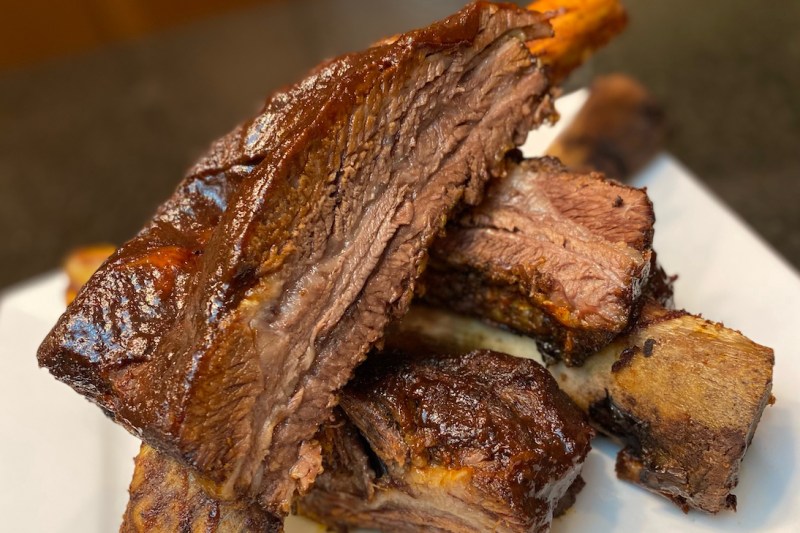 This recipe is provided by Kansas City pitmaster Megan Day of Burnt Finger BBQ. A Chopped Grill Masters champion, Day has also been featured on the Today Show and HSN.
"Football is played with your hands, so finger foods are really a must when watching "The Big Game." In our house, barbecue ribs are always on the menu during the final big games of the football season," said Day. "The bigger the game, the bigger the rib! What's great about these mammoth beef ribs is that they are easy to master in your oven or on a barbecue pit, they serve a crowd, and no one goes home hungry. Also, guests can either take one for themselves, or cut the meat off the bone and share with a friend."
Prep Time: 40 minutes
Total Time: 4 1/2 to 6 1/2 hours
Yield: 3-4 servings
Ingredients
Method
Remove the layer of membrane on the back of the ribs by working a butter knife between the bone and the thick layer. Continue to do this to each bone until you can get your fingers under the membrane to pull it away from the entire backside of the rib rack.
Turn the rack over to the beef side. Using a sharp knife, trim away any excess fat and remove any silver skin, the thin pearlescent membrane on top of the beef.
Evenly coat the entire rib rack with barbecue rub. Let the rubbed rack stand for at least 20 minutes.
Preheat the oven or *pit to 250 F.
For the oven, place the ribs, bone side down, on a foil-lined tray. Place foil over ribs, carefully crimping the foil around the edges of the pan to prevent steam from escaping. Place the covered rib tray on the center rack of the oven and cook for 4 1/2 to 5 hours. *For the pit, place ribs, bone side down on the rack and smoke for 2 hours, or until you have a nice color to the ribs. Wrap in foil and cook over indirect heat for an additional 2 1/2 to 3 hours.
Check for doneness by poking the meat between the bones. There should be no resistance.
Carefully remove the foil top and baste the ribs with your barbecue sauce.
Return ribs, uncovered, to the oven or the pit for no more than 10 minutes. Allow the sauce to set in the heat, then promptly remove.
Loosely cover the meat with foil. Let ribs rest for at least 30 minutes before handling and serving.
Slices through the meat between each rib bone. This will serve 3- 4 people or you can cut the meat in half and feed a few more people.
Barbecue Shrimp Skewer Recipe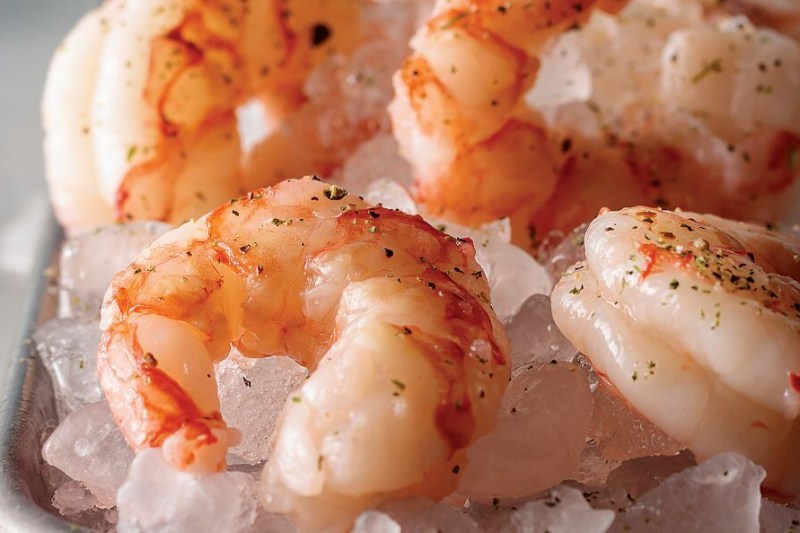 These tasty shrimp skewers use Wild Argentinian Red Shrimp from Omaha Steaks. Based in Omaha, Nebraska, Omaha Steaks delivers a variety of meat and seafood products throughout the country.
Prep Time: 10 minutes
Total Time: 25 minutes
Yield: 4 servings
Ingredients
1/4 lb unsalted butter
1 tablespoon garlic, minced
2 tablespoon + 1 teaspoon prepared blackened seasoning
1 tablespoon Louisiana hot sauce
2 tablespoon Worcestershire sauce
1 lemon, juiced
1/2 cup Beer
4 each Bamboo skewers, soaked in water for 1 hour
12 ounce Omaha Steaks Wild Argentinian Red Shrimp
Method
Preheat grill to high.
In a large pan on the stove, melt 1 tablespoon of the butter on medium heat.
Add garlic and cook until soft. Add hot sauce, Worcestershire, Lemon, beer, and 2 tablespoons of blackening seasoning.
Bring to a boil and cook 5-10 minutes or until sauce is thick and reduced. Remove from heat and stir in the remaining butter.
Thaw and skewer shrimp on 4 bamboo or sugar cane skewers.
Season the shrimp with the reserved 1 tablespoon blackening seasoning.
Grill 2-3 minutes per side, depending on the size of shrimp.
Pour sauce over each skewer when serving. Serve with a glass of Lucky Bucket Lager and some good crusty bread for mopping up the sauce.
At this point, the score of the big game is irrelevant. Your guests are full and happy, begging you for your BBQ recipes and washing down the last bites with a refreshing soda or a good Cold IPA. The Super Bowl is fine, but quality BBQ is the real MVP.
Editors' Recommendations