New Orleans knows how to eat and drink better than any city in the United States. The love for food and booze knows no bounds, which you'll quickly come to realize after spending a few days in the Big Easy. With so many delicious restaurants — both old and new — from which to choose, it can be difficult to plan your eating adventure. To help with that, we put together this handy guide of our absolute favorite New Orleans restaurants. Let it lead your culinary escapades all through your stay.
Longway Tavern
We loved this French Quarter newcomer so much, we visited them twice on our last visit. Longway Tavern is housed in one of the city's oldest buildings, and their food and drink philosophy reflects just that — the restaurant is a nod to taking your time and following the road less traveled. Chef Jonathan Sinclair puts creative twists on nostalgic tavern fare for the menu, and you truly can't go wrong with any of his dishes. Start with the fried calamari, which is perfectly crispy and served with Swiss chard, blistered grape tomatoes, and charred lemon. The English peas (cauliflower cream, country ham, crumbs) and home fries (pork belly, crème fraîche, caramelized onions, chives, and caviar) are not to be missed, along with the succulent pork shoulder steak, complete with broccoli rabe, braised fennel, roasted garlic, and chili flake. Liam Deegan's cocktails perfectly complement the fare and also speak for themselves if you just want a drink. Try the Greeña Colada, a cooling mix of El Dorado 5 Year rum, Green Chartreuse, and "beach flavors." Their playful shot list serves each shooter with a chaser — think Fernet with a Mr. Pibb back and Jeppson's Malort with a Slim Jim back.
Compère Lapin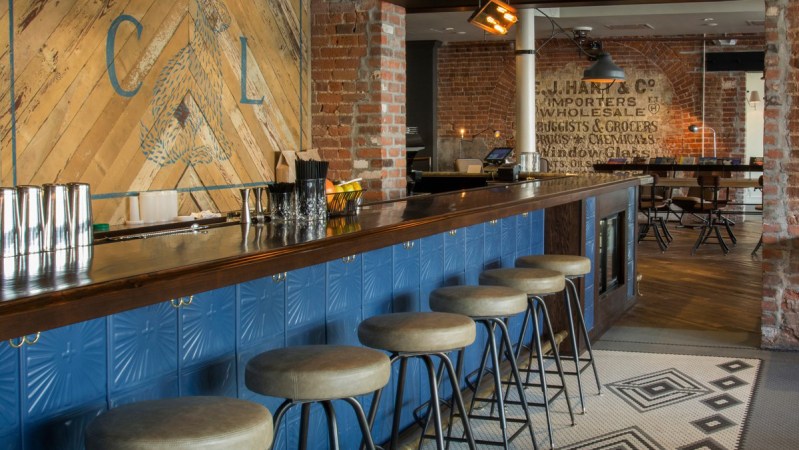 Tucked inside the lobby of our favorite New Orleans hotel (the insanely-charming Old No. 77 Hotel & Chandlery), chef Nina Compton's Compère Lapin is a special place. The restaurant's name comes from a story about a mischievous rabbit that Compton used to read as a child in St. Lucia, and the menu is inspired by her Caribbean roots, the rich culture of New Orleans, and its indigenous ingredients. We recently went for brunch and enjoyed delicious dishes like vanilla bruléed grapefruit, a smoked hamachi and everything doughnut, goat bolognese with cavatelli and ricotta, and a wagyu burger with caramelized onion and taleggio cheese. If you're going for dinner, don't miss favorites like conch croquettes with pickled pineapple tartar sauce, cold smoked tuna tartare with avocado and crispy bananas, and adobo pork tenderloin with plantain crema and charred okra. Abigail Gullo's cocktail menu is just as wonderful as the food. We're loving the Andromeda, made with pisco, green chile vodka, lime, grapefruit, and egg white.
Maypop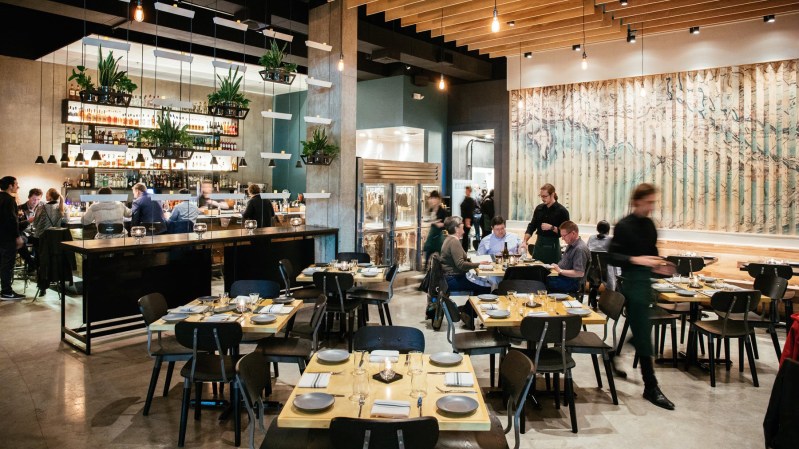 Chef Michael Gulotta takes inspiration from a lot of eating cultures for his menu at Maypop and his style of Southern-Asian fusion is downright irresistible. His menu references Vietnamese, Cajun, Creole, and Sicilian, and he even does a weekend dim sum brunch with dishes like andouille turnip cakes with XO sauce and head cheese and blue crab soup dumplings. He uses the bounty from local purveyors and cures his own meat in-house, which is hanging in a glass case in the dining room for all to see. Gulotta also makes his own pasta, which you can taste in dishes like chanterelle mushrooms with herbed malfatti dumplings and pancetta. Don't miss the peach and oxtail curry, which is served with roasted bone marrow and warm roti.
La Petit Grocery
La Petit Grocery chef and owner Justin Devillier was inspired to enter the culinary industry as a kid, when he would fish and dive for lobsters in his home of South Orange County, California. He puts a creative spin on classic New Orleans cuisine that makes for a diverse and delicious menu. Think small plates like blue crab beignets and buttermilk-fried quail, along with a bounty of fresh vegetable sides. The bucatini with turtle bolognese is a must, as is the panéed rabbit with spätzle, wilted greens, turnip purée, and sauce Grenobloise. Bar director Jesse Carr's cocktail menu pairs perfectly with the fare and includes such concoctions as the Cofresi's Inspiration (High West White Whiskey, Rougaroux Sugarshine Rum, Duplais Absinthe, lime, pineapple, and coconut milk) and Momotaro (Mizu Barley Shochu, Orchard Peach Liqueur, Cocchi Rosa, lemon, thyme, nutmeg, and honey). Situated pleasantly away from the French Quarter in a quaint 1800s cottage, you have to check out this NOLA mainstay.
Cochon Butcher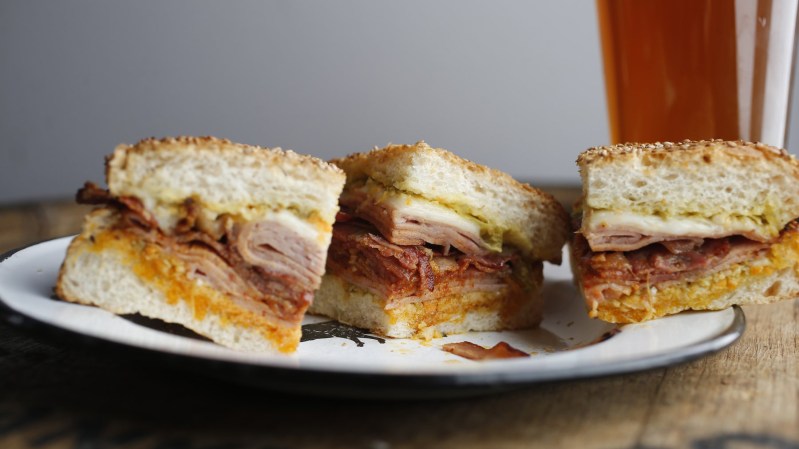 Located next door to Cochon in New Orleans' Warehouse District, Chocon Butcher is a sandwich counter and wine bar that's inspired by old-world meat markets. Almost everything is made in-house, from the cured meats, sausages, and terrines to the bounty of pickles, jellies, jams, and sauces. Chefs Donald Link and Stephen Stryjewski put a Cajun twist on their cured specialties. The smoked turkey sandwich is light and delicious, topped with avocado, sprouts, tomato, and basil aioli. They have a classic muffuletta, pastrami with sauerkraut, a Cubano, and Moroccan-spiced lamb with cucumbers, tzatziki, and chili oil on flatbread. Charcuterie and cheese plates are available, along with small plates like head cheese with chow chow and sweet and spicy brisket sliders. There's also a nightly dinner special, so expect to see dishes like boudin-stuffed chicken leg and fried catfish with corn fritters on weekly rotation.
Killer PoBoys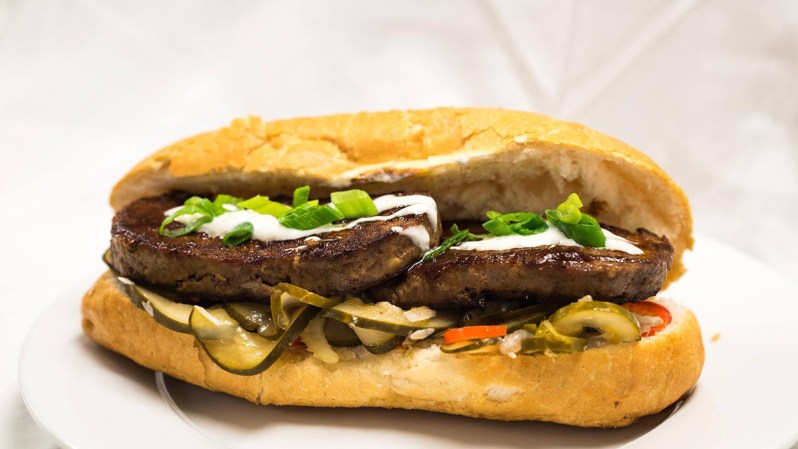 The name says it all: Killer PoBoys makes really good sandwiches. The original location in the back of Erin Rose is a treat, especially when you pair one of a hearty po'boy with a frozen Irish coffee, the bar's specialty. But you'll get the same delicious sandwiches at the freestanding location on Dauphine, which makes for a hearty lunch after an afternoon at the Museum of Death. The restaurant has a tasty po'boy for every palate, like seared Gulf shrimp with coriander lime spice, sriracha aioli, herbs, daikon radish, carrot, and cucumber, and barbecue duck confit with ranch slaw, coffee barbecue sauce, and red onion. Roasted sweet potato and cheddar omelet po'boys cater to vegetarians, and sides like smothered greens and spicy potato salad are perfect pairings for the massive sandwiches.
El Libre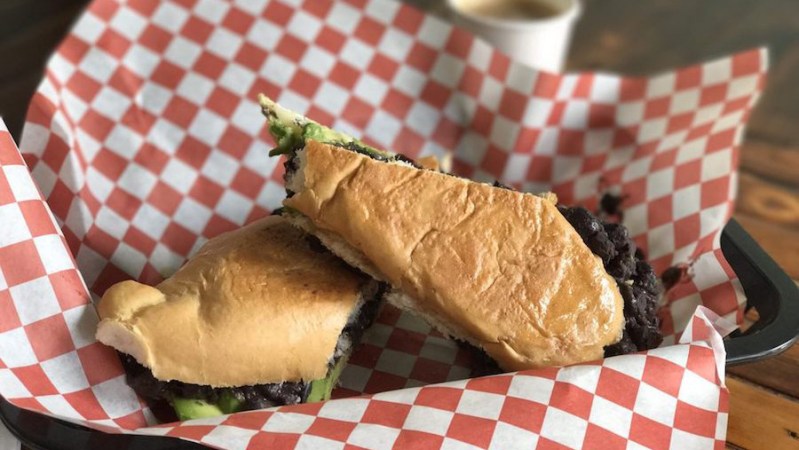 This casual Cuban eatery recently opened its new, bigger location in New Orleans' Uptown neighborhood, but it's still serving favorites like Cubanos and tropical-tinged cocktails. El Libre takes the former space of beloved Bud's Broiler burger joint, which closed after four decades in business, and El Libre pay homage to the older restaurant with a burger and seasoned waffle fries (which can be topped with things like pork, black beans, and avocado). There's a ropa viejo po'boy, both traditional and vegetarian Cubanos, chicken cooked in signature mojo marinade, and a hearty vegetarian bowl. Wash it down with a rummy libation like a daiquiri, mojito, or Cuba Libre.
St. Roch Market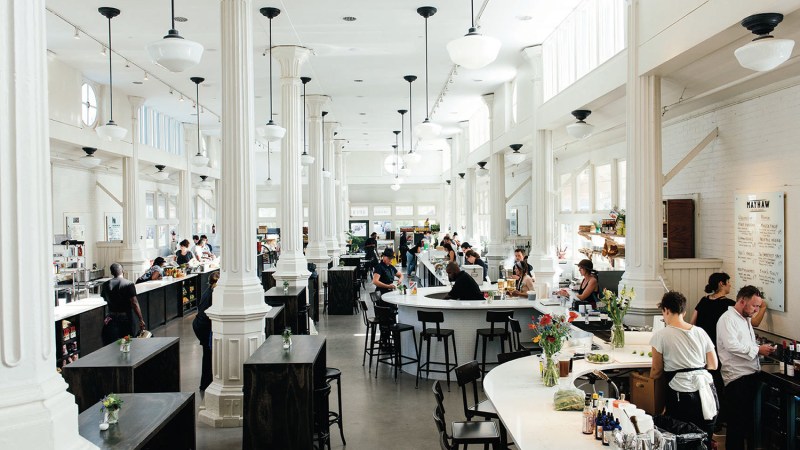 As you walk into this gorgeous Southern food hall, the first thing you'll notice is high ceilings, majestic white columns, and huge windows which allow the natural light to flood inside. Start walking around St. Roch Market and you'll get to know all the food vendors selling their tasty creations. There's an oyster bar, a juicery with quinoa bowls and salads, a Haitian eatery, a taco stand, Egyptian food, plus so much more. There's even The Mayhaw, a craft cocktail bar to quench your thirst. St. Roch Market is the perfect place to stop for lunch or a casual dinner before a night out in the Big Easy.
Central Grocery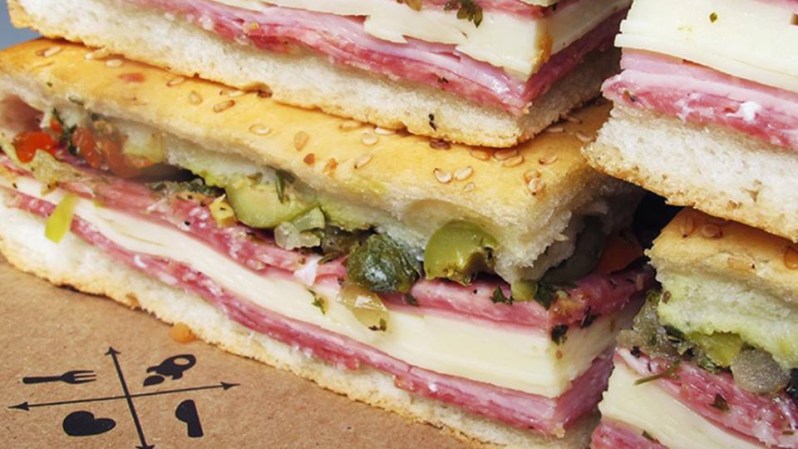 If you've ever enjoyed a muffuletta, you have Central Grocery to thank for starting it all. The Italian sandwich shop and grocery store was opened in 1906 by Sicilian immigrant Salvatore Lupo and the shop has been in the family for three generations. To say that Central Grocery's muffuletta is delicious is an understatement. Layers of Italian meats and cheeses are placed between pillowy, sesame-studded bread that's been slathered with homemade olive salad. The longer you wait to eat the sandwich, the more the oils soak into the bread, imparting it with salty brine and fatty goodness. If you're just one person, the half-size muffuletta is plenty. We suggest buying one right before going to the airport. Eat half on the plane and half when you get home — or for breakfast the next day.
Palace Cafe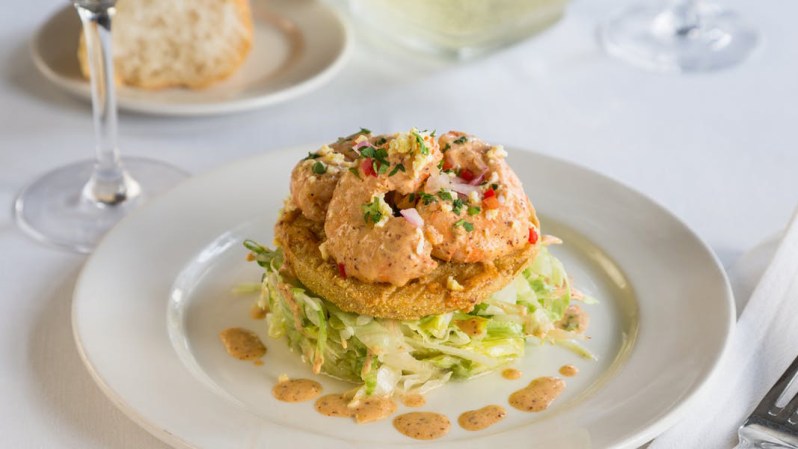 This gorgeous three-story restaurant is a real looker — the charm feels half French brasserie, half New Orleans cafe. The food is Creole through and through, so you can expect to find NOLA favorites like crabmeat cheesecake, turtle soup, and fried oysters with housemade ricotta and guanciale. One of our most memorable New Orleans meals was Palace Cafe's Shrimp Tchefuncte, which is Gulf shrimp in a Creole meunière served with roasted shiitake mushrooms, popcorn rice, and green onions. After dinner, pay a visit to Black Duck rum bar upstairs and indulge in a Frozen Banana Foster, which is made with Rougaroux Full Moon Rum, brown sugar, banana liqueur, and cinnamon.
Editors' Recommendations