Ever wanted to learn more about one of the most iconic amaris on the market? What about watching an unsuspecting friend take a shot of something bitter? Or maybe you're just looking for a good bittersweet cocktail? No matter your reasoning, over the next few months you'll have a new place to do it as the Great Branca Bar — a pop up started by the creators of Fernet-Branca and the Italian marketplace chain Eataly — makes its way across the country and back.
(If you're reading this and have no idea what Fernet-Branca is, check out a brief history here).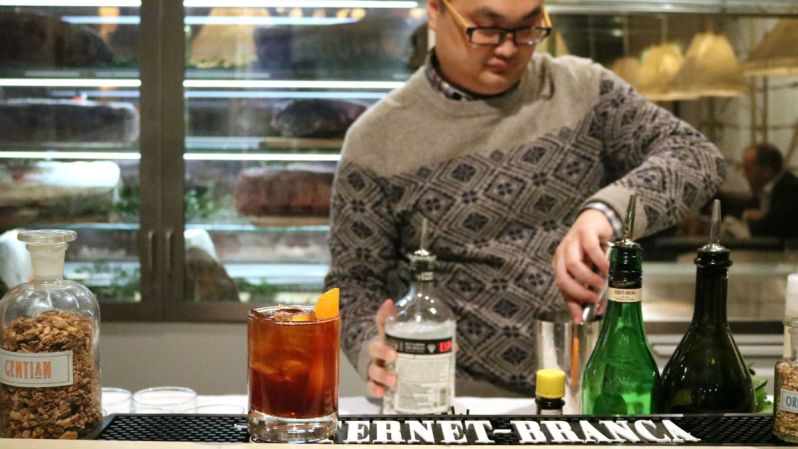 The idea behind the Great Branca Bar, according to the company, was to create a spirited "Grand Tour" that would showcase both Fernet-Branca and Eataly to those who maybe weren't already familiar with either brand.
The bar will feature Fernet-Branca cocktails designed in an apothecary style to highlight the herbal notes of the spirit, as well as shots of Fernet. (If you want to see a friend make their very first "Fernet face," give them a shot before ordering a cocktail, you won't regret it … they might, though. Just remind them that taking a shot of Fernet-Branca is a right of passage.)
"Fernet-Branca has entered a new phase in its life as the center of many wonderful cocktails, which will be showcased through The Great Branca Bar this year," says Edoardo Branca, the sixth generation Branca family member who manages the business in the United States. "We are thrilled to educate new consumers and loyal Fernet lovers and bring Italian spirit in major U.S cities in a way that is authentic to Fernet-Branca and unique to Italy."
The Great Branca Bar started in New York City in late January and will continue on to Chicago, Boston, and Los Angeles before finishing up in New York City again in the fall. Each location will feature a cocktail unique to the city (for example, Fernet Me Not seen below can only be ordered at the NYC stop on the tour).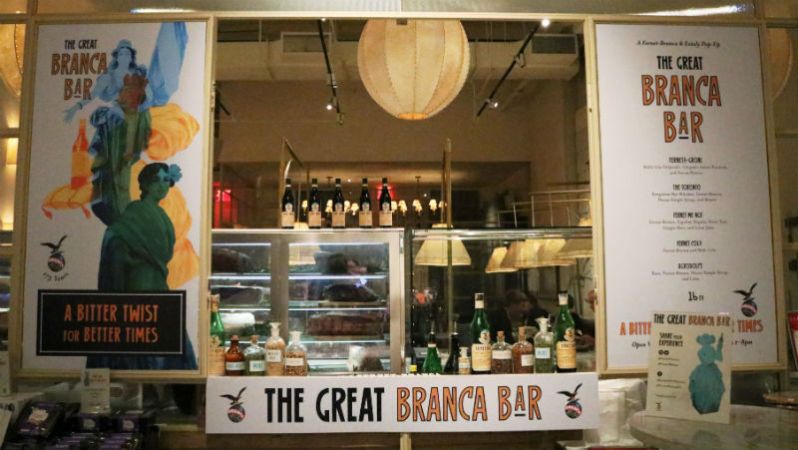 Aesthetically, the company describes the pop-up bar's look as "Art Nouveau meets Duotone," and was inspired in part by vintage Fernet-Branca advertisements from the early 20th century and the vibrant advertisements of the 1960s.
The Great Branca Bar will open in Chicago on March 19 and run through April 1 before shipping up to Boston (May 14-27). Over the summer, you'll be able to visit the Great Branca Bar in L.A. then the pop-up will return to New York City in the fall.
Not going to be able to make it to the Great Branca Bar? Here's your chance to play with Fernet and recreate some of the cocktails at home. If you do get a chance to visit, the Great Branca Bar(s) will be open weeknights from 6 p.m. to 10 p.m. and weekends 1 p.m. to 8 p.m.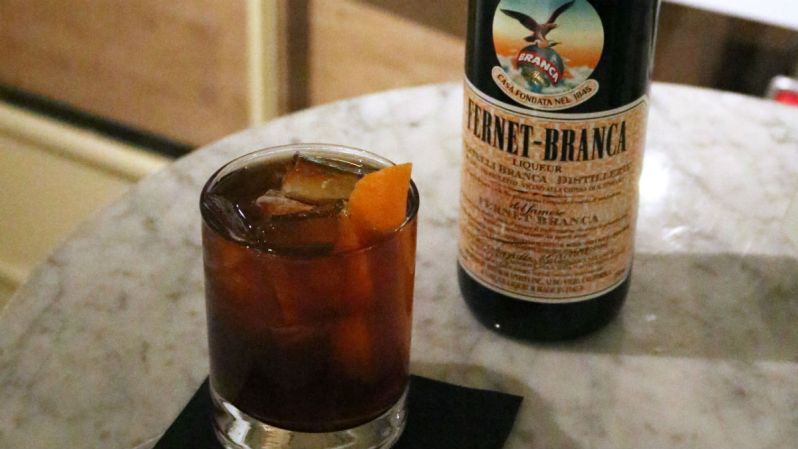 Ferneta-Groni
1.5 oz Malfy Gin
1.5 oz Carpano Antica Formula
1 oz Fernet-Branca
Method: Stir ingredients together with ice. Strain and serve up.

The Toronto
1.5 oz of Templeton Rye
.25 oz of Fernet-Branca
.25 oz of Simple
dash of bitters
Method: Stir ingredients together with ice. Strain into a glass and serve on the rocks.
Fernet Me Not
1 oz Fernet-Branca
1 oz Tequila
.5 oz Lime juice
3-4 oz Fever Tree Ginger Beer
Method: Shake Fernet-Branca, tequila, and lime juice together with ice. Strain into a highball glass and top with ginger beer.
Editors' Recommendations