Pretty much every guy thinks knives are cool; it's just something in our DNA. Many chefs have admitted that one of the reasons they were drawn to cooking was that outside of their love for food, the profession allowed them to play with knives. There's no knife cooler than the chef's knife. It's perhaps the most essential kitchen tool you can own.
Chef's knives are designed for multitasking. That's because, in the middle of a busy service, chefs don't always have time to reach into their bags and grab a paring knife. They need a knife in their kitchen that can do the job of almost any of the others in their knife bag.
When it comes to how to choose the right knife, "the best" one is mostly a matter of preference. How it feels in your hand, the appearance, and the price all play just as big of a role in the purchasing of a knife. The knife's steel composition, edge, and overall craftsmanship all are important. Many chefs stick to a particular brand because that's what they've become accustomed to. It might not be the best brand, but the chef has used that knife so much it has become an extension of his hand.
Chef's knives can get pricey. As much as we'd all love to buy and test out every brand to see what we like best, most of us simply can't afford to do so. The best we can do is make the best decision on the information available. Hopefully, this roundup of the best chef's knives for your kitchen will help you choose the best one for you.
Related Guides
Best Overall: Global 8-Inch Chef's Knife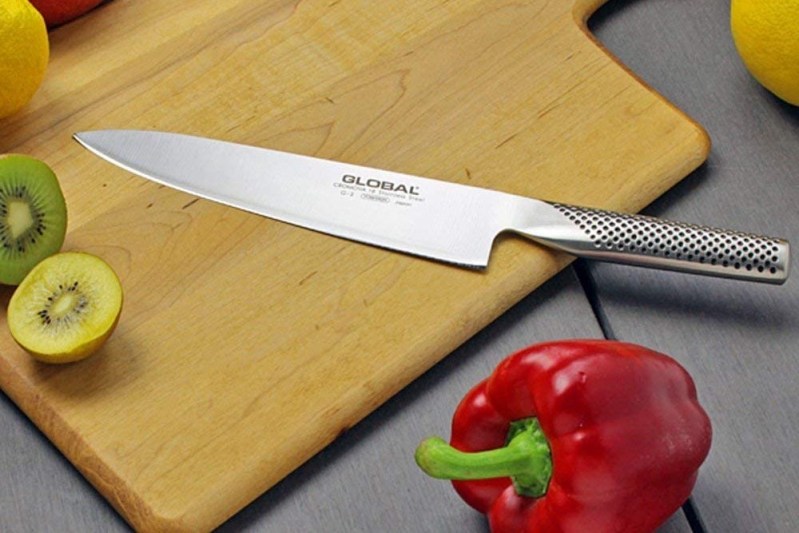 Made in Japan, Global knives are a culmination of the best features of both Japanese and German knives. It has a Japanese knife's lightweight, razor-sharp precision, combined with German durability, balance, and comfort. The edge on a Global chef's knife is genuinely signature. It has no beveled edges, which are common in European knives. Instead, it's ground to such a fine edge on both sides it can clearly be seen by the naked eye on both sides, extending a quarter inch on both sides. Not only are Global knives premium, but they won't put a massive dent in your wallet.
Best German Steel Chef's Knife: Messermeister Meridian Elité Stealth Chef's Knife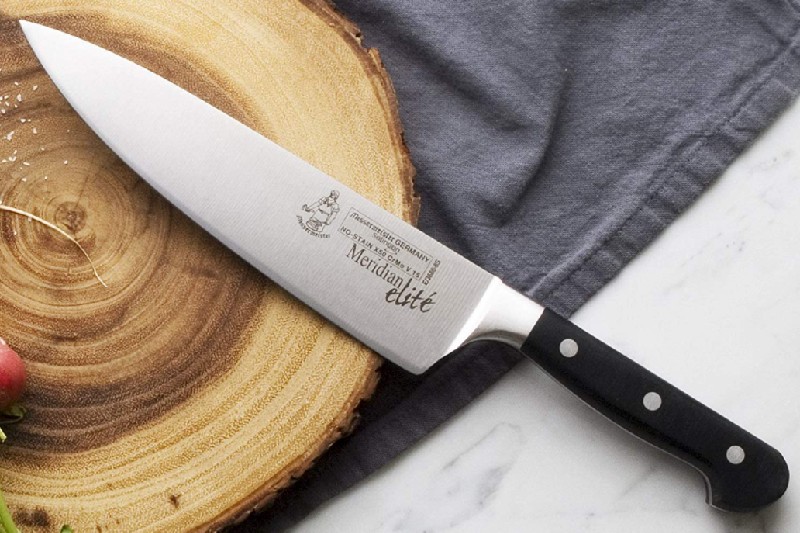 Although less known than its more popular competitors Zwilling J.A. Henckels and Wüsthof, Messermeister has stayed true to hand-forging their knives. In contrast, the others have turned to mass-production methods. The German 1.4116 stainless carbon alloy blade resists corrosion and has a 15° Elite edge formed by hand stropping on a cloth wheel. This type of edge is common for Japanese chef's knives, which range from 10-15 degrees normally, but not for Germain steel. The Stealth version is 10% lighter than the standard Messermeister Meridian Elité model, making a perfect knife for performance and precision cuts.
Best Japanese Chef's Knife: Shun Premier 8-Inch Chef's Knife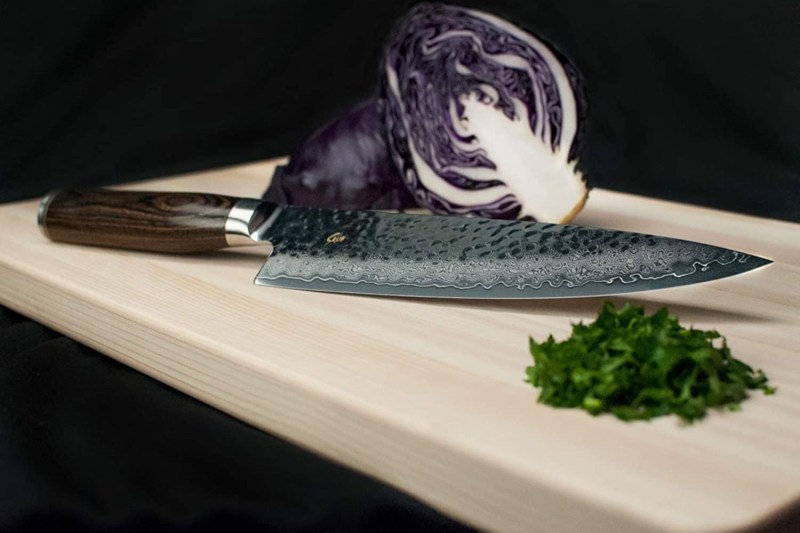 The Japanese word shun refers to a time when an ingredient is at its most flavorful, and a Shun knife is a chef's knife at its most beautiful. The Shun Premier Chef's knife combines beauty and performance with its hand-hammered, razor-sharp blade and walnut-colored PakkaWood handle. Coming in at 7.7 ounces, you'll have to do a lot of searching to find an 8-inch chef's knife that is lighter yet still has this level of quality. The handle's endcap brass ring is a feature that not all Japanese knives possess and provides added weight and balance. Shun is a preferred brand for professional and home chefs alike for a good reason.
Best American-Made Chef's Knife: Lamson 6-Inch Chef Knife
Japan and Germany aren't the only countries that can produce a high-quality chef's knife. From the good ol' USA, Lamson is America's oldest cutlery manufacturer (1837). Using steel from Solingen, Germany (grade 4116), Lamson fire-forges its knives and backs them with a lifetime warranty. This compact 6-inch chef's knife with a beautiful, double-acrylic, smoke-red handle can tackle almost any prep job. Lamson also offers a Sharp for Life program. For only a $15 shipping fee, you can send up to four knives back to the manufacturer to be resharpened. If you were only allowed one knife for every kitchen slicing and dicing task, this knife from Lamson would be an excellent choice.
Best Heavy-Duty Knife: Wüsthof Classic 8-Inch Chef's Knife
We'd be remiss if we didn't include the Wüsthof brand among the best chef's knives. This 7th-generation, family-owned knife company continues to produce premium knives for home and professional chefs. Located in Solingen, Germany (the City of Blades), Wüsthof has been forging knives from the best steel for over 200 years. Their perfect weight and balance and superior edge retention make them a favorite knife of all types of chefs.
Best Splurge: Miyabi SG2 8-Inch Chef's Knife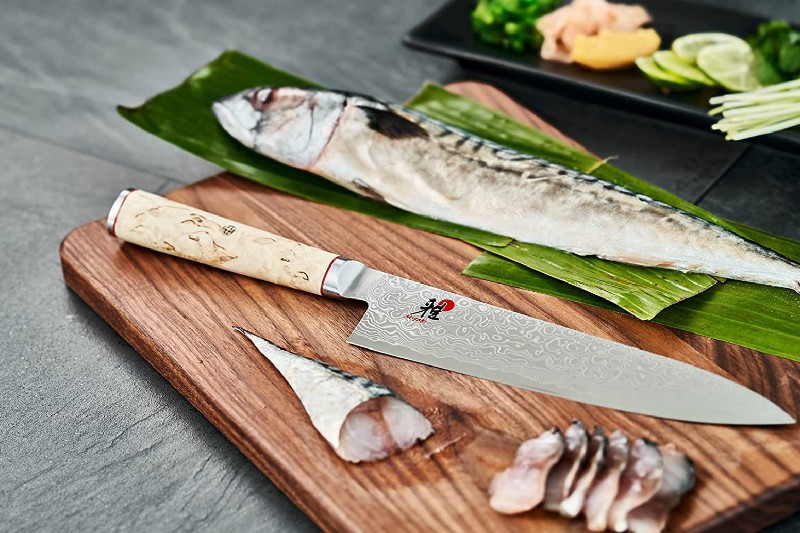 For a luxury knife that combines beauty and performance, Miyabi is the way to go. Miyabi, owned by Zwilling, combines contemporary Japanese design and craftsmanship with high-quality German steel. There are a couple of features that make Miaybi knives unique and worth the elevated price tag. First is the steel itself. The SG2 micro carbide powdered steel core is some of the hardest (63 Rockwell rating) steel you'll find in a knife. Second, Miyabi's cryodur, ice-forging process hardens over 100 layers of steel at minus 196 degrees Celsius. This gives Miyabi knives their exquisite Damasus pattern and extreme durability. The Karelian birch handle (the only wood used in Faberge eggs) will make you want to display this knife in a case when it's not in use.
Best Value for Beginner Chef's Knife: Mercer Culinary M23510 Renaissance 8-Inch Forged Chef's Knife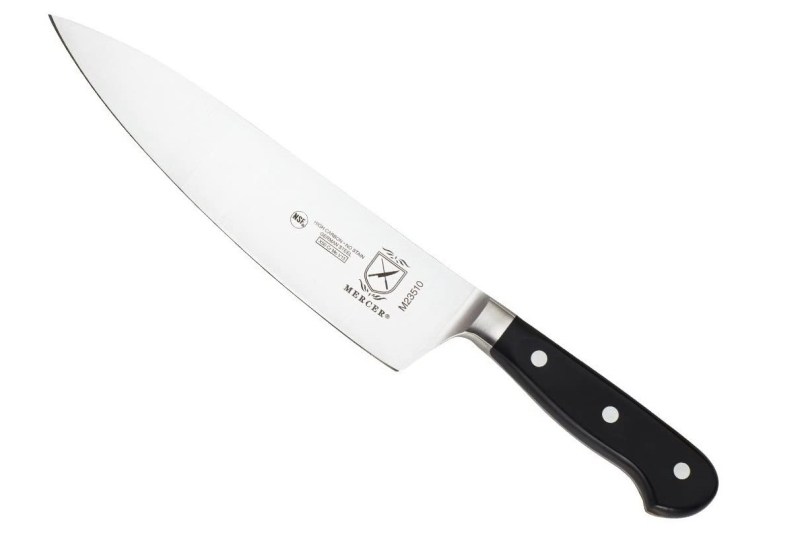 Mercer understands that there are instances where cheap knives are needed. However, their cheap knives are outstanding. Mercer is a favorite knife brand of culinary schools and high-volume production kitchens that supply blades to their employees. That's because it makes excellent economy knife series like Renaissance, Millennia, and Genisis. In a blind test, unless you really know your knives, you'd probably not be able to tell the difference between a Wüsthof and a Mercer. Depending on the knife series, their construction is almost identical. The bottom line is that you get excellent German steel and craftsmanship at an unbeatable price with a Mercer knife.
Best Santoku Chef's Knife: Mac Knife MSK-65 Professional Hollow Edge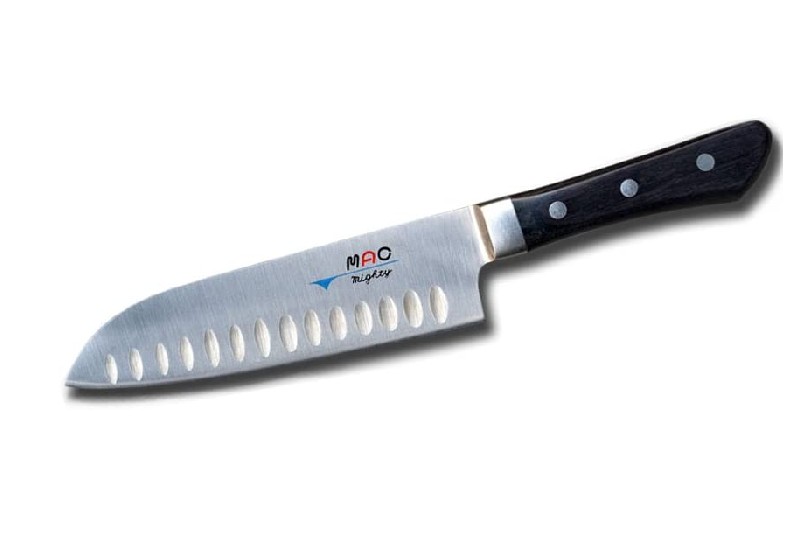 Santoku chef's knives have a different look and functionality than the traditional styles. It can tell a lot about a chef's cooking style and knife technique. A santoku blade has a less prominent tip and is less curved than a classic chef's knife. The santoku lends itself to an up and down chopping style instead of the rocking motion of a traditional chef's knife design. If you have top-notch knife skills, this type of knife can actually help speed up prep. The blade's dimpled (Granton) edge allows the product to slide off more easily so that it doesn't get in the way of your lighting-fast cuts. If you prefer this method of chopping and slicing, the Mac MSK-65 santoku will be your new best friend in the kitchen.
Best Consumer Direct: Misen 8-Inch Professional Kitchen Knife
Misen was one of the first knife brands with the idea to cut out the middleman and deliver top-quality knives directly to customers at affordable prices. There's no doubt you've seen ads somewhere out there for Misen knives and how great they are. That's because they had to get the word out, and it succeeded. People are aware of Misen's quality. Now they offer a full range of knives, cookware, and prep tools. Their flagship 8-inch chef's knife features a unique sloped bolster. This hybrid Japanese/German design promotes a proper "pinch grip" for comfort and control and access to the blade's entire length.
Best Chef's Knife in a Set: Case Household Cutlery Set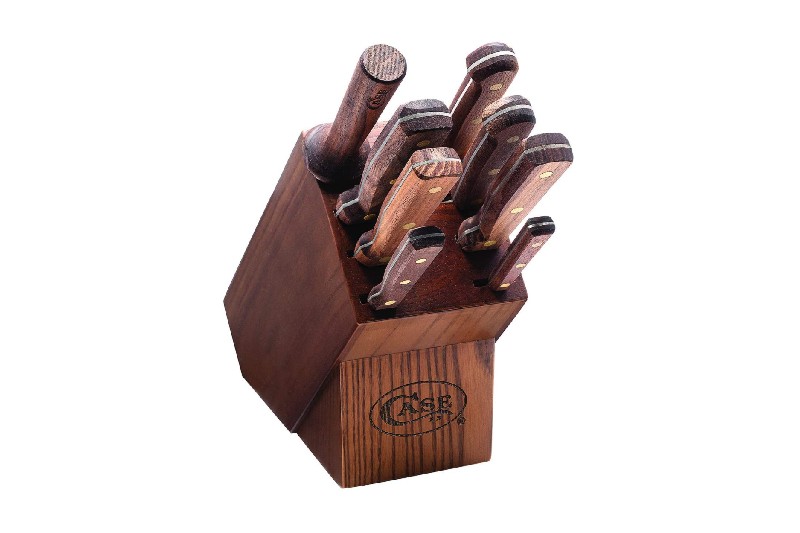 It's normal for people to cringe when they see knives sold in a woodblock package. Usually, the whole set is ultra-cheap, and they wind up in your yearly yard sale sooner than you would have liked. With Case knives, it's a different story. First, you'll find that their knives are by no means cheap. However, they are beautifully crafted from stainless steel with walnut handles. This American-made set offers an excellent chef's knife, followed by six equally as excellent supporting knives to tackle any task. The included honing steel will help you keep your knife edges sharp until you have to break out the whetstone.
Editors' Recommendations