Ladies and gentlemen, allow us to take you on a journey back in time to the glorious '80s, an era of leg warmers, neon tracksuits, and Walkmans. It was a decade where style was as bold as the hair, and now, we're thrilled to tell you that Timex watches have resurrected the spirit of the '80s with their latest masterpiece – the limited edition Ironman, in a spectacular collaboration with The James Brand; it's a marriage of retro innovation and modern performance.
Resin, recycled fabric, and retro vibes
The new Timex Ironman follows in the footsteps of the decade of risk-taking. This watch has a revved-up color scheme that feels like a blast of nostalgia on your wrist. It immediately catches the eye thanks to its vivid neon colors, which recall back to its mid-1980s introduction.
The electric yellow resin case for the Ironman is strong yet portable. Bright red buttons that pop with a lively energy reminiscent of a Rubik's Cube serve as its accents. The strap is one of the coolest features; it's a repurposed, ocean-bound plastic strap made of #Tide sustainable teal fabric. Thus, you're thereby wearing a piece of the planet's metamorphosis from garbage to the wrist while you wear this watch.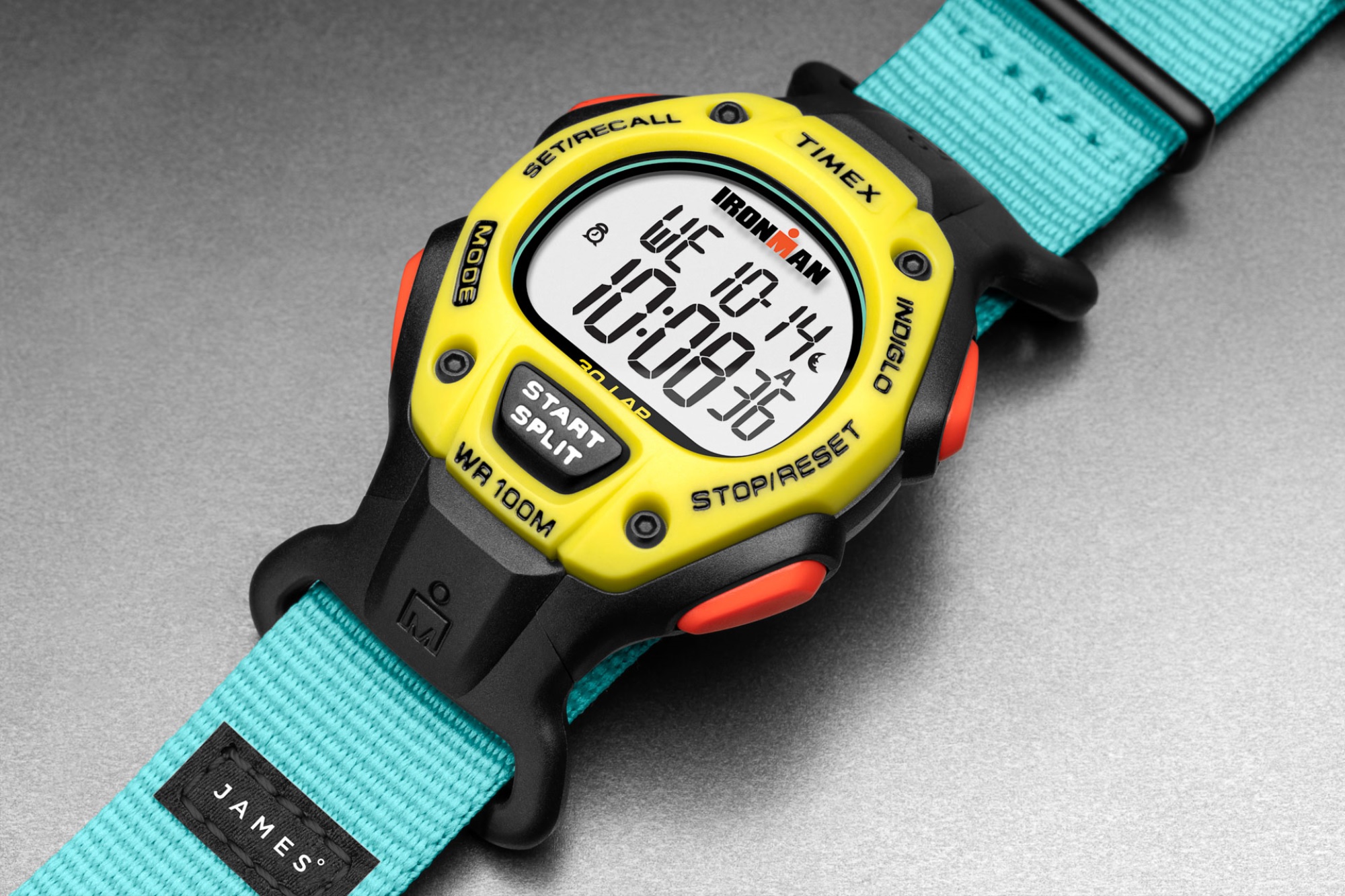 Performance meets style
Now, this watch isn't just about aesthetics, as any sportsman or dedicated outdoor enthusiast would appreciate its wealth of features. There is a countdown timer, a stopwatch with a 30-lap memory, and a customizable alarm. It has you covered whether you want to time your upcoming run or remind yourself to take a break from work.
With a water resistance of 100 meters, the Ironman can handle the elements. This watch won't bat an eye if you're caught in the rain, walking through the muck, or taking a well-earned plunge after a challenging day. The digital dial markings on the Ironman wonderfully complement the classic casing while staying loyal to its digital heritage. Speaking of the dial, the INDIGLO display makes it easy to read the time, even in the dark.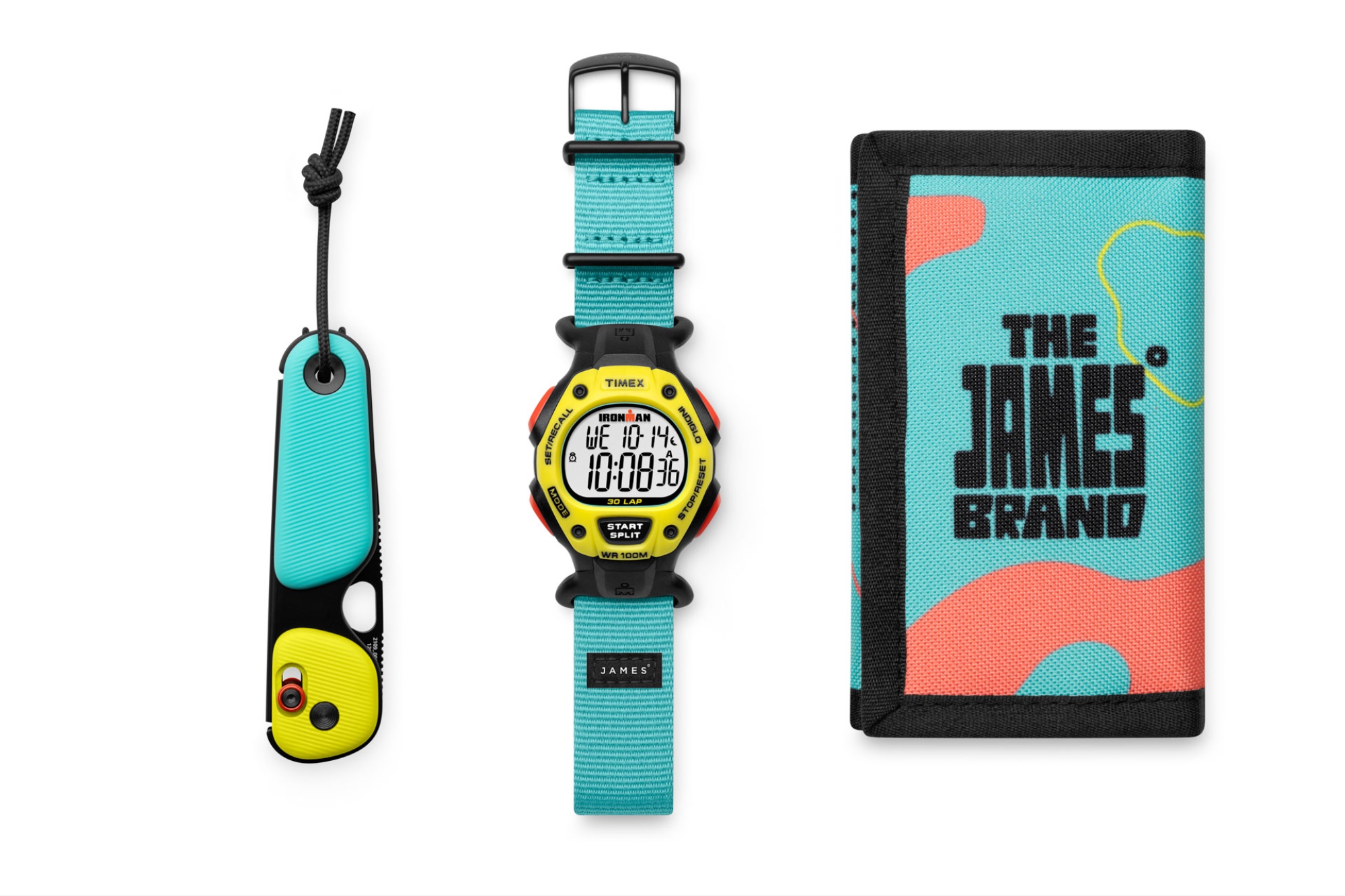 The James Brand x Timex: A match made in '80s heaven
But there's more to this collaboration than just watches for men. The James Brand, known for its minimalist and functional everyday carry gear, has designed accessories to accompany the Ironman. This three-piece collection includes the Ironman watch, a color-coordinating ultra-lightweight Redstone Knife designed for those who enjoy outdoor pursuits like hiking or camping, and a retro canvas wallet with hook and loop closure. It's a whole package that's well-known yet brand new.
The James Brand founder, Ryan Coulter, aptly describes the watch as a statement piece, saying, "A watch says a lot about its wearer, and we often think of timepieces as the 'first cousin' to our EDC products." This collaboration is more than just two brands slapping their names on a timepiece; it's about a connection between your watch and your personal hobbies.
Editors' Recommendations