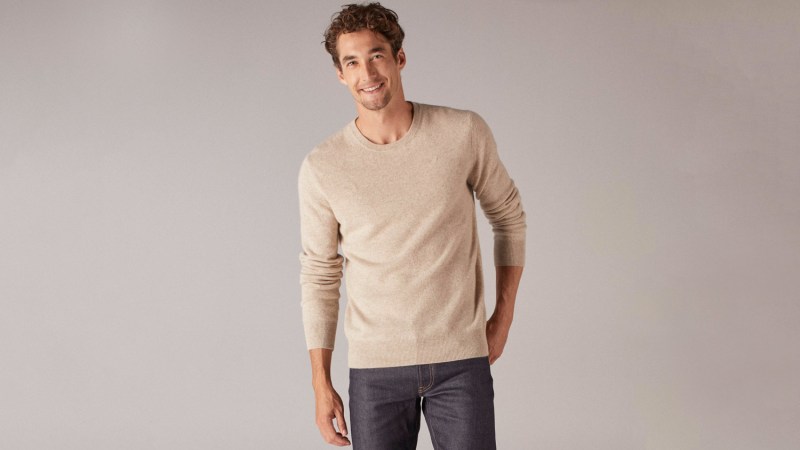 Ahhh, cashmere. That luxurious, soft, warm-yet-breathable wool crafted from the long-haired coats of cashmere goats. Traditional cashmere is one of the most expensive natural fibers in the fashion world, with high-end sweaters starting in the low hundreds of dollars with an upper limit only defined by how fat a buyer's wallet is. In the past, if you wanted a great cashmere sweater, you would have had to be willing to shell out the big bucks for an article of clothing you can only wear half the year anyway. While this isn't much of a problem to the wealthy, to the average Joe like you and me who want top-quality cashmere for prices that aren't equivalent to the out-of-pocket cost of a minor surgery, buying cashmere just wasn't worth the expense. Until now.
There's a disrupter in the cashmere market and its name is Naadam.
Naadam is a luxury knitwear company that works directly with Mongolian goat herders to ethically and fairly source the best long-staple cashmere wool fibers in the world. Cutting out the middleman, Naadam is able to keep the production cycle close, allowing the company to pay the herders 50 percent more than traditional traders, while the direct to consumer structure of the brand brings some of the finest cashmere in the world to us, the consumers, for about 50 percent less than other clothing brands — or $75.
Naadam's Essential Sweater is unisex in size, comes in nine colors (from black to white to camel), features ribbed cuffs and a hem, and tops it off with a standard crewneck collar. A jack of all trades, the Essential Sweater is appropriate for work when paired with a white collared shirt underneath for that uber-preppy look, or play when worn with a pair of dark denim and sleek sneakers. But really, it's the super soft quality of the sweater that makes it a real winner and sets it up as the perfect extra layer for lounging around the house on a chilly fall morning, cup of espresso at your side, with a good book in hand or binge-watching session queued up on Netflix.
Naadam's Essential Sweater retails for $75 and can be found here. If a less traditional form of a sweater is what you're looking for, take a look at this shirt that will make you entirely rethink the turtleneck.
Editors' Recommendations