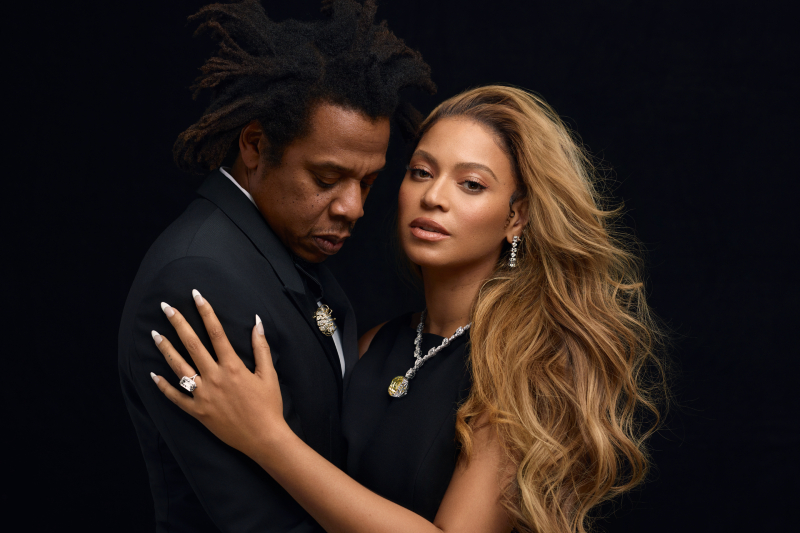 Maybe love is easier when you're sporting a 128-carat diamond. This seems to be part of the message as Beyoncé serenades her spouse, Jay-Z, in the power couple's most recent addition to their "About Love" Tiffany & Co. ad campaign.
The latest result from the "close collaboration and a shared vision," is an Emmanuel Adjei-directed video of Bey serenading Jay with a rendition of Moon River.
In an homage to luxury and Breakfast at Tiffany's, which featured the same song and the same rock sported by Audrey Hepburn 60 years ago, the separated lovers begin the minute-and-a-half ad pining for each other from afar. Jay-Z appears clacking away at an antique typewriter, encased in a glass penthouse, a lonely perch above a winking night cityscape. Beyoncé looks out from the solitude of a luxury private jet with the near priceless Tiffany Diamond winking below her yearning eyes.
At long last, they reunite, Beyoncé behind a piano, black dress and blond updo channeling her inner Hepburn with a take on the actress's memorable 1961 performance. A lovestruck Jay-Z pulls out his Super 8 camera (which he in fact also uses in real life) to record the moment.
"It is a story of longing and reunion — a bond that transcends space and time," Tiffany & Co. said in a press release.
Related Guides
The "About Love" video also features the requisite long, mountain-silhouetted sunset shot along with Jay-Z's footage of Beyoncé grinning and the couple popping what appears to be Bottega Gold champagne. And then more diamonds as Jay-Z lays back in his lover's lap, with the husband sporting a huge, white stone and Beyoncé a ludicrously large yellow nugget.
Love it or not, "About Love" certainly hits its luxe mark.
At the end of August, the new Tiffany & Co. ad campaign broke, featuring the quartet of Beyoncé, Jay-Z, the humongous diamond necklace, and "Equals Pi" (a rarely seen Jean-Michel Basquiat painting), and set off a social media storm. Some were upset about Basquiat's art being used to market commerce; others about the "blood diamond" and the racist history of African diamond mining.
None of that seems to have had any effect on the relationship between the Shawn Carter Foundation and Tiffany & Co., however. The collaborators are currently at work on two more shorts, directed by Dikayl Rimmasch and Derek Milton, and are also branching out into philanthropy. Tiffany & Co. teamed up with BeyGood and the Foundation, pledging $2 million in scholarship funds for students at Historically Black Colleges and Universities.
Read More: 5 Celebrity Beach Houses You Gotta' See
Editors' Recommendations