There are certain, rare TV series that come along and are an instant triumph from episode one. Master story crafter Taylor Sheridan had already brought to life amazing cinematic masterpieces with the movies Sicario (2015), Hell or High Water (2016), and Wind River (2017), yet he initially struggled to get his western series onto the screen. As he stood before executives prior to the launch of Paramount Plus, he was quoted as saying, "You're not ready for this." Few truly were.
The phenomenon he was talking about became the ratings breaker Yellowstone. Not only is the series beyond good —it's basically a westernized version of The Sopranos — but its subsequent spinoffs, 1883 and 1923, deliver just as well on the backstory of the Dutton family. If you're not watching them, let this be your sign to join the Yellowstone frontier bandwagon (pun intended).
Not only are the writing, characters, actors, cinematography, and everything about Yellowstone captivating, but the characters' cowboy styles are truly steal-worthy. While you may never be able to ride a horse or be as influential as Mr. Dutton, portrayed by the iconic Kevin Costner, you can sure as heck look like him. Here's how you can bring out the inner cowboy in you by checking out the best in western wear for men today. From designers with a western flair to iconic brand names that would hold up on the Yellowstone Dutton Ranch, you can find them here.
Stetson Skyline 6X Cowboy Hat
The one name that always comes to mind when it comes to cowboy hats is Stetson. With a company history dating back to 1865, Stetson is about as American as you can get. In a time where offshoring a company is an easy way to save on costs, Stetson still handmakes its hats in Garland, Texas.
With so much rich history, Stetson has had many best-selling styles. Its current favorite seller, the Skyline 6X cowboy hat, delivers upon that tradition. The hat is 6X fur felt, has a leather band and a satin liner, and features the iconic cattleman crease.
Stetson Skyline 6X Cowboy Hat
Resistol 6X Cattleman Cowboy Hat
With a rich history dating back to 1927 in Dallas, Texas, Resistol hats are still made in the United States in Garland, Texas, as well. The company began producing hats and clothing in typical western wear under the name Resistol Hats; the name was a play on the clothing's claim to "resist all weather." To this day, Resistol's hats do just that, and more.
With the numerous styles, materials, collaborations, and price points available, it's hard to choose just one of the company's beautiful works of art. One of its consistent bestsellers is its 6X Cattleman Felt Cowboy Hat, which is decked out in a solid, midnight black. Once you put this cap on, it won't be long before you find yourself feeling like Rip and going around saying, "Take 'em to the train station." Jokingly, of course.
Resistol 6X Cattleman Cowboy Hat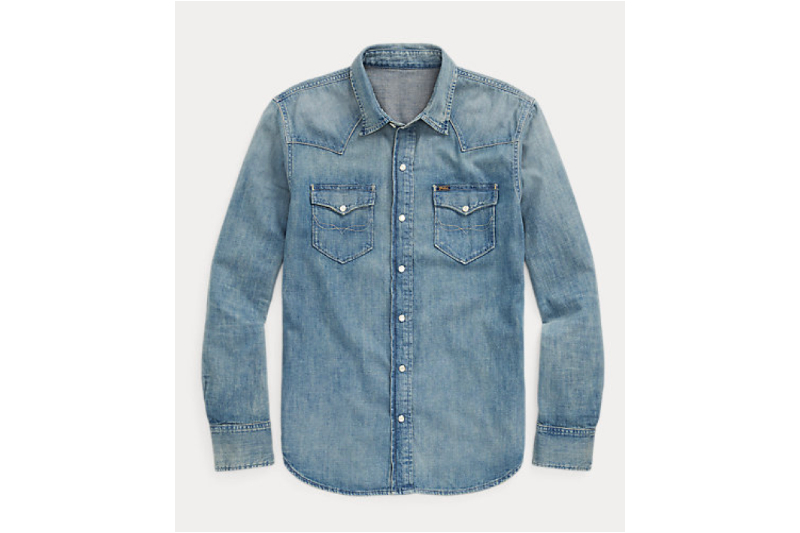 Ralph Lauren Slub Denim Western Shirt
For as long as the Ralph Lauren brand has been around, Ralph has stayed true to his inner cowboy by making and producing some of the best clothes, some with a wonderful western flair, and taking them to the high-fashion runways. Whether that's through his Double RL label or pieces occasionally in his Purple or Polo labels, his knack for quality western wear is quite evident.
No list is complete without a proper denim button-down in a signature pearl-snap closure, a staple in any cowboy wardrobe. This one by Ralph Lauren is perfectly "broken-in," giving the wearer the sensation that he's owned the shirt for years with its truly remarkable, soft, lived-in feel.
Ralph Lauren Slub Denim Western Shirt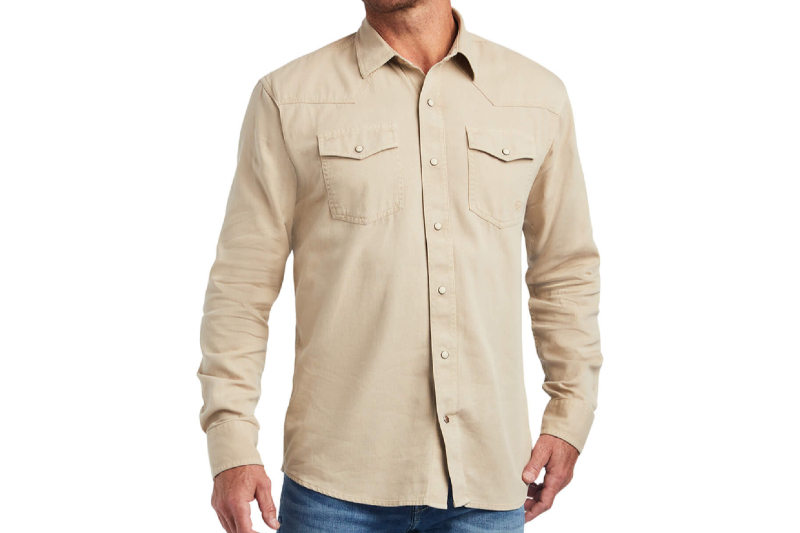 Ariat Jurlington Retro Fit Shirt
When it comes to hardworking cowboys, no other brand is more trusted than Ariat, and for good reason. When real-life, hard-working cowboys need clothes that can get the job done, they choose Ariat.
The company's retro-fitting shirts are great for not only their function but for their looks, too. Featuring the classic western yoke pockets and pearl-snap buttons, this shirt comes in a few different colorways, with the khaki color being the most versatile of the bunch. This shirt, built with a rugged toughness, will be able to take whatever you throw at it, whether that's wrangling up some cattle or going out for a night on the town.
Ariat Jurlington Retro Fit Shirt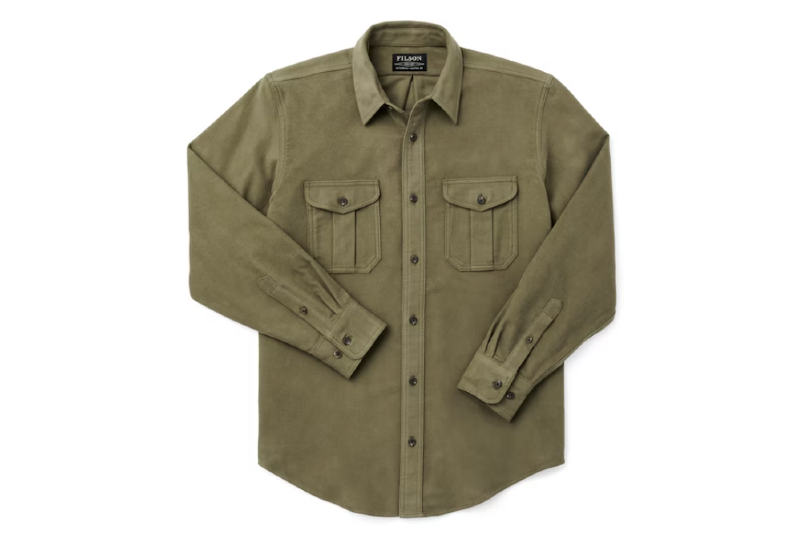 Filson Moleskin Seattle Shirt
Nothing quite gets the job done right like a suede moleskin shirt, and nobody does that better than Filson. The brand leader for outdoorsmen since 1897, Filson products stand the test of time — time and time again, quite literally. Regardless if you're just an avid outdoor enthusiast or an actual lumberjack of the great Northwest, Filson's got you covered. Again, literally.
Filson's moleskin shirt can do it all. The moleskin is a midweight shirt, perfect for keeping the wind at bay while being just heavy enough to be tear-resistant as well. This shirt provides enough warmth during colder weather, yet it gives plenty of mobility without being too restrictive.
Filson Moleskin Seattle Shirt
Billy Reid Shoals Denim Shirt
When it comes to western wear, there are a few wardrobe pieces you can never have too many of: Boots and high-quality denim shirts. Billy Reid helps you out with the latter.
Taking a modern spin on the iconic classic, this shirt gives a much slimmer silhouette for a more flattering, fitted cut. Billy Reid decided to move away from the classic pearl-snap buttons and instead go with rustic brass snaps. The denim is like soft suede, making the shirt feel like you've owned it for years. With its slightly sun-faded wash, this shirt will be your new favorite and make you feel like it's already put in a few hours on the ranch.
Billy Reid Shoals Denim Shirt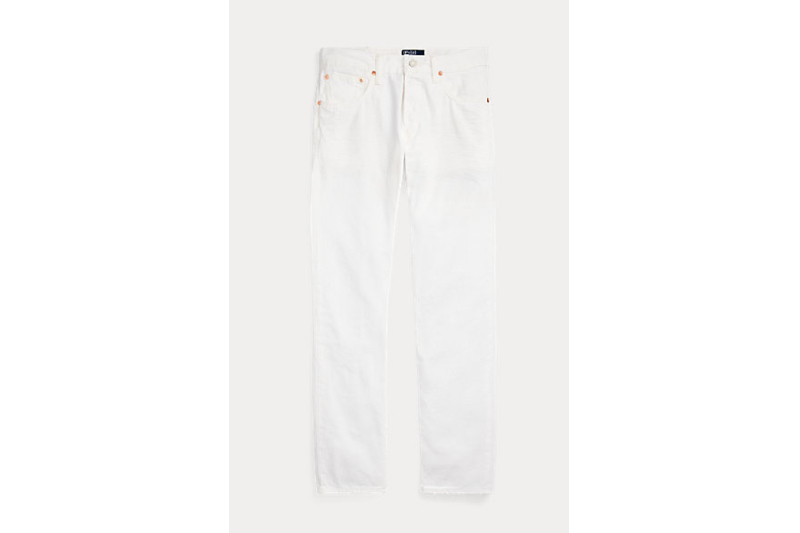 Ralph Lauren Sullivan Slim Sailcloth Jeans
Offering an almost tailored-like fit, this jean by Ralph Lauren is the perfect fashion label choice to bring the cowboy out of any city gent. The "Sullivan" fit is Ralph's storied, signature slim fit jean, featuring a cut right below the waistline and slim throughout the leg and seat. There is a slightly tapered effect from the knee down, just enough to get it over your cowboy boots. This "manor" off-white color is perfect for a stroll down the historic country thoroughfare of Nashville.
Ralph Lauren Sullivan Slim Sailcloth Jeans
Wrangler Cowboy Cut Slim Jeans
If you're going to choose a brand of actual cowboy jeans, then you might as well choose the brand that does it best. That brand happens to be Wrangler. With a heritage dating back to the turn of the 20th century, Wrangler has been making some of the best western wear since the 1940s. The brand's jeans are guaranteed to be high quality and durable, and they're used by actual rodeo cowboys.
Fast-forward to today, and these jeans are still the best. The plethora of cuts are designed specifically to be worn with cowboy boots, but the Cowboy Cut Slim Jeans look and feel the best. These jeans come in a 13.5 oz. heavyweight twill of 100% cotton. You'll know they're the best when you see the "W" stitching on the back pockets; that mark lets you rest assured that these jeans are about as American as they come.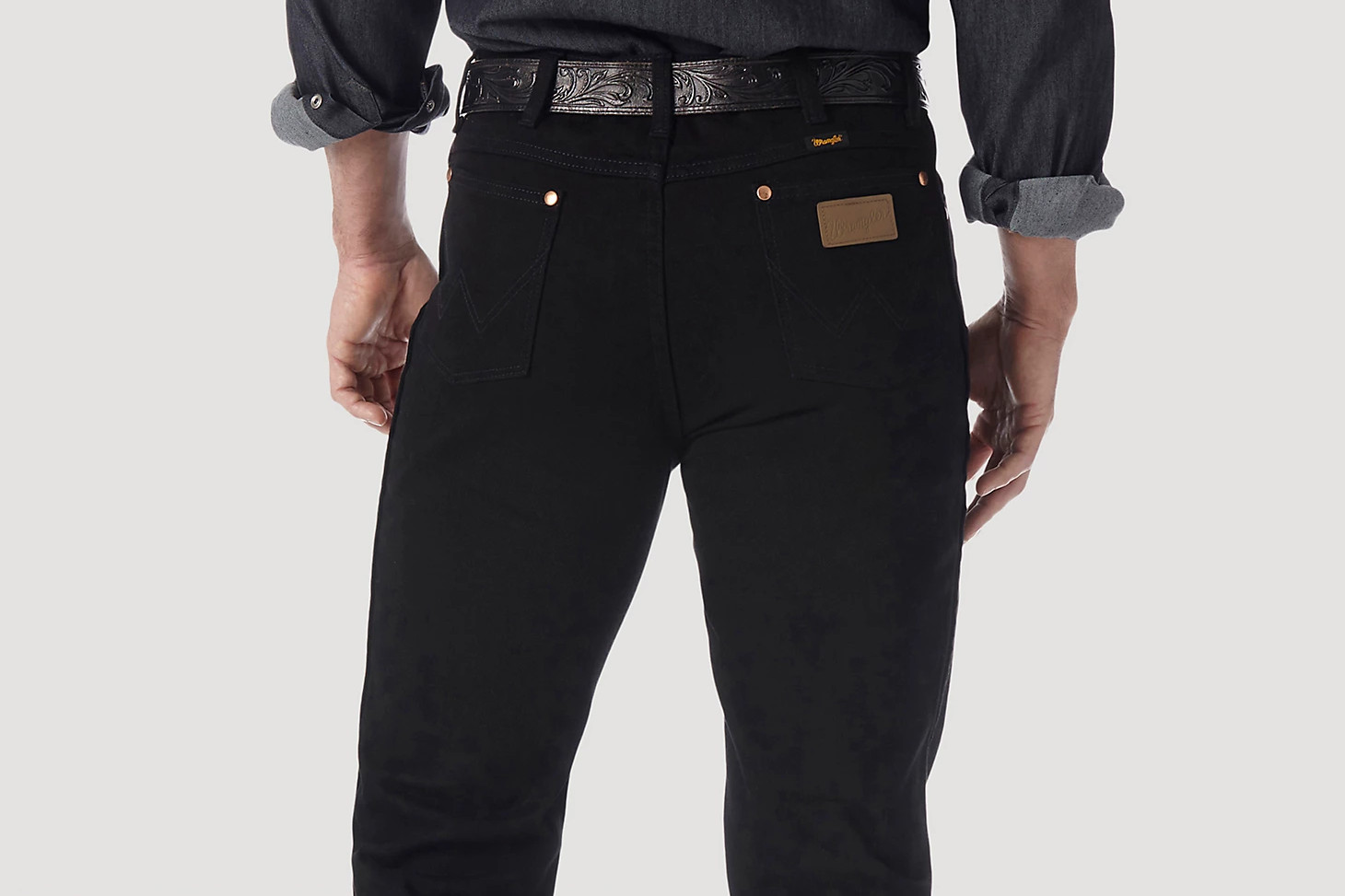 Wrangler Cowboy Cut Slim Jeans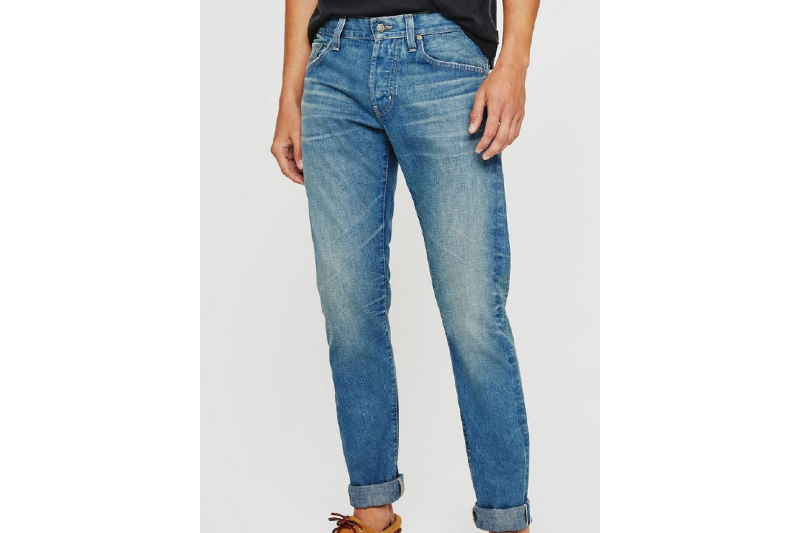 AG Tellis Jeans
While you're shopping around for jeans, make an investment in a premium pair. AG Jeans delivers just that and then some. The result of two of denim industry powerhouses, AG Jeans was an instant smash when it made its debut in 2000. The brand makes jeans with perfectly silhouetted cut designs with inventive washes. At the same time, the brand has always pushed the envelope for a sustainable future in the denim industry.
This slim-fitting version known as the Tellis model is a gorgeous 10 oz. Azure Rigid Selvedge denim in a breathable 100% cotton material. It features a tapered leg and is finished off in a light indigo wash.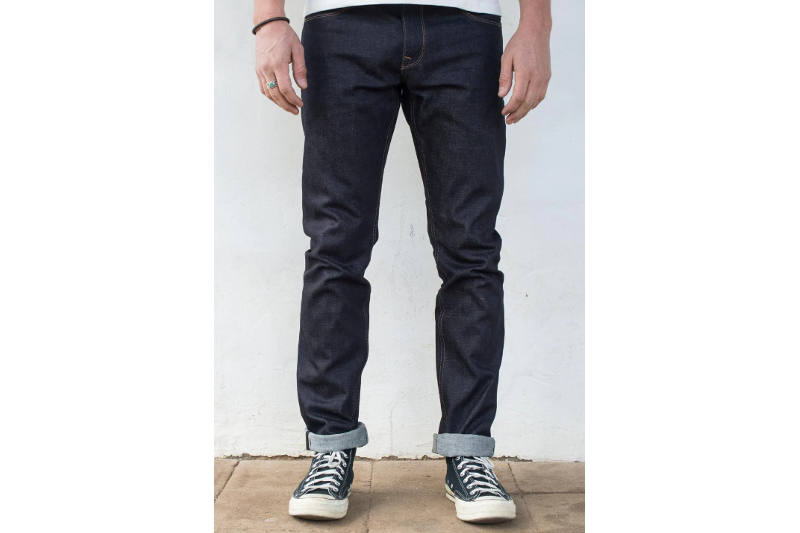 Freenote Cloth Avila Slim Taper Denim
Freenote Cloth makes the epitome of artisanal menswear right here in the US. The company sources the highest-quality goods and denim from around the globe to craft the foremost denim jeans available. If Marlon Brando were to re-shoot The Wild Ones today, this is the brand he would undoubtedly select.
Freenote Cloth has several different cuts, but the most stunning and properly fitting is its slim-tapered Avila cut. This model features multiple colored washes, making each pair unique and separate. It comes in diverse weights as well. We recommend getting the Japanese Kaihara Mills in 14.5 oz. indigo denim.
Freenote Cloth Avila Slim Taper Denim
Ariat Bench Made Stilwell Cowboy Boot
What do you get when you take the toughest working name in western wear and add in hand-made artisanal craftsmanship? Darn-near perfection, that's what, such as this Ariat x Bench Made collection. Each boot in this collection is handcrafted in León, Mexico, by some of the best artists. This areas is actually hailed as the hub for leather boot crafting. As you will see on this list, many brands hire talented artists from this region to craft their one-of-a-kind boots.
The Stilwell boot is one of Ariat's best-selling square-toed boot with its stunning shape and durable yet comfortable construction. Add on some premium American bison leather, an anti-odor, removable insole for all-day comfort, and a stacked leather resoleable heel, and this boot has everything you need. With hand-selected leathers, no two boots will ever be identical.
Ariat Bench Made Stilwell Cowboy Boot
Tecovas The Cartwright Cowboy Boot
One of the semi-recent newcomers to the western wear and cowboy boot scene, Tecovas has been making a big name for itself, and rightfully so. Its Texan-born founder dreamt of providing premium-quality, handcrafted cowboy boots using a direct-to-consumer approach. His goal was to make getting cowboy boots online less stressful, all without setting the consumer back half a grand in doing so. What he created was a brand that took the boot market by storm and secured its place among the best available.
The Tecovas Cartwright is the company's quintessential, classically designed and styled cowboy boot. With supple leather options from calfskin, bovine, and goat, this boot features a simple round-toe shape, a 12-inch shaft, and hand-laid cording with the signature Tecovas toe stitching. The stacked leather heel completes the look of this perfect cowboy boot. The Cartwright boot will undoubtedly age like a fine wine.
Tecovas The Cartwright Cowboy Boot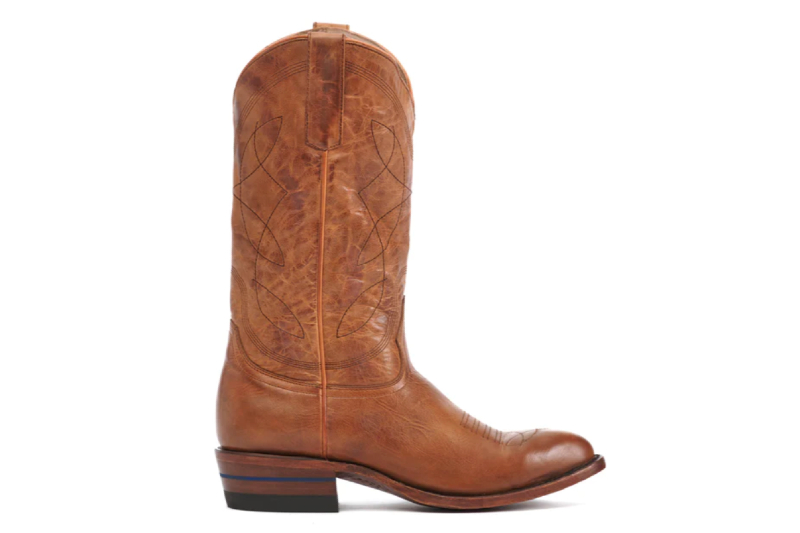 Alvies The Lamar Cowboy Boot
To the uninitiated, cowboy boots may give off an air of stuffy rigidity, but a properly fitting and high-quality pair is far from that. Alvies' founder believed this as well until a Halloween costume eventually led to a revelation in Thailand, when he decided that everyone should own a good pair of boots (and flip-flops) for a balanced, well-lived life. Fast-forward to today, and Alvies is doing just that.
The Lamar boot is Alvies' staple cowboy boot. Handcrafted with premier-quality cowhide leather, these boots feature a slightly wider toe box to help break them in faster than any other brand, which is what makes them such an appealing option. With colorway options such as "breakfast stout," "whiskey river," and "hidalgo honey," there's the perfect Alvies cowboy boot for everyone. Just look for the signature thin blue stripe on the heel.
Alvies The Lamar Cowboy Boot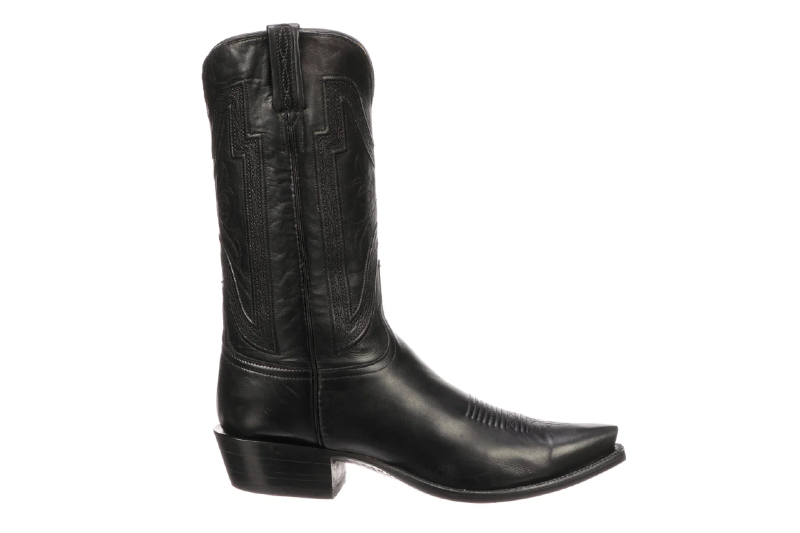 Lucchese Collins Cowboy Boot
No western wear list featuring cowboy boots would be complete without the best of the best, Lucchese. Whether a country music artist is singing about knocking them, slipping them off, or getting a little mud on them, Lucchese is always the brand in mind.
The brand boasts hundreds of different styles that any cowboy would need, from round- to square- to snip-toe boots, in almost any type of leather or exotic skin you can think of. The Collins boot is one of the brand's best sellers, and for good reason. Handmade in Texas and featuring the classic Florence buffalo leather (yes, that's Italian), it's as soft and smooth-fitting as a glove, yet durable enough for any weather elements. This boot comes in black, chocolate, or whiskey, perfect to pair with any outfit for any style.
Lucchese Collins Cowboy Boot
Filson Tin Cloth Short Lined Cruiser Jacket
There are a few reasons why Filson can't keep this jacket stocked on its website. The first has to do with the quality. Featuring Filson's oiled tin cloth, this jacket is built to take a beating and look good while doing it. The jacket finish makes it water-resistant, enabling it to keep its wearer dry no matter what the weather conditions try to throw at it. Whether that's braving the howling rain of the Pacific Northwest or keeping someone dry in the frigid Midwest, there is nothing this jacket can't handle. It simply gets better the longer you own it.
The second reason why this jacket keeps selling out is that Rip from Yellowstone just so happens to favor this look. If it's good enough for Rip, it will get the job done for you.
Filson Tin Cloth Short Lined Cruiser Jacket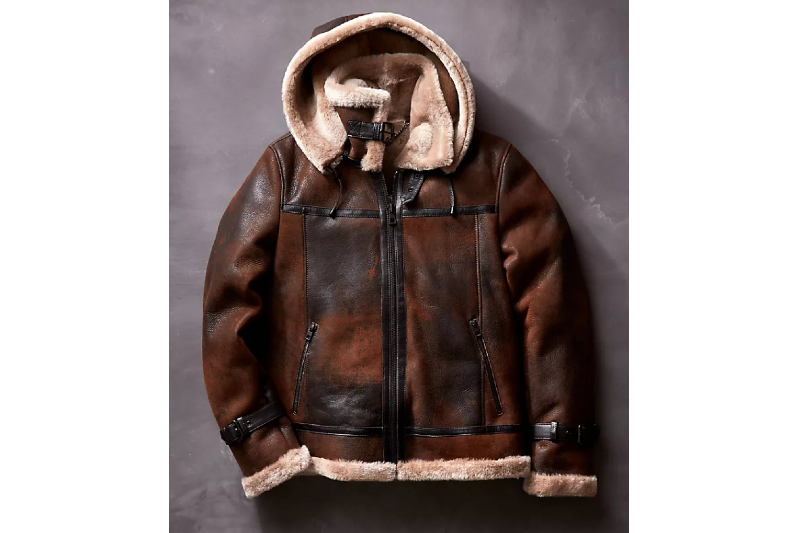 Overland Sheepskin B-3 Bomber Jacket
Sometimes you need to bust out the heavy-duty big guns when it comes to outerwear. When that's the case, there is no better option than Overland. Since 1973, Overland has been producing some of the finest quality leather coats built for the harshest of conditions mother nature tries to conjure up. This bomber jacket version does that and then some.
The bomber jacket was instantly a massive success among the general population when it was introduced during World War II. Overland has been perfecting the bomber jacket since the company's creation in the 1970s, and this version might be their best one yet. The jacket is heavy at 4.5 pounds, meaning it can keep you warm no matter the weather. The soft-as-butter sheepskin outer also features an extra-plush interior. Additional accents include perfectly placed buckles in an iconic burnt cognac color. This jacket looks as if you were stepping directly out of 1945, making it the ideal rugged cowboy look.
Overland Sheepskin B-3 Bomber Jacket
Filson Mackinaw Wool Work Jacket
When you need to get work done, there's no better choice than Filson. In that case, you should get the Mackinaw Wool Work Jacket. For this particular jacket, Filson went through its archives to draw inspiration from a similar cruiser-style jacket it first released in 1914. This jacket features Shetland sheep wool in a tight weave to make sure it lasts for generations to come, just like all Filson products tend to do.
Sewn in Seattle with 24 oz. Mackinaw wool, this jacket is a relaxed fit to allow the wearer to layer. This version comes in solid peat black or pine black plaid, making it look like you stepped out of the deep timber circa the turn of the 20th century. Regardless of the task at hand, Filson's products get the job done.
Filson Mackinaw Wool Work Jacket
Whether you're just getting into western wear or you're a seasoned pro already, this list is sure to have something that every cowboy like you would love to add to his style rotation. The best part is, you can casually mix these pieces into your everyday attire and look stylish as ever too.
Editors' Recommendations