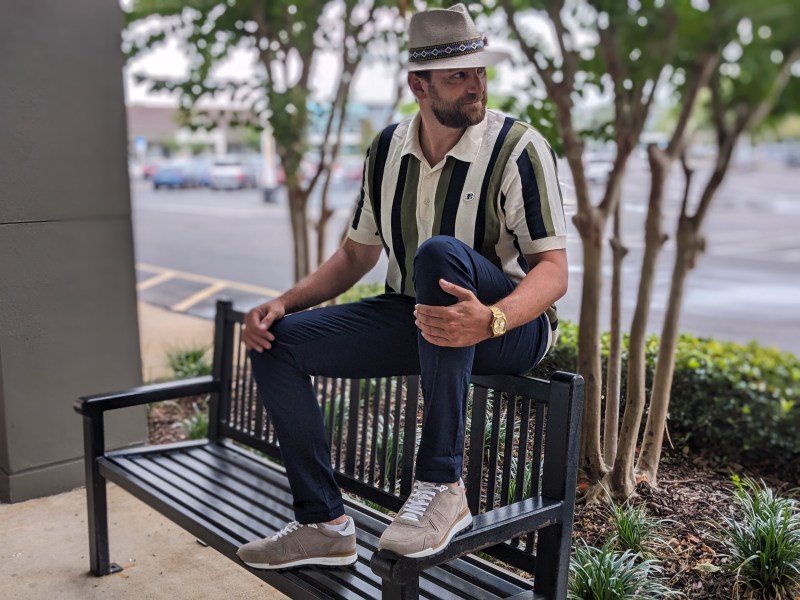 Short-sleeve style has to take into account more than looking good; it also needs to keep you cool and dry and give you a stylish way to layer your outfits. Polo shirts are a timeless classic that accomplishes that very thing. There are endless options for a man to find polos that fit his lifestyle. Of course, polos have changed over the years, but one thing is for sure, polo shirts never go out of style.
The best polos for men can keep you stylish and comfortable. Below, we rounded up the 15 best polos to add to your wardrobe.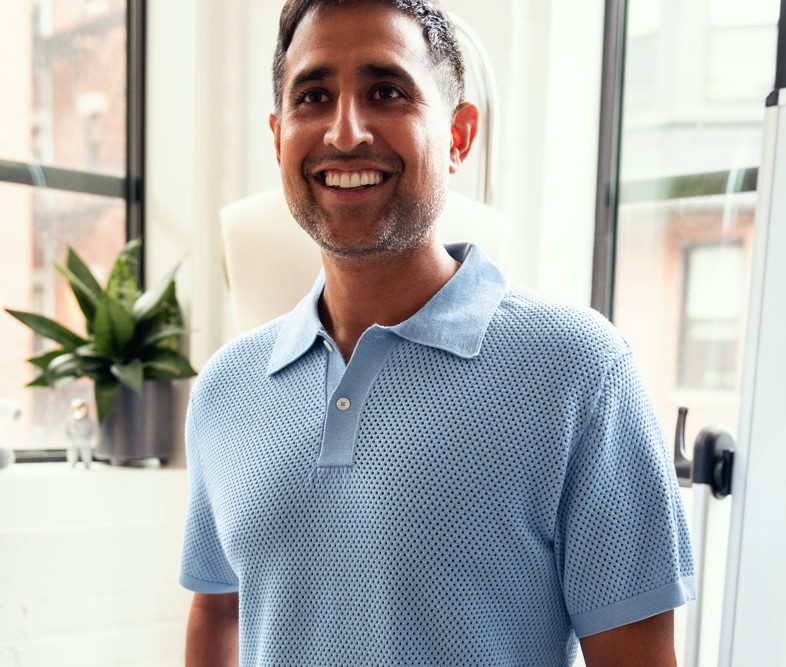 Ministry of Supply Labs 3D Print-Knit air polo
Ministry of Supply fancies itself as a James Bond-style company that combines sustainable fashion with scientific innovation. This polo is the culmination of years of scientific knowledge and fashion-forward thinking, combining breathability and style.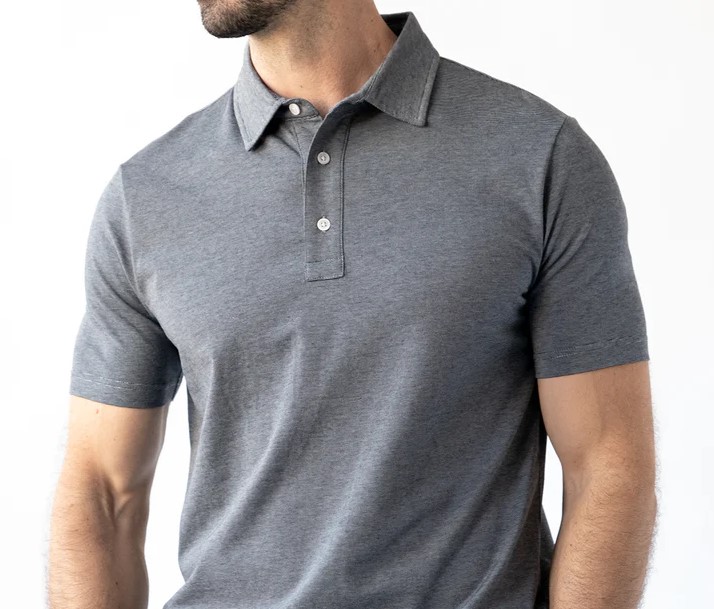 Devil Dog Dungarees Feeder stripe polo
Devil Dog Dungarees has a way of providing simple basics that are easy to go to every day, whether you are getting dressed up or dressed down. The subtle stripe on this polo gives what what would look like a solid shirt a bit of depth, making it perfect with jeans or chinos or dressing it up with a sport coat.
Ben Sherman Stripe knit polo
Put a different color in your wardrobe without going too far. While men often find themselves sticking depressingly close to solids and neutrals, there are ways to add subtle hints of color to liven it up. This cream-colored polo with a burnt orange stripe gives you a safe amount of color while keeping you classic. And the open neckline with no buttons provides a unique look.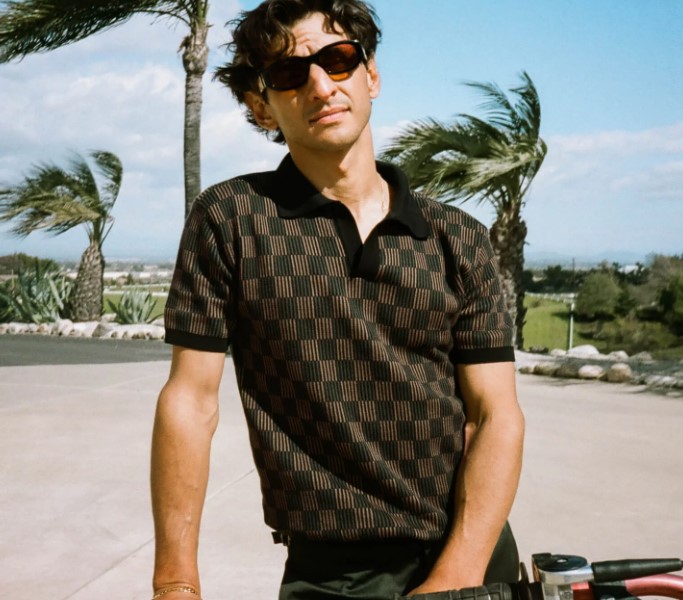 Dandy Del Mar Sebastian knit polo
We're not built for safety. We're not made for calm and quiet days behind a computer while staring out the window, longing for the world. We are built for chaotic exploration of everything around us, and this polo is created for that end. The vintage pattern keeps you timeless, and the knitted fabric is perfect for the world's weather.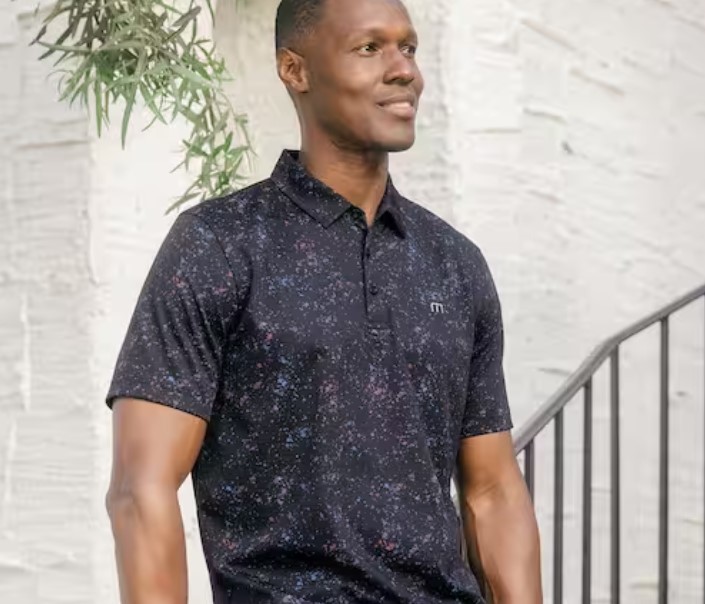 TravisMathew Spaltter print polo
Despite what Chris Pratt may be saying in one of the best ad campaigns in recent memory, the founder of TravisMathew didn't change his name from Aaron Turdberry. However, he did create a great men's lifestyle brand with some of the best summer attire on the market, including this polo with a Jackson Pollack-esque pattern that is guaranteed to be the best and most unique-looking shirt wherever you go.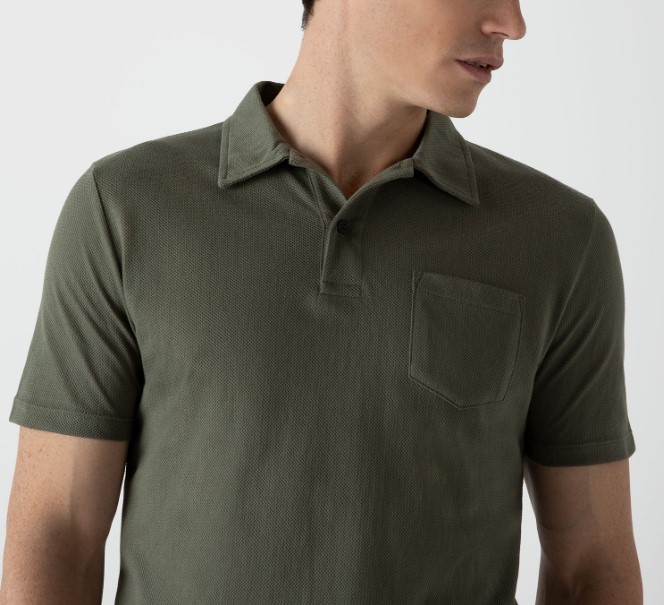 Sunspel Riviera polo
The beauty of the right polo is that it makes every man look good. If it fits right, you can look like a well-built man ready for action. This Sunspel polo does that for the everyman just as much as it did for James Bond when it was featured in Daniel Craig's debut performance in Casino Royale. While this forest green pattern would be a great way to add depth to your wardrobe, if you want to emulate the Bond look, the black option is the choice.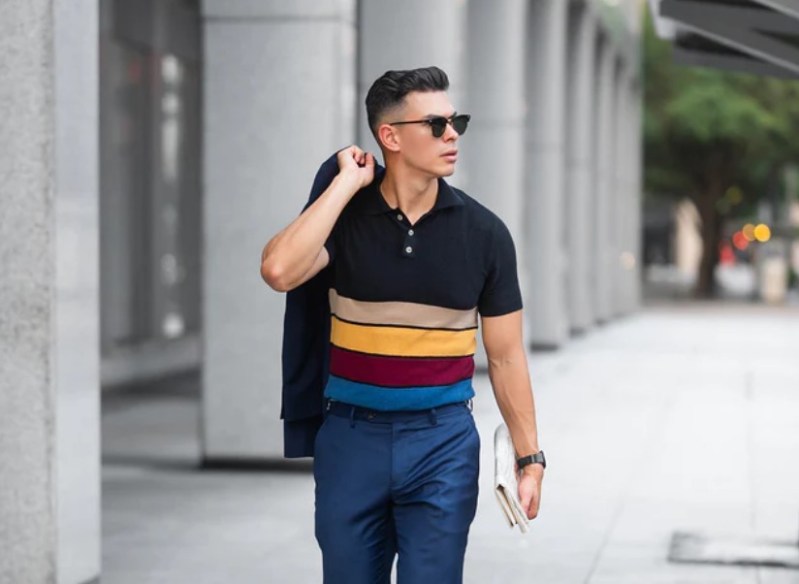 Southern Gents knit polo
The perfect combination needed for a great polo is sophistication and elegance with the perfect amount of comfort. This polo from Southern Gents is as unique as they come in a style that offers that combination and will look just as good with a sport coat as it will with shorts and sandals.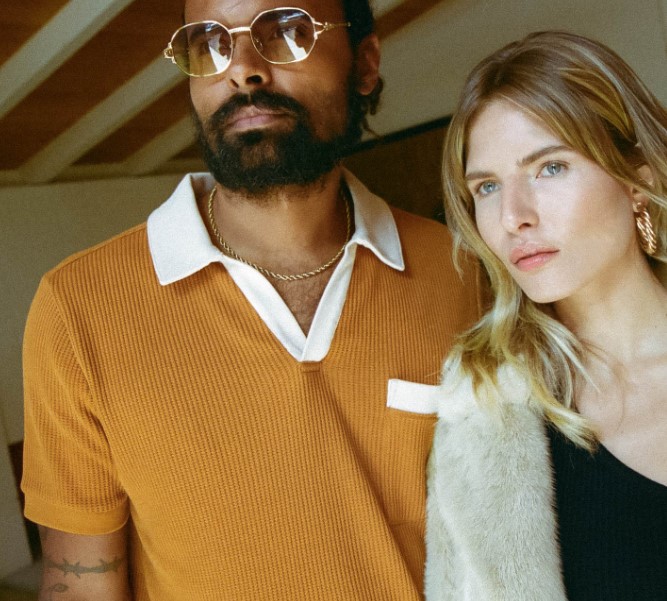 Dandy Del Mar Cannes waffle knit
The '70s are back, baby. We try not to use multiple entries from the same brand in these best-ofs because there are so many great brands with great options. But if you are the best of the best, it is hard not to do that. Vintage style is back, and this polo is the top choice for anyone who wants to look great while throwing it back to 50 years ago.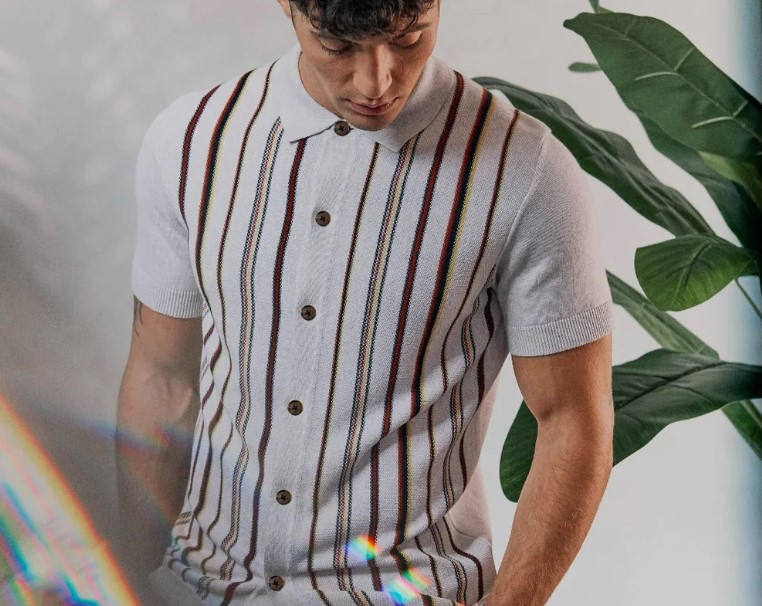 Ben Sherman Striped Button-Down knit polo
Remember that one time when I said we don't like to do multiple entries from the same brand on the same list? Yeah, we're doing that again … again. Button-through polos are the best combination of polo and button-ups, which makes them an excellent option for versatility. And this Ben Sherman button-through polo is the best on the market.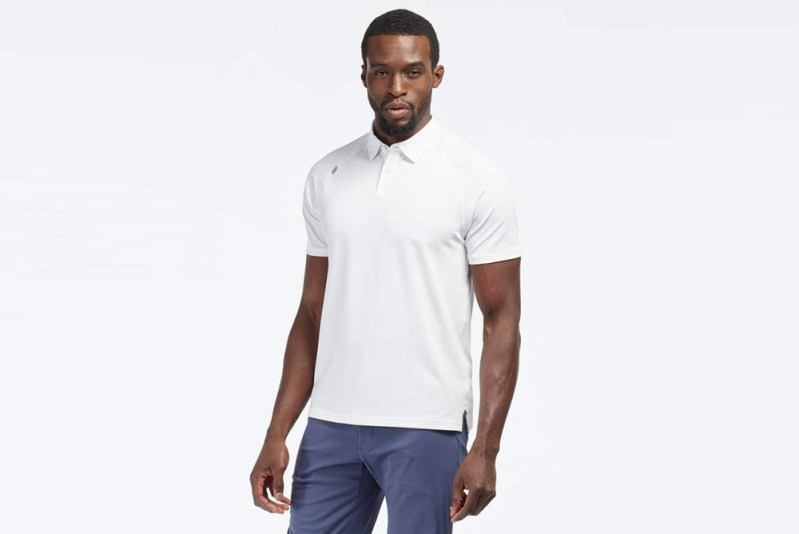 Rhone Delta pique polo
Just like its winning workout shirts, Rhone's polos provide plenty of utility, style, and comfort thanks to its proprietary fabric that's moisture-wicking and can keep your body from getting too hot or cool. We love a multitasker.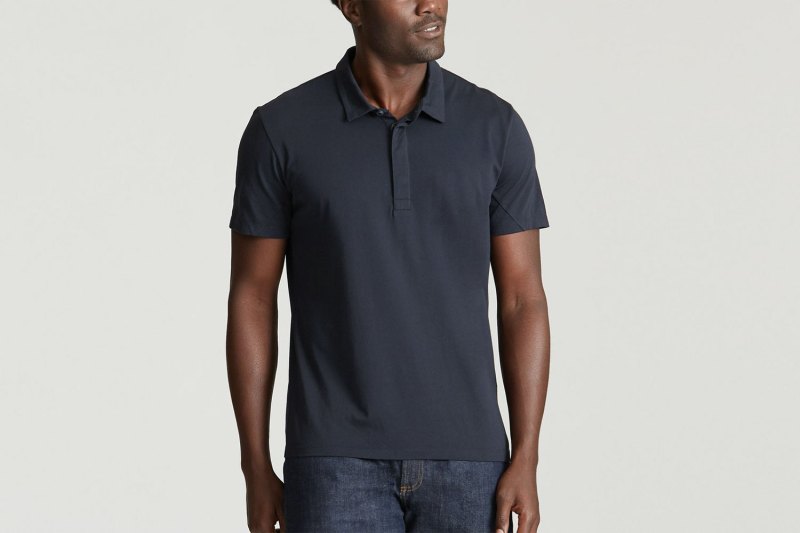 Aether knit polo
This is made with 100% Supima cotton, which means it's lighter and more durable than traditional cotton.
Mack Weldon Vesper polo
Featuring breathable fabric and a seemingly unflappable collar, there's a lot to like about this Mack Weldon's shirt.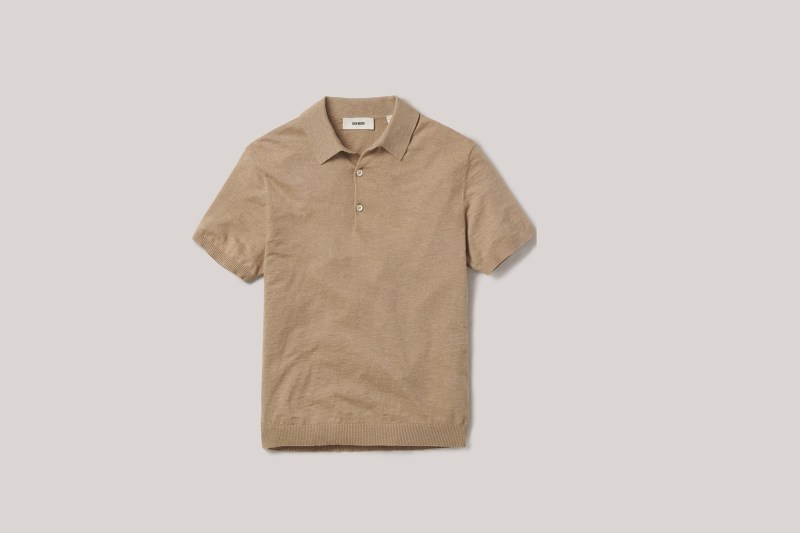 Buck Mason Avalon knit polo
Made from a lightweight blend of cotton and linen, this sweater knit cotton-linen polo is breathable and cool to the touch for superior comfortability like no other.
Public Rec Go-To polo
This polo features a relaxed and athletic fit. Its fabric is constructed to be moisture-wicking, wrinkle-resistant, and highly breathable, making this perfect as your go-to polo from the workday to weekends.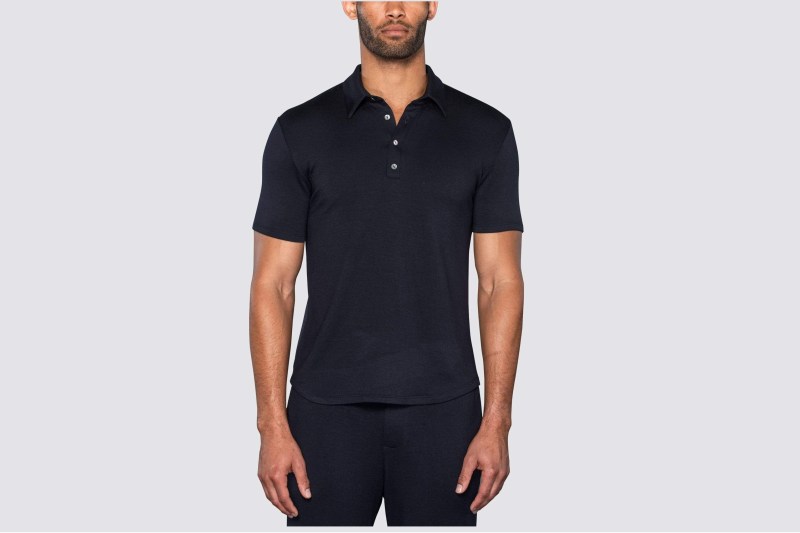 Bleusalt The Point polo
With its top-notch quality and design, this polo can be worn tucked, untucked, and with any pair of pants without losing its crispness, keeping you looking on point all day.
How a polo shirt should fit
Before you cop a polo, you need to make sure it fits correctly. A shirt that's too slim can make you look like a tightly packed sausage. You should be able to pinch about 2 inches of fabric around your sides. Like suit jackets, there should be no puckering at the shoulders of your polo, and the sleeves should fall on the lower half of your biceps. You have a bit more leeway with your hem, but ideally, it should end an inch or two below your waist.
Styling a polo
Styling a polo comes down to what you want to wear it for and where you will be going. If you're in a casual environment, pairing it with shorts and sandals, then the polo will be the most elevated part of the look. Therefore, the shorts should be slightly more elevated (ditch the basketball shorts). If you are wearing the polo with a more elevated outfit, like business casual, then the polo will be the item that dresses it down. So keep the sport coat more casual, opting for unstructured options in cotton or linen to keep the look consistent.
Wearing a polo three seasons of the year
Just because the fall season approaches doesn't mean you have to drop these in vacuum bags and slide them under the bed while you prepare for the cooler weather. The beauty of a good polo is that you can wear it almost year-round. While they are the perfect elevated short-sleeved shirt for summer, they offer a great addition for layering in the spring and the fall. Whether you're pairing these polos with a heavy sport coat or underneath a light jacket to break the wind, they remain one of the most stylish shirts you have in your closet for nine months out of the year.
No matter your style archetype, the polo will be a vital piece of the wardrobe. There are 15 options here that will make your wardrobe more complete — you just have to find one that speaks to you more than the rest.
Editors' Recommendations