The newest offering from Amazon is a game changer. Amazon Prime Wardrobe, the online retailer's latest venture, is a try-before-you-buy marketplace that lets you turn your home into a dressing room. The service closely resembles other personalized online experiences such as Trunk Club and Stitch Fix, but with one huge difference: it's backed by freakin' Amazon.
Prime Wardrobe rolled out a soft launch in June 2017 as an invite-only beta and has been slowly opening up to the public over the past year. As of today, the service is officially available to all Amazon Prime members
How Does Prime Wardrobe Work?
To get started, you'll need to access the Amazon Prime Wardrobe page . There you will find a large selection of brands, including a range of luxury and affordable options to choose from. Some clothing items are not eligible for Prime Wardrobe, so it's important to stay within that section when perusing clothes and accessories. Once you've found three or more items you'd like to try on, add them to your box and Amazon will send them straight to your home.
You have a seven-day try-on period once you receive your box, which should be plenty of time to find something you'll like. After that, all you have to do is check out online or slap the provided return label on to the box and send it back to Amazon via UPS.
What Kinds of Products Are Available?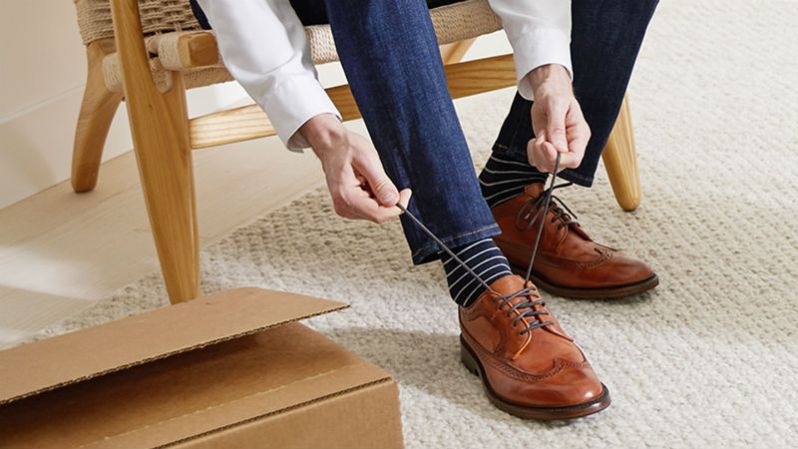 If you've ever tried Trunk Club or any similar services, you've likely noticed how expensive the items on offer are. With Amazon Prime Wardrobe, you'll find a much better variety of price tags. Brands like Levi's, Calvin Klein, Van Heusen, and Original Penguin are in the mix and there's no shortage of popular options to choose from. You can browse jackets, shoes, belts, glasses, T-shirts, and more from the comfort of your own home, then try them on without having to pay a dime upfront.
If you'd like to try out this latest service from Amazon, you'll need to start by picking up an Amazon Prime membership (if you don't already have one). Once you have that, just pop on over to the Amazon Prime Wardrobe page and start picking stuff to try on.
Editors' Recommendations