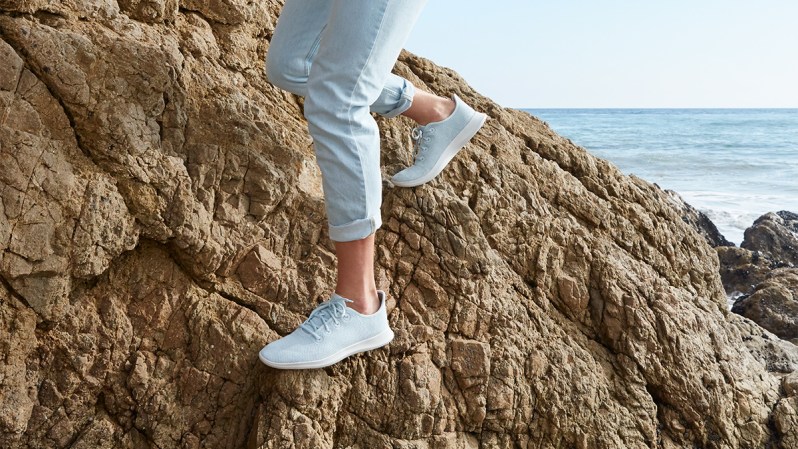 Those sustainable and stylish shoe makers are at it again, but this time with two new profiles and a new in-house textile: tree fiber.
Yes, you read that correctly. Allbirds, the guys who make "the world's most comfortable shoes," has released a new line of sneakers made out of wood pulp spun from eucalyptus trees.
Although the latest design deters slightly from the popular Merino wool runners, the San Francisco-based footwear company have kept to their commitment to using natural and sustainable materials while refreshing the casual and comfortable silhouette we've all come to fancy.
Sporting the same casual aura of the wool shoes, the Tree Runners ($95) — available in Kauri Stone, Cloud, and Navy colors with white soles — are crafted with a mesh construction that gives the silhouette a refreshed and refined upgrade. The Tree Skippers ($95) feature a brand-new look, as this is Allbirds' first take on a low-cut boat shoe-style. The Skippers come in Kauri Stone, Navy, and Rose.
The tree fiber, TENCEL Lyocell, is sourced from farms in South Africa that are dedicated to minimizing fertilizer use, relying on rainfall for water as opposed to irrigation systems. This textile not only helps cut Allbirds' carbon footprint in half — it uses 95 percent less water and one-third of the land than traditional crop-based materials like cotton — the finished product also boasts similar softness and elasticity as your everyday cotton-polyester blends.
Much like the wool footwear, the Tree sneakers are machine washable, can be worn without socks, and promote moisture-wicking benefits. However, the perforated mesh knit upper is a lighter texture and boasts even more breathability than their wool cousins. Officially dubbed the "light and breezy" line of Allbirds, the collection can be dressed up or dressed down for almost any occasion, and are even comfortable enough to be worn as an everyday shoe.
Editors' Recommendations