Every man has a list of must-haves for their closet. From assembling a full four-legged stool to picking up your best pair of jeans, there are a few things you have to get if you want to be prepared to look your best at all times. Near the top of that list is a good pair of sneakers, and La Canadienne has released a new pair of Louis suede sneakers to convince us to ditch the typical white kicks for something a little more original.
La Canadienne began in the late 1980s with the goal of making urban life livable in Montreal, a city that experiences all four seasons in the same day. The company takes a no-compromise approach to comfort and fashion with products you can trust to get you through the day regardless of the weather.
Suede that doesn't act like suede
Suede may not be the first thought you have when you're looking for an all-weather shoe. If you've ever had suede that got wet, you know why. Nothing is worse than a great pair of shoes getting ruined by the rain or snow. La Canadienne understands this and developed the City Dry technology, a unique process that repels water from the surface and protects your suede.
On top of being waterproof, these suede sneakers feature a light rubber sole and a breathable leather lining that will keep your feet cool and dry. These shoes pair the look of an upscale pair of Chelsea boots with the comfort of your everyday sneakers. A great pair of waterproof men's suede sneakers can be hard to find, but La Canadienne makes the shopping easier. Now you just have to find the right outfits to make them pop.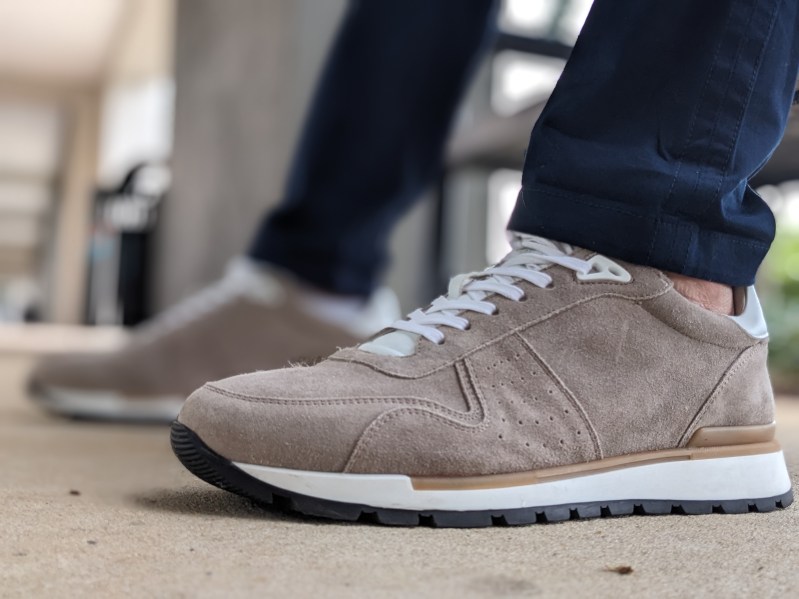 How to style your new La Canadienne suede sneakers
A lot of men stray away from wearing suede because they don't know how to wear it. It may feel a little foreign because these shoes aren't the elevated look of the smooth leather you're used to, or the ultra-casual of the canvas sneakers. But the great thing about these sneakers is they'll fit in just as well as either of those options.
In a dressier situation, pairing these tan sneakers with a pair of dark dress denim and a sportcoat will tone down the jacket and pants and keep your look from being too stuffy. In a casual setting, these shoes look just as good with shorts and a polo shirt as they do with jeans or chinos. One of the best benefits of suede is it adds a layer of depth to the outfit. These tan suede shoes are great with contrast and with the monochrome look because the texture keeps the outfit from falling flat.
La Canadienne excels at creating some of the best city shoes on the market; their products are made to make city life as comfortable as possible, whether you're driving or trekking a dozen blocks. Available in tan or blue, these sneakers are the next must-have for your closet.
Editors' Recommendations