Located a quick two-and-a-half-hour drive from New York City, Kingston is a charming Hudson River town that's been on the come-up these last few years. Divided into three main sections — Uptown Stockade, Midtown and Downtown Waterfront (historically known as Rondout) — locals and NYC ex-pats alike have been flocking to the city for its charming architecture and gorgeous natural surroundings. It's full of that indie, DIY spirit that we love. Every eatery, shop and bar is more unique than the last. We spent a weekend in Kingston hiking, eating and drinking, as well as staying at some of the loveliest inns in the area. These are the best places we visited, all helmed by some of the most interesting and friendly folks you'll ever meet.
Play
Bluestone Wild Forest
This 3,000-acre forest features three scenic hiking trails that wind through hemlock forests, abandoned bluestone quarries and the picturesque Onteora Lake. The trails range from 1 to 2.5 miles and though they are marked along the way, the terrain is still rugged and slightly challenging. If hiking isn't your thing, activities like paddling, fishing and biking are also available.
Tuthilltown Distillery
Located a quick 35-minute drive from Kingston, Tuthilltown Distillery makes some of our favorite spirits. First, take a tour to see how all of their signature spirits are made. Next, make a stop at the distillery store to sample their entire range, and take home bottles of your favorites (we're fans of Hudson Whiskey and the cassis liqueur). Finally, sit down for a meal at Tuthill House at the Mill, where you can sample their spirits in cocktails and indulge in dishes like house-made charcuterie and sea scallops with mushroom, artichokes and cauliflower puree. Make an advanced reservation to ensure they can accommodate you.
Shop
Hamilton & Adams
Hamilton & Adams recently opened its doors in spring 2017, and it's now our go-to menswear shop when visiting the Hudson Valley. They have their own private label called the Kingston Collection, which features their tagline, "Stay Curious," and other illustrations and anecdotes paying homage to the area. You'll find clothing brands like Grayers and Alternative Apparel, and they carry handy accessories (think dopp kits and weekenders) from the likes of Owen & Fred. We spent an hour perusing the store's selection of well-curated gifts and copper barware and left with some soaps from Duke Cannon and Hudson Naturals. With a combination of great brands and extremely friendly and attentive service, Hamilton & Adams is one of our new favorite menswear stores of the year.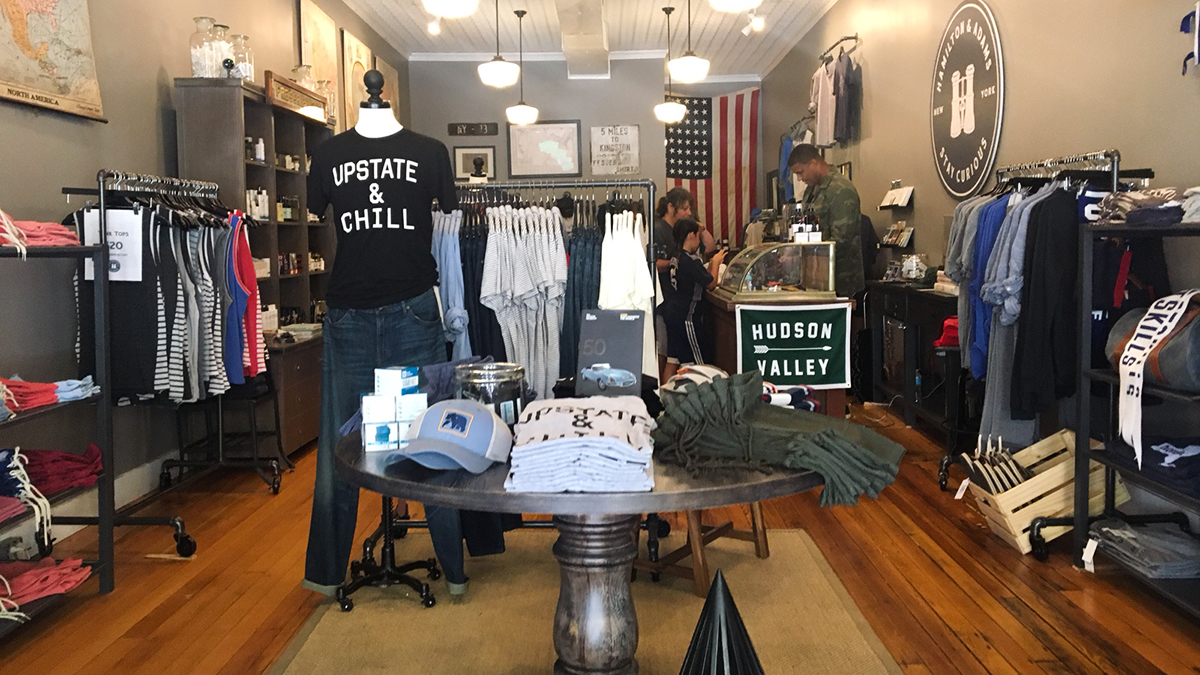 Lovefield Vintage
Owned by husband-and-wife duo Darbie Nowatka and Justin Rice, this well-curated vintage store is stocked things like old-school denim, handsome leather loafers and retro sunglasses. It's easy to find something you love among their colorful mix, no digging required. They also sell a selection of candles, soaps and other home goods if you're not in the mood to try on.
Ester Wine & Spirits
This Uptown Kingston wine and liquor store carries a small but mighty selection of organic and biodynamic wines, hard to find vintages, and craft spirits, many of them made locally. Whether you're shopping for a gift or want to bring home a taste of the region, the knowledgeable staff at Ester Wine & Spirits will help you choose the perfect bottle. We walked out with a small bottle of Doc Herson's Red Absinthe, a version of the wormwood spirit made with sweet hibiscus and organic grains from upstate New York. Join them for free tastings on Fridays and Saturday to find your new favorite.
Cheese Louise
We stopped into this fine food purveyor after a hike through Bluestone Wild Forest to check out their bounty of domestic and international cheeses, locally-made sausages, and house-infused olive oils. You'll find everything from freshly baked bread to jams to organic coffee — there's even a deli section with prepared foods and smoked fish. We left with Brooklyn-made We Rub You Gochujang and their homemade lemon and garlic olive oil that's good on everything from salads to pastas.
Eat and Drink
Duo Bistro
This charming American bistro is one of our favorite places to eat in Uptown Kingston. The friendly staff will guide you through their new American menu, which often has a list of mouthwatering specials you should definitely try. When we dined there last, we started with delicately fried squash blossoms that were stuffed with cheese, an expertly-made caesar salad, and small portion of spaghetti carbonara with peas. Then it was on to the main event, a juicy local steak served with sauteed greens and a crispy onion ring. Duo Bistro's knowledgeable staff will help you choose the perfect wine or cocktail to pair with your meal. Try to make a reservation as this restaurant is always bustling.
Diego's Taqueria
You can't visit Kingston without stopping in for a meal at Diego's Taqueria. If you're looking for the tacos you've eaten on the streets of Mexico, this isn't the place. But if want to eat insanely delicious spins on the classic flavors, you'll be in tortilla heaven. The restaurant is helmed by awesome husband-and-wife team Isaac and Elena Cruz; he mans the bar and front of the house while she runs the kitchen and develops all of the recipes. The homemade guacamole is a spiritual experience, as the flavor and texture is perfect in every way. Tacos stuffed with local meats like roasted pork al pastor and coffee and chili rubbed brisket are juicy and satisfying. There are great options for vegetarians too, like the 3 Sisters, made with squash, grilled corn, black beans, cilantro and crema. Isaac is a tequila enthusiast, so ask about his favorite bottle of the moment while you feast.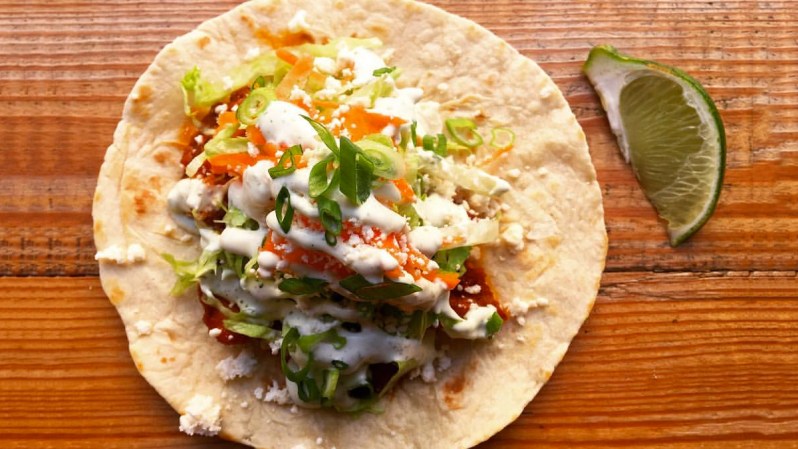 Anchor
When we first arrived in Kingston late on a Friday night, most restaurants were handing checks to the last patrons — it's not a late-night town. After asking around, we were told to visit Anchor for a burger. We walked in to the sounds of a live band playing in the back, ordered a whiskey, and sunk our teeth into a juicy burger made with local, humanely-raised beef. We suggest the Cowgirl, topped with chipotle barbecue sauce, cheddar and an onion ring, with a side of homemade tater tots. If you're a vegetarian, there are plenty of options for you too, including mac and cheese, a homemade hummus plate, and even a black bean chickpea burger.
Brunette Wine Bar
Design nerds will bug out at this gorgeous wine bar near the Kingston waterfront, and wine enthusiasts will have trouble choosing from their ever-changing list of vino. You're going to find funky, natural bottles along with more traditional styles, all described by the owner in the loveliest copy you've ever seen — tasting notes come in layman's terms, and she'll even tell you which song to pair with a glass. A menu of small plates can easily make a meal, especially if you order their trout roe "nachos" (roe, crème fraîche, kettle chips) or homemade turkey and pork liver pate. We're currently obsessed with their Instagram, which provides us weekly design inspiration.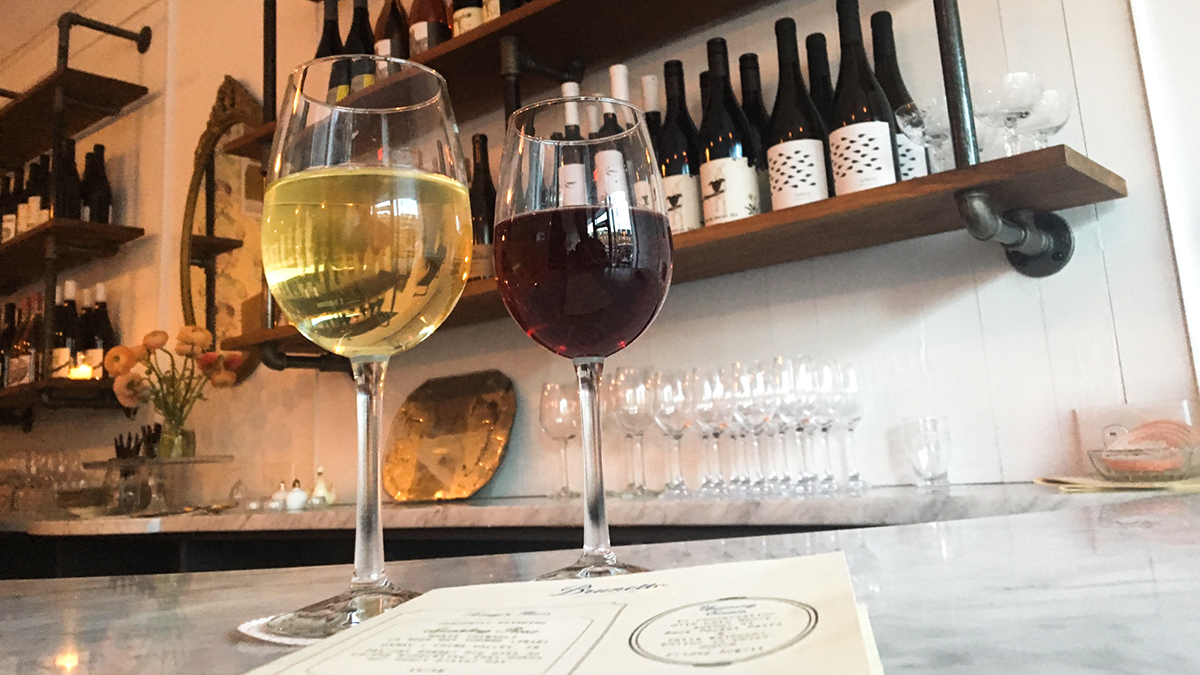 Redstart Coffee
This wonderful little coffee house is the place to go for a cup of joe and morning pastries if you're staying near the Kingston waterfront. The friendly staff and welcoming environment is perfect if you want to sip and savor slowly, but you can also take your breakfast bounty to go. You can order everything from an expertly-made espresso to a piping hot mug of caramel apple cider to go along with eats like pastries baked with spinach and feta, bagels, breakfast sandwiches, and hearty soups like turkey butternut squash chili.
Stockade Tavern
Stockade Tavern serves up the best drinks in town and is an absolute must if you're a spirits nerd. Take a seat at the spacious bar and browse the sections of their ever-changing menu, which is divided into categories like Sparkling, Highballs, Aged Cocktails and Staff Picks. They even have it broken down by spirit, so you can go for the Netherlands (genever gin, Angostura Amaro, lime, orgeat) if you're in the mood for gin or the Ultima (mezcal, Green Chartreuse, maraschino liqueur, lime) if a Mexican twist on the classic Last Word is more up your alley. They have a number of appetizing small plates if you need to soak up the booze.
Rough Draft Bar & Books
One of the coolest things you'll see in Kingston is at the intersection of Crown and John Streets in the town's Uptown neighborhood. Referred to as The Four Corners by locals, this intersection is the oldest in America—the buildings on all four corners were built pre-Revolutionary War. This brand new bar and bookstore is housed in one of these historic buildings, so you're experiencing a piece of history every time you step inside. Founders Amanda and Anthony Stromoski sell a curated selection of books, along with beer, wine, Counter Culture coffee, DUB savory pies and local pastries. Follow them to learn about nightly events and the books they're reading right now.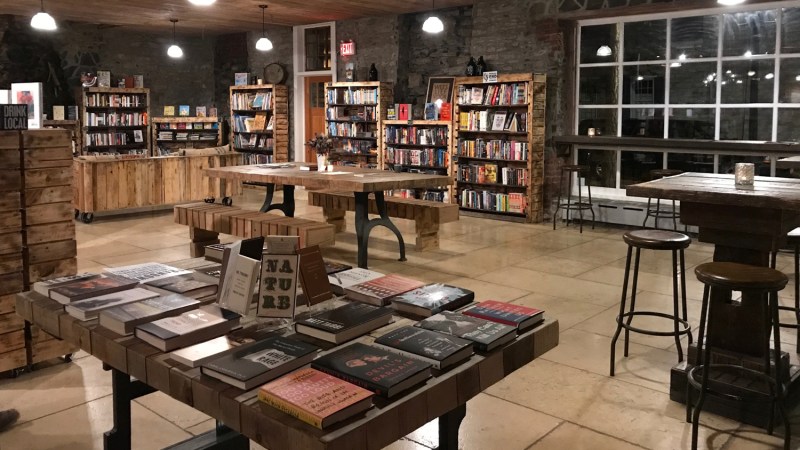 Sleep
Rondout Inn
BC and Larry of the Rondout Inn are antique collectors and dealers, so every one of their boutique apartment suites is outfitted with unique details and a homey feel. Design buffs will appreciate pieces like Herman Miller chairs and Chinese cloisonné tables, and practical amenities like airy bathrooms, full kitchens and Netflix subscriptions available on every HD television. Vintage art adorns the walls, and the apartments are stacked with plenty of books, board games and playing cards in case you're up for a lazy morning or early night. Conveniently located on Broadway near the Kingston waterfront, Rondout is close to enough shops, bars and restaurants to keep you occupied during your stay. If the inn happens to be booked, check out Boutique Inns of Kingston, a collective of accommodations owners in the area who are dedicated to watching their beloved city grow and thrive.
The Forsyth B&B
This dreamy bed and breakfast features four unique rooms, each one named after a different explorer. When we arrived, owner Tamara Ehlin greeting us at the front door and showed us to the James room, inspired by 19th century traveler James Holman who inhabited every continent of the world, despite being blind. The gorgeous space is designed with two huge skylights, rustic but polished wooden floors and ceiling beams, and a California King bed. Not only does the room feature an en suite bathroom, the space is designed with a Moroccan tiled alcove cradling a soaking tub for two. After getting settled and freshening up for the evening, wander downstairs where Tamara has set out snacks and will offer to make you an evening cocktail from the parlor's bar cart. When you arrive back to the Forsyth after an evening out, there will likely be freshly baked cookies awaiting for a midnight snack. Tamara serves a three-course breakfast at the large communal dining room table, so you can mingle with other guests as you fuel up for the day. Expect dishes like shakshuka served with creamy polenta and potato gratin, along with her sumptuous "breakfast desserts" like peach and plum tart. They just finished renovating the on-property Forsyth Barn this fall, which sleeps 16 and seats 50 for special events.
A huge thank you to Jeep for lending us this 2017 Jeep Renegade, a compact SUV that made for the perfect adventure vehicle during our excursion to Kingston. The bold dual sunroofs have panels that can be retracted or removed completely, depending how much wind you like blowing through your hair. Heated mirrors and a windshield wiper de-icer keeps your vision clear, even in blustery weather conditions. This is one of the most comfortable Jeeps yet, with super plush seating and plenty of storage space — like a height-adjustable rear cargo floor — along for the ride. The Renegade is available with either a 1.4-liter MultiAir Turbo engine or a 2.4-liter Tigershark® MultiAir 2 engine, both of which offer outstanding responsive power for a refined driving experience. Jeep loyalists and brand newbies alike will love the Renegade, designed for the adventure-seeker in all of us.
Editors' Recommendations