Nothing says effortlessly cool and casual like a classic pair of loafers.
Widely popular among Ivy Leagues in the 50s, loafers have continued to be a go-to style beyond the diploma.
A staple in a present day man's wardrobe, loafers are a gent's best friend for a number of reasons. Whether you prefer pennys or tassels or even a trendy velvet pair, they can be worn in between seasons or dressed up or down to adapt to any occasion.
Loafers offer a great deal of versatility to your look as well. You can wear them with jeans and a basic tee, shorts and a preppy polo, or dress slacks and a crisp button up shirt for a clean cut look at the office.
Bottom line is they're easy to wear, and they're perfect for any leisurely activities during the warmer spring and summer months. It's a classic and timeless style that adds sophisticated comfort and simplicity to your look that rarely looks out of place.
Check out our 8 picks for this season's most stylish pairs of loafers.
G.H. Bass Larson Weejuns II in Red $110
The Larson Weejuns II is a true classic just like its name in this vibrant red color that makes us think of spring and summer. These are hand-sewn in genuine leather with classic moc stitching and beefroll styling, and they're built to last. These would look great with a pair of lightly faded, tailored jeans and a bright white linen shirt.
Inkerman Osborne Camel Suede $150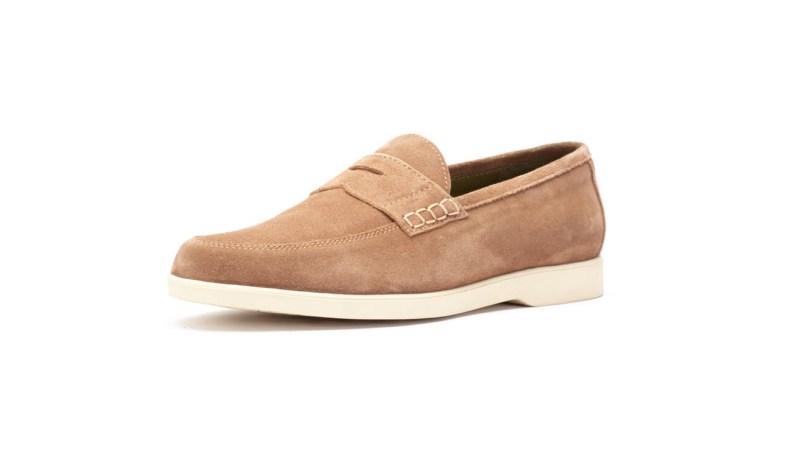 The Osborne from Inkerman is one of their best sellers for good reason. This Camel Suede pair features the comfort of a sneaker with the styling of a traditional loafer that looks great both dressed up and down. They're made with full grain, Grade A leather sourced directly from here in the United States, so you know these loafers are a steal at the affordable price of $150.
J. Shoes Ravenwood in Peacoat $189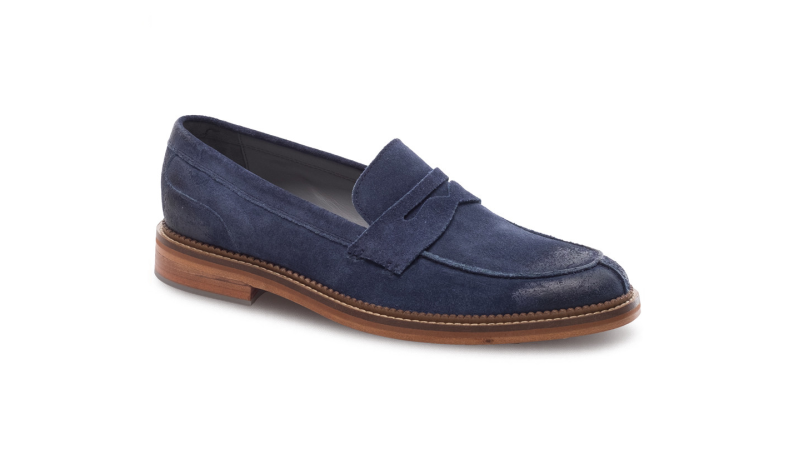 The Ravenwood from J. Shoes is their modern take on a classic penny loafer. The overall appearance of these is what sets them apart from the competition. The soft, navy suede and burnishing on the toes give this pair a subtle vintage quality that's really in this season.
Jay Butler Millbank Bit Loafer in Navy Suede $195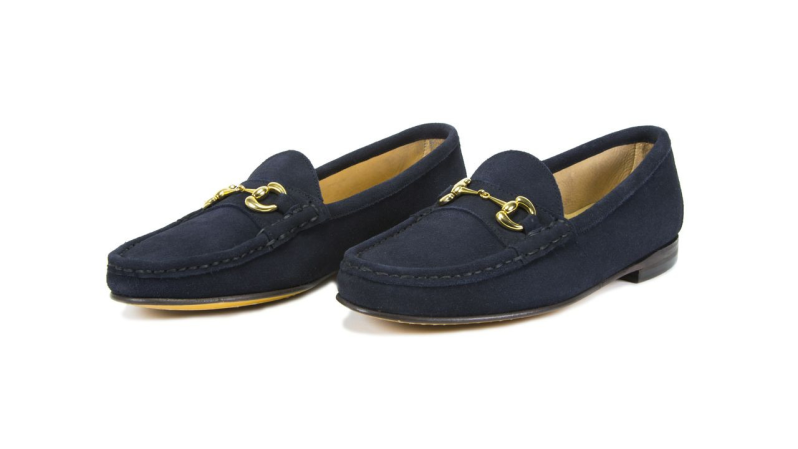 The immediate feature that is so attractive about The Millbank is the gold horse bit across the top of each pair. That matched with the navy suede upper adds a touch of sophistication and style to any casual or dressed up look.
Tricker's Churchill Lion Velvet Slipper in Black $199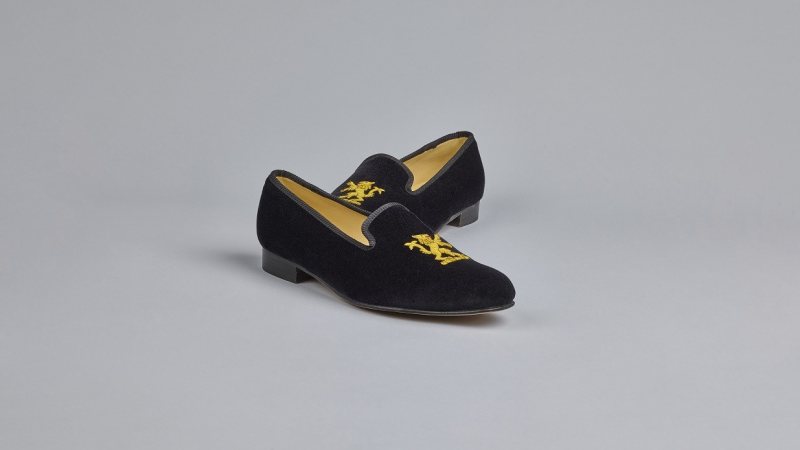 If you're in the market for a classic pair of smoking slippers, well then the Churchill Velvet Slipper from Tricker's is exactly what you need. Complete with velvet uppers, leather linings, and a lion embroidery, these loafers have country club cool written all over them.
Peter Millar Bit Croc Loafer in Brown $225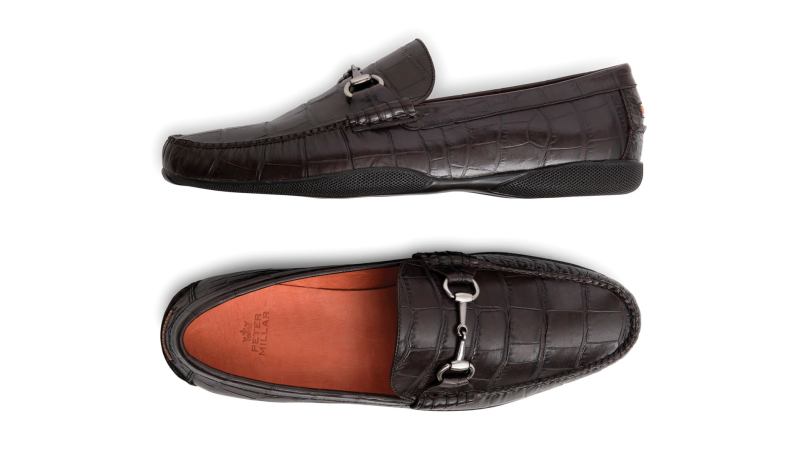 Who doesn't love crocodile print on a loafer? These Bit Croc Loafers from Peter Millar have a lot of style, but since they're a flex between a traditional loafer and driver, they also have the comfort and wearability everyone wants in a loafer. They're made in Brazil with 100% leather, a rubber sole, and a brushed pewter-toned metal bit detail for a nice added touch.
To Boot New York Harper Driver in Cognac $295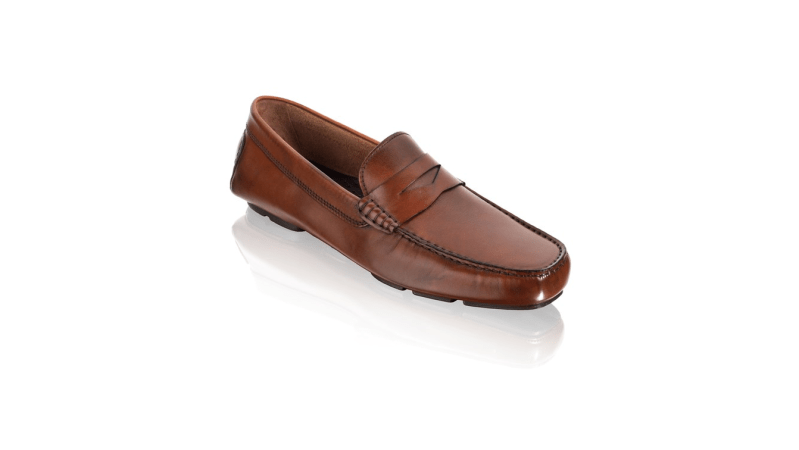 Perfect for relaxing days, To Boot's Harper in Cognac is a driver style that's easy to wear and comfortable enough for any occasion. It's made with the finest calf leather and features hand stitching and a rubber driver sole for added traction.
Cole Haan Pinch America Loafer in Pecan $325
No loafer roundup can be complete with a pair of Cole Haan's. This pair just happens to be made in America by artisans from the great state of Maine. The Pinch America Loafer is part of a limited-edition collection born from the factories that define American shoe making in Maine.
Editors' Recommendations