You may be thinking that slip-on shoes are reserved for the warmer months but that is simply not true. There are plenty of heartier men's slip-on shoes that can keep your feet stylish and warm when the temperature drops. Most of them are made from thicker fabrics or contain extra layers, compared to their summer weight counterparts. In fact, cold weather slip-ons step into a whole new range of fabrics and materials like suede, fleece, flannel, and shearling. For every style and occasion, there's a choice for the best men's slip-on shoes that look as good or better than laced alternatives.
The thing is, when most men think of stylish slip-on shoes, they immediately jump to loafers and boat shoes. While those are both great options steeped in rich-style heritage, there are plenty of other options out there. We're here to give some love to the best slip-on shoes that aren't loafers or boat shoes.
These stylish alternatives range in formality from cotton espadrilles built for a day at the beach to velvet slippers designed to add flair to your black-tie ensemble. Each one comes from a rich-style tradition, mostly from outside the United States. We've gathered together a list of the best options out there to slip your feet into from winter into spring.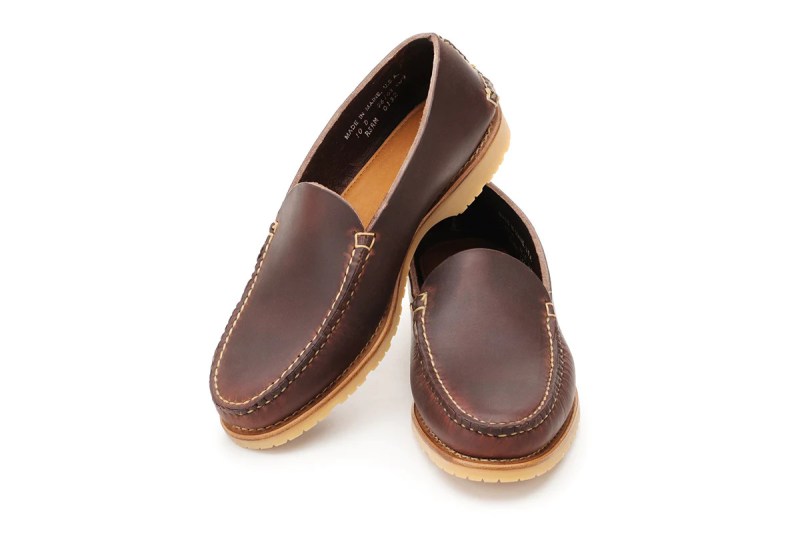 Rancourt & Co. 1967 Venetian
Venetian slippers should conjure images of luxurious Mediterranean locals like, well, Venice. Rancourt took those vibes and combined them with a shoe built to handle Maine winters, where they're from. They kept the traditional Venetian silhouette but built it out of tough-as-nails Horween Chromepak leather then slapped a Vibram sole on the bottom worthy a pair of work boots.
Rancourt & Co. 1967 Venetian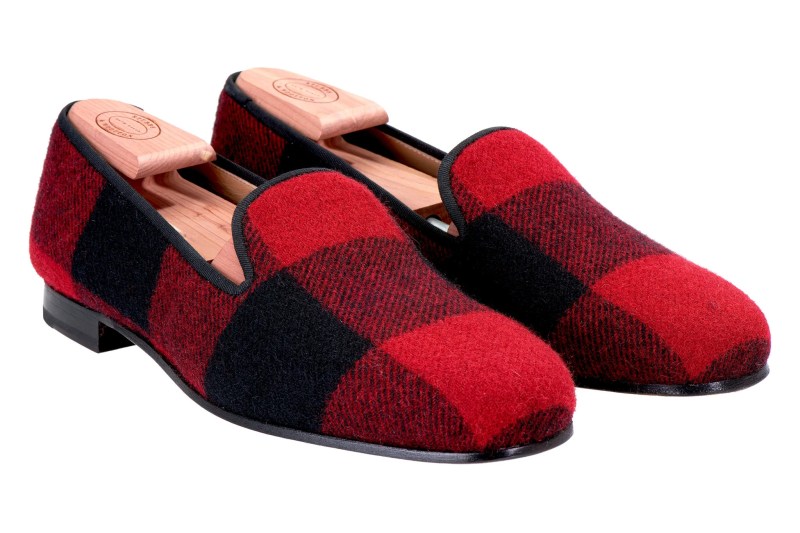 Stubbs and Wootton Buffalo Wool Slipper
Stubbs and Wootton built their reputation on their opulent linen needlepoint and crushed velvet slippers. They've since expanded into other styles and fabrics, all featuring the same elevated level of taste and craftsmanship. This winter is the first year they have put a line of line of heavy weight slippers dedicated to cold weather. There are a few options but this Buffalo plaid is so classic that can wear them with pretty much everything.
Stubbs and Wootton Buffalo Wool Slipper
Sabah Ashmore Gray Shearling Baba
The mule style Baba from Sabah is inspired by traditional Middle-Eastern footwear and designed for tropical vacations and everyday wear. That limits their use to half the United States. So Sabah made the brilliantly simple move of building a line of Baba slippers with shearling lining. Now they can keep your toes warm though the winter months. May just don't wear them in the snow.
Sabah Ashmore Gray Shearling Baba
Birkenstock Boston
Birkenstock has been heralded for the comfort of its sandals for decades. Don't tell anyone I told you this, but the secret ingredient is cork. The company molds its entire footbed out of cork, which provides not only a soft, shock-absorbing cradle for your feet, but the cork naturally breathes better than any artificial material. This means your feet breathe better, and this keeps them cool and prevents irritation and stink from moisture buildup.
Glerups Felted Wool Slip-Ons
The Danes have a knack for design that is somehow minimalist and exceptionally functional at the same time while looking vintage and futuristic at the same time. Danish footwear brand Glerups are the perfect example. They're based on an old Scandinavian design using exceptionally durable and warm felted wool. Yet they're cool in a modern, minimalist way. Best of all, the foot shaped toe bed make them extremely comfortable.
Glerups Felted Wool Slip-Ons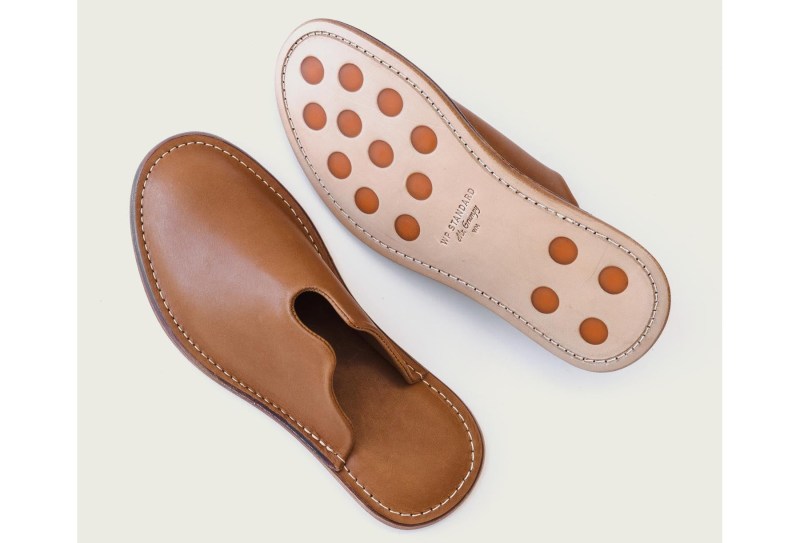 WP Standard Mr. Grumpy Slippers
WP Standard has been around for well over a decade making top-quality leather goods. For most of that time, it only produced bags and small accessories like belts and wallets. The company likes to focus on a few designs and tinker away at them in an unrelenting drive for perfection. So it was simultaneously shocking and thrilling when it released its first shoe. The Mr. Grumpy is an all-purpose mule-style slipper masquerading as a house slipper.
WP Standard Mr. Grumpy Slippers
Robert August Sheridan Road Belgian Slipper
Some would argue that proper Belgians should come from Belgium, but Las Vegas cobbler Robert August begs to differ. His line stands toe to toe with the European heritage brands in both appearance and quality. Better still, Robert August shoes are made-to-measure. Meaning you can customize the fit and finish so your shoes look and wear exactly how you want them to. You can even build your own custom design on the website.
Robert August Sheridan Road Belgian Slipper
L.L. Bean Wicked Good Moccasins
If you're from Maine, as L.L. Bean is, you don't just call any old moccasin wicked good. Only the best moccasins out there are wicked good. The premium Australian shearling will keep your feet insulated without collecting sweat. The thick rubber sole will give your traction on snowy and icy surfaces. You can wear them with pajamas around the house all day then throw on a pair of slacks and wear them out at night.
L.L. Bean Wicked Good Moccasins
Del Toro Black Velvet Slipper II
Del Toro made a clever move to set its velvet slippers apart from the competition. It added two rubber insets to the soles, just as you would find in most leather dress shoes. With that traction, you can take this classically at-home design out and about. It's a good thing, too, because you're going to want as many people as possible to see you wearing them. They offer a range of solid colors, but the black embroidered with a Jolly Roger is the highly recommended choice.
Del Toro Black Velvet Slipper II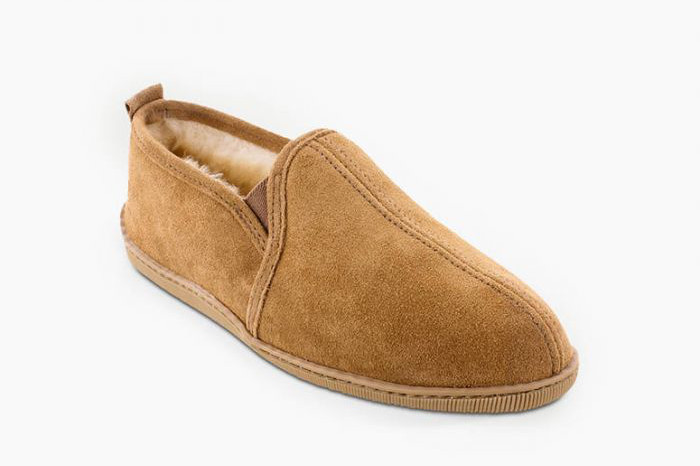 Minnetonka Twin Gore Sheepskin
Minnetonka Moccasins actually make a lot more than just moccasins. Their Twin Gore style slip-on shoe is a sleeker alternative to the traditional shearling moccasin while providing the same warmth and comfort. The rounded toe with a center stitch resembles a house slipper while the gusseted tongue makes for easy slip on, slip off use. The light rubber sole is the same as a flat soled sneaker and is designed for indoor/outdoor use.
Minnetonka Twin Gore Sheepskin
The range of slip-on shoes out there goes far beyond boat shoes and loafers. Sure, they have their place, but they can also get stale. You can find slip-ons on this list to match any outfit and any occasion. They are a significant upgrade to sandals and eliminate the tedious need to tie laces. Find the right shoes on this list to match your style and budget and you will find your new go-to footwear. A great pair of slip-on shoes will always be the best don't-have-to-think-about-it, goes-with-everything, minimal effort shoes. Yet you won't be skimping on style because every shoe on this list is a wardrobe upgrade, guaranteed.
Editors' Recommendations