There are a few unwritten but essential rules regarding the best men's shoes. Have you ever heard someone talk about a "pants-to-shoe ratio?" While this expression speaks explicitly to how your pants hang against your ankle at first glance, shoes play an essential role in making a great first impression on your peers. You can dress in simple jeans and a tee, but your footwear will make or break any outfit. That's where we come in.
Fortunately, from winter into spring and beyond, we have a lot of opportunities to enjoy the vibrant outdoors while stepping up your style game with a new pair of shoes. From the perfect bike shoes to some of the most expensive ones, we round up the best pairs of shoes to include in your wardrobe arsenal this year and beyond, with each pair worthy of becoming your go-to kicks for any occasion.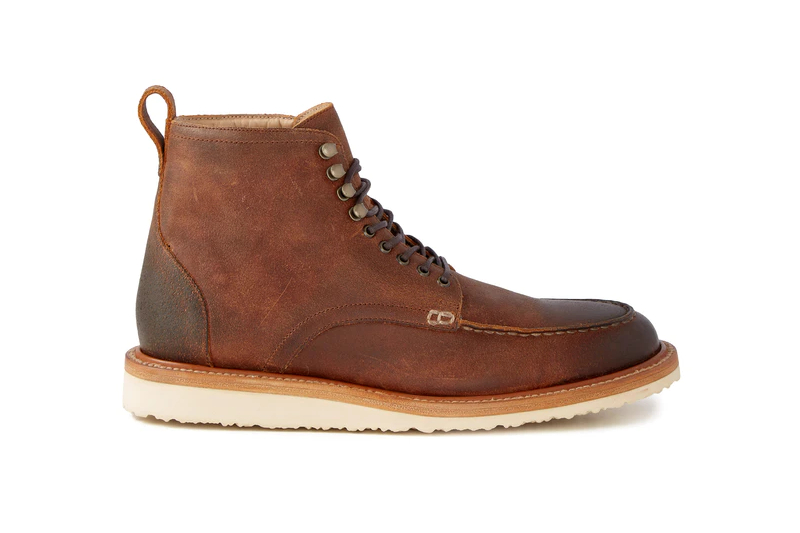 Rhodes Footwear Bozeman Boots
The Work Boot
Initially made for war and factory workers, the work boot has evolved into higher fashion, but it never lost its function. The options below live up to their name, offering steel shanks, carbon-fiber toes, and durability to last. After all, that is the point of any investment. Whether you work in the field or not, every guy should own a great pair of utilitarian work boots.
The Rhodes Footwear line from Huckberry continues to blend just the right balance of workman-like attitude, standout style, and of course, functionality. This moc toe pair wears well with canvas work pants on the clock and slim blue jeans off-duty.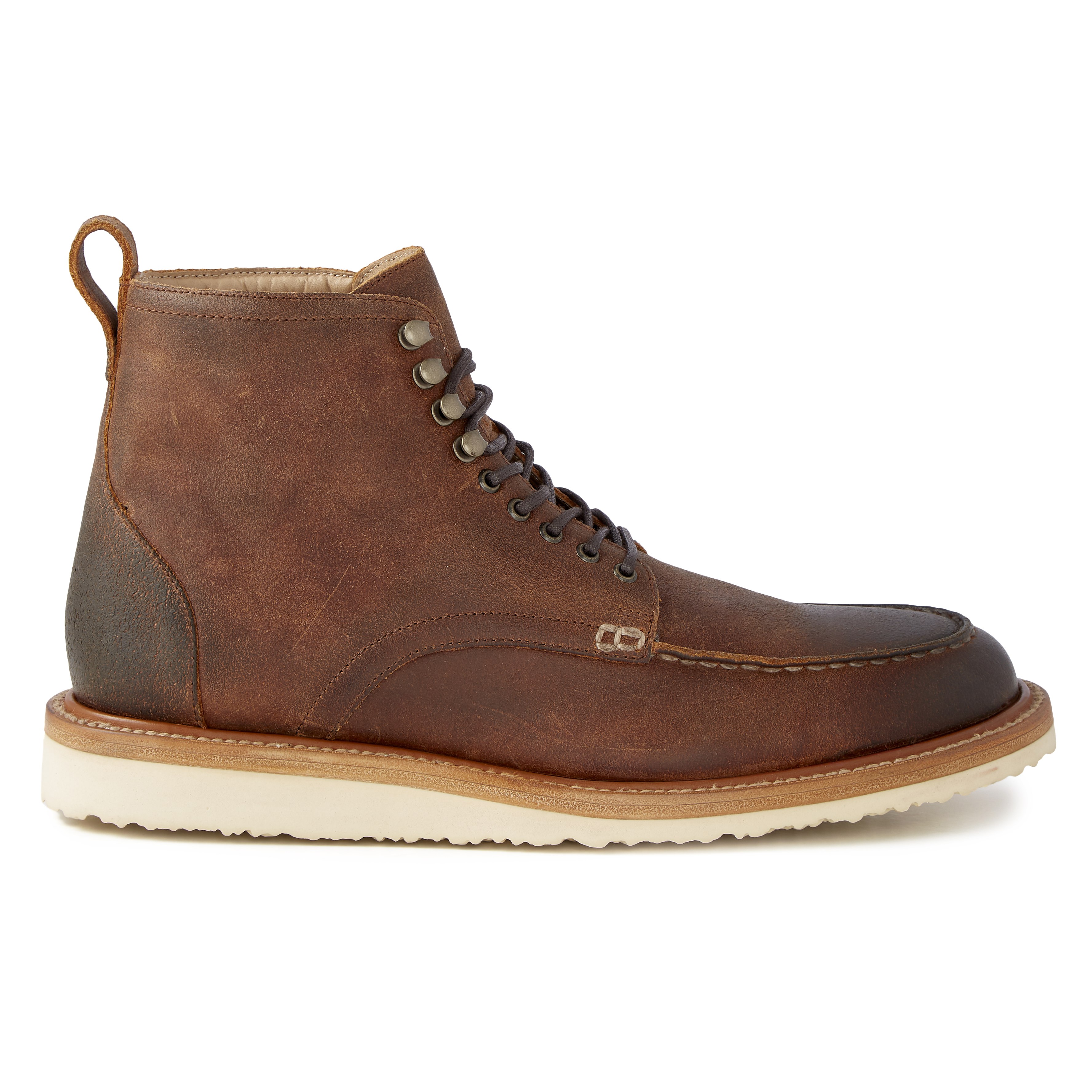 Rhodes Footwear Bozeman Boots
The Work Boot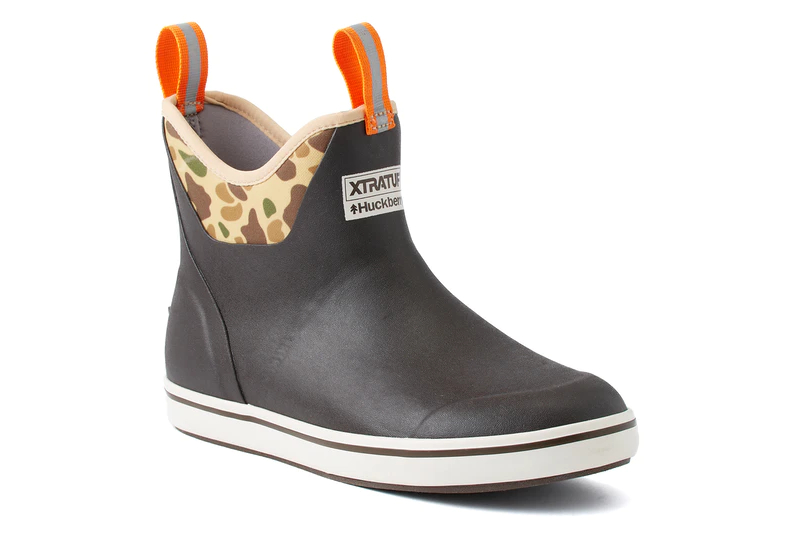 Huckberry x XTRATUF Deck Boots
If these work boots are good enough for fishermen on the high seas, they can handle every one of your daily demands. Plus, the touch of camo and orange, exclusive to Huckberry, gives 'em a nice touch of style and added visibility.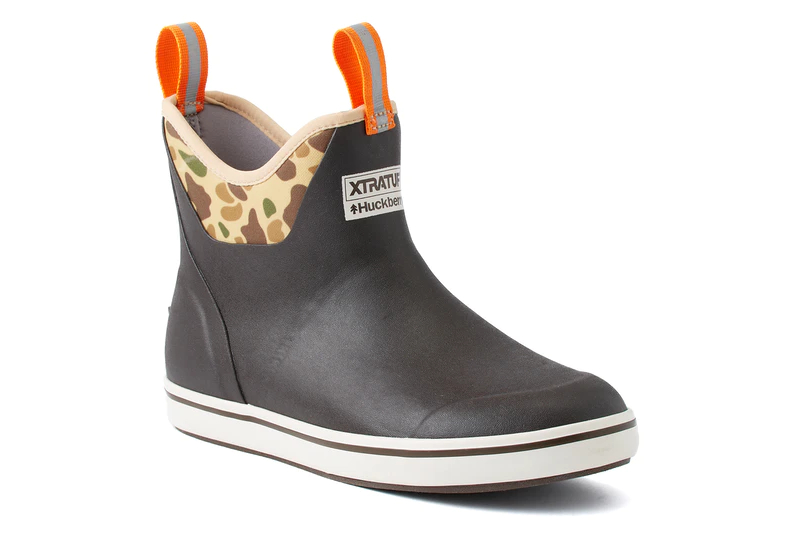 Huckberry x XTRATUF Deck Boots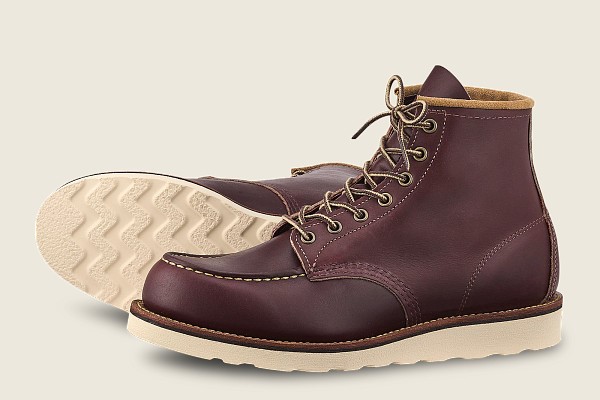 Red Wing Heritage Classic Moc
Adopted by fashion retailers like Madewell, Red Wing carries a great heritage. This style, in particular, dates back to 1952, and since then, it's grown into one of the most popular boot styles in the country. The fit becomes increasingly personalized over time, so expect it to be a bit snug initially, with little breathing room that will eventually relax.
Red Wing Heritage Classic Moc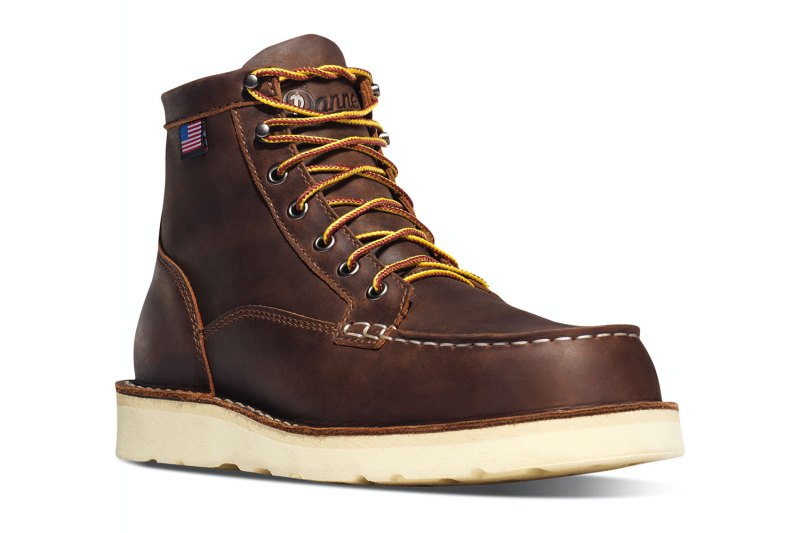 Danner Bull Run Moc Toe
You can do just about anything with a steel toe and snug fit in these boots. Born and bred in the U.S., Danner promises all-day comfort and long-lasting durability. All of their shoes go through a rigorous testing process. Plus, they are stylish enough to wear in the field and beyond.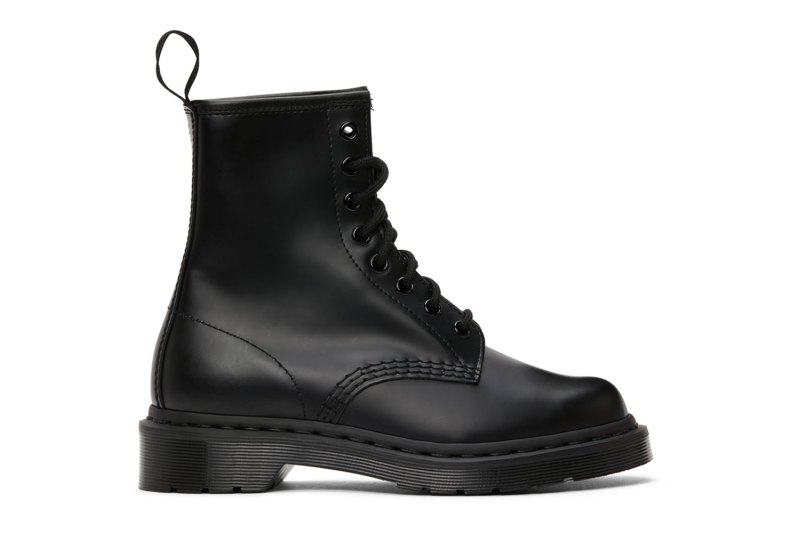 Dr. Martens 1460 SMOOTH LEATHER LACE UP BOOTS
The iconic 1460 Leather Lace Up Boots carry great history. Initially made for a more comfortable boot during World War II and then made famous for factory workers in the 1960s, this shoe has become a fashion week staple today. Over six decades old, the original Dr. Martens boot remains an ever-popular marriage of fashion and function.
Dr. Martens 1460 SMOOTH LEATHER LACE UP BOOTS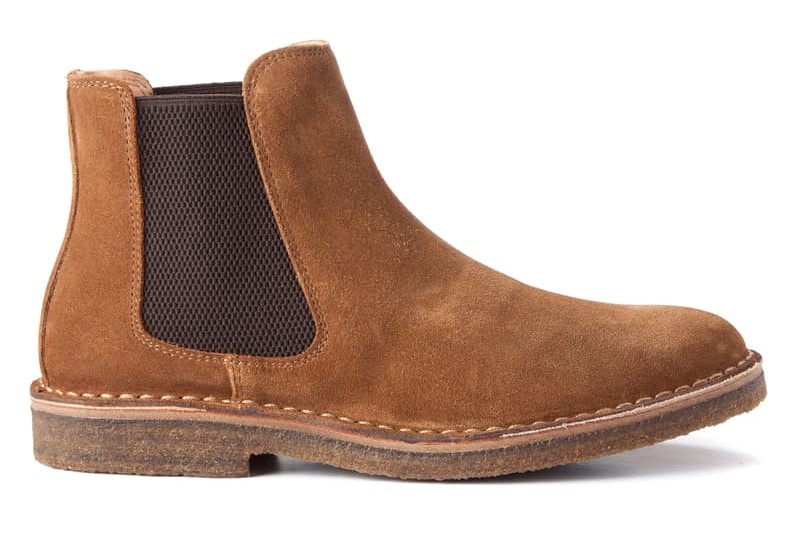 Astorflex Bitflex Chelsea Boot
The Chelsea Boot
Thanks to the popularity gained by the endorsement of acts like The Beatles and The Rolling Stones, Chelsea boots are the perfect city boot. They are elevated and streamlined but give off that bad boy, downtown attitude for significant sex appeal.
Built atop a springy, sustainable sole and made using time-tested methods, these casual, rugged-yet-refined Chelsea boots are a perfect daily go-to. The Dark Brown Nubuck color will also break in very nicely over time.
Astorflex Bitflex Chelsea Boot
The Chelsea Boot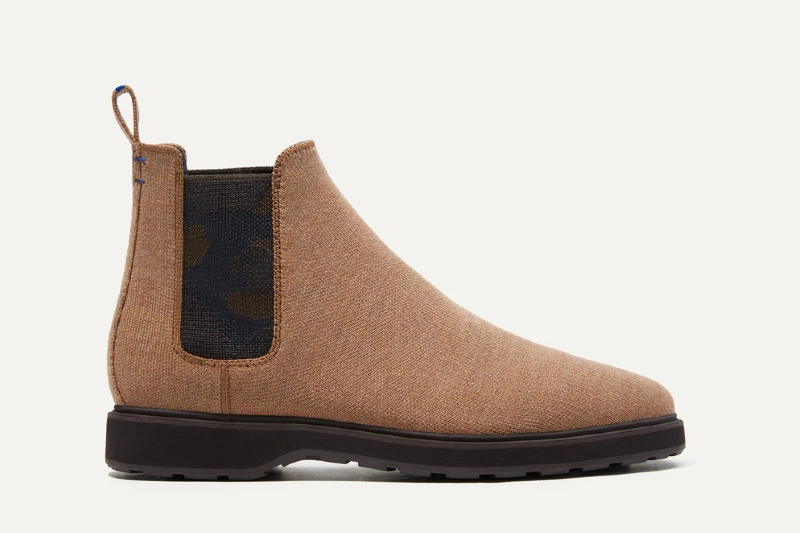 Rothy's Merino Chelsea Boots
Since when is merino used in footwear? Since the good folks at Rothy's decided to expand beyond the brand's recent men's sneaker launch into the world of classic, sharp Chelsea boots, this time done in a machine-washable merino (yes, really).
Rothy's Merino Chelsea Boots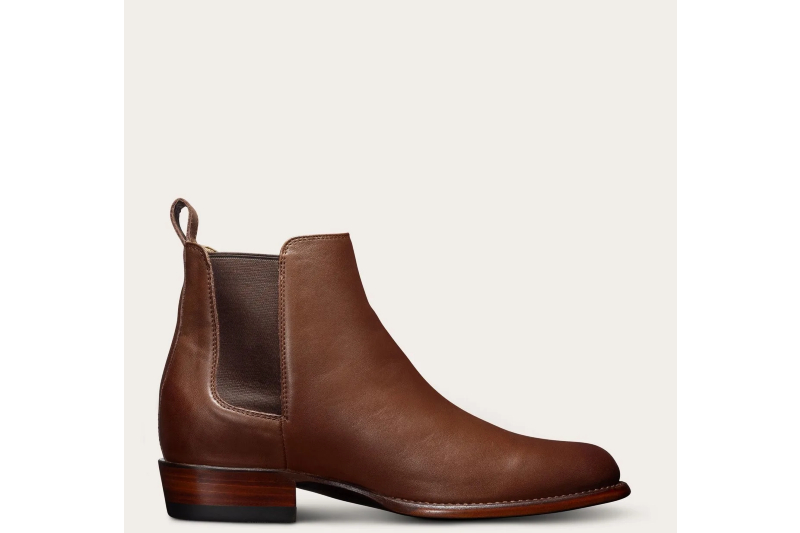 Tecovas Chance Chelsea Boots
Trying to embody the style and coolness of 60s-era London with the manliness of John Wayne by blending both old-school Western appeal and sleek, modern style, these Chelsea boots are a perfectly rugged hybrid, ready for the open road or a city speakeasy.
Tecovas Chance Chelsea Boots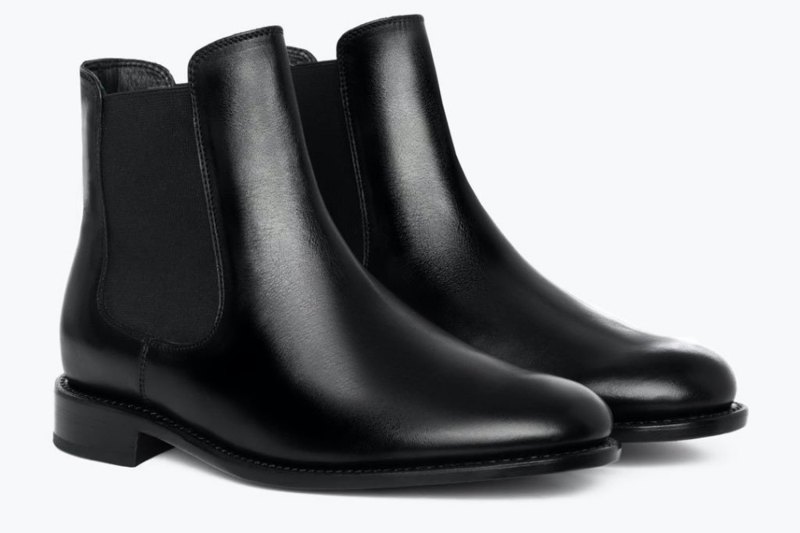 Thursday Boots Cavalier Boots
Don't be afraid of the lighter suede. These feature a "WeatherSafe" suede upper that will actually get better and look ruggedly seasoned with age. Thursday Boots are known for high quality and style without looking too stuffy.
Thursday Boots Cavalier Boots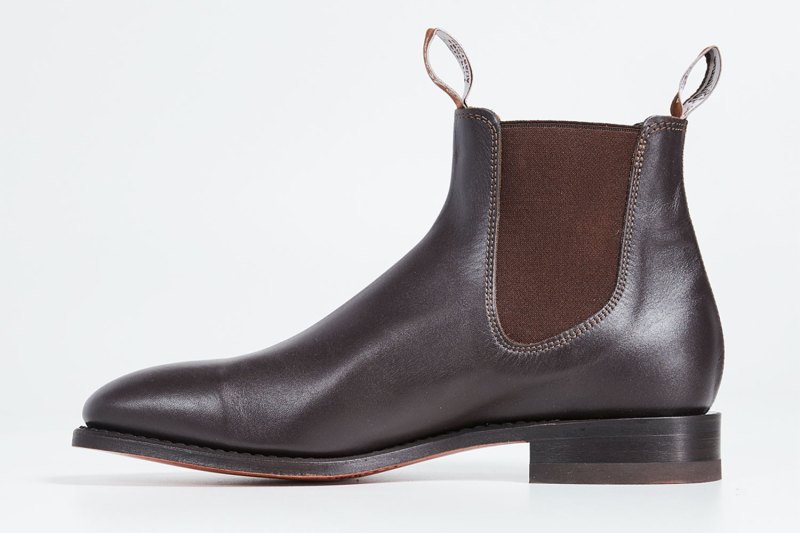 R.M. Williams Classic RM Leather Chelsea Boots
As the brand's most timeless design, these deep brown leather boots are any city dweller's dream. The deep brown goes with almost anything, and the soft leather will keep your comfort levels high.
R.M. Williams Classic RM Leather Chelsea Boots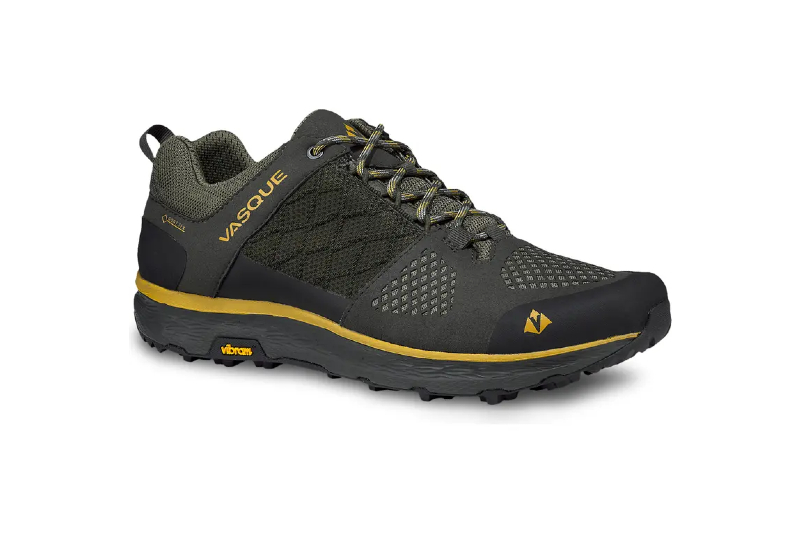 Vasque Breeze Lite Waterproof Hiking Shoes
Hiking Shoes
If you're going for a quick daytime hike, you might think sneakers will suffice. But why dirty your great trainers when you can grab a pair made specifically for the lakes, valleys, and mountains? If you're hiking a rigorous mountain, you'll need something more technical, but the sporty hiking sneakers below offer non-slip treads and excellent support, so even if you're not a seasoned hiker, you can at least look the part.
Built like a sneaker but with the traction-ready tread of your favorite hiking boots, this hybrid pair is well-suited for adventures on and off the trail this season. The use of GORE-TEX makes them even more durable than at first glance.
Vasque Breeze Lite Waterproof Hiking Shoes
Hiking Shoes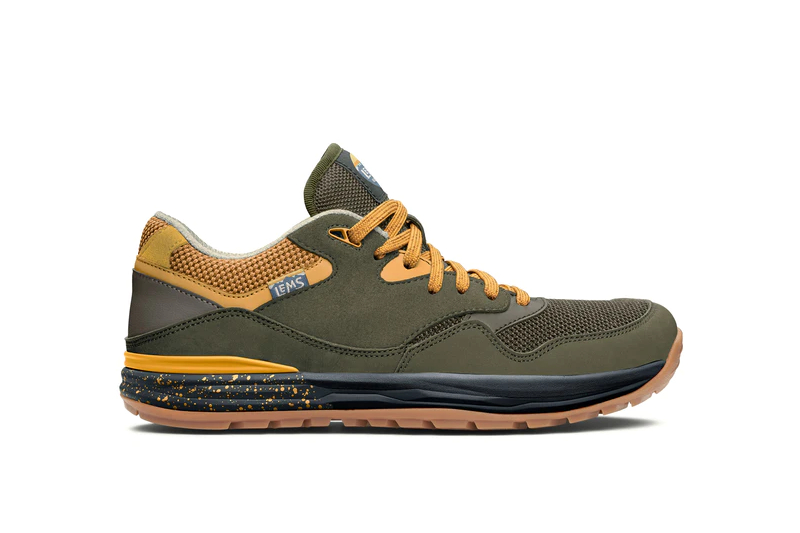 LEMS Trailhead Sneakers
While some hiking boots can be clunky, LEMS has taken the feel of a hiking boot and incorporated that technology into a low-profile sneaker that you can even wear off the trail. Engineered to give you spring in your step with added traction, we also love the retro-style color options available right now.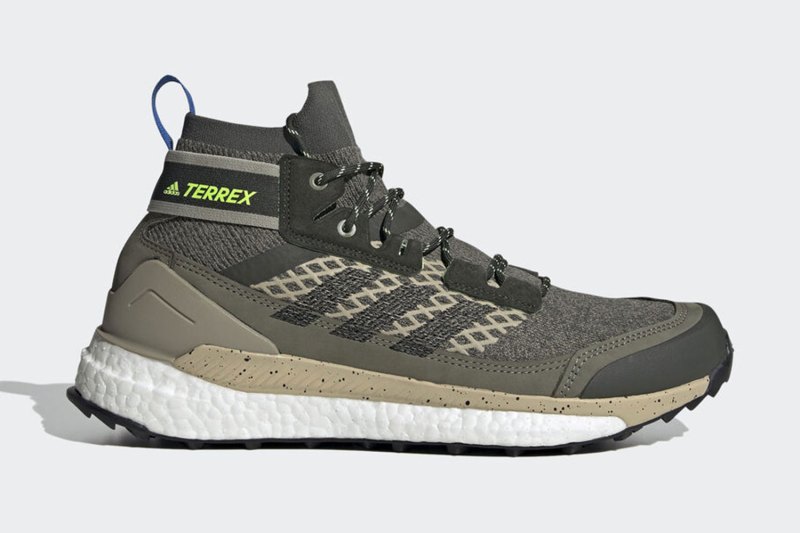 Adidas Outdoors Terrex Free Hiker Blue Men's Hiking Boot
The rubber, suede, knit mixed media material makes these hiking shoes modern and sporty enough to wear around town. Even though it's a major fashion trend, the knit built-in sock serves to seal away dirt and gravel.
Adidas Outdoors Terrex Free Hiker Blue Men's Hiking Boot
Teva Gateway Low
The Gateway Low is best for day hikes. These shoes are made with 55% recycled polyester and leather sourced from sustainably-minded tanneries. The Teva brand is more a lifestyle that inspires outdoor adventures and is on a mission to protect the Earth. These treads will repel water and feel cool and comfortable -- a pretty technical hiking shoe with a sneaker-like vibe.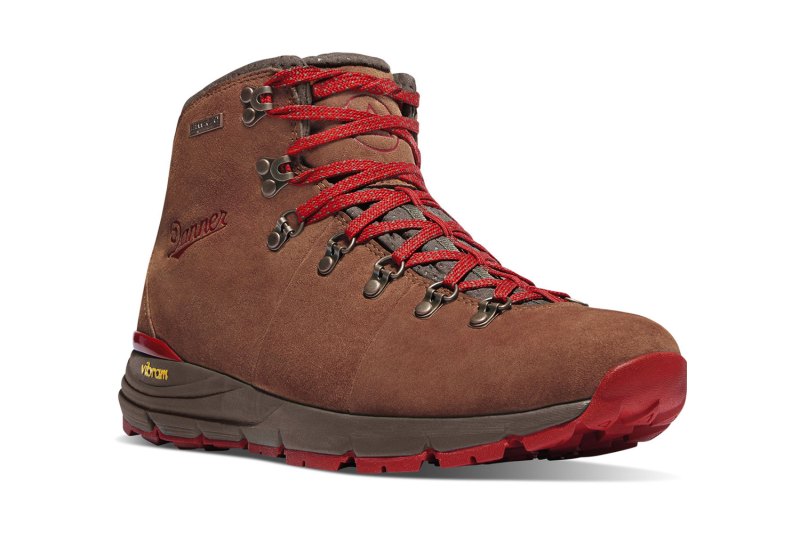 Danner Mountain 600 Hiking Boots
Leave it to Danner to take hiking to the next level with these comfortable boots that feature Vibram technology and construction that have more in common with your favorite sneakers than with the clunky hiking boots of days gone.
Danner Mountain 600 Hiking Boots
Florsheim Premier Lace Up Sneakers
Low Top Sneakers to Dress Up
Casual wear is becoming more popular these days. And pairing sneakers with a suit is a modern essential style trick for that effortlessly relaxed yet elevated fashion mood. From date-night dinners to casual Fridays in the office, having crisp and clean sneakers is a significant priority on this list (keywords: Crisp and clean).
The rich brown leather of these sleek sneakers closely mimics your favorite dress shoes, with added comfort to boot. Wear them with slim blue jeans, a white Oxford shirt, and a navy cotton blazer for an all-day style.
Florsheim Premier Lace Up Sneakers
Low Top Sneakers to Dress Up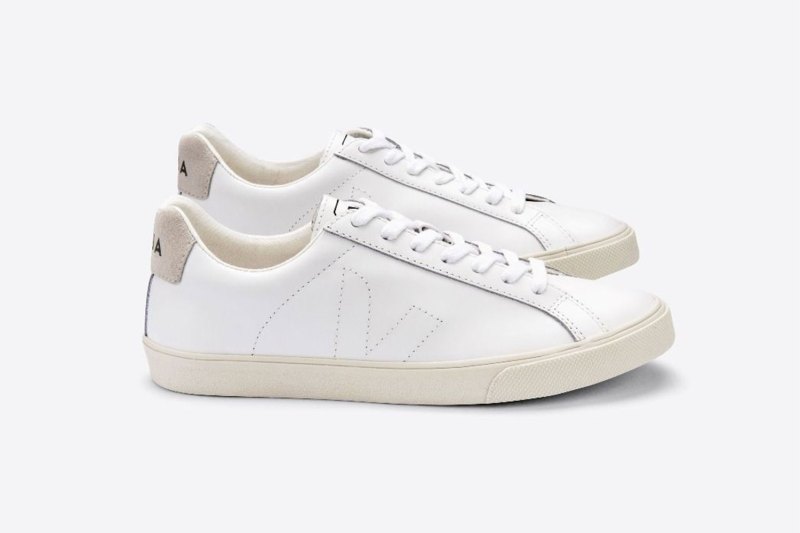 Veja Esplar Shoes
Veja makes the perfect white sneaker, subtly showing its logo. Feel proud to rock the "V" because this positive impact brand is completely transparent on what goes on in the shoe industry. By spotlighting this, the brand is encouraging the use of sustainable materials, ethical factories, and fairer wages. Veja means "look" in Portuguese, as the brand aims for their consumer to look beyond just footwear.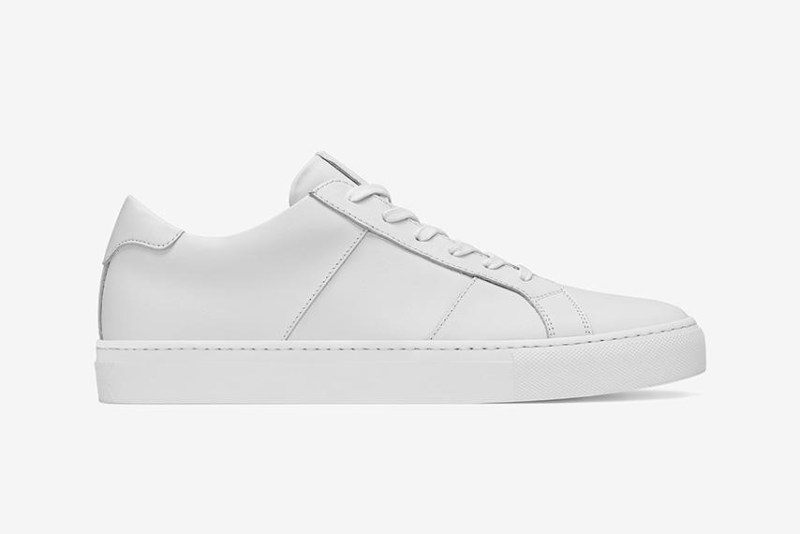 Greats Royale Sneakers
A minimalist favorite, these versatile sneakers are made with ultra-soft cowhide leather. The more you wear, the better they get. You can wear these with anything in your closet and get away with it. Just remember to wear no-show socks!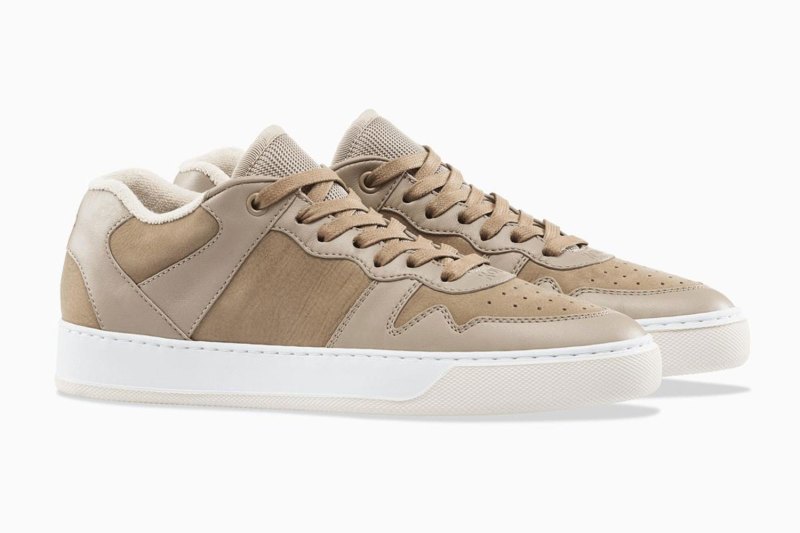 Koio Men's Metro Taupe Sneakers
For the non-minimalist, these tonal, low-top sneakers ooze swagger. The athletic silhouette makes them a bit more casual than the rest in this category, but they are still sleek enough to dress them up for an evening out.
Koio Men's Metro Taupe Sneakers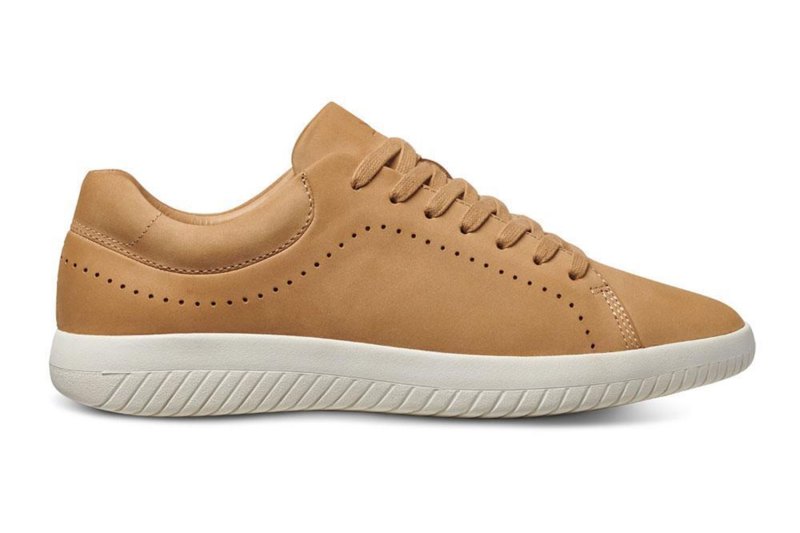 Mobs Design Tread Low
For the guy afraid to wear all-white sneakers but still seeking a dress-up comfort option, opt for the same vibe in color. Mobs Design makes sneakers that naturally become your go-to because of their comfort and breathability while keeping that cool guy aesthetic. If you're not into the cognac, don't worry; they carry many colors.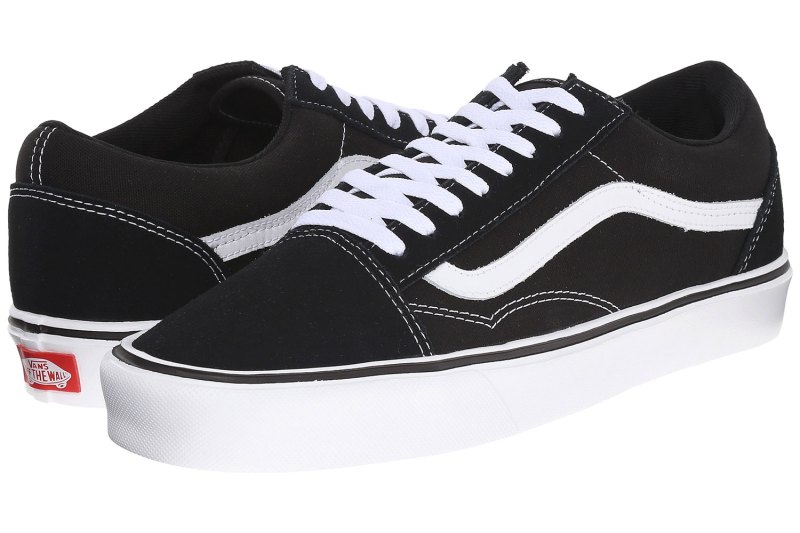 Vans Old Skool
The Dress Down Sneaker
For the days you're afraid you might scuff up your "dress-up sneaker," you'll need a pair you are more comfortable getting down and dirty with. A dress-down shoe should be hip yet comfortable enough to skate and walk around. Take a look at some of the best sneaker brands should you want more options for your next pair of sneaks.
Your pants-to-shoe ratio will always be acceptable when rocking the Old Skool skater shoe from Vans. Pro-tip: You don't actually have to be a skater to wear these. The Vans lifestyle encompasses a laid-back and casual California attitude.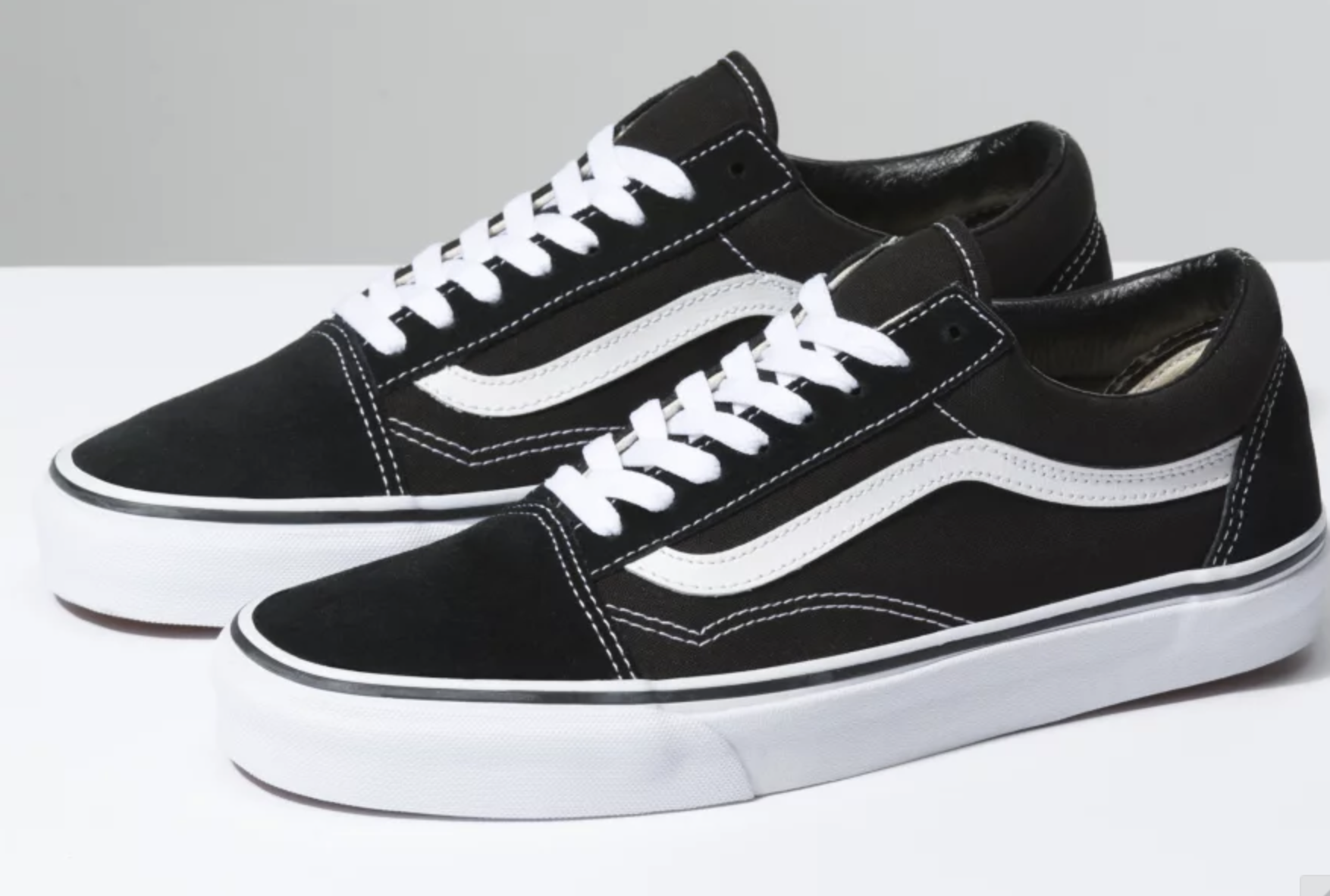 Vans Old Skool
The Dress Down Sneaker
Converse Chuck Taylors
Contrary to popular belief (and the rules mentioned above), white Chuck Taylors look more remarkable when worn and a bit dirty. It's a grungy 1990s moment that has become a fashionably relevant icon. The OG skate shoe even sells a "dirty wash" version of these at a higher price among their custom selection, but we recommend getting there on your own, but we understand if you prefer keeping them clean. For Converse alternatives, check out our guide.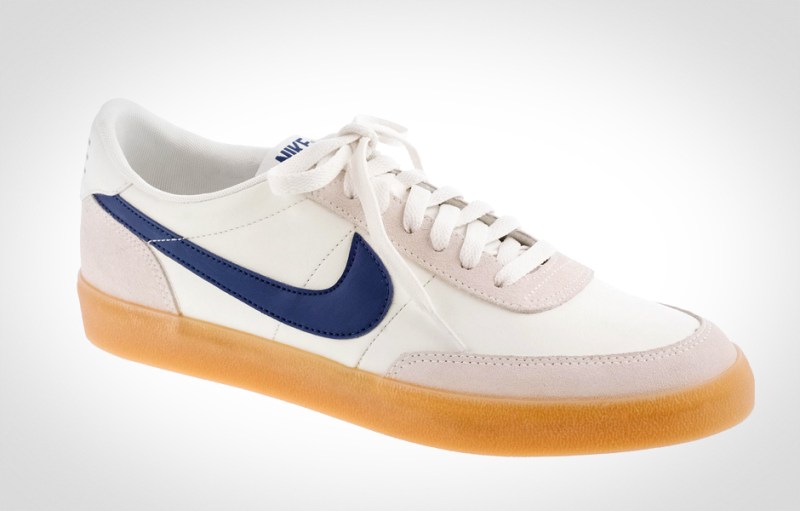 Nike Killshot 2
Nike's Killshot 2 sneakers mix leather and suede for a play on texture and sheen. They are inspired by the brand's original tennis shoe, with the classic Nike logo and typeface on the back as an ode to sporty nostalgia.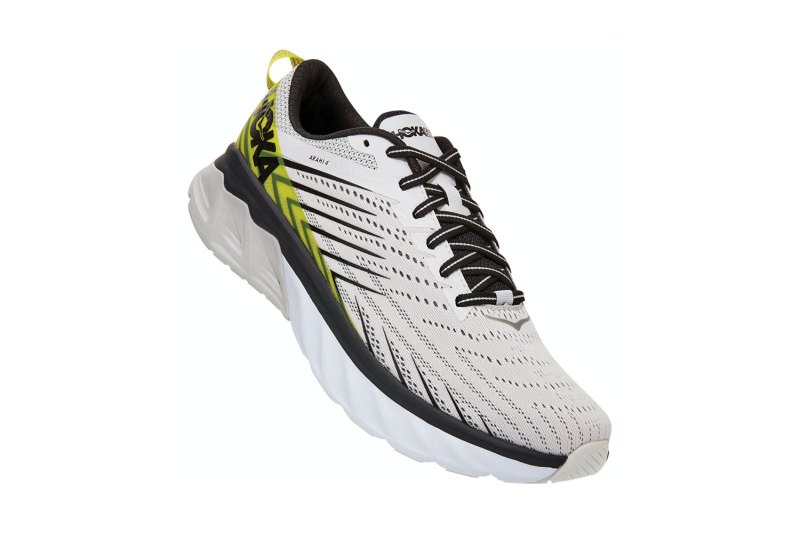 Hoka One One Men's Arahi 4
The Athletic Sneaker
Men's shoes, in general, are an oversaturated market. And even when you narrow it down to the athletic category, the options still feel overwhelming. To get super technical, you'll have to narrow in on the sport of choice to steer your shopping roadmap.
These road-running sneakers are a bestseller for a reason. Users describe them as "running on a cloud." While they're made for mileage seekers, they're equally great for running errands around town. You won't find a softer cushion than these from Hoka One One.
Hoka One One Men's Arahi 4
The Athletic Sneaker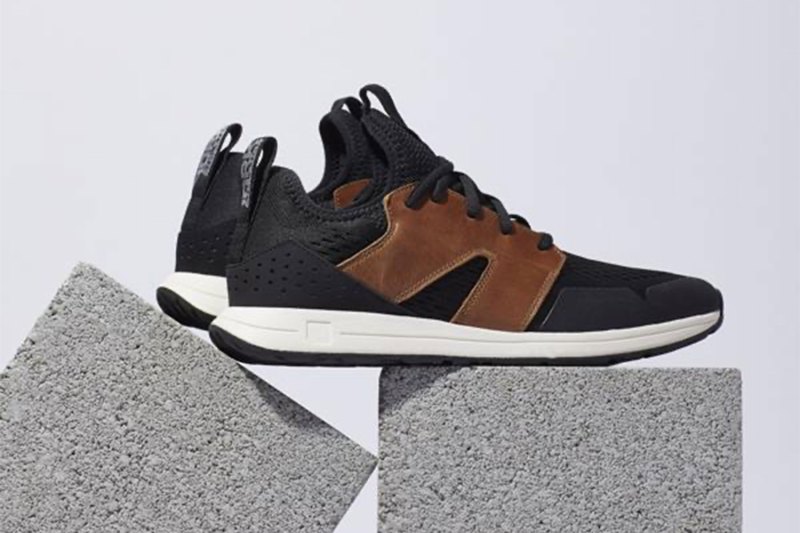 York Athletics MFG The Frank Half & Half
Between the leather and the mesh, these sneakers are the perfect marriage between an athletic and a lifestyle sneaker. They are made to work out but look great for hanging out. This small brand out of Boston is onto something. Consider yourself warned; these sneakers will attract compliments from strangers.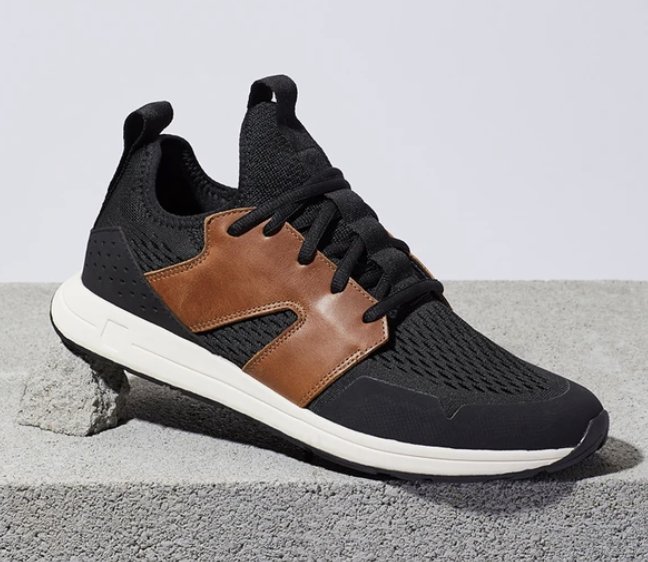 York Athletics MFG The Frank Half & Half
AllBirds Men's Tree Dashers
The latest release from AllBirds is the Tree Dasher style, partially made from eucalyptus pulp to ensure a cooling effect with each wear. Made to run, sprint, walk, and hop, the Dasher is super technical, sustainably produced, and beautifully designed.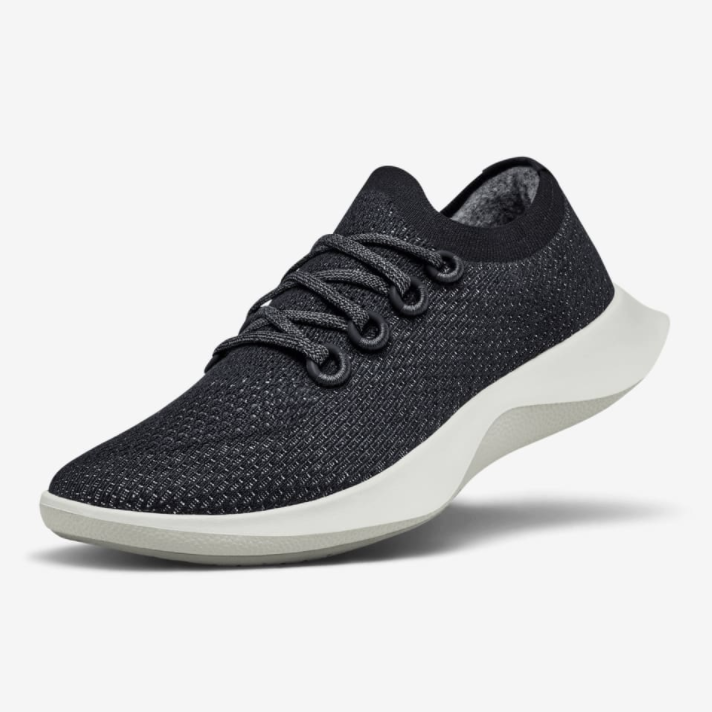 AllBirds Men's Tree Dashers
K-Swiss Bigshot Light Tennis Shoe
This reliable pair of tennis shoes does its job on the court and is comfy and durable enough to wear during your daily errands or off-trail excursions. (Check out our favorite handmade sneakers here).
K-Swiss Bigshot Light Tennis Shoe
Allen Edmonds Randolph Penny Loafer
The Loafer
Loafers give off a calm, cool, collected, understated elegance. Many guys are intimidated by the tassels or the shine of a loafer, but you shouldn't be! The second you put on a pair of great loafers, you will feel (and look) like a million bucks. If you're not quite ready to channel Lord Disick and take the leap to the tassels, there are plenty of other options to achieve the same style mood more subtly.
The good folks at Allen Edmonds go the extra mile with super-sharp dress shoes of all sorts, including these classic penny loafers. They're ideal for wearing with a suit or tailored chinos.
Allen Edmonds Randolph Penny Loafer
The Loafer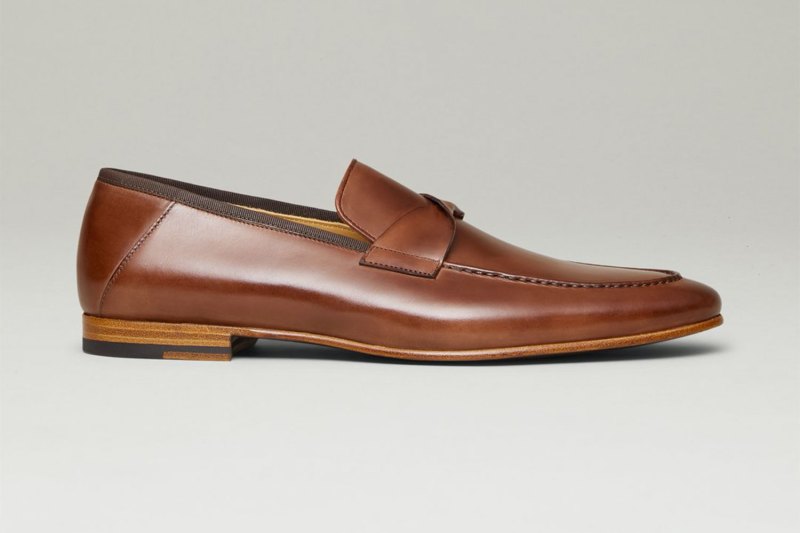 M.Gemi The Filare Loafers
The classic penny loafer got an upgrade with this (literally) modern twist. The twisted band where you usually find a buckle or tassels is subtle and sleek. It's an all-in-the-details type of shoe, unique enough to make you one. All M.Gemi shoes are handmade in Campania, Italy, and you can smell and feel the quality with each wear.
M.Gemi The Filare Loafers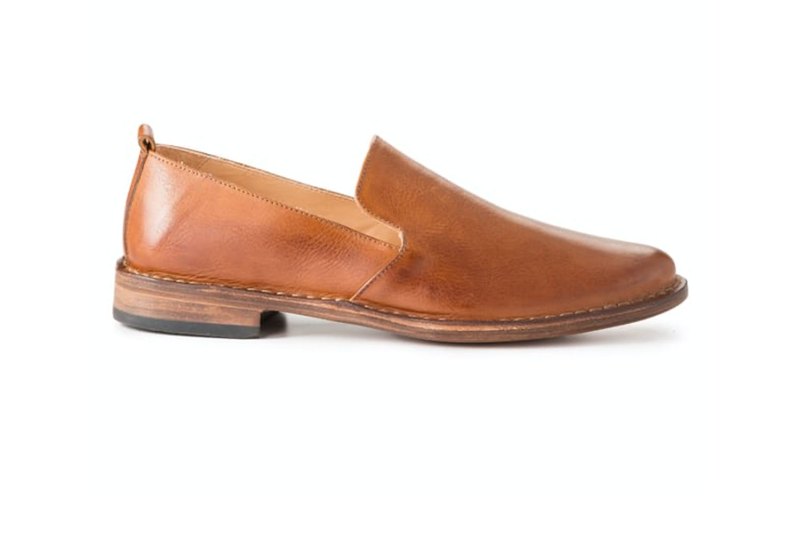 Astorflex Patnoflex Loafers
Astorflex shows us that loafers don't have to be as fancy as we thought. If you were intimidated by the above two pairs, opt for a more casual pair like the brand's Italian-crafted Patnoflex Loafers to match your jeans and button-down.
Astorflex Patnoflex Loafers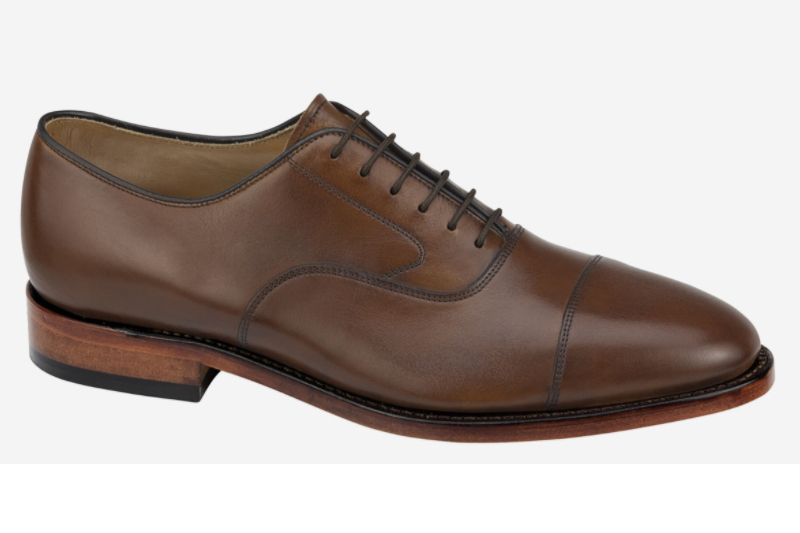 Johnston & Murphy Melton Cap Toe Shoes
The Dress Shoe
Whether you like it or not, preparing yourself for special occasions is essential. From oxfords to brogues and Derbys to monk straps, dress shoes come in many shapes and styles. When you're building a closet of essentials, we recommend staying close to home. Once you create the foundation of your wardrobe with these classics, you can venture out into more.
It's hard to beat a pair of crisp, sharp brown leather dress shoes, especially when available for under $200. Plus, just because they're budget-friendly doesn't mean they're flimsy or feel cheap. Johnston & Murphy is one of the best in the business.
Johnston & Murphy Melton Cap Toe Shoes
The Dress Shoe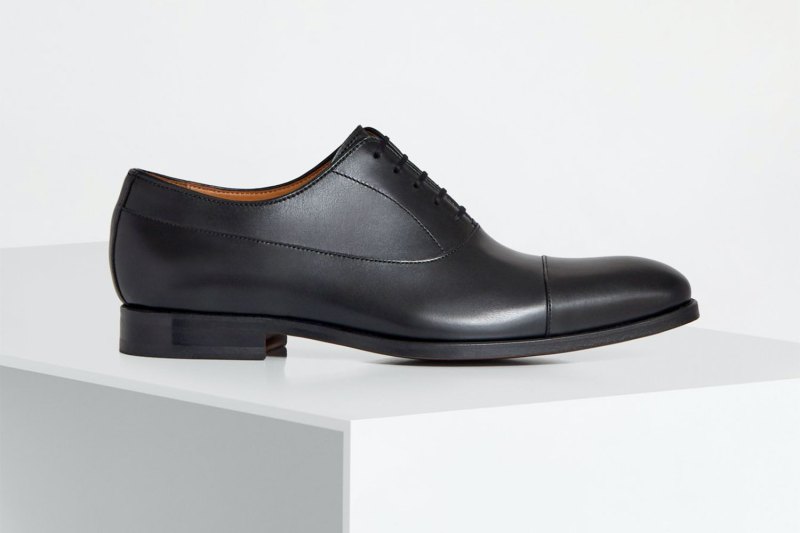 Jack Erwin Clarkson
If you can only afford one pair of dress shoes, you can't go wrong with Jack Erwin's all-black cap-toe oxford: The Clarkson. The footwear's sleek leather finish makes it a go-to pair for formal wear to help you achieve unparalleled sophistication during special occasions. Trust us, that's one way to put your best foot forward.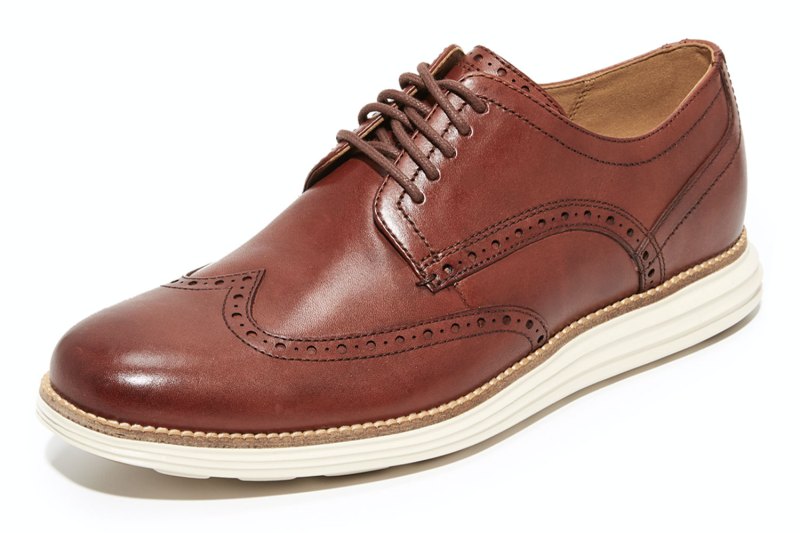 Cole Haan Original Grand Short Wingtip Oxfords
Every guy should own a pair of Wingtip Oxfords. In this category, we suggest staying between black and brown leather. Cole Haan should be your go-to for affordable yet high-quality dressy footwear.
Cole Haan Original Grand Short Wingtip Oxfords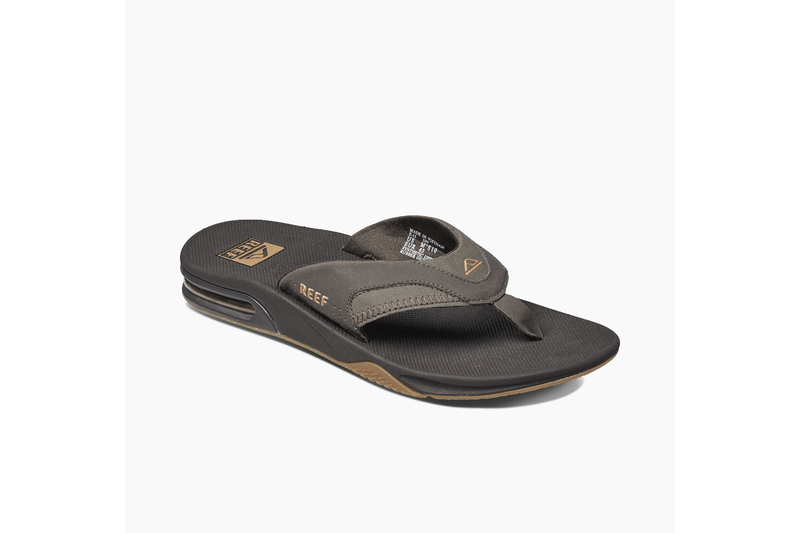 Reef Men's Fanning Flip Flop
The Sandal
There's never a wrong time to dream of warmer weather or a tropical getaway. And as to sandals, these shoes are undoubtedly an essential item during the summer months -- because who wants to be sweaty in socks in 95-degree weather, am I right?! As many internet forums suggest, we do not include the flip-flop in this category. Feel free to wear the thong slipper as you please, but why choose flip-flops when you can dress in more stylish and supportive sandals below?
REEF's sandals are often found anywhere you'll find sand, sun, surf, and good times. In keeping with that theme, REEF's Fanning style features a built-in bottle opener.
Reef Men's Fanning Flip Flop
The Sandal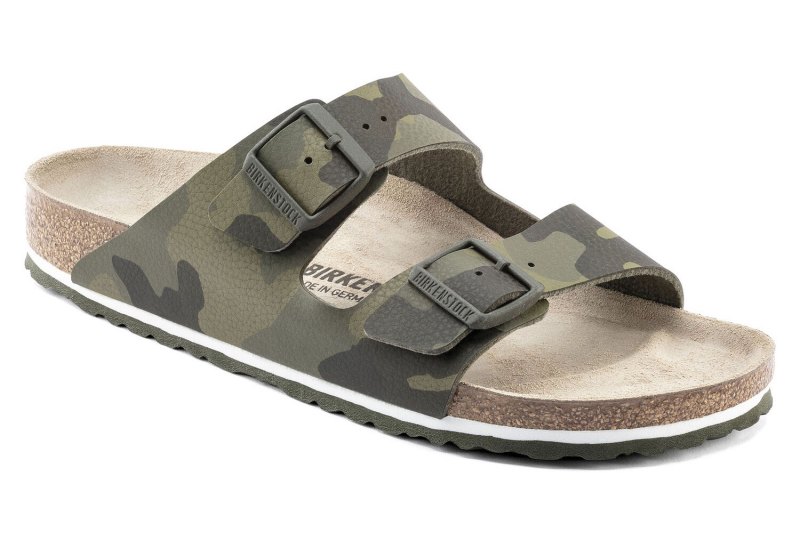 Birkenstock Arizona Birko-Flor
Once known to be the stereotypical footwear of choice for granola-eating, tree-hugging hippies (hey, we're here for it!), this sandal has now evolved to become a closet essential for the most fashion-forward of men. We're happy to live in the middle and advocate for the Arizona Birkenstocks as a stylish upgrade to the pool slide, offering a better-for-you arched footbed and a more durable lifespan. They might feel a bit off at first, but the more you wear them, the more accustomed they become to your own two feet.
Birkenstock Arizona Birko-Flor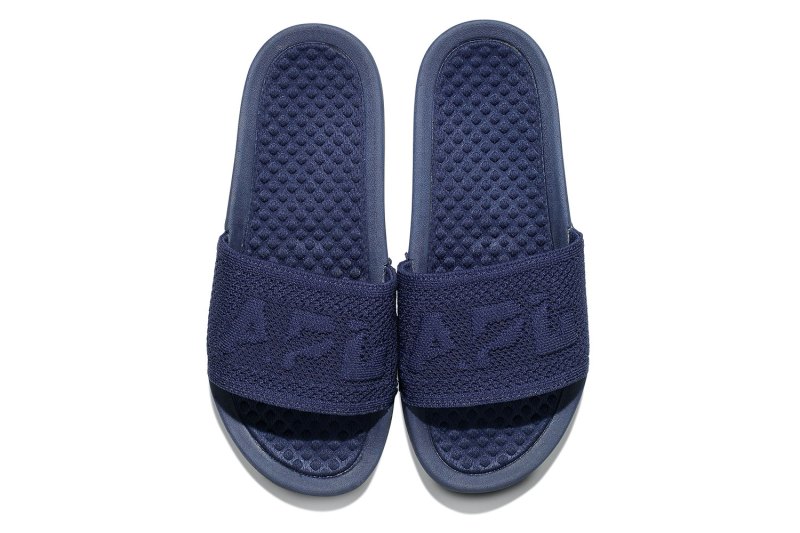 Apl Men's Big Logo TechLoom Slide
One of the most effortless sandals to slip on, these Apl slides are perfect for the pool, beach, and beyond. The best part isn't how lightweight and packable they are but the fact that they're made with a flexible strap and molded footbed with every step. They mirror the comfort of the infamous Apl running shoe but are a much breezier option.
Apl Men's Big Logo TechLoom Slide
Chaco Men's Banded Z Cloud
These sandals are sturdy and supportive enough for any outdoor activity. From hiking to biking and even walking around a city, once you break in a pair of Chacos, you'll understand why they have a cult following.
Chaco Men's Banded Z Cloud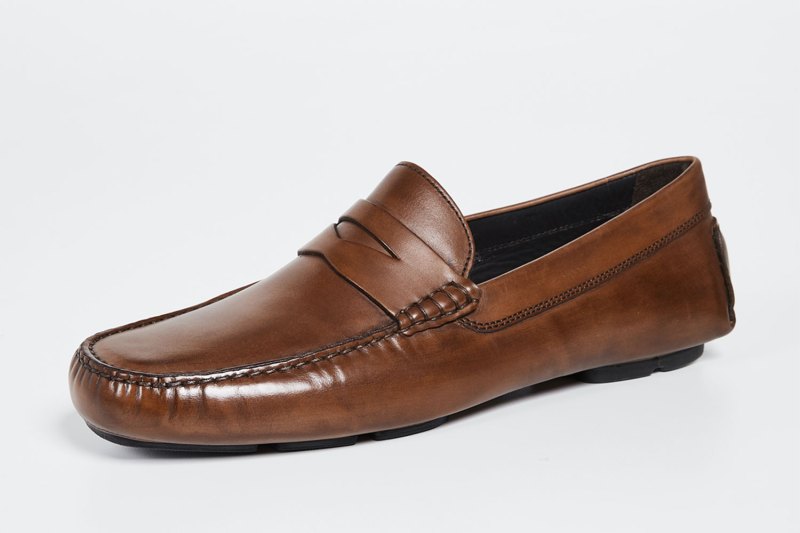 To Boot New York Palo Alto Driving Shoes
Trust us when we say that if you're going to get a driving shoe, you've got to go for Italian-made leather… because, well, history! These driving shoes will make you want to buy a vintage Italian car and drive along the coast.
To Boot New York Palo Alto Driving Shoes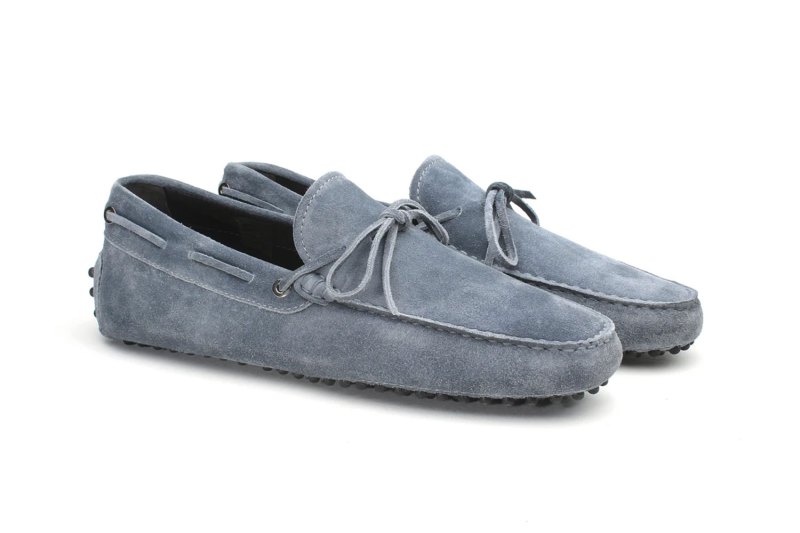 Aurelien Light Blue Suede Driving Shoes
Made for leisure and luxury, these ultramarine driving shoes are thoughtfully designed for comfort every step of the way. As the perfect Mediterranean vacation shoe, we recommend pairing Aurelian's driving shoes with a breathable pair of trousers.
Aurelien Light Blue Suede Driving Shoes
We know what you're thinking, this many pairs of shoes is a lot to take on. Our best advice is to get one from each category to start. Once you have one of each, you can keep grabbing more and upgrading as you go. Before you know it, you will be the best-footed gentleman in town.
Editors' Recommendations