It's about time to switch out your favorite loafers for a more durable pair of shoes, and we don't mean any old shoes. We suggest a pair of rugged yet sharp dress boots. The nine-to-five footwear's style and function allow for extra durability even in the face of the elements that will come your way. They're perfect for formal events but can also be paired with your favorite denim jeans for a nice casual look.
When looking for the right boot, you should consider the material and sole—the thicker the sole, the more durable for facing the elements. Below we rounded up some of the best dress boots from some of the best men's online clothing stores that won't make you sacrifice style for comfort.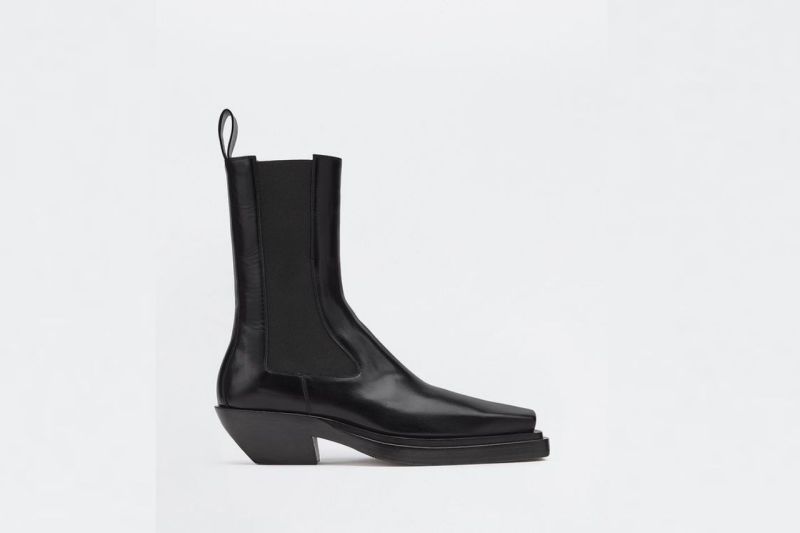 Bottega Veneta Lean Boots
Bottega Veneta debuted this show-stopping boot as part of the brand's F/W 2020 collection, merging the classic western boot with the sleek aesthetic of the Chelsea boot to craft the perfect dress shoe for any formal occasion.
Bottega Veneta Lean Boots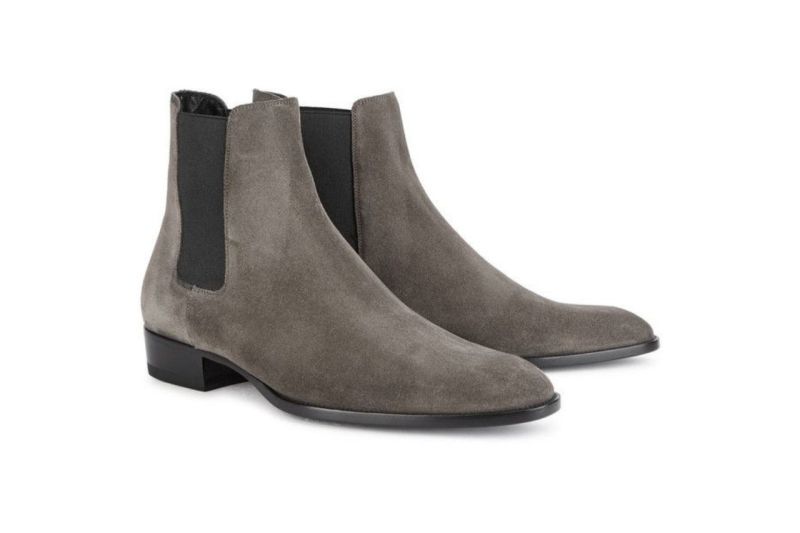 Saint Laurent Wyatt Suede Chelsea Boots
Saint Laurent knows how to do a dress boot, and the Wyatt has been a staple among many male fashion insiders—notably considered "the Chelsea boot of all Chelsea boots" with a wide array of finishings and materials to fit every style and look.
Saint Laurent Wyatt Suede Chelsea Boots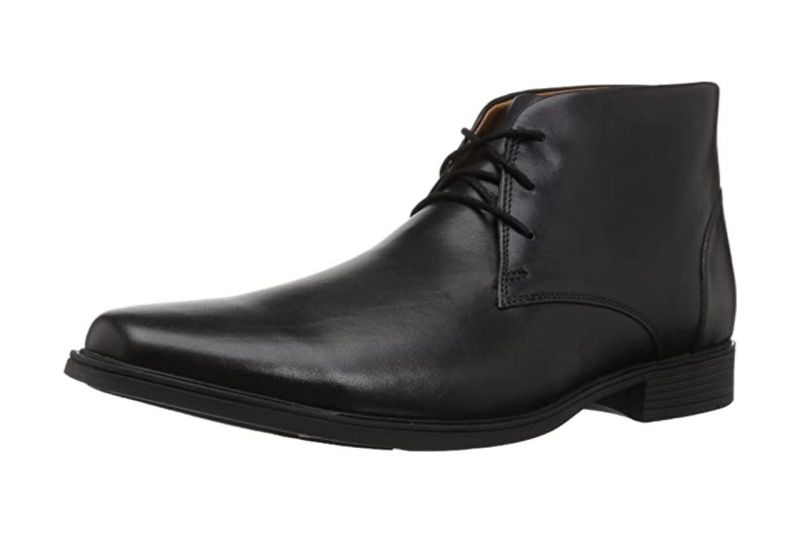 Clarks Men's Tilden Top Fashion Boot
Clark's footwear is known to be durable and long-lasting. With a ribbed rubber sole, they'll also help keep you stable when facing the elements.
Clarks Men's Tilden Top Fashion Boot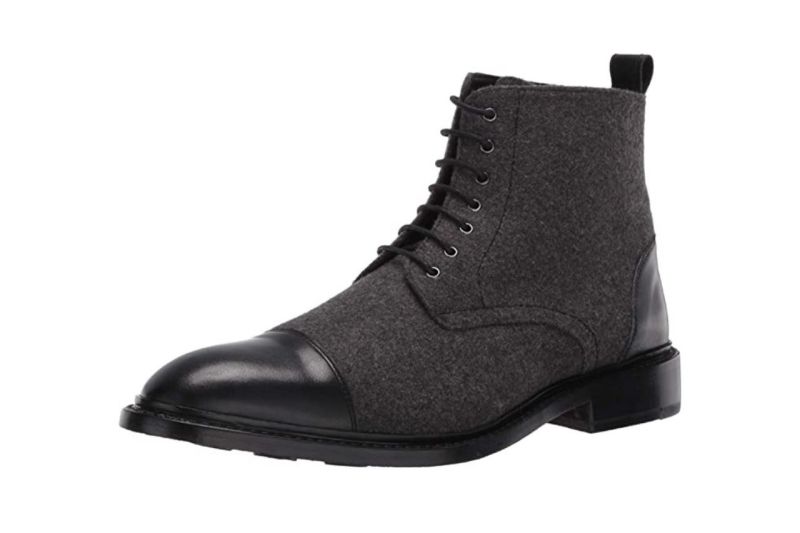 Anthony Veer Monroe Merino Wool Leather Dress Boot
Merino Wool? Yes, and we aren't talking about sweaters -- but this boot will keep your feet warm like one.
Anthony Veer Monroe Merino Wool Leather Dress Boot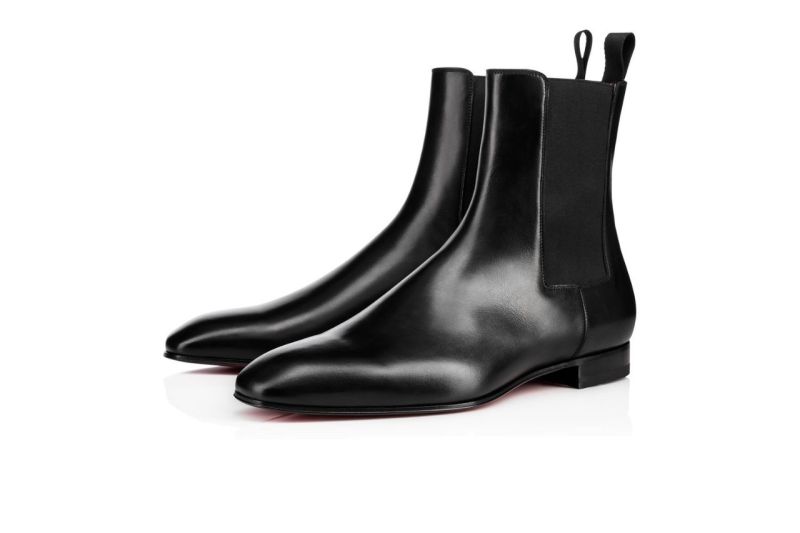 Christian Louboutin Roadie Flat
Who said red-bottom shoes are only for women? Men can get a taste of the luxury signature red bottom with these chic dress shoes. They are crafted to add sophistication to your on- and off-duty looks.
Christian Louboutin Roadie Flat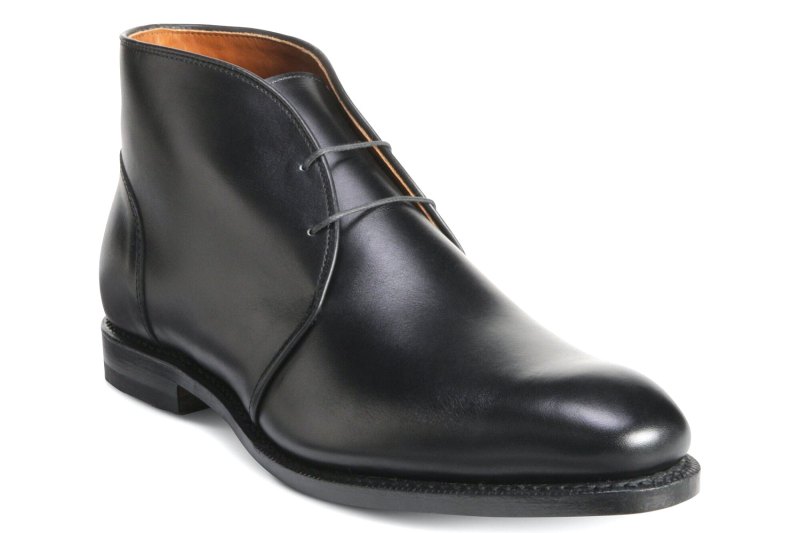 Allen Edmonds Williamsburg Chukka Boot
There isn't much to say about the Allen Edmonds chukka-style Williamsburg boot except they're absolutely stunning. Boasting a durable bench-welt construction and a comfortable CustomCork insole, the soft-tan calfskin leather boot is equally at home dressed up with professional attire or dressed down with jeans.
Allen Edmonds Williamsburg Chukka Boot
Wolverine Original 1000 Mile Boot
The 1000 Mile Boot is Wolverine's bread and butter. It's a versatile boot available in six colors, and every boot is backed with the guaranteed craftsmanship of the Wolverine brand that ages like fine wine. If you're looking for a pair of boots with unbeatable quality and stark versatility, the 1000 Mile Boot is for you. The Wolverine x Vic Mensa collaboration also utilizes the 1000 Mile Boot silhouette. Still, it's a more modern style that allows you to choose from three heights and leather tans.
Wolverine Original 1000 Mile Boot
Minnetonka Two-Button Hardsole Boot
This Minnetonka Boot might boast a quirky design, but if you're a Quentin Tarantino movie buff, these classic moccasin boots were worn by actor Brad Pitt in Once Upon a Time ... in Hollywood. Featuring a soft suede leather upper and a comfortable padded insole, just like Minnetonka's original released in 1969, you would get away with wearing these with a casual Friday get-up or a unique suit, but you might want to stay away from wearing these to an important board meeting.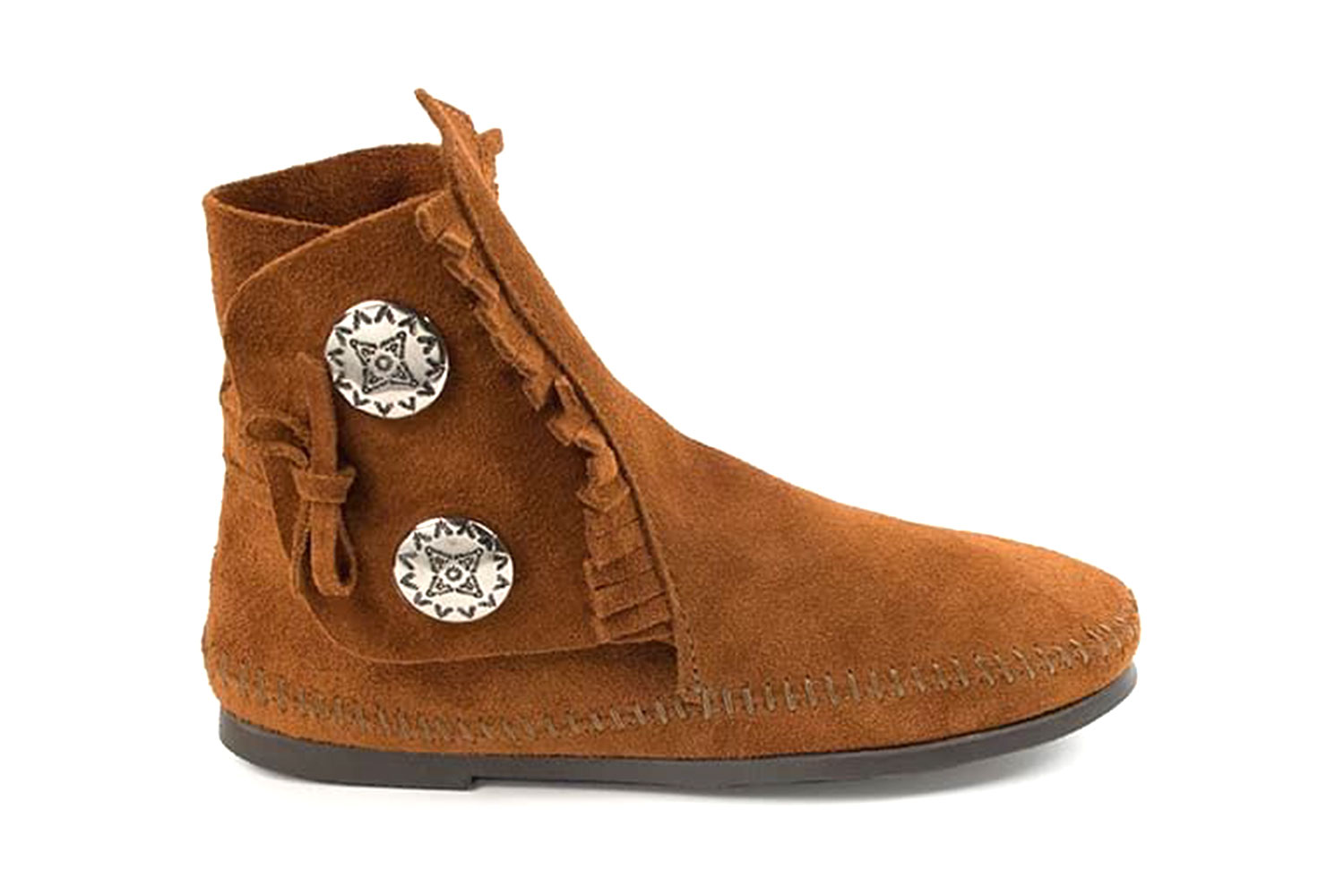 Minnetonka Two-Button Hardsole Boot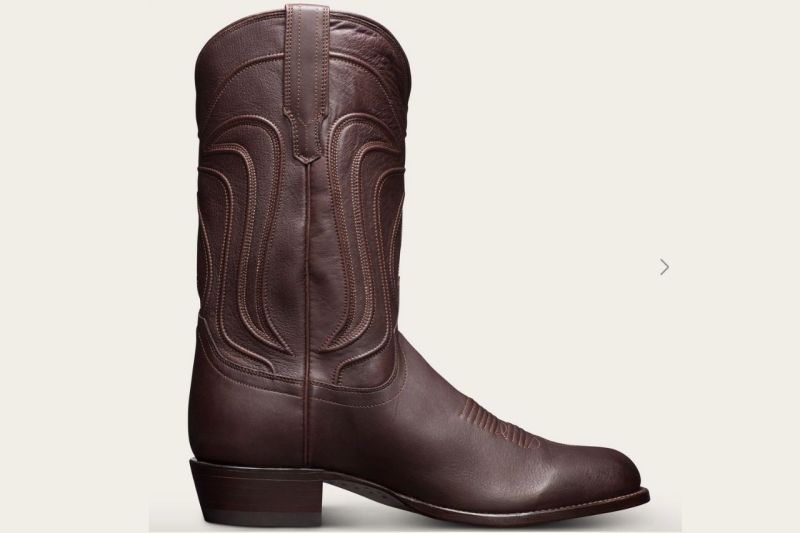 Tecovas The Cartwright
Who said cowboy boots couldn't be dressy? The out-on-the-range look is a hot trend for leading men, after all.
Can You Wear Dress Boots with a Suit?
Believe us when we emphatically say that yes, you can wear dress boots with a suit. Leave the no-show socks and sneakers at home because dress boots are the way to go. Of course, the best dress boots for men are well beyond a pair of rugged work boots or hiking boots, made with a cleaner silhouette and premium materials. Top-quality leather (often with more polish and shine) gives boots an exceptionally sharp and tailored feel. Dress boots usually have a slimmer profile that works well with slim trousers (they're not bulky or bulbous, like work boots that you'd wear with chore pants).
Dress boots also wear well with suits in the colder months as a practical option, helping you navigate city streets in style thanks to their higher ankle cut and durable tread. Dress boots are also, quite simply, cool as heck, adding a bit of edge to tailored styles. Think of James Bond in Skyfall, zipping through London wearing men's black dress boots, and you've got as fine an example as any of the power of the dress boot.
What Men's Boots are in Style?
Just like any regular pair of work boots, there are undoubtedly several types of boots that are in style at the moment. To us, though, the best pair of boots is the one you're currently wearing (or looking forward to wearing next). Men's boots in style include sleek cap-toe boots or on-trend Chelsea boots, each of which you can wear with a suit or business casual ensembles.
Classic chukka boots are also a timeless pick that never goes out of style. And for the utmost versatility, you can't go wrong with a pair of American-made boots, specifically plain-toe boots (like the Wolverine 1000 Mile Boots), to wear with your finest threads. As we said before, the most stylish pair of boots could be the ones you're wearing now.
What are the Most Comfortable Dress Boots?
Each of our picks for the best dress boots hits the right notes when it comes to toeing the line between comfort, form, and function. After all, a pair of men's casual dress boots aren't worth their weight if they slow you down and hurt your feet. We believe that dress boots like the Clarks Tilden Boots (shown above) are perhaps the most comfortable out there.
They blend a crisp black colorway — ideal for wearing with either a black or navy suit — with the construction, durability, and lightweight feel you'd expect from Clarks. Of course, it all comes down to personal preference, so you might prefer the soft suede and unique design of the Minnetonka Two-Button Hardsole Boots, which are undoubtedly the softest boots on this list. And to close things out the right way, there's no denying that even the Wolverine 1000 Mile Boots, with their beautiful leather construction, can become a seriously comfortable pair of dress boots the more you wear 'em.
Editors' Recommendations