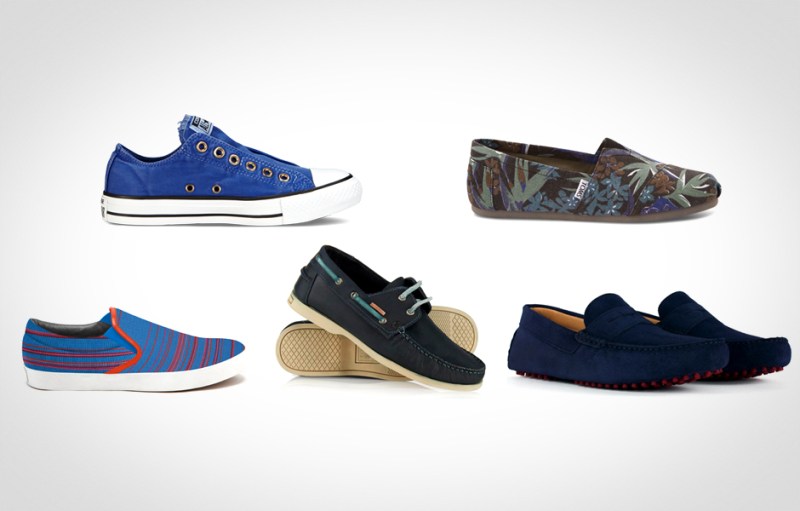 Now that the weather is warmer and summer has finally shown some sign of arriving in the near future – we can start thinking about swapping those heavy, dark shoes for something a bit lighter in color and weight.
-United Nude's footwear is perfect for summer – with runner and slip-on options. We especially like the Elastic Slip On in blue and orange – the perfect way to squeeze in some color without going crazy. This shoe has a super-classic shape and is made entirely of elastic with leather piping for a little kick. Purchase through United Nude.
–We interviewed the guys behind Jack Erwin not long ago – and we're happy to say that they're still around with a new selection of reasonably priced options. The Ernie Driving Loafer is great for weekends – a classic suede shoe with rubber bumps. It's casual but still put together and they won't cost upwards of $300 dollars. Check out the full line of driving loafers here.
-TOMS is always a great option. Extremely light and breathable – these summer staples are a much more…hygienic alternative to flip-flops – especially if you live in a city. Instead of going with a solid color – try some of their new prints. Fresh graphics have been printed on to the classic shape to give it an updated look. As always, the brand will give a pair to someone in need with every purchase. Check out the TOMS website here.
-Who doesn't love a pair of Chuck Taylors? And who has time for laces? Converse updated the look for summer with the Chuck Taylor Washed Slip. The shoe is recognizable with navy worn out canvas, brass rivets and thick rubber soles. Don't get all tied up here.
-Can Superdry get superwet? We think so. These Eclipse 'boat style' shoes with contrasting color laces are a nice alternative to canvas and other materials. All-leather and you won't have to worry about getting them dirty or scuffed since they already look like you've owned them for some time. Perfect for the beach and then the boat.
Pick up a pair here.
Editors' Recommendations