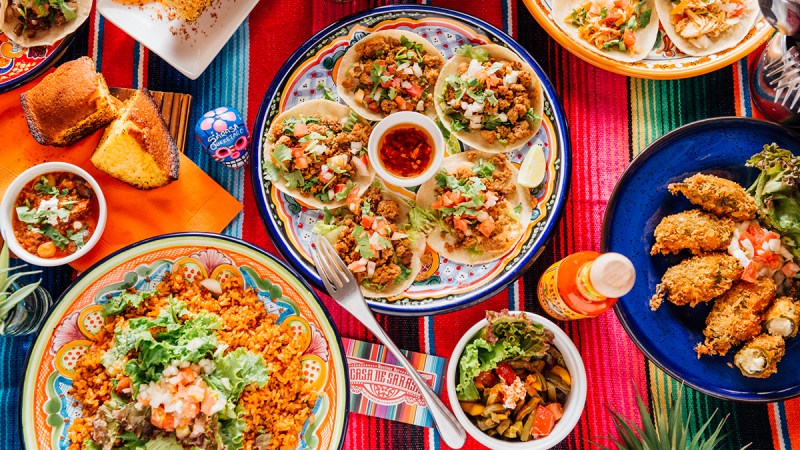 Mexican restaurants aren't abundant in Japan. The locals will tell you, especially American expats living in the country, that it's not easy to find good tacos or a bowl of guacamole. But the options have grown in the last few years, even if you still can't find a torta on every corner or have to travel for a decent Margarita.
One of the enthusiasts who's paving the way for the authentic Mexican cuisine in Tokyo is DJ Sarasa, who recently opened her namesake restaurant Casa De Sarasa. Sarasa fell in love with Mexico's food and culture during many years of traveling there as a performer. So when she realized she couldn't get her fix back home in Tokyo, she took matters into her own hands.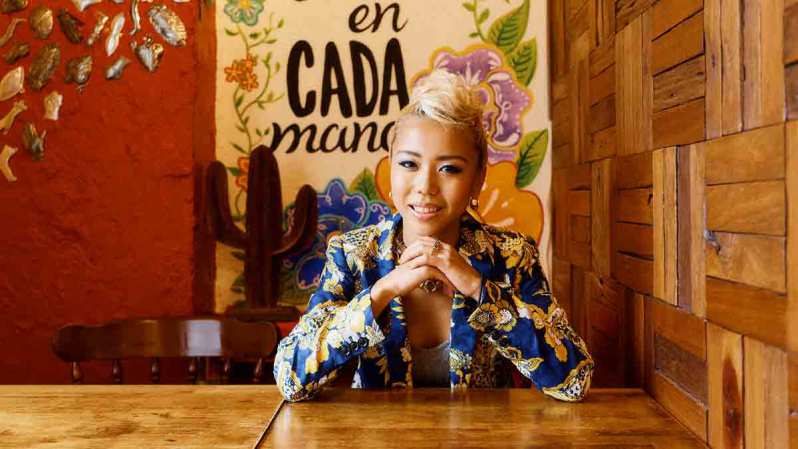 With the expertise of head chef Kazuyoshi Yasuda — formerly of Mexican hotspot Bokkoku Kaiten Tori Ryori in Osaka — the menu at Casa De Sarasa boasts 15 different types of tacos and staples like nopales salad, elote and arrachera flank steak. To find out more, we caught up with Sarasa to chat about her inspiration behind the restaurant, what it's like to be a DJ in the food business and how she's teaching Tokyo to appreciate authentic Mexican, one hand-pressed tortilla at a time.
Why Mexican? Did you see a lack of authentic options in Tokyo? Did other people notice the need for quality Mexican cuisine too?
I ate my first real taco in Mexico when I visited for a DJ gig in 2015 and was shocked by how delicious it was. During my two week stay, that was all I ate for breakfast, lunch and dinner — just like the locals do. After a while I was so hooked on them, I forgot that other cuisines even existed. I was even surprised to see Japanese food served on the airplane on my way back to Japan. From then on, nothing tasted as comforting to me as tacos.
When I returned to Japan, I was on a mission to find authentic tacos in Tokyo, but everything I encountered was American-influenced Tex-Mex. Even when I found a place that was close to what Japanese people consider "authentic Mexican," the taste, feeling, and experience was not there. I felt as if no one really knew what authentic Mexican cuisine was, and because of that, there was no demand. By then I was addicted to authentic Mexican tacos, and was determined to be the one to do it.
Was there a specific meal or dining experience during your time in Mexico that truly drew you to the cuisine?
The dining experience in Mexico always comes hand in hand with the heavenly smell of corn tortillas, and the way they prepare food is not something you see in Japan. The meat is slam-chopped with unusually heavy knives, and the tortillas are thrown around and put together roughly, but the result is perfection. This was very fascinating to me, coming from Japan where everything is handled very delicately.
What I also found interesting was that each and every family or restaurant has its own way of making salsa, which is what gives every taco character. Some like to cook the ingredients before they make it, some like to blend it fresh, and everyone uses different types of chiles. I love eating tacos in Mexico because I don't know what to expect.
You've been a DJ and performer for 15 years. What got you interested in the restaurant world? Was it solely the spark to create this restaurant or have you been wanting to work in the industry for awhile?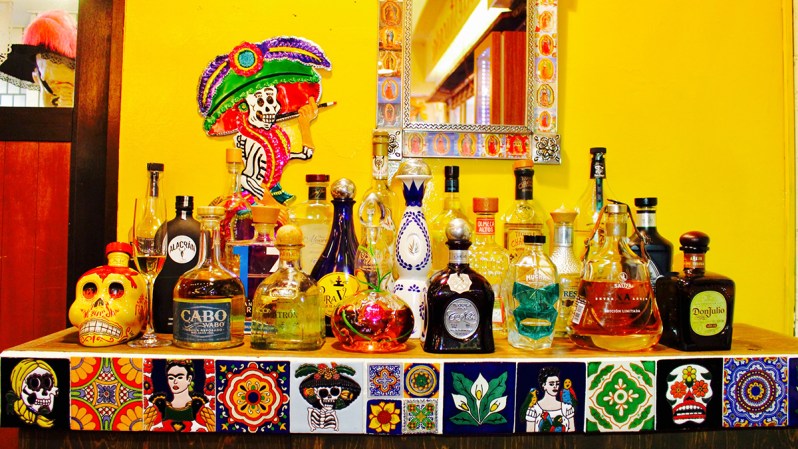 I find it funny sometimes that I'm now in the restaurant business. But throughout my music career, I've always been passionate about sharing the music, culture and people that influenced my travels with my fans. The restaurant idea really came to me because of my desire to share Mexico's impressive food because of how moved I was with the culture and people of the beautiful country.
After witnessing the joy customers felt after their first bite of a taco at Casa De Sarasa, I got to relive the feeling of my own first bite in Mexico so many years ago. The feeling was similar to the way I make fans happy with my music.
Tell us about Chef Yasuda. Did you know him before opening Casa De Sarasa? What about his cooking makes him perfect for the job?
Chef Yasuda is a mutual friend of my good friend Rody, who is also a fan of authentic Mexican tacos. Chef Yasuda was also moved after trying his first taco in Mexico, and he was everything I wanted in a chef. He has a very charming, genuine, hard-working personality, but is also very clean, which is important because I am a clean freak. But on top of everything, he loves tacos and has the same mission as me — to spread the taco love! He finally agreed to be my head chef after I presented the opportunity to him numerous times during the course of a year.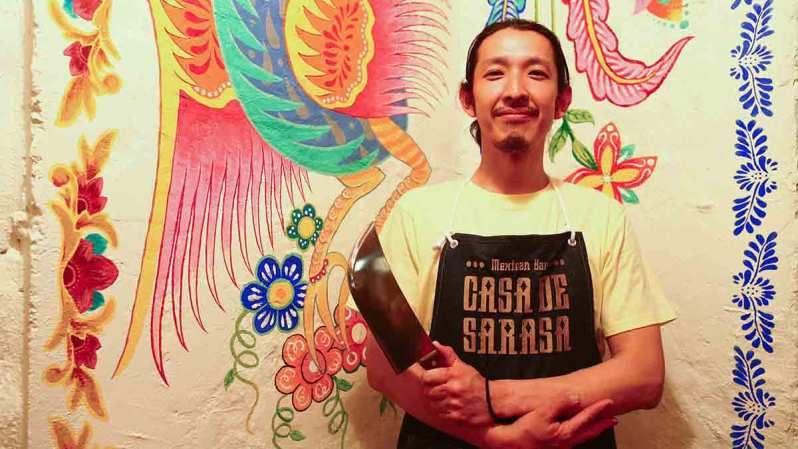 What is your favorite dish on the menu? Does it compare to a specific meal you've had in Mexico?
When you come to Casa De Sarasa, it would be a shame to not try a bite of at least one of our 15 types of tacos. Our homemade salsas are also important, as are the freshly-pressed corn tortillas. The most interesting thing about my menu is that it's put together with the efforts of people that I met through my music. When I was in Mexico, I made friends with some chefs and worked with DJ Bad Panda, a successful restaurant owner who helped me with our recipes. I would say that the tacos at my restaurant are the closest to what you can get in Mexico living in Tokyo.
We have a wide selection of 100 percent Blue Agave tequilas to pair with the tacos, too. "Tequila Festa," the biggest tequila festival in Asia, has booked me to play at their events for years, so it helped me select the beverages for the restaurant. We carry a lot of celebrity and musician-owned tequila brands, which makes it more fun and easy for music-loving beginners to select a spirit.
How has the response been since you opened?
The response has been nothing but positive so far, thanks to my hard-working staff! I also think that the people who come to my restaurant are really friendly, which helps create a positive environment.
The only non-five-star rating we got was because our tacos are small. But the actual size of the tacos served in Mexico are that size, so I want to respect the tradition. It also gives my customers a chance to try our different kinds of tacos. But this comment has made me realize that I need to keep putting more effort into educating my customers about the difference between big portioned Tex-Mex with cheese and sour cream toppings and healthy, authentic, small-portioned Mexican cuisine.
Editor's Note: This article is part of The Manual's larger Journey to Japan travel guide. Over the course of a month, our writers had the pleasure of experiencing Japan in all its forms, from high-rise bars in Tokyo to traditional tea ceremonies in Kyoto. We hope this series will not only inform, but inspire you to take your own trip to the Land of the Rising Sun.