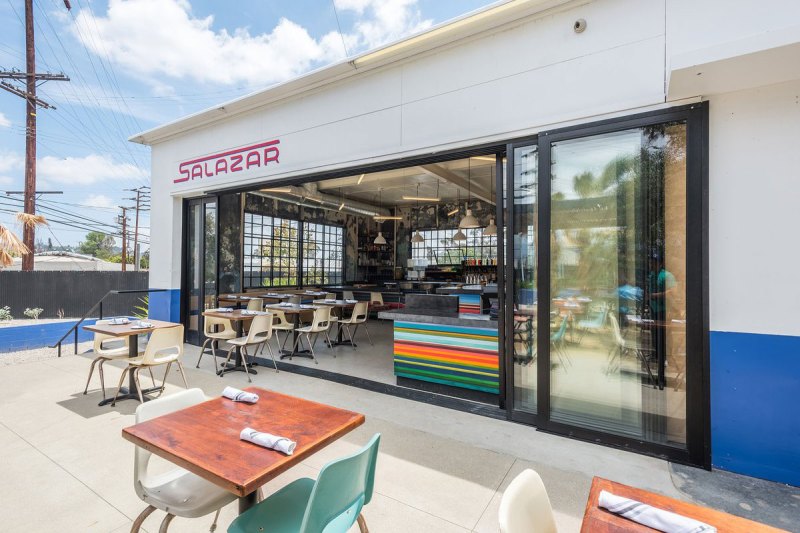 Tacos: Even when they're bad, they're still, well, not that bad. Los Angeles has no lack of taco stands, holes-in-the-wall, and chi-chi Mexican-something-random-fusion restaurants. Even among all this noise, Salazar's Tacos stands apart. It's authentic Mexican barbecue, almost everything is house made with fresh ingredients, the cocktails are fantastic, and honestly, they have the greatest website on the Internet. No phone yet!
Located in Frogtown (actually named Elysian Valley, but who are we kidding? Frogtown is way better), a little community that skirts the LA River, Salazar's was opened by Mexico's native son, Chef Esdras Ochoa. It's in what used to be an auto mechanic's shop, which they did very little to mask. The design is sleek, modern Los Angeles meets Mexico: cement bar, bright colors, mostly outdoor seating in chairs that look like they were taken from some public school cafeteria. Lush trees and potted cacti help soften the otherwise desert-like patio sitting against the fence separating it from the trickling LA River.
Salazar's is Chef Ochoa's second restaurant; his first, Mexicali & Taco Co. which was such a hit he was able to move it from a truck on a corner to brick and mortar restaurant. His success continues with Salazar's, which is focusing on Sonoran-style barbecue. Peer into the kitchen where you'll see gorgeous meats cooked to perfection on a Santa Maria grill (you might want to buy one for home once you see it in action), tortillas being freshly made, and house made hot sauces. Start out with the tacos, ideally carne asada and the el pastor options. But leave room to order from the Los Primitivos section of the menu: You can't go wrong with either the Flat Iron or the Pork Chop, cooked to perfection, seasoned by the gods, and served on a wooden platter with tortillas on the side.
You'll probably encounter a little bit of wait for a table, but it's hard to mind when you can mill around, watching the kitchen and drinking from the fantastic bar menu: beer, wine, and cocktails, many imported directly from Mexico. Never had Mexican wine? Time to order a glass of red, Bichi straight from the vineyards of Tecate. Their margaritas and micheladas are superb, but branch out a bit and order the La Anticuado: mezcal, brown butter washed corn whiskey, ancho chili, huitlacoche (aka corn mushroom), and Mexican Fernet. That'll put a pep in your step.
Be ready to hike here because there's no parking lot, so it's to the neighborhood for LA's favorite past time–hunting for parking. It'll all be worth it: deep breathes and visualize that carne asada, freshly-made tortilla and salted glass of margarita. Or, you know, just Uber there.
Editors' Recommendations