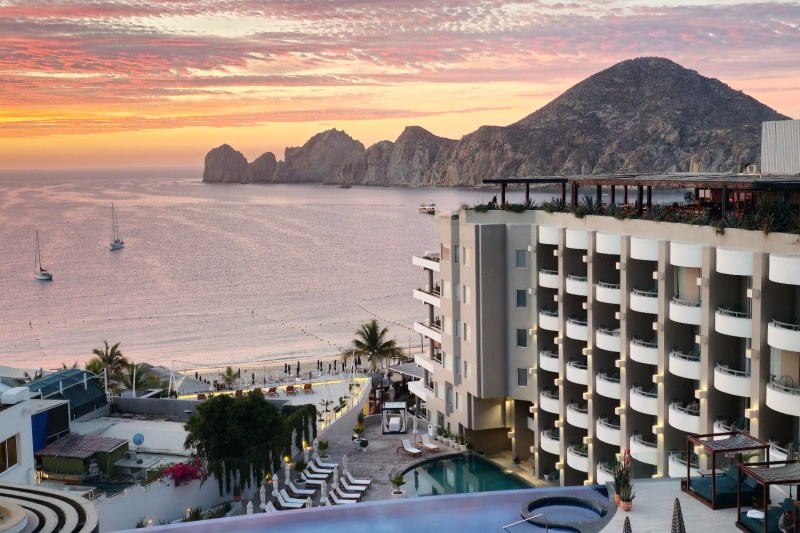 When I say Cabo, what comes to mind? Let me guess: You're thinking of spring break revelers, rowdy bar crawls, late-night club dates, and day-long booze cruises, right? Well, what if I told you that Cabo San Lucas offers much more beyond the bars? And what if I told you that there's a chic boutique hotel right by Cabo's most swimmable beach that helps you dive right into everything that Cabo has to offer inside and out?
Yes, such a place exists in Los Cabos. It's called Corazón Cabo Resort & Spa, and we're about to explore why it offers a different kind of base camp for a different kind of Cabo trip.
The lay of the land (and sea!)
Corazón Cabo Resort & Spa has a prime location right by Playa el Médano, or Medano Beach. By far, this is Cabo's most swimmable beach, and this means you'll have plenty more options for aquatic fun than most other coastal neighborhoods in this region.
Not only is Corazón Cabo right by the beach, but it's also walking distance away from the marina and from Cabo San Lucas' preeminent shopping district. If you're all about those designer labels, then Luxury Avenue has a posh mélange of top-tier international fashion houses and original Mexican boutiques offering unique local style. If you want a wider selection of boutiques, then Puerto Paraiso and Plaza Bonita have a lot more for shoppers at every budget level.
If you're not content to stay and shop on dry land, then the marina is your place to hop on board and get out to sea. You'll find plenty of local businesses offering all kinds of boat rides from the marina, from sportfishing boats to private snorkeling expeditions, and so much more.
What to do
Where shall we begin? Spoiler alert: There's plenty to do at Corazón Cabo and throughout Cabo, Mexico!
So what did I do here?
Long story short: I never suffered any kind of "boring" moments at Corazón Cabo. Thanks to their relationship with Cabolectric, I really got out and about on land and in sea!
On sea, I felt much more at ease and at home. Thanks to Cabolectric, I tried E-Foil electric surfing. Since I already did an OG surfing lesson in Dana Point (California) last fall, E-Foil didn't feel completely out of this world. Though I probably won't compete in any electric surfing tournaments any time soon, I did have fun playing in the water, and it felt wild to "float" and "fly" above the water.
But wait, there's more! These were a couple of my absolute favorite activities at sea.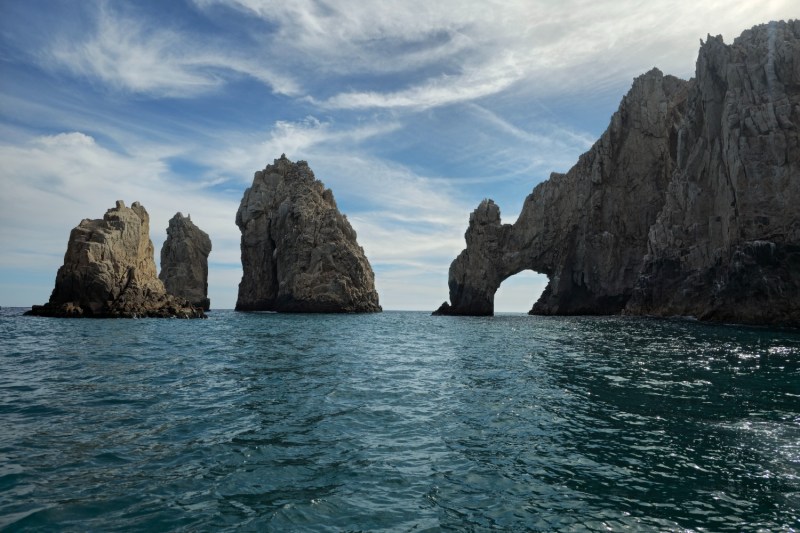 Speaking of Medano Beach and water, I have to talk about snuba! Wait, what is snuba? Basically, it's a hybrid of scuba diving and snorkeling, where the air tank is connected to a small raft that sits atop the water, which made it easier for me to go deep into the water without worrying about wearing heavy equipment. Much has been said and written about the incredible biodiversity in the Sea of Cortez, so I loved my opportunity to encounter much of this biodiversity myself.
I also rode in a lovely crystal kayak courtesy of Cabolectric. Seriously, the clear kayak takes a good thing and makes it even better. Though I'm a more recent convert to the joy of kayaking, I really fell in love with my crystal kayak as I paddled my way through the water off the shore of Medano Beach.
What did I do "off campus"? Here's how Corazón Cabo can help, even when you're out on the town.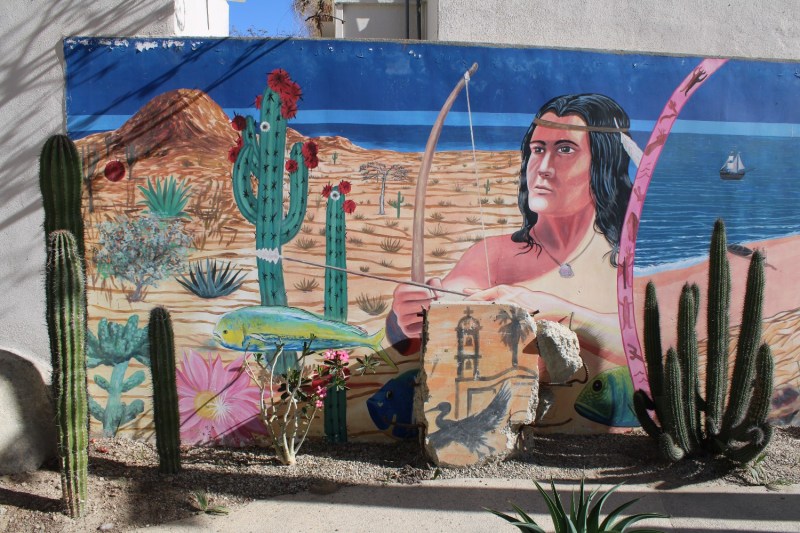 Once again, thanks to Cabolectric, I got to see how they offer e-bike trips through San José del Cabo. If you seek a different kind of "Cabo experience," this is a great way to soak up plenty of local flavors and culture. During my excursion, I immersed myself in the amazing sights and sounds of San José del Cabo's Gallery District. This artists village explodes in color and warmth, and it's a great launchpad to explore more of the local scene beyond the most touristy areas of Los Cabos.
Later in my trip, I got to try Animalón by the Sea. The highly acclaimed Mexican celebrity chef Javier Plascencia oversees this "floating restaurant" where guests are treated to a five-course meal with wine pairings (some of which are sourced from Baja's own Valle de Guadelupe) while sailing through the marina and the open Sea of Cortez. Though the dishes were a bit hit-and-miss at times, I was impressed by the lobster gnocchi with parmesan foam and caviar, the fish with mole, and the guacamole and black bean hummus. When we're enjoying a meal with great wines while sailing the open sea, it's hard to criticize and nitpick all that much.
Whether you're interested in these excursions or something else, check with Corazón Cabo's concierge desk; they can probably hook you up with the ideal "off-campus excursions" for your Cabo trip.
On that note, here are more details on what else you can do at Corazón Cabo.
Corazón Beach Club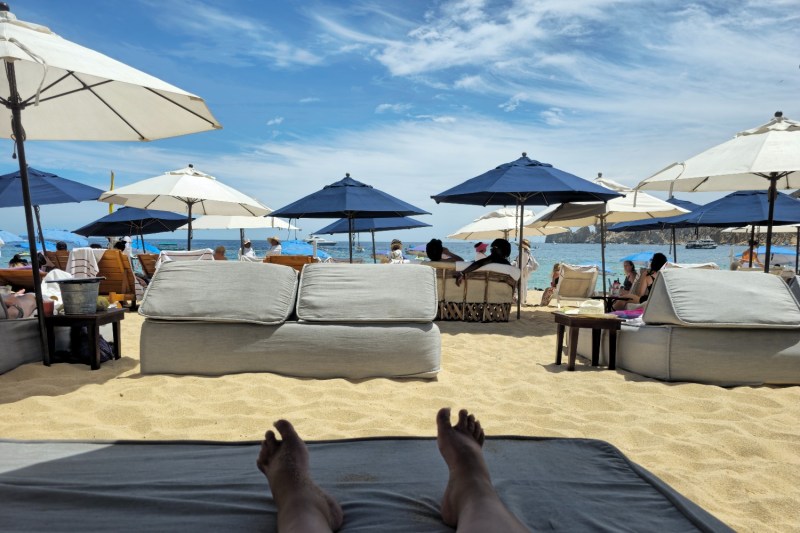 If you're going to Cabo to get your fiesta on, this is where you'll find the ultimate life of the party. Not only will you find the hotel's scenic all-day restaurant here (more on this later), but you can also reserve private cabanas, enjoy boozy beverages with a great ocean view, and stay late to dance to the tunes being spun by Corazón Cabo's resident DJ.
Anyone who knows me knows that I love the beach. I was already quite happy to have Medano Beach right there, but Corazón Beach Club made my beach day even better with a spacious and comfortable cabana to lie around in when I wanted to get a head start on my summer tan, as well as a safe space to put my items when it was time to jump back into the water.
Rooftop 360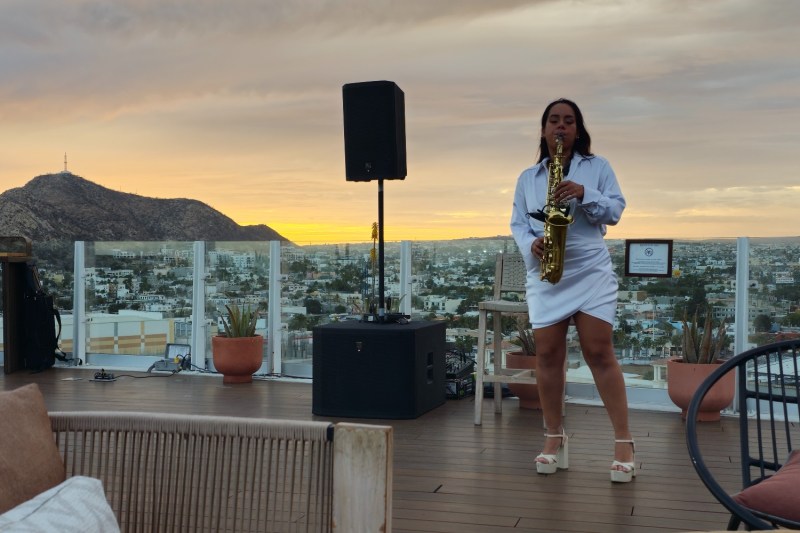 When you really want to stay up late and dance all night, it's hard to think of a better spot to enjoy a wild night out than high atop this stunning hotel. Rooftop 360 has a light food menu, but this spot is really better known as the epicenter of Corazón Cabo's nightlife. Come for the craft cocktails, stay for the incredible views, and prepare to dance the night away here.
SpaRitual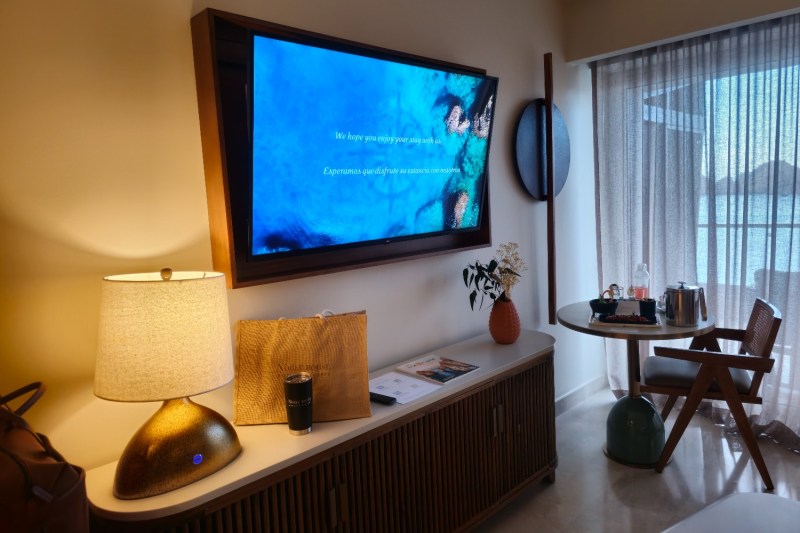 When it's time to recover from all those wild days exploring the backcountry and/or wild nights out on the town, you can retreat to SpaRitual to relax and recharge. It has a full menu of massage and facial options, but the spa also has a fully equipped fitness center, a guided hydrotherapy circuit, sauna and steam suites, and more. The fitness center is open to all hotel guests, and the supplementary spa amenities are complimentary to guests who book any spa treatment. If you're not planning on doing a treatment here, you can still opt for a $25 day pass to access the supplementary spa amenities.
Watersports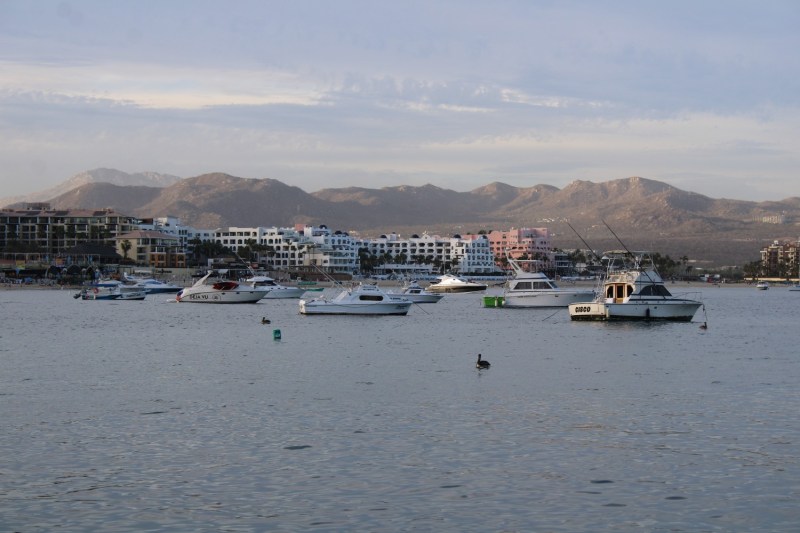 As mentioned earlier, you can walk over to the marina to hunt for your perfect boat to head out to sea. Since you're staying here at Corazón Cabo, why do all that legwork yourself when you have the hotel's concierge available to take care of everything for you?
Seriously, Corazón Cabo's concierges are happy to hook you up with everything from a low-key fishing excursion to a luxurious day cruise on their own private yacht, Bad Medicine. They can even connect you with Cabolectric (see above) so you can enjoy a wide variety of environmentally responsible boats and water toys.
Pools and the beach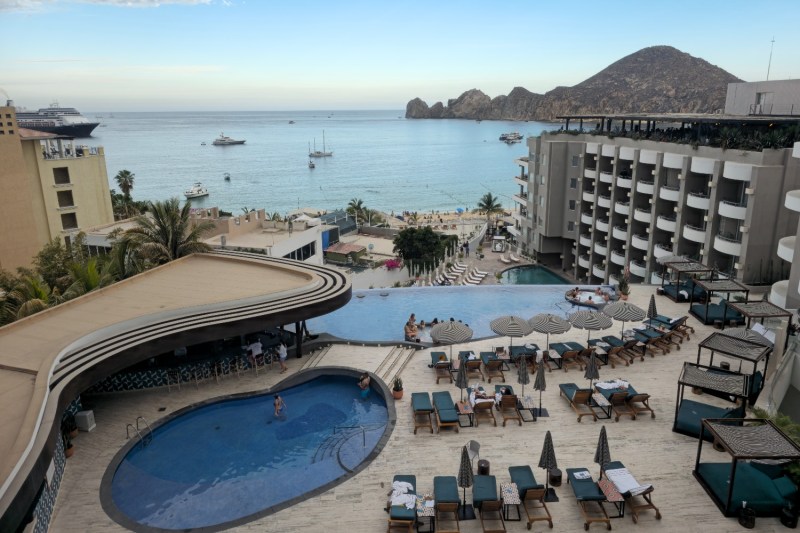 In case you were still wondering, Medano Beach is by far Cabo's most swimmable beach. Since Corazón Cabo is right here, all you have to do is walk out to take full advantage of this precious playa. (See Corazón Beach Club above.)
If a private pool area is more your jam, then Corazón Cabo also has you covered with four pools: A lobby-level pool with a full food menu available, a larger and more intimate pool with a swim-up bar, a tranquil and secluded adults-only pool, and Rooftop 360's signature infinity pool. All the pools looked and felt great during my stay, as it was hard at times to pull myself away and continue with my day.
The beach, continued!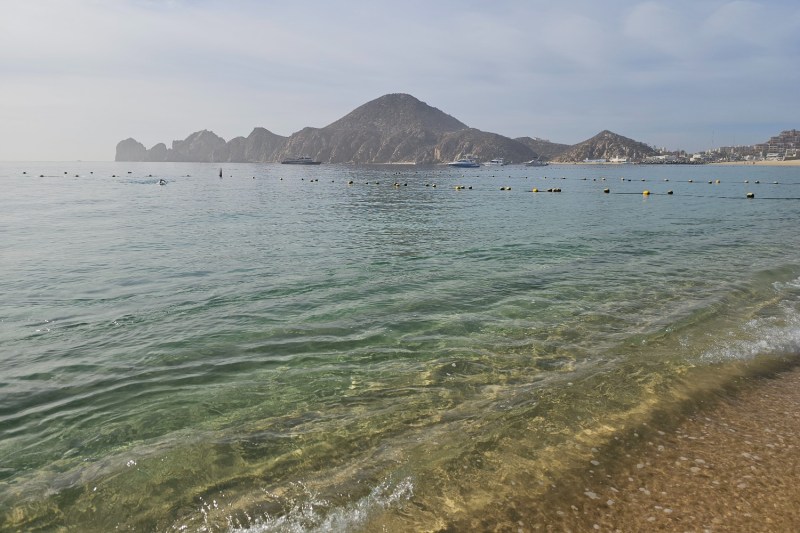 While there's no shortage of fun to dive into at Medano Beach, there are plenty more reasons for you to broaden your horizons and explore more of Cabo's world-famous beaches. More specifically, no trip to Cabo feels complete without visiting the iconic Land's End and El Arco at the very tip of Land's End. You can either sail here by boat if you want to venture here the romantic way, or you can hike here if you want to visit the sporty way. Either way, you'll be rewarded with some of the most spectacular land and seascapes you'll find anywhere in North America.
Obviously, El Arco is the spot to wow all your friends on Instagram and TikTok with its towering natural stone arch. For an incredibly romantic experience, head to Lovers Beach and join the myriad of couples "popping the question." Though Playa del Divorcio sounds much scarier, the scenery is just as breathtaking, and you probably won't have to go to divorce court as long as you follow locals' recommendation not to try swimming in the unprotected Pacific Ocean water here. If you're really feeling adventurous, you can instead try hiking to the peak of Mt. Solmar for jaw-dropping panoramic Cabo views.
Where to stay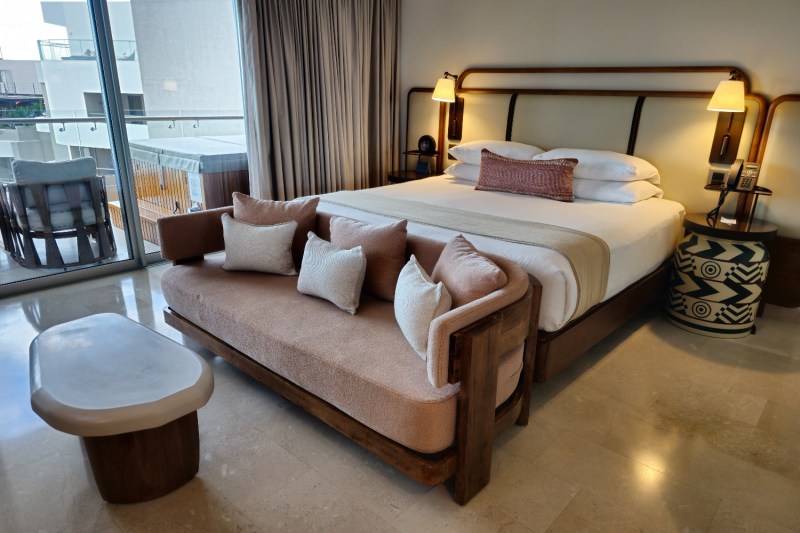 Obviously, we must discuss the hotel itself. With just 204 rooms and suites, this hotel feels more intimate than the larger Cabo hotels on Medano Beach, even though this one has so many on-site amenities.
One thing to know before coming here is that Corazón Cabo has three distinct hotel towers: the Bayview Tower, the Corazón Tower, and the Medano Tower. If you're looking for an ideal room or suite or the whole family, you probably want the Bayview Tower. If you want the most up-to-date décor and amenities, the Corazón Tower has Corazón Cabo's newest rooms and suites. If you want to stay as close to the beach as possible, the Medano Tower has the hotel's smallest (yet still comfortable) rooms, as well as the hotel's grandest suites.
During my stay here, I had a room at the Corazón Tower that opened in 2022. Clocking in at around 37 square meters (or about 397 square feet), my room didn't feel small; the ocean-view balcony with a fully functioning hot tub certainly made it feel larger than life! I also appreciated the "retro chic meets Baja beach" décor, and I loved having a full sofa by my bed so I could lounge around without having to jump into bed all the time.
Nearest airport: Los Cabos
Time: 35–50 minutes by car
Distance: 45 kilometers (or about 28 miles)
Where to dine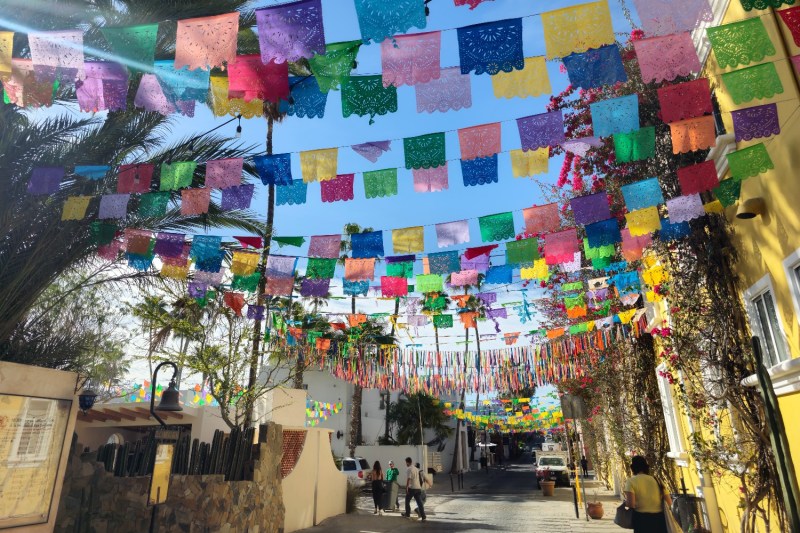 Fortunately for guests, there's no shortage of good grub here at Corazón Cabo! Below are the tasty options you'll find on hotel premises.
Price Key
"$" = budget-friendly or cheap
"$$"= average
"$$$"= expensive
Baja Brewing Company
Baja Brewing truly is a pioneer in craft beer here in Cabo. If you really want to dive deep into experiencing how their award-winning craft beer is made and how they seamlessly blend into the local arts scene, I highly recommend visiting their San José del Cabo Gallery District brewery. If you can't make your way to San José (del Cabo), at least Corazón Cabo is home to Baja Brewing's second restaurant.
Their food menu can best be described as Mexican-American pub fare, and I especially enjoy their signature beer pizzas. Add some artichoke hearts and pesto and I'm totally in love! Even better, they have a fun variety of craft beers to please just about every palate. If you like your beer on the sweeter side, go for the Oatmeal Stout. If you're more of an IPA kind of beer lover, their Peyote IPA is super hoppy with a sharp bitter edge.
Best for lunch and dinner
$$
Camaleón Café
Billed as "the coolest coffee shop in Cabo," Camaleón Café lives up to the hype thanks to its cool vibes and strong brews. If you want to wake up and cool down, Camaleón has a full suite of iced and ice-blended beverages to get you going. They also have a lovely assortment of pastries and smoothies to choose from, and they even have a boutique full of snazzy, locally sourced souvenirs and "good to have" sundries to pick up in case you forgot to pack your toiletries bag.
Rooftop 360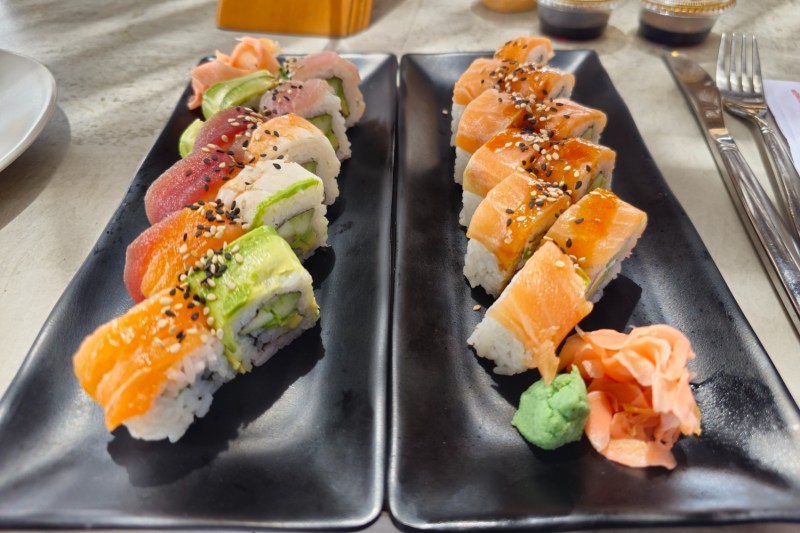 Not only is Rooftop 360 Corazón Cabo's in-house nightclub, but it's also a great spot to enjoy an easygoing dinner with incredible views. It's a great spot to enjoy some very creative sushi rolls, and you can munch on fresh ceviche, aguachile toast, and more light bites. Since their kitchen is open until 1:00 AM, you can enjoy a very late dinner while basking in the glow of Cabo's glittering city lights.
Best for lunch and dinner
$$$
Corazón Beach Club
Perched right by Medano Beach, Corazón Beach Club is the perfect spot to play all day. Once you work up an appetite from having so much fun en la playa, you can enjoy breakfast, lunch, and dinner here. If you want to treat your palate to the growing birria phenomenon, try their quesabirria. For something more substantial later in the day, you might want to try their lobster enchilada and/or their prawns au gratin.
Best for lunch and dinner
$$$
Aleta
As Corazón Cabo's flagship restaurant, Aleta's the biggest showstopper of the hotel's culinary lineup. As a restaurant that boasts about having "the freshest fish in town," the seafood dishes particularly shine here. Come for the ceviche, stay for the octopus and/or the lobster, and linger a little longer for the flourless chocolate truffle cake.
If for some reason you can't make it down here for a scenic meal, you're in luck — Aleta handles room service for the hotel. Whether you enjoy your meal down at the restaurant or up in your room, it's really hard to go wrong with whatever you decide to order. Even if you opt for a full breakfast at Aleta, you'll be rewarded with some of the best french toast you'll find just about anywhere!
Best for breakfast, lunch, and dinner
$$–$$$
Try these tips for a better trip
Getting to and from Corazón Cabo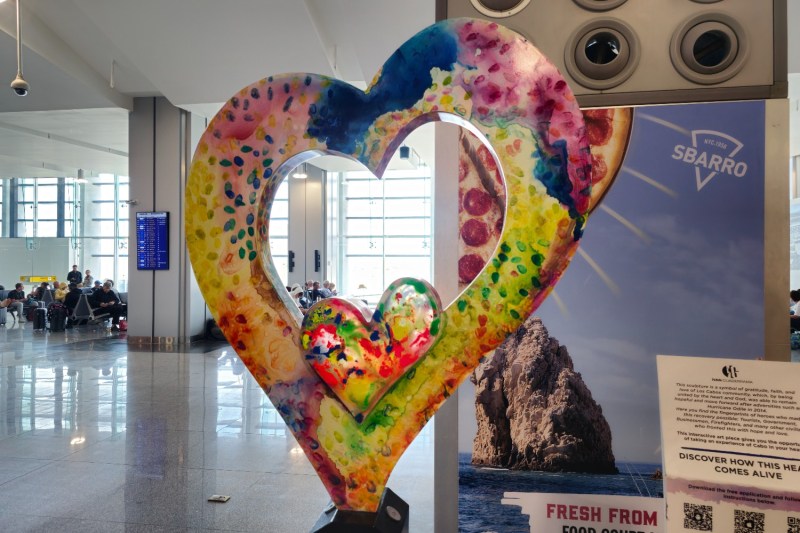 The bad news here is that Corazón Cabo is about a 40-minute drive from Los Cabos Airport, and you'll probably have to pay 96 Mexican pesos (or a little over $5) for toll road access to get there sooner. The good news is that once you're at Corazón Cabo, you're steps away from the beach, and you're walking distance from all of Cabo San Lucas's hottest hot spots.
If you're planning to drive back and forth between here and San José del Cabo during your trip, pack some extra pesos and get ready to spend quality time (and money) on Los Cabos Toll Road, which you can access from Cabo San Lucas via Highway 19. Speaking of Highway 19, head north on this road if you want to do a day trip to the combination artist colony/surf town of Todos Santos.
If you prefer cheap and low-carbon public transportation, the public bus system here is nothing like the exhaustive mass transit network you'll find in Mexico City or other major North American mega-cities. A bus ride to San José del Cabo is safe and reliable, and it costs less than 30 pesos. While Uber does have drivers in the region, Baja California Sur law currently prohibits Uber from providing direct rides to and from the airport and hotels, so you may need to prepare to pay extra for a taxi that can do such.
An advisory on what to expect at Corazón Cabo and Medano Beach in Cabo San Lucas
If you want to be right in the heart of the life of the party, then Corazón Cabo is probably perfect for you. It's right next to Milky Beach, it's steps away from additional Medano Beach bars like The Office and Mango Deck, and it's a short walk or ride away from all the bars and clubs by the marina. If you like the concept of staying close to Cabo's hottest action, you'll probably love staying at Corazón Cabo.
Conversely, if you're looking for a more family-friendly resort in Los Cabos, or if you simply want a resort that offers ample peace and quiet, then you may have trouble staying at Corazón Cabo. Fortunately for you, Los Cabos has a long resort corridor along Mexico's Federal Highway 1 between the cities of Cabo San Lucas and San José del Cabo that abounds in more expansive hotel resorts that offer everything from kid-friendly accommodations to five-star luxury digs. If you seek calmer vibes without straying too far from town, San José del Cabo offers a few resorts and boutique hotels that tend to be a little calmer than Corazón Cabo and most of its fellow Cabo San Lucas hotels.
How to plan like a pro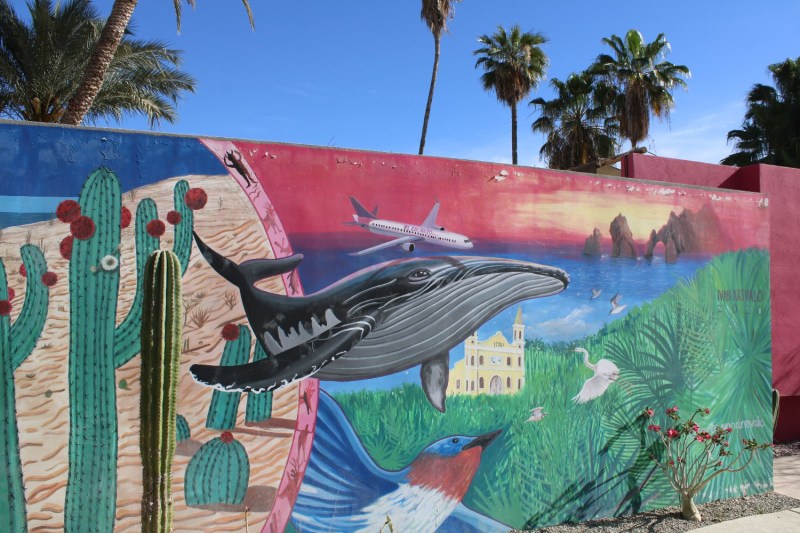 Here's where we must address perhaps the biggest Mexico travel story of the year. By now, you've probably seen a whole lot of news headlines about criminal cartel violence across Mexico. While I certainly don't want to blithely dismiss the real pain and suffering that many Mexican people are experiencing due to ongoing cartel violence, it's crucial that we put this in proper perspective. While the U.S. State Department currently recommends "exercising increased caution" when traveling to and through Baja California Sur, the federal government has no travel restrictions in place for U.S. government workers as of March 2023.
Essentially, this indicates that you're probably quite safe to travel to Cabo. As you should do wherever you travel abroad, take some simple and easy precautions, and contact the U.S. Embassy if you're in need of urgent aid.
My assessment and final thoughts on Corazón Cabo
Honestly, I was highly impressed by the incredibly warm service, the impeccable style and design, the cool comfort, and the stunning location. I was very happy to stay here this past spring, and I'll be quite happy to return some time soon. Of course, that's unless I'm traveling with a group seeking a quieter location and/or more family-friendly amenities, in which case I might feel tempted to ask them why they want to stay somewhere in the heart of the more adult-oriented action in Cabo in the first place. But really, Corazón Cabo is a great new boutique hotel for travelers who truly want to stay in the heart of Cabo San Lucas.
We hope this gives you some inspiration to try something new in Cabo. For more great travel guides, tips, and ideas, check out our ultimate guide to soaking up the spirits of the ABC Islands of the Caribbean, everything you need to know about Chiang Mai (Thailand), our "48 hour express" Istanbul (Turkey) travel guide, and the 10 best U.S. states for summer road trips. We know that planning a trip isn't always easy, but hopefully, you now have ways to make the planning easier so you can get out and have fun sooner.
Editors' Recommendations