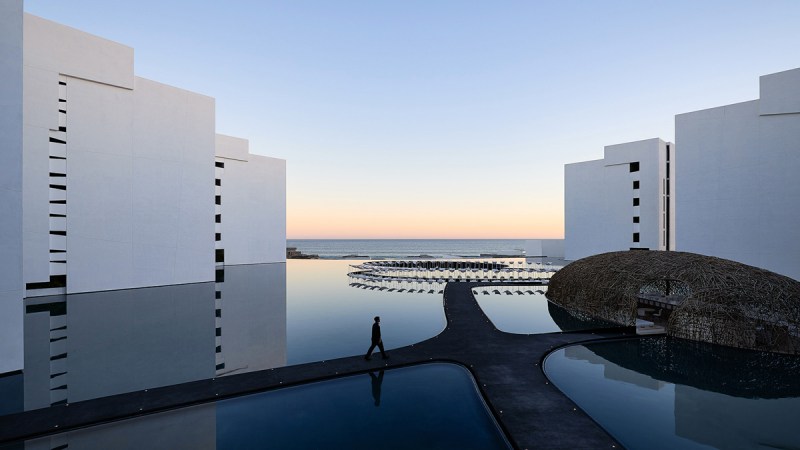 Just north of the younger, hipper — and decidedly boozier — resort town of Cabo San Lucas lies San Jose del Cabo. The scene feels a bit buttoned-down and grown-up, but it seems no one told the town's hotel architects. The lodging is among the sleekest in Los Cabos. Here are three of our favorite boutique hotels in San Jose del Cabo.
Hotel El Ganzo
If there's a boutique hotel that best represents the tourist-meets-expat vibe of San Jose del Cabo, it's Hotel El Ganzo. It strikes the right balance of everything most would expect in a stylish boutique hotel. It's hip, but not pretentious; chic, but not flashy, and modern, though not sterile. The decor is equal parts traditional hacienda and sleek Manhattan modern: barn-style doors, smooth concrete floors, oversized windows with sweeping views of the Sea of Cortez, and guest beds which peek into the adjacent glass-enclosed showers. The grounds are situated next to both a marina (with easy kayak launching) and a Jack Nicklaus-designed 18-hole pro golf course. Plus, it's likely Baja's only lodging with artist and musician residency programs — clear evidence of the hotel's commitment to the Peninsula's burgeoning creative scene. The best part? For all this hotel has to offer, the nightly rates are surprisingly affordable.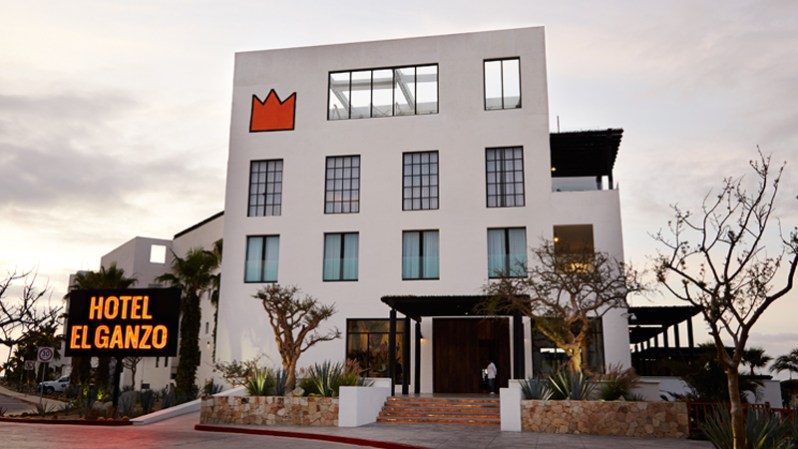 Don't miss: The onsite Gachoo Sushi Bar offers an extensive list of raw specialties, including ceviche, tempura, sashimi, and carpaccios.
Mar Adentro Cabos
If pure style is what you're after, no hotel in Los Cabos nails it like Mar Adentro Cabos. Renowned Mexican architect, Miguel Ángel Aragonés, described the hotel's sleek, stark, white-on-white-on-white design as a series of "floating boxes." Indeed the ultra-modern architecture — with its hard angles, long, barely illuminated hallways, and copious use of floor-to-ceiling glass — feels like the set of a Kubrick sci-fi flick. The hotel is purpose-built to stay out of its own way, allowing guests to focus on the sun, sand, and surf. But, the hustle of Cabo San Lucas is just 20 minutes away (though you'd never know it), and there's always plenty to see and do — sailing, whale-watching, diving, and paddle boarding to name a few — in the Sea of Cortez.
Don't miss: The stunning sushi restaurant, Nido (Spanish for "nest"), is designed like a delicate bird's nest perched atop an infinity pool overlooking the sea.
Las Ventanas Al Paraiso
Los Cabos has long been known as a resort destination. But, over the last decade, it's rapidly been shedding that image. Las Ventanas al Paraiso (literally "windows to paradise") could be considered "a resort for travelers who can't stand resorts." It boasts all the trappings of a traditional tropical all-inclusive — beautiful, oceanfront infinity pools, a full spa, and four full restaurants, including a tequila and ceviche bar — but without all the mass-produced food, cookie-cutter decor, and joyless nighttime entertainment. Every guest room also offers at least 900 square feet and features a long list of luxuries like adobe fireplaces, private (or semi-private) pools, open-air showers, and slippers woven out of seagrass.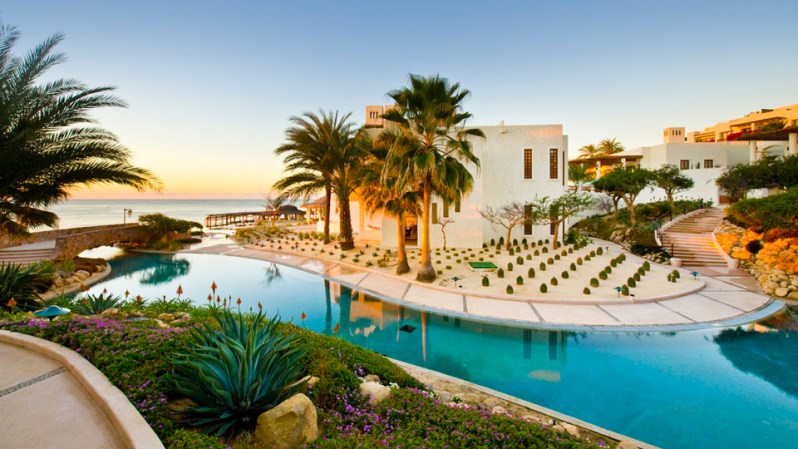 Don't miss: The massive, freeform infinity pool is so seamlessly integrated into the overall design that it feels like it flows directly from the Sea of Cortez.
Editors' Recommendations