There's something very inviting about hitting the highway for a road trip, even when the price of gas is on the high side. Road trips offer freedom other types of vacations don't. When mapping out a road trip, the itinerary isn't set in stone. There aren't flights or trains to catch, or even a hard check-in time.
Sure, you still need a vague road trip planner with a general idea of the sites you want to see and the timeframe available. What you don't have, though, is a firm schedule with little room for spontaneity. Part of the fun of a road trip is the unexpected nature of it. Spring and summer are earmarked for road trips, but you can plan an amazing vacation on the road any time of the year. All you need is a route planner. To help you on your way, we've got a list of the top 10 states for road trips.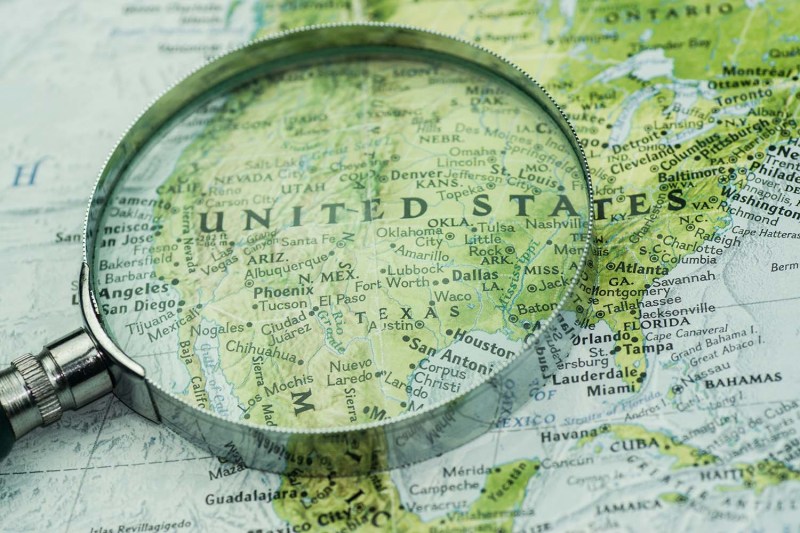 Road trip ideas
When planning on heading out on the highway to enjoy a road trip, there are three main things you'll want to consider. Gas prices, road safety, and what sites you want to see are all important components to factor in with a road trip planner. You'll also need to think about renting a car, if necessary, and the Availability and price of accommodations. If you're flying to the state you'll be exploring instead of driving to it, it's important to factor in the cost of a car rental and, of course, gas.
Keeping those elements in mind, here are the 10 best road trip states to gas up for.
Top road trip states
Gas prices are super important when it comes to planning a road trip. Unfortunately, some of the best states to explore by car also have the ugliest gas prices. Western and Pacific states have always been notorious for higher gas prices, but they also offer amazing road trip ideas. When deciding on which of these 10 states to visit on your road trip, be sure to choose one that fits into your travel budget.
Washington
This state tops US News & World Report's list of best states to live in. It's also a beautiful state for visitors to explore by car. Where else can you see an active volcano, Mount St. Helens; one of the highest mountains in the United States, Mt. Rainer; and waterfalls, all in one state? There are also scenic railroads and more to experience. The only drawback to a Washington road trip vacation is its gas prices.
Oregon
Oregon is another Western state ideal for a road trip getaway. It routinely makes the list for best road trip destinations. Its Highway 101 is a stunning ride through seaside coves, inviting beach towns, and hidden gems. The Highway 101 road trip begins in Astoria, which is a two-hour drive from Portland. Enjoy the trek along the highway and let its views take you away. If you have the time, take a side trip along Oregon's 12-mile Samuel H. Boardman State Scenic Corridor. Oregon's gas prices will raise an eyebrow, though, so keep that in mind when planning your trip. Overall, though, you can't go wrong with an Oregon road trip.
California
You can't talk about road trips without mentioning the Golden State. California has nine national parks; that alone makes it a great road trip destination. Its Pacific Coast Highway is well-known for stunning views, and it's finally open again after suffering months of closures. Napa and Sonoma County are both amazing areas to explore on a road trip. California gas prices are scary, but don't let that keep you away. A California road trip is a bucket list must-do.
Minnesota
Minnesota routinely makes the list of the friendliest states in the nation. If you love the outdoors and are looking for a memorable, off-the-beaten-path road trip, hit Minnesota's North Shore. It skirts Lake Superior's shoreline from Duluth to Grand Portage. It's 145-miles of beautiful scenery, endearing small towns, and inviting parks. Other Minnesota road trip ideas include the Great River Road Scenic Byway and the Lake Mille Lacs Scenic Byway. A major plus to a Minnesota road trip, besides its neighborly residents, is the states relatively low gas prices.
North Carolina
If you're looking for a classic road trip and love hiking, think North Carolina. The Blue Ridge Parkway is 400 miles long and travels through North Carolina and Virginia, and it's a fall favorite to check out the leaves as they change color. Chimney Rock State Park is a not-to-miss stop, as is the Blowing Rock, which is North Carolina's oldest attraction. Recharge in Asheville, especially if you're a foodie.
New York
The Empire State is most known for its iconic Big Apple. New York City attracts millions of visitors year-round, but what some people may not realize is that New York state offers cool road trip ideas too. There are a few ways to explore the Catskills on a road trip as well as the Finger Lakes along the Cayuga Lake Scenic Byway. If you've never experienced the Big Apple in person, start or end your road trip there. New York's Long Island also offers ideal road-tripping opportunities.
Utah
Like California, Utah is home to many of the United States' most stunning national parks, including Zion, the oldest. Utah's national parks are also located relatively close to one another, which means it's possible that you can explore them all on your road trip vacation.
Florida
For a Southern road trip, hop on the Florida's eastern highway. It winds its way along the Atlantic Ocean from Key West to Amelia Island. One of the stops along the 557-mile highway includes the Kennedy Space Center at Cape Canaveral. Scenic Highway 30A is another well-known Florida road trip idea.
Hawaii
It may sound weird to think of Hawaii as a road trip state, but can you imagine a better way to see these Pacific Islands up close and personal? Hawaii offers amazing road trip options, such as driving the North Hilo and Hamakua Coast or the Hana Highway. Be sure to factor the cost of car rental and gas prices into your Hawaiian road trip planner. Hawaii's gas prices routinely top the list of the highest in the US.
Illinois
No road trip list would be complete without Illinois. For a classic American road trip, drive the 300 miles of the iconic Route 66 that run through the state. Drive along the Galena River and enjoy wineries, restaurants, shops, and more. Be sure to plan a drive along the 33-mile Meeting of the Great Rivers National Scenic Byway.

Road trip planner
Every one of the 50 US states offers its own unique charm and beauty, but these 10 are must-sees when it comes to road tripping. There really isn't a better way to experience America than behind the wheel. A road trip vacation is a perfect way to kick back, reconnect, and recharge. If you've exhausted the top road trips in your neck of the woods, start expanding your horizons to these road trip states. They definitely will not disappoint.
Editors' Recommendations