When you think of Aruba, Bonaire, and Curaçao — also known as the ABC Islands — what comes to mind? Perhaps you're dreaming of palm-lined beaches and calm turquoise waters? Maybe you envision European-style towns and villages with lush tropical greenery? While you can find plenty of that throughout the ABC Islands, there's plenty more beyond the typical "tourist traps." And if you've always had an affinity for Caribbean cocktails, you'll discover infinite possibilities with all sorts of tasty locally produced liquors. Whether you prefer a sweet, fruity drink to enjoy by the beach or a complex cocktail that easily rivals those of the buzziest big-city bars, here's all you need to know about where to find the best spirit(s) of these enchanted islands.
First, let's get reacquainted with the ABC Islands
If Americans know anything about Aruba, Bonaire, and Curaçao, it's that that these islands are somewhere in the Caribbean and are part of the Netherlands. Indeed, the ABC Islands are surrounded by the Caribbean Sea, and they lie directly to the north of Venezuela. If you're expecting largely the same experience as a trip to South Florida, the Bahamas, or the Virgin Islands at the ABC Islands, though, get ready for a very different kind of Caribbean trip down here.
Not only do Aruba, Bonaire, and Curaçao tend to stay (quite) warm year-round thanks to their lower latitude, but they also experience a drier climate with annual precipitation totals that hew closer to Los Cabos than Miami. As a result, you'll see more cacti on these islands — especially in Aruba and Curaçao — and you'll discover golden landscapes that look and feel very different from the rest of the Caribbean.
Liquor distilleries
Now that we got all of that out of the way, let's get to the fun stuff. If you've ever dreamed of not just going behind the bar but also behind the scenes to see where and how your favorite boozy elixirs are made, prepare for your dreams to come true. Whether you prefer your drinks stiff and strong, sweet and fruity, or something completely different, these two distilleries can totally hook you up and quench your thirst.
The Curaçao Liqueur Distillery
An introduction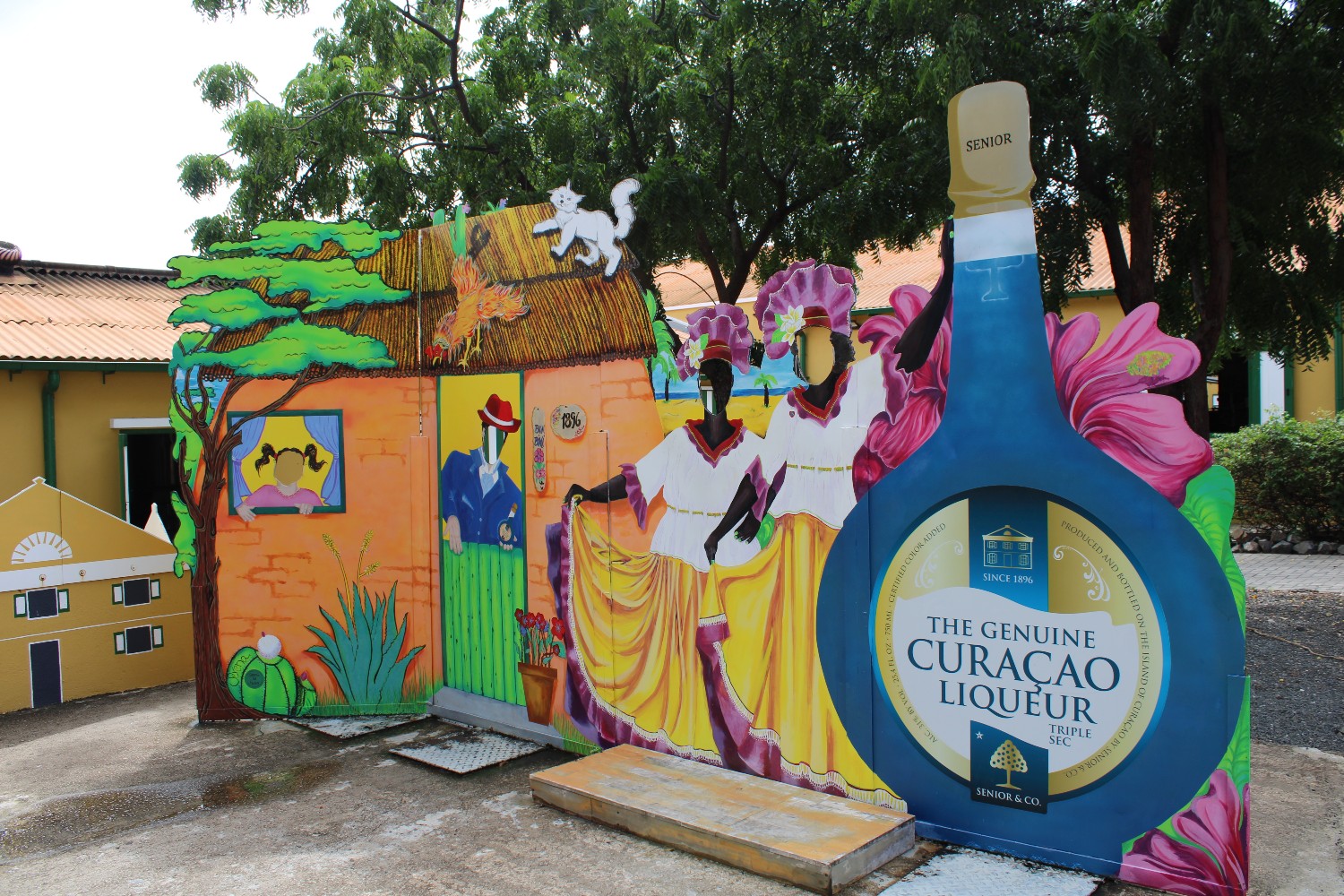 Even if you only have passing mixology knowledge, you've probably heard of triple sec and Blue Curaçao drinks. Have you ever wanted to know more about where it comes from and how it's made? If so — or even if you're just planning to travel to Curacao with no definite places in mind — you have to visit the one and only Curaçao Liqueur Distillery. Since 1896, they've been turning out the original Curaçao Liqueur triple sec that's made from the peels of the laraha, a citrus fruit that's related to the Seville orange. Though the laraha is far more bitter than oranges, the dried peels are highly aromatic, ensuring that the final Curaçao Liqueur has a complex sweet flavor that goes above and beyond the standard triple sec experience.
Speaking of going above and beyond, here is where you'll find the original Blue Curaçao: a Blue Curaçao Liqueur with a special blue hue that's become a popular ingredient for mixologists who want to add a pop of color to their craft cocktails. The Curaçao Liqueur Distillery also makes Green, Orange, and Red Curaçao, and they now produce chocolate, coffee, and tamarind liqueurs as well.
What's it like to visit?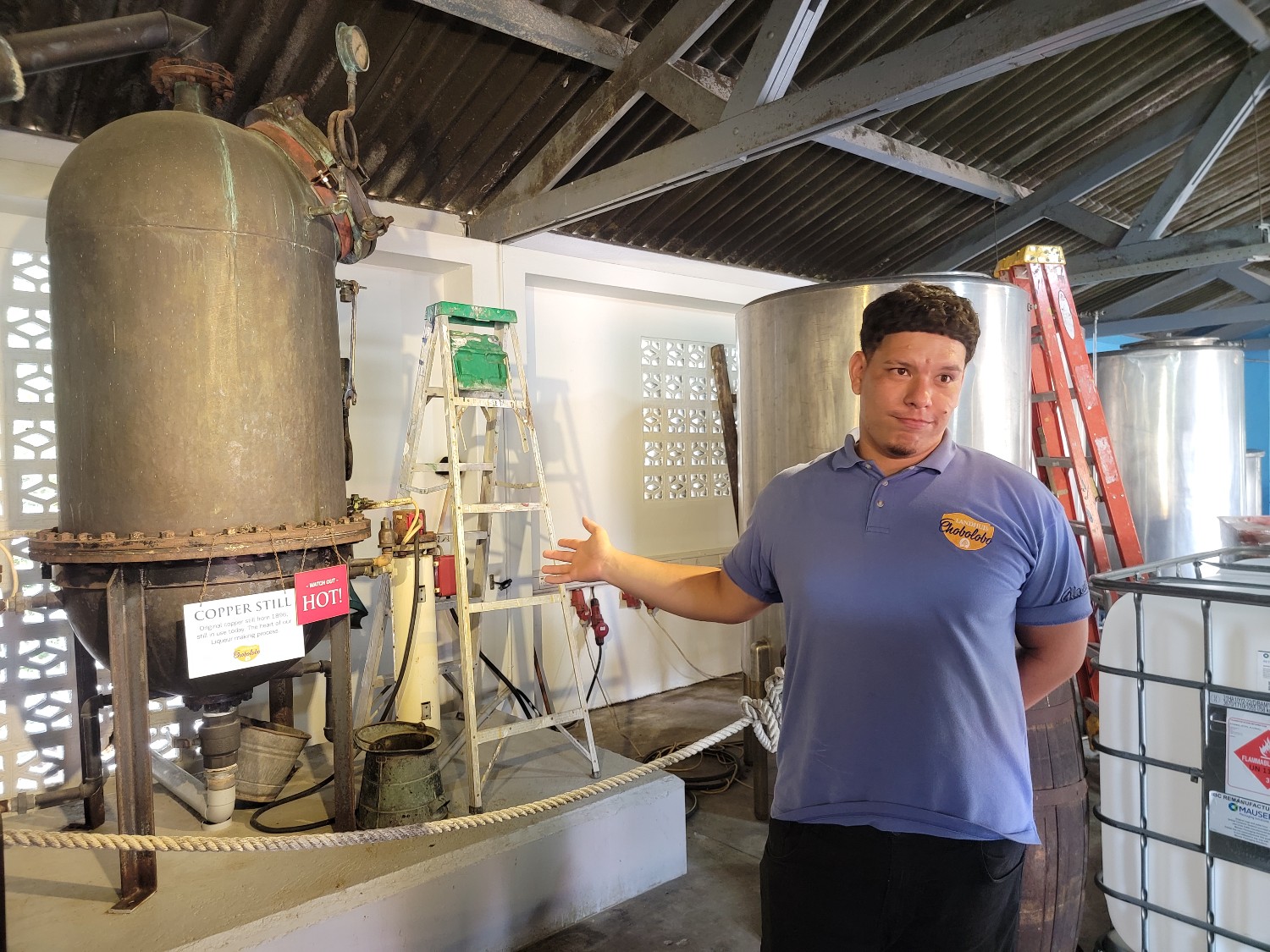 Simply put: It's a boat load of fun! When I had the great fortune of visiting the Curaçao Liqueur Distillery at Landhuis Chobolobo this year, I did a tour in which the guide took us behind the scenes and showed us where these magical liqueurs are made. Not only are the grounds beautiful, but the distillery somehow feels like you've been magically transported to another world while being surprisingly close to most of the major hotel and resort corridors on the island.
Though the guide declined to provide the Senior & Co. secret family recipe for Curaçao Liqueur, he did clue us in to why they have so many special colors of it: They use food coloring! Though they now have multiple distinct flavors of liqueurs, the different colors of the original laraha-based Curaçao Liqueur all have the same original flavor.
What should we drink?
If you like citrus flavored drinks, you'll probably love Curaçao Liqueur. During my trip to the distillery, I actually tried making my own cocktails. My favorite has to be my twist on Senior & Co.'s mojito recipe, or something I call the "Blue Mojito": two ounces of Blue Curaçao, one ounce of simple syrup, six lime wedges, eight mint leaves, and your favorite type of carbonated water. Muddle and mix everything but the fizzy water, then add the fizzy water at the very end. As wrong as it may feel to make a mojito without proper rum, it somehow works out great!
As for the other drink I made, well, let's not talk about that. Suffice to say, please be careful when you're mixing together chocolate, coffee, and orange liqueurs.
Bonaire – Cadushy Distillery
An introduction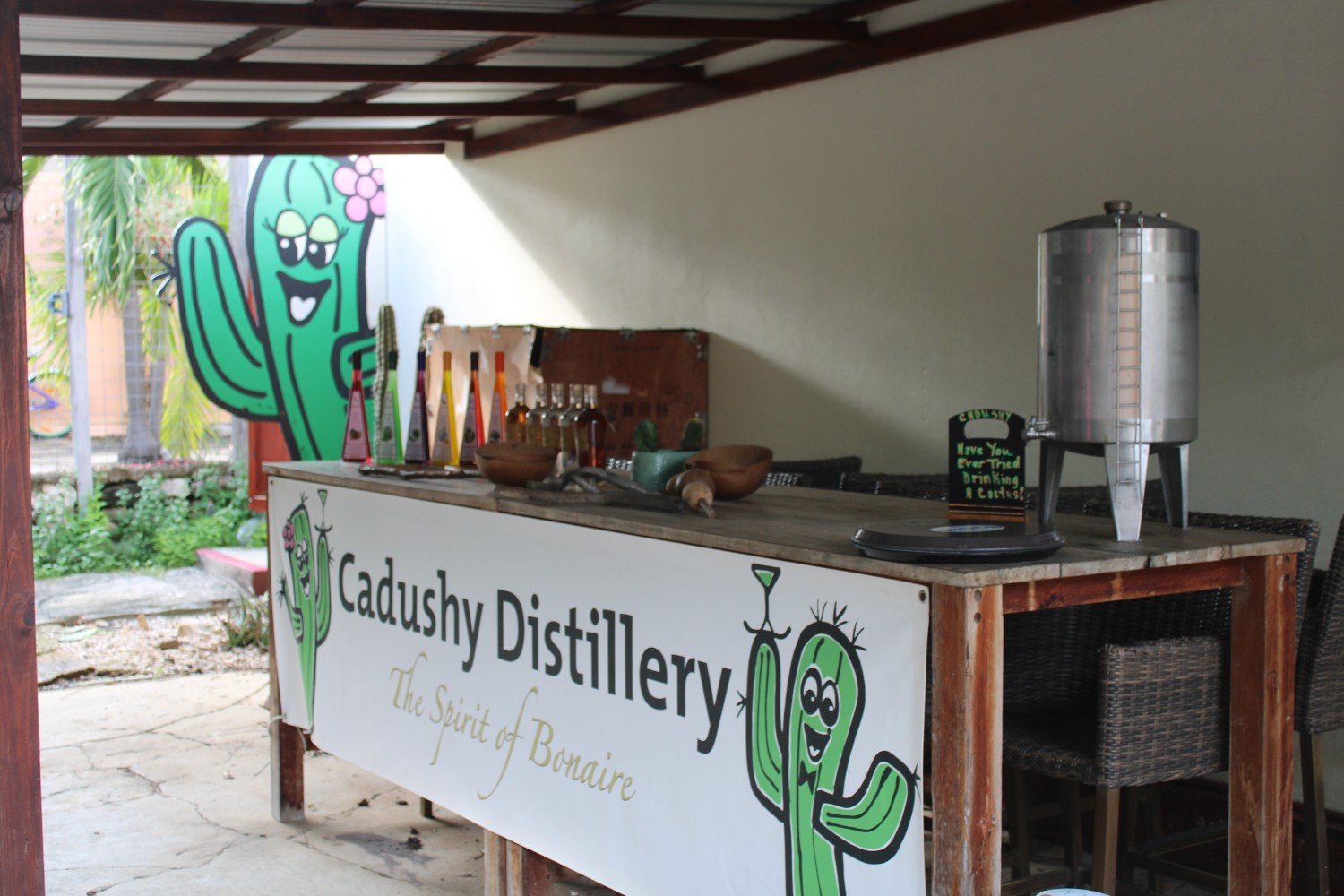 Whether you're feeling adventurous or you're simply looking for a local staple, Cadushy probably has what you want. Since 2009, master distiller Eric Gietman has turned out award-winning, sustainable, and small-batch alcoholic products featuring the best-quality local ingredients. Perhaps Cadushy's most famous liquor is Rom Rincon, a rum featuring traditional Caribbean spices and expert aging and blending. If you're not really a rum person, you can also try their highly acclaimed whisky, vodka, and gin.
What's it like to visit?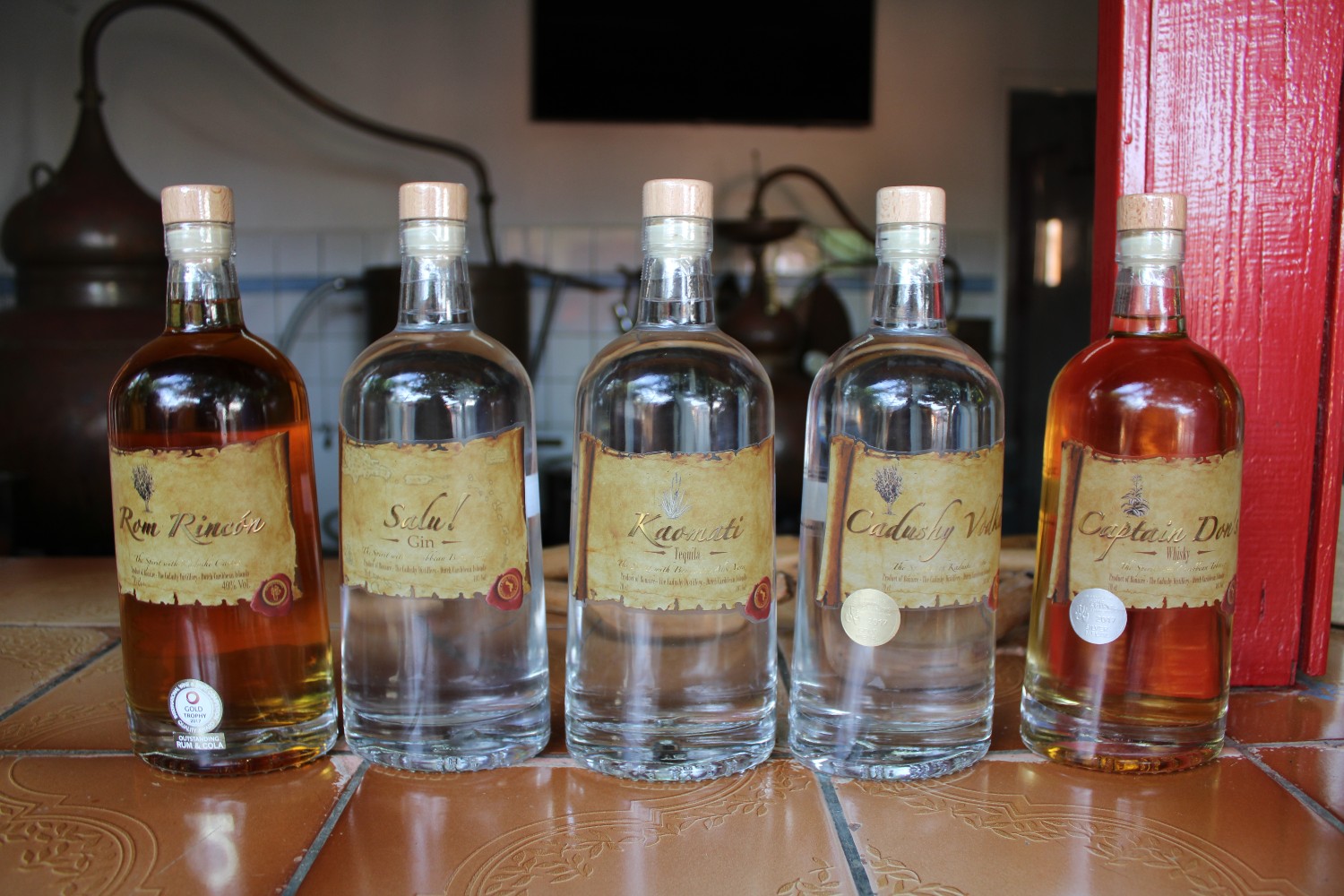 If a visit to the Curaçao Liqueur Distillery is like touring a showcase Napa winery, a visit to Cadushy Distillery feels more like stopping at a San Diego beer garden. You may not get a full tour of the premises, but you can order drinks at the bar and find a pleasantly shady spot in the garden to sip your exotic concoction.
When you come to visit, keep in mind that Cadushy is in the town of Rincón, which is some 18 kilometers (or 11 miles) away from the town of Kralendijk, where most of Bonaire's hotels are. When you're planning your Bonaire trip, plan on taking your time to drive here, and definitely plan on picking a designated driver to take you back to your place in case you decide to indulge in Cadushy's tasty elixirs.
What should you drink?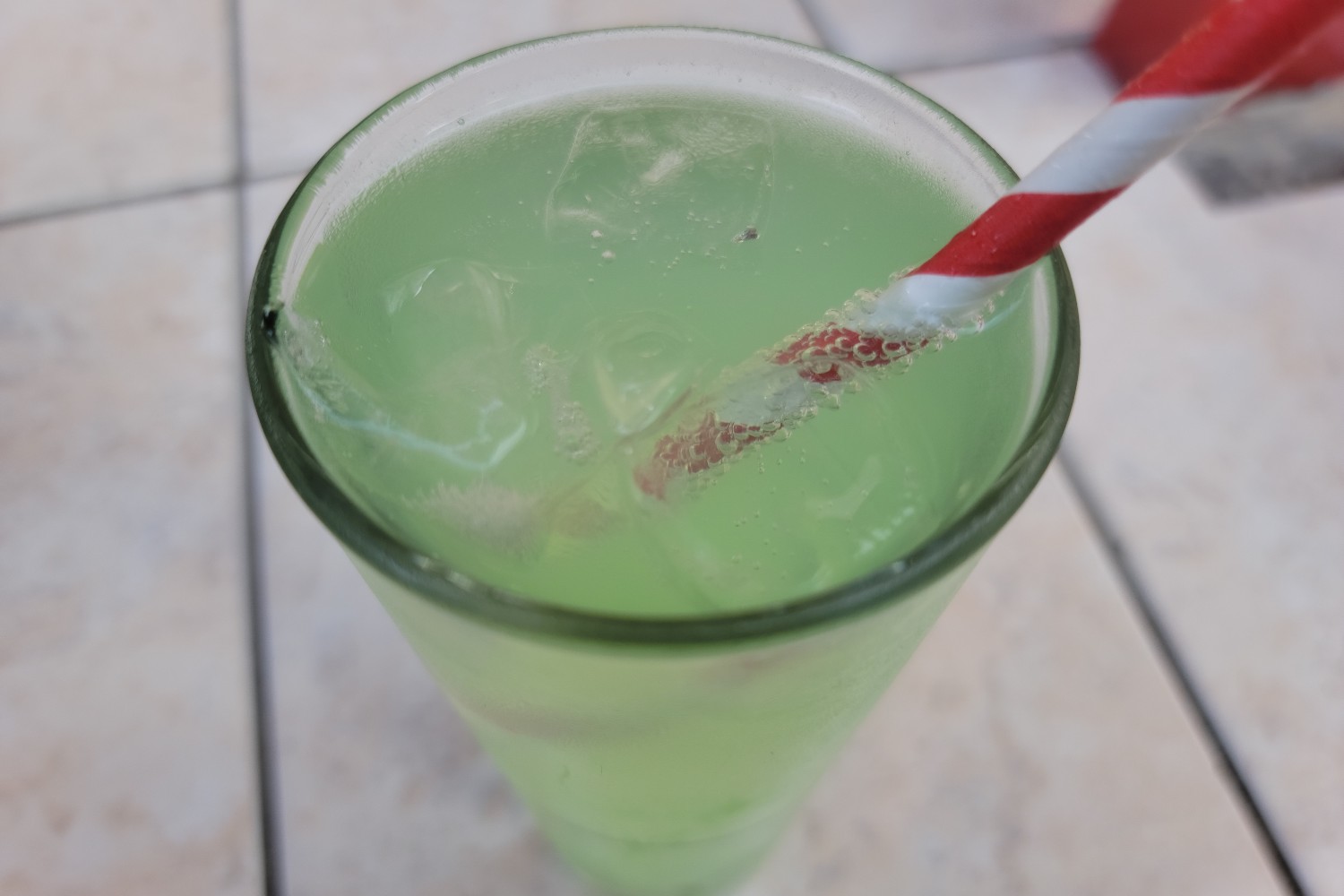 Since Cadushy makes so many different types of alcoholic beverages, you can really have fun mixing and matching. In addition to their signature rum, gin, whiskey, and vodka, they make Dutch Caribbean-themed liqueurs — as in, one for each island — for extra flavor and kick.
As simple as it is, their Awa di Lamoenchi tastes surprisingly great: It's just Cadushy of Bonaire Liqueur and lemon-lime soda. If you want something a little more adventurous, try the Green Bonaire: one ounce of Cadushy Vodka, one ounce of Cadushy of Bonaire Liqueur, one ounce of triple sec, some apple juice, and a splash of Blue Curaçao for extra color and flavor.
Bars and clubs
Regardless of your own expertise in mixology, you have plenty of options to enjoy a good drink throughout the ABC Islands. If you want to know even more about the lands and people behind your favorite drinks, here are some spots to visit to enjoy a better taste of the Caribbean.
Aruba
LG Smith's Steak & Chop House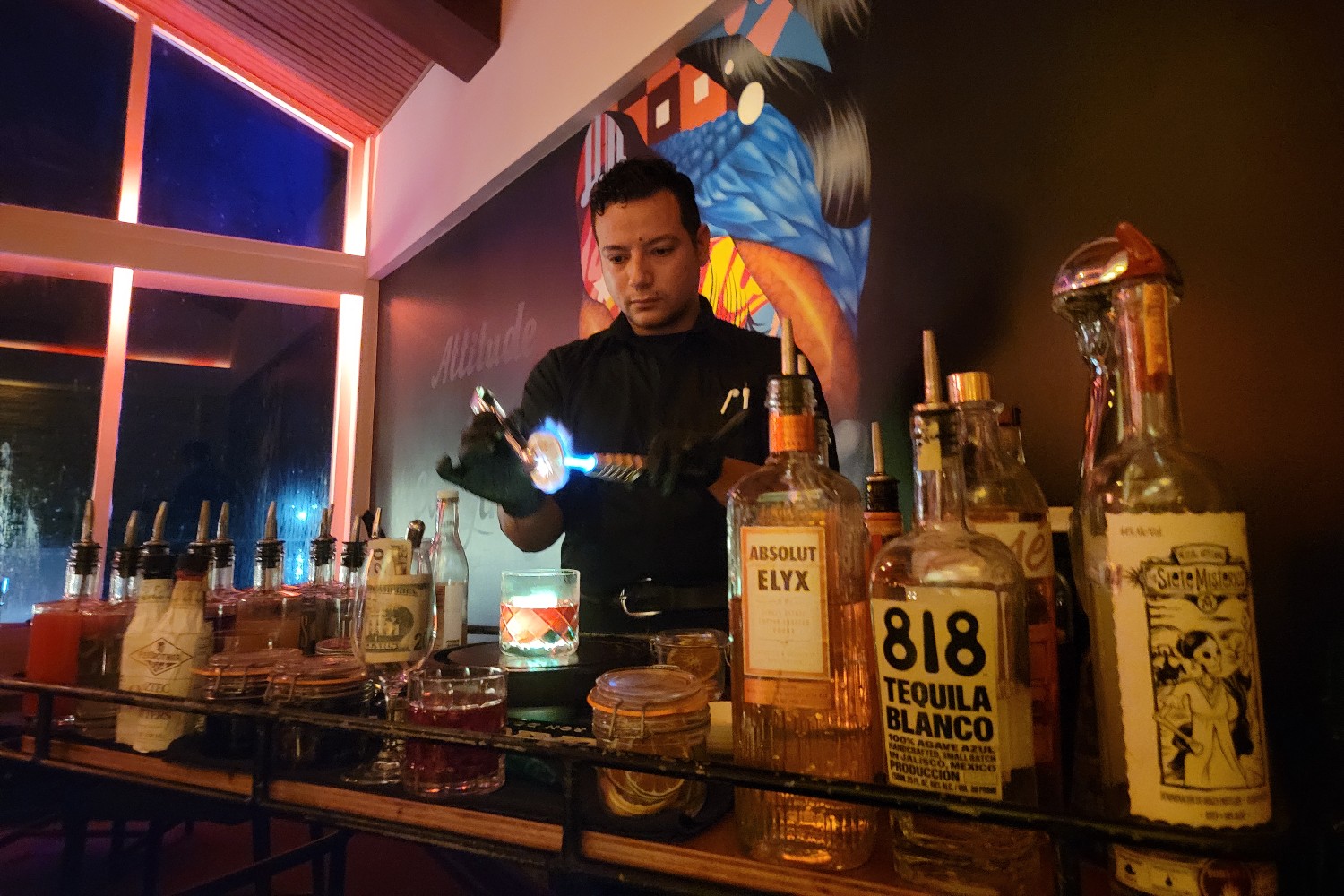 LG Smith's is the flagship restaurant of the Renaissance Wind Creek Aruba resort, and it's the perfect spot if you want dinner and drinks with unmatched flair, or even if you're just looking for things to do in Aruba. Not only does LG Smith's feature a food menu full of tasty treats, but it also offers a wide array of craft cocktails for you to enjoy.
What if you want to see your cocktails being crafted? Oh, LG Smith's most definitely has you covered! Their resident mixologist pushes his specialty cocktail cart through the floor every night. Just wait for the mixologist to hit your table, listen to what he has to offer, then put in your order and enjoy the show.
I tried LG Smith's take on the old fashioned with aged rum and extra smoke; it was out of this world! If you'd rather try something else, take your pick of cotton candy bubble margaritas, fiery tiki-tinis, and all sorts of other special surprises.
Papagayo Bar & Grill (on Renaissance Island)
If your plans for Aruba travel include a luxurious tropical island experience, then book a stay at the Renaissance Wind Creek. All Renaissance guests get complementary water taxi rides to the hotel's own private Renaissance Island, and guests can enjoy drinks and casual lunch fare at Papagayo on the island.
Not only are the views and the vibes quite idyllic, but the drinks at Papagayo are actually quite good as well. My personal favorite was the Island Spirit with blackberries, melon and lime juices, angostura bitters, and dark rum: It certainly had plenty of spirit! If you really want to play like a baller, you can rent a cabana for the day, and the Renaissance's on-island staff will bring the drinks to you.
Apotek
If you prefer a not-at-all-touristy bar experience, your best bet is to ditch the beachside resorts and head into town. Tucked in an unassuming block in downtown Oranjestad, Apotek is the speak-easy you never knew existed in the Caribbean — until now! As long as you're willing to make a reservation in advance, keep the location secret, and abide by their house rules (such as "put your phone down"), they're happy to welcome you into their hidden world of magical elixirs.
While the speak-easy trend has been raging in the U.S. for some time, Apotek offers a fresh and uniquely Aruban perspective on the concept. I don't want to spoil too many surprises for you, so I'll just say that if you're sick of the same old beach bar, then Apotek has the ultimate prescription for a mind-blowingly boozy night out.
Curaçao
Irie Tours Sunset Sail
If you want to take your party to the high seas, this is a great way to ditch the crowded bars and enjoy your drinks with some epic Caribbean views. It's far from cheap, though; it costs $69 per person, plus an open bar. Don't expect sophisticated craft cocktails on board, but do expect friendly service, great views, a very festive atmosphere, and a great activity to do if you're coming with a group.
Bonaire
Club Trocadero Bonaire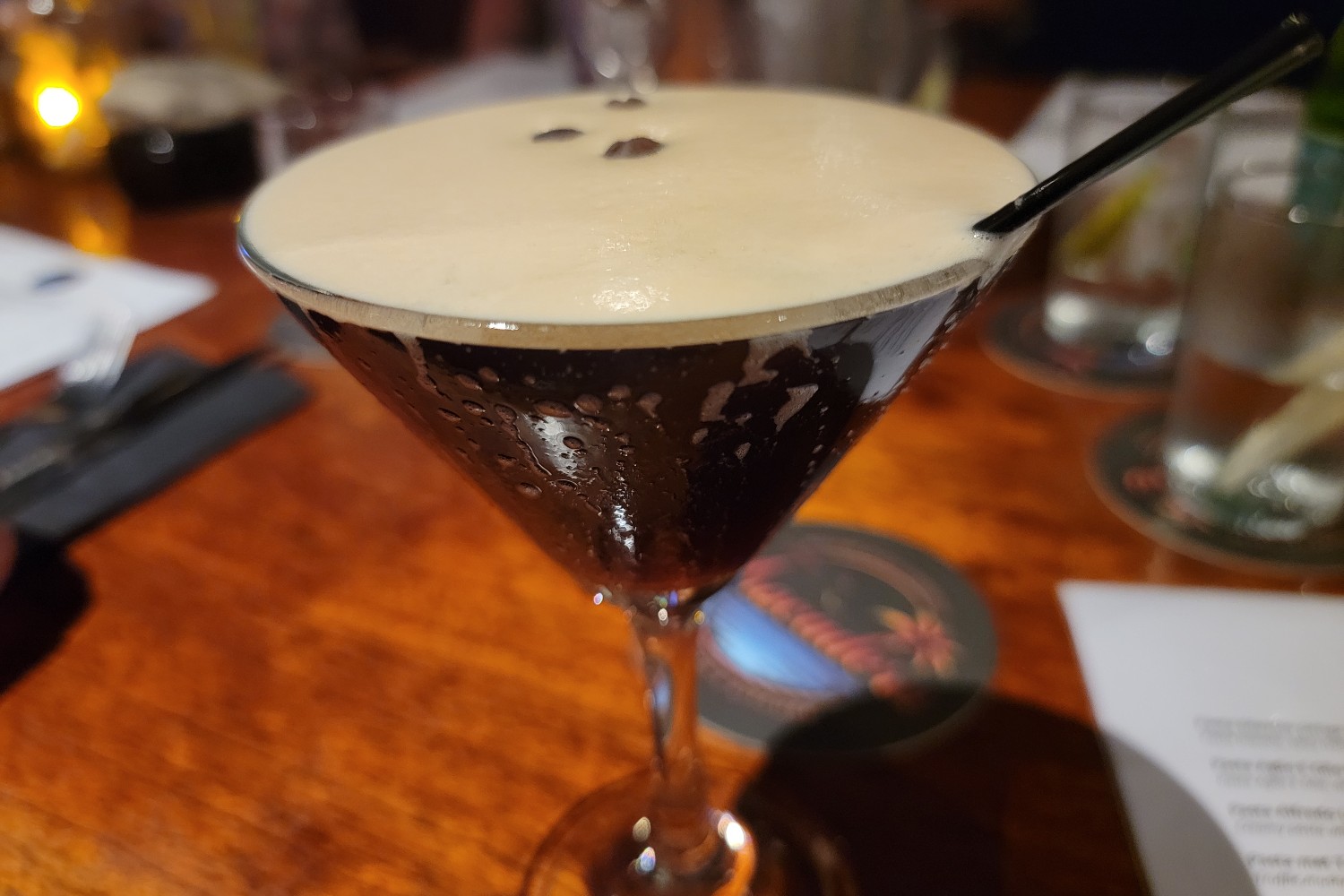 If you're ready to ditch your hotel and try a more locally flavored night out, head out to Club Trocadero in central Kralendijk. They have a pretty broad drink menu, plus they're happy to whip up something off-menu if you want to try a walk on the wild side. A friend and I decided to go for espresso martinis, and they totally handled it like pros.
In addition to great drinks, Club Trocadero cooks up great grub. They have plenty of seafood all over the menu, and they're happy to put together vegetarian and vegan dishes for you. If you're here for dinner, you might even be treated to some cool Caribbean live music.
Tiki & Co.
Yes, even the ABC Islands have tiki bars! But here at Tiki & Co., you won't be stuck with a generic, theme-park-esque experience. Rather, Sir Eddy Trenidad and his team will blow you away with a uniquely Caribbean take on the classic tiki bar setup. Expect fun and festive drinks made with plenty of local and regional ingredients. You'll also get munchies with lots of Creole flavor(s) and vibes that will make you feel like you've found new favorite local hangout rather than yet another tourist trap full of overpriced drinks.
If you prefer sweet and creamy drinks, the Pandan Banana Colada will transport you to another world full of "adult candy shop" realness. If you really want an alcoholic knockout punch to your mouth, I dare you to try the Sorobon Zombie. Go ahead — we're waiting.
Where to Stay
Since these are Caribbean islands that cater to tourists year-round, you'll find plenty of hotels and vacation rental units throughout. Here, we'll just focus on the three hotels where I had the privilege of staying during my recent trip here.
Author's Note: For this trip, airfare and accommodations were generously provided by CheapCaribbean. They in no way exerted any undue influence over the reviews I provide in this guide. They are, however, offering a special deal for you.
From now through January 31, 2023, if you book a minimum two-night stay that takes place between now and February 28, 2023, CheapCaribbean will take $100 off your hotel package if you use the code Cocktails100. If that sounds good to you, hop over to their website to book your own ABC Islands getaway!
Aruba — Renaissance Wind Creek Aruba Resort
Nestled in the largest city in Aruba, the Renaissance Wind Creek basically offers the best of both worlds: A prime location near the center of most of this island's action, and scenery that looks and feels like the ultimate sweet escape. One awesome perk that comes with staying here is complementary water taxi service to and from Renaissance Island, a stunningly beautiful 40-acre private island with two white-sand beaches, a full-service bar and restaurant, an adults-only area for maximum tranquility, and even a nature preserve where you'll find plenty of flamingos walking around.
Back at the main resort grounds, you have a fully stocked casino and a 130-boutique shopping mall to enjoy and explore, as well as an on-site marina and easy walking access to some of the coolest corners of downtown Oranjestad. Fortunately for guests, the hotel embarked on a resort-wide renovation project in April 2022 that's slated to finish in December. I had the great fortune of staying in the Ocean Suites. Much of the decor still feels antique, but my suite offered plenty of room to roam. Plus, the bathroom was very well appointed, and the wifi internet worked quite well.
Nearest Airport: Aruba – Queen Beatrix
Time: 5–10 minutes by car
Distance: 5 kilometers (or 3 miles)
Curaçao — Dreams Curaçao Resort, Spa, & Casino
From its unlimited dining and drinking offerings to its picturesque location on Piscadera Bay, Dreams Curaçao can look and feel quite dreamy. Now part of the World of Hyatt family, Dreams Curaçao offers plenty of fine amenities, including spacious rooms and suites with private balconies, the Dreams Spa by Pevonia®, two private beaches, seven dining options, and daily entertainment options. All of these might make this all-inclusive resort an appealing option for travelers who don't want to worry about keeping tabs on all the tabs.
Nearest Airport: Curaçao
Time: 10–15 minutes by car
Distance: 9 kilometers (or 5 miles)
Bonaire — Divi Flamingo Beach Resort and Casino
If you truly want to get away from it all, it's hard to imagine a more idyllic escape than the Divi Flamingo Beach Resort. Bonaire is world-renowned for its diving waters, and this resort's on-site diving facilities have everything you need to get in the water. Keep in mind that this is the oldest resort on the island, so don't expect top-of-the-line luxury here. Nonetheless, this hotel is perfect for those who simply want a comfortable place to rest and recharge after a long day of adventures across the island.
Nearest Airport: Bonaire – Flamingo
Time: 3–8 minutes by car
Distance: 3 kilometers (or 1 mile)
Here are some tips for planning a better trip.
A few more fast facts
Fortunately for U.S.-based travelers coming here, all three commercial airports — Queen Beatrix on Aruba, Curaçao, and Flamingo on Bonaire — have regular nonstop flights to and from several major U.S. hubs, including Miami, Atlanta, Baltimore/Washington, New York/Newark, Chicago, and Dallas. In addition, you can find direct flights to and from major European cities like Amsterdam and Brussels, as well as major Latin American hubs like Bogotá.
From west to east, we have Aruba, Curaçao, and Bonaire. Dutch and Papiamento (a Portuguese-based Creole language) are the official languages of all three islands, though English is also widely spoken. Though Aruba and Curaçao have their own respective official currencies, the U.S. dollar is widely accepted throughout the ABC Islands.
Safety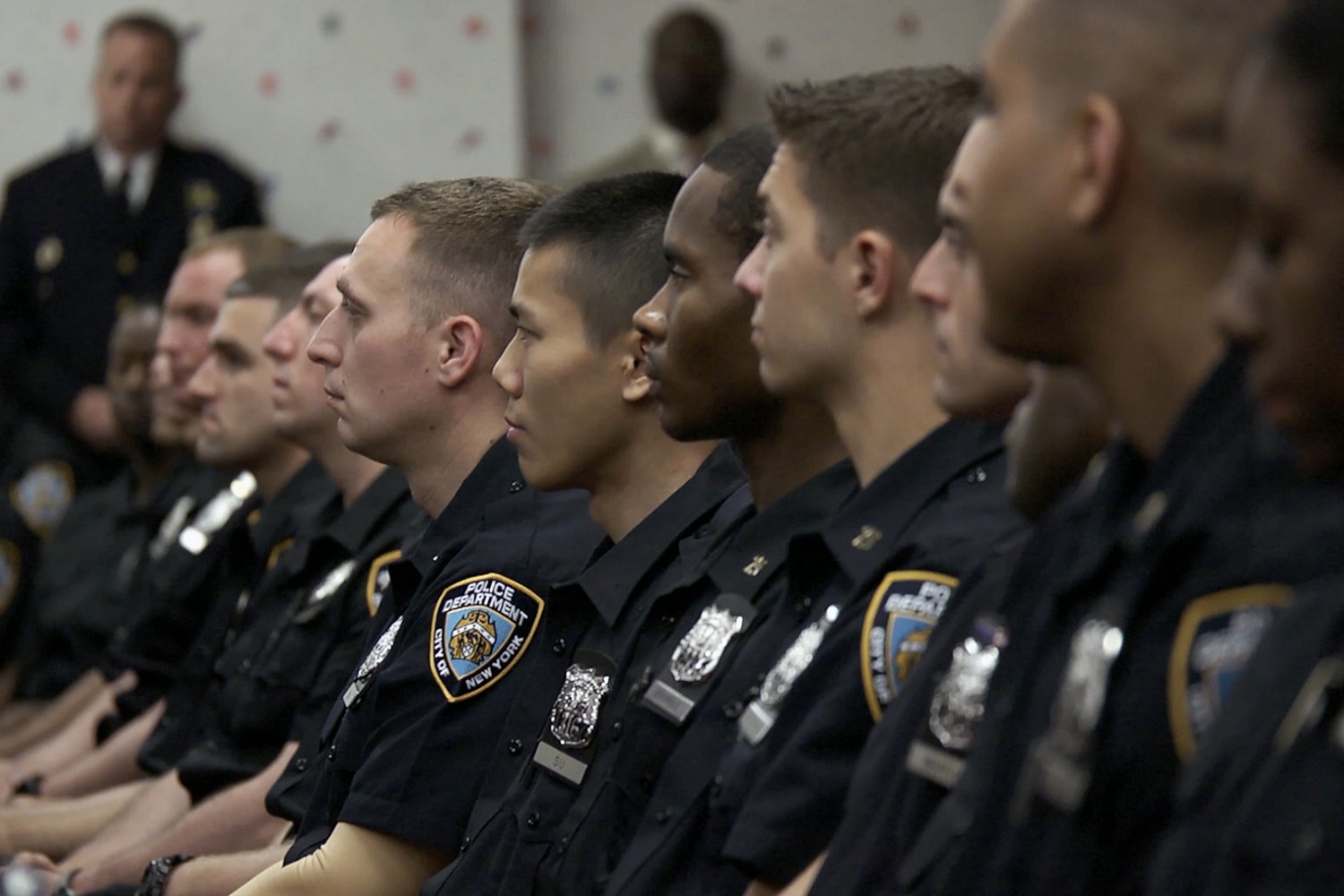 Since the ABC Islands are so close to Venezuela, I totally understand why some prospective travelers may feel nervous. However, the U.S. State Department has Level One advisories for Aruba, Curaçao, and Bonaire as of November 2022. This means that the three islands are in the safest tier in the State Department's rankings.
Since this doesn't mean that the ABC Islands never experience any crime whatsoever, it's important to take some simple precautions to fend off any pickpockets and prepare for anything worse:
Share your itinerary with a trusted loved one.

Use a navigation app like Google Maps to familiarize yourself with the area in advance.

If you're traveling in a group, agree on designated meet-up sites in case you get separated from the group.

Avoid "dressing like a tourist" with extra "bougie drip."
These are just a few handy tips to travel more safely. Whenever you're really in a bind, contact the nearest U.S. Embassy or Consulate for 24/7 emergency aid.
Controlled substances (Hint: Don't mistake the ABC Islands for Amsterdam!)
While the Dutch mainland in Europe allows "coffee shops" to sell recreational cannabis and "smart shops" to sell select psychedelic drugs, don't expect any of those anywhere on the ABC Islands. No matter what you've heard about Amsterdam's famously laissez-faire attitude toward magic herbs, recreational drugs are by and large illegal in the ABC Islands. Yes, even weed is illegal here, so you risk arrest, fines, and even prison time if the police catch you doing any THC-heavy products. On the flip side, though, CBD products are now legal in Aruba.
Alcohol is treated quite differently under the law here. Still, you may run into serious trouble if the cops think you're starting trouble in the bar and/or on the streets. It's always a good idea to keep tabs on your booze tab when you're out on the town. If you'd rather relax, let more of your hair down, and sow more wild oats, you may want to keep the party at your hotel.
Cross-border travel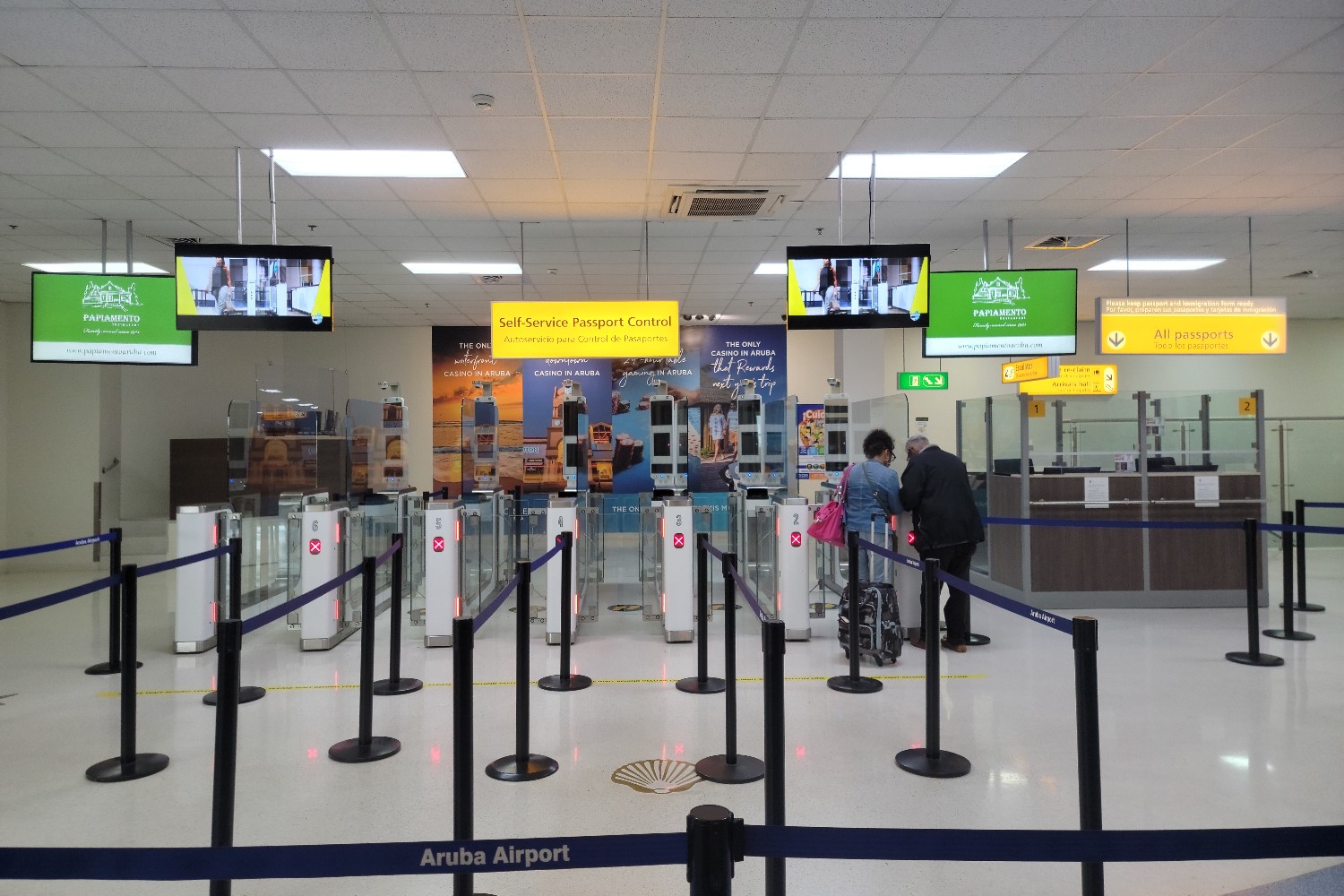 Since the Netherlands doesn't require visas for (short-term) U.S. travelers, you only need a valid passport and an Embarkation and Disembarkation Card (or ED Card) to enter each of the ABC Islands (though in Bonaire, there's also a $75 entry tax).
If you're planning to include additional countries in your itinerary, you may need to take some additional steps. If you want to do a larger tour of the Caribbean Islands and/or Colombia, you should be perfectly fine with your valid passport.
If you're even thinking of traveling to Cuba, you absolutely need a special visa, "educational" reasons for travel, and an approved escort.
While Haiti does accept U.S. passports and it offers expedited visas, you may have an incredibly hard time finding a way in due to Haiti's ongoing political and economic crisis.
Venezuela officially accepts U.S. passports, but you'll need an official visa from a Venezuelan Embassy or Consulate. It's also probably not a good idea to enter Venezuela from a land-based border crossing, Miami is the only U.S. airport that offers any direct flights to and from Caracas, and you will likely need a contingency exit strategy in case U.S.-Venezuelan relations worsen again.
How to save money and get around
In case you haven't noticed, there's a recurring theme here when it comes to popular Caribbean destinations and popular tourist traps. It's completely understandable if you're occasionally in the mood for one of those supersized dump-truck cocktails and an "I ❤️️This Island" T-shirt at the very tourist-centric mall, but don't go into that shopping mall expecting any amazing bargains. If you prefer saving money and getting a more authentic local experience, you're better off eschewing the malls for the stores and restaurants that cater to locals.
Depending on your preferred itinerary, it may be a good idea to rent a car or sign up for a guided tour if you want to visit more sites away from the major cities. If you plan on traveling car-free, you'll probably have the easiest time getting around Oranjestad, Aruba, with its more robust mass transit and taxi options. While taxis are available in the more urban parts of Curaçao and Bonaire, public transportation is much more limited than in Aruba. If you're island hopping, you can choose from multiple local airlines that fly between the islands.
Finally, some gratitude and closing thoughts
Before we wrap this up, I have to show my gratitude to everyone who helped make this happen. Again, many thanks to CheapCaribbean for arranging all the logistics for my trip to the ABC Islands.
Finally, thank you for continuing to come back and read us here at The Manual. If you want some more great ideas for your 2023 travel plans, make sure to bookmark our "Unexpected Israel" travel guide, this helpful guide to Canada's "hidden gem" wine countries, the unfortunate downside of traveling with Airbnb, and our tips for surviving these turbulent times for air travel. Wherever you're going next, we wish you nothing but the best, safe, and happy travels.
Editors' Recommendations