If there is one cocktail that has the innate ability to pluck you from the stress of everyday life and drop you onto a tropical island, it would be the Piña Colada. Close your eyes, take a sip, and instantly see yourself walking down a beautiful white sand beach in Puerto Rico wearing short shorts and an unbuttoned white linen shirt living your best Ricky Martin fantasy. Just the mere mention of the drink can conjure thoughts of tiny umbrellas and even tinier bathing suits.
According to legend, the drink was born in 1952 at the Caribe Hilton in Old San Juan, Puerto Rico by head bartender Ramon Marrero Perez. Mr. Perez blended up a winner for decades for sun-bathers and vacation-goers alike. Eventually the drink made its way outside of Puerto Rico and things started to go downhill. Unfortunately, the '70s happened and people were sold sugary abominations that strayed far from the original cocktail. A product of the blender boom, this classic cocktail was relegated to poolside bars and booze cruises. The Piña Colada became the stereotypical drink of choice for tourists visiting anything even remotely resembling an island or coastal destination. The Margaritaville resident proudly sporting cargo shorts & a fanny-pack eschewing local eateries for the travel agent-approved TGI McFunsters.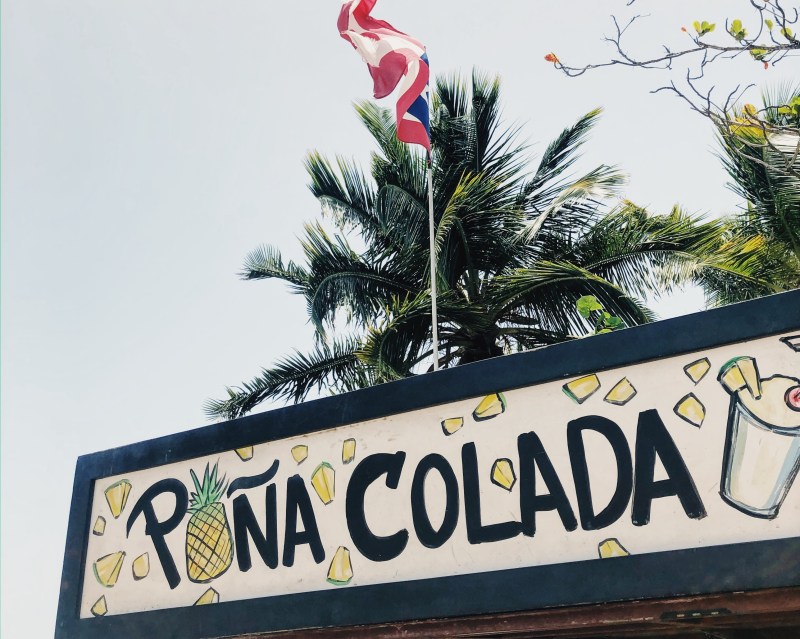 Luckily, the cocktail renaissance happened and bartenders started to care about the products in their cocktails and where these drinks came from. They researched the original recipes and began to focus on the ingredients and proper proportions. Some also reached for cocktail tins instead of the blender resulting in a lighter version with less dilution. In the canon of rum drinks, the Piña Colada is a true classic. A properly made Piña Colada will make you forget about the garbage served at all-inclusive resorts or cruise ships and will open your eyes to the true meaning of pura vida. If you're unsure of which rum to choose when making a piña colada at home, don't worry, because we did the hard work for you.
Piña Colada Recipe

Ingredients
2 ounce rum
1.5 ounce pineapple juice
1.5 ounce cream of coconut
.5 ounce lime juice
Method of Preparation
Add all ingredients to a cocktail shaker.
Add ice and shake vigorously for 20-30 seconds.
Strain into a Hurricane glass filled with crushed ice.
Garnish with a pineapple wedge and a tiny umbrella.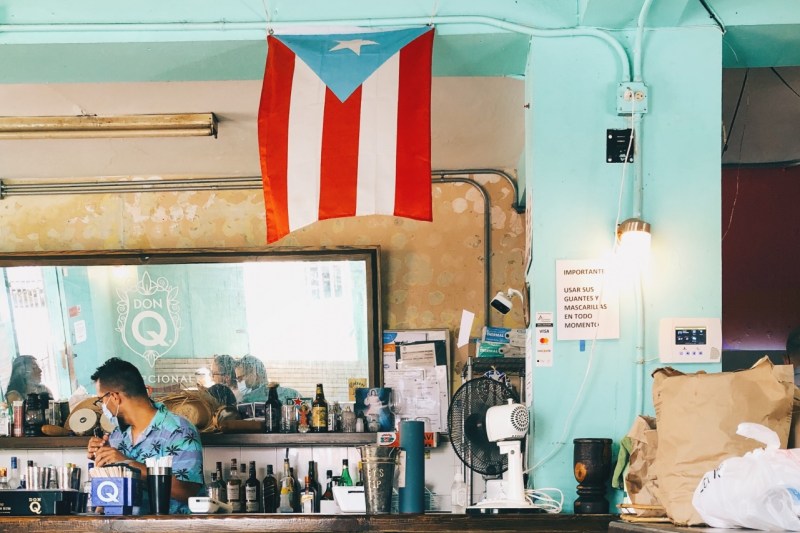 Tiki vs. Tropical
As cocktail-nerdy as it may be, the argument between what is "tiki" and what is "tropical" is something that actually happens. Now, we aren't going to dive into the problematic history of tiki this time around, but it most definitely is a topic that needs to be discussed and addressed head-on. Issues such as cultural appropriation and insensitivity and colonization are deeply rooted in the world that we know as "tiki" and it's beyond time for it to be reckoned with.
So, what is a tiki drink? Traditionally, a tiki cocktail must follow the classic "Planter's Punch" formula of "one of sour, two of sweet, three of strong, and four of weak." Some in the bar world also say that location plays a role in whether or not a cocktail can be classified as tiki, namely drinks that are created outside of, or inspired by, Oceania or Pacifika belong in the "tropical" category. While a Piña Colada served with a pineapple wedge and a tiny umbrella may seem to fit the bill as a tiki drink, it's more apt to be moved into the category of "tropical."
Piña Colada Variations
If you're ever feeling a little squirrely and want to change things up a bit, playing around with a Piña Colada is a lot easier than it may seem. It could be as simple as changing the base rum or splitting the base between 2 or more different types of spirits since it doesn't always have to be rum. But if you're like us and love all things bitter and herbal, you can instead grab a bottle of your favorite amaro. It may sound strange, but with a cocktail that is a little heavier on the sweeter elements, such as coconut and pineapple juice, the Piña Colada is begging for a nice tickle of herbal bitterness.
Brancolada Recipe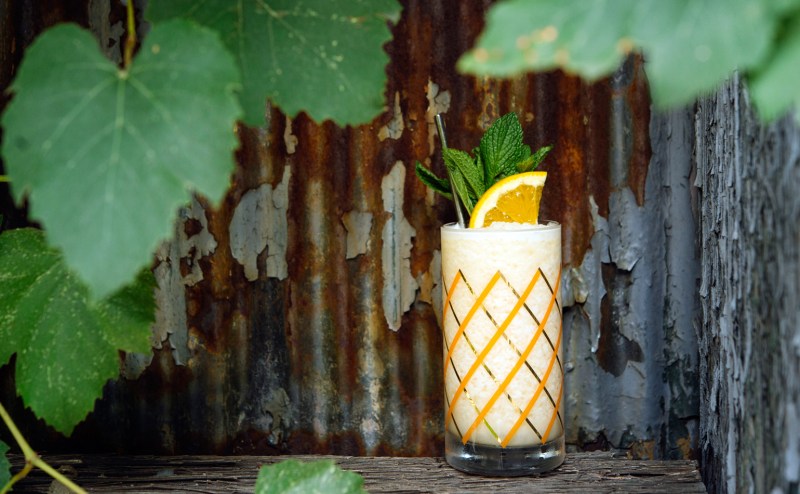 Jeremy Oertel, Donna, Brooklyn NY
Ingredients
1 ounce Fernet Brancamenta
1 ounce Jamaican rum
1 ounce coconut cream
1.5 ounce pineapple juice
.25 ounce orange juice
Method
Add all ingredients to a blender with 2 cups of ice.
Blend on high until smooth and creamy.
Pour into a tall glass.
Garnish with an orange slice and mint.
Fernet Colada #2 Recipe
Elias Adams, Grisette, Richmond, VA
"Despite the reputation of being a sugary sweet tourist drink, a well made Piña Colada is quite good. Using fresh ingredients and a nice rum, it's a nicely balanced, fun summer drink. As far as the Fernet Colada #2 goes, it was a bit of a spur of the moment kind of thing. Fernet Branca goes well with pineapple juice, coconut, and in this case, a nice dark rum. It ended up working out quite well. All that being said, bartenders will find any excuse to drink more Fernet. This is no exception."
Ingredients
1.5 ounce Plantation Original Dark
.75 ounce pineapple juice
.5 ounce Coco Lopez
.25 ounce lemon juice
Method
Add all ingredients to a shaker tin.
Add ice and shake hard for 15-20 seconds.
Strain into a tall glass filled with crushed ice.
Garnish with mint.
Peychaud's Colada Recipe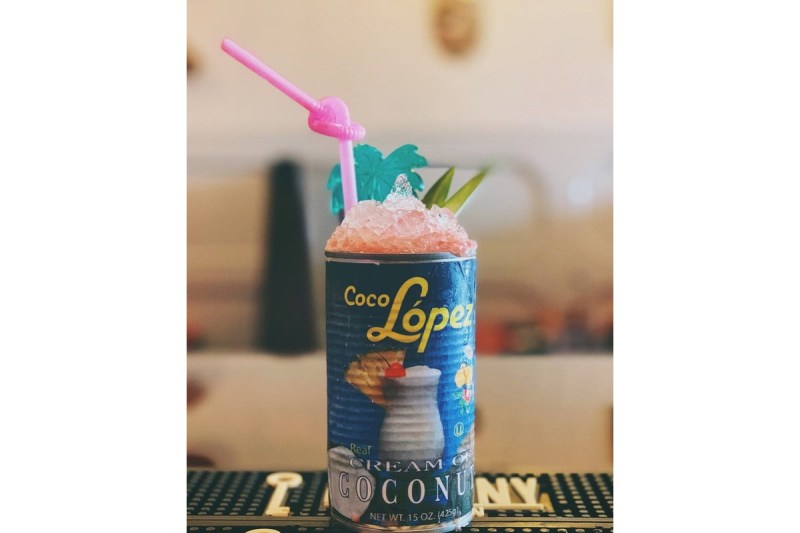 John Maher, The Manual
"When I was full-time behind the bar I always enjoyed the challenge of using full pours of aromatic bitters as the base ingredient in a cocktail, much like Giuseppe González's spectacular Angostura Sour. I'm a huge fan of the fall-spice flavors of Peychaud's bitters (along with the bright red color) so I knew those notes would work well with the flavors in a Piña Colada."
Ingredients
1 ounce Peychaud's bitters
1 ounce pineapple juice
.75 ounce Smith & Cross rum
.75 ounce coconut cream
.5 ounce lime juice
Method
Add all ingredients to a cocktail shaker.
Add ice and shake vigorously for 20 seconds.
Strain into a glass and top with crushed ice.
Garnish with a pineapple leaf and as many tiki things as you have.
Editors' Recommendations