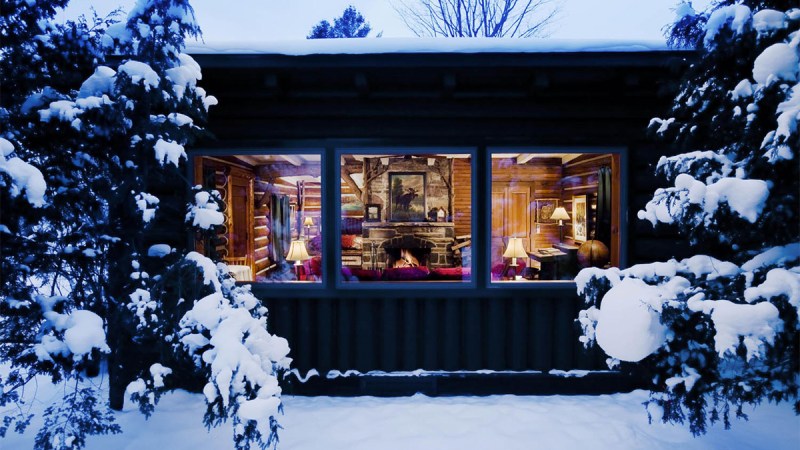 Winter is having a moment. A big one. Our social media feeds are flush with snow-covered cabins, ice-crusted beards, and glorious displays of the aurora borealis. If you're one of the unfortunate few whose winter still shows no sign of becoming a wonderland, take comfort. Escape to one of the best lodges to ring in the New Year; they're all (but one) in places where you can expect plenty of frosty fun and hygge luxury.
The Ranch at Rock Creek (Philipsburg, Montana)
If your ideal winter paradise is the kind that includes hot tubs, horseshoes, and Black Watch plaid, look no further than the The Ranch at Rock Creek. Nestled amid the vast buttes of southern Montana, the property has a crunchy cowboy vibe — think Arizona's Canyon Ranch, only with snow instead of saguaro.
The Ranch at Rock Creek offers a variety of accommodation options, from the inn-style Granite Lodge to glamping units, from deluxe log cabins to a remodeled historic barn. Nearly all include a soaking tub and are decorated in an easygoing, farmhouse look with lots of leather, weathered wood, warm blankets, and natural light.
The Ranch operates by the principle that every outdoor adventure should end with a hearty snack. For every strenuous snowshoe trek or contemplative horseback ride, look for an oyster bar or a s'mores sesh to follow. The Ranch is exceedingly kid-friendly, with an abundance of snow sport instructors at the ready, as well as arts and crafts and movie marathons for indoorsy types.
Cozy vibe notwithstanding, the Ranch is a mighty big property. So come prepared to socialize and share common spaces. If you need some me time, retreat to the Granite Spa for a mineral foot soak or a guided meditation session.
New Year's Eve at the Ranch is scheduled to the hilt with special events: a Nordic Frost & Fire aquavit tasting, a New Year's Raptor Hike, and snowga (that's yoga in the snow — don't worry, there will be plenty of hot tea on hand). There will also be traditional fun such as skiing, ice skating, snow machine tours, an, of course, sledding and sleigh rides. Late nights at the Ranch offer cocktails, live music, and big outdoor bonfires. Ring in the new year with Champagne and fireworks, and finish it off with a long soak in the outdoor hot tub.
Taylor River Lodge (Crested Butte, Colorado)
Perched over a trout stream in Crested Butte, Taylor River Lodge opens its pitch with the promise of offering a "life-affirming" stay. Um, sold.
This intimate, forest-bound camp looks like the kind of summer home that would be in your family for generations, if your family was the absolute coolest. Six cozy cabins and two guest houses positioned at different points along the river are outfitted with steam showers, folksy artwork, and minibars filled with organic veggies, cheese and charcuterie, and a selection of legit wines. Oh, and don't hold back on the latter. Alcohol is included in the room rates. (For real.)
This being Colorado, you can — and should — expect biodegradable bath products, produce grown on site, and plenty of accommodation for kids and pets. One thing you should not expect, however, is a television. That's because Taylor River Lodge is built with fraternization in mind. (Think you're not popular? Toss a few beanbags into a corn hole board and see how quickly that changes.) A climbing wall, casting pond, and shooting range offer unique opportunities to get some color in your cheeks. In the rare event of inclement weather, the common rooms, plush with Navajo upholstery and taxidermy, offer classic night-owl diversions like darts and pool. Reward yourself for being such a social butterfly with s'mores served fireside.
Perfect for the "I don't make resolutions" type, Taylor River Lodge is the best place to escape the noise and celebrate like it's just another day.
Timberline Lodge (Mt. Hood, Oregon)
This legendary property in the shadow of Mt. Hood brings a lot more than historic charm. With rooms built for packing in the friends and package discounts for the nearby ski runs, Timberline Lodge is where good ski bums go when they grow up. The atmosphere is upscale yet convivial — they know you came to play. Decompress in the sauna while you get your skis or snowboards tuned up (for free) for the following day on the slopes. Seven different dining options, all featuring locally sourced ingredients and beers microbrewed on site by Mt. Hood Brewing Co., make delicious work of fueling up for snowy fun. When you're ready for a lunch break, ski into the Phlox Point Cabin, an adorable little 1930s guard station-turned-café where you can warm up with hot drinks, tacos, and beer. At day's end, aprés ski in classic style over fondue, shuffleboard, and beer. Alternatively, you can hit the hot tub to soak those tired muscles under the smile of the Cascade range. (We're guessing you can bring your beer along.)
New Year's Eve visitors who want more than just a ski-cation can sign up for igloo-building workshops, a moonlight snowshoe trip, nature tours, storytelling and painting classes, and cocktail competitions (making, not drinking.) Holiday festivities will include snowcat rides, piano singalongs, dancing, and bonfires accompanied by s'mores.
On New Year's Eve, as always, Timberline Lodge is a place for hanging with friends and rediscovering simple pleasures.
Lake Placid Lodge (Lake Placid, New York)
This Condé Nast Reader's Choice Award winner offers a step back to a simpler time. Straight out of the Adirondacks' Gilded Age, the grand Lake Placid Lodge stands on the fringes of a tiny village that has hosted generations of travelers seeking an escape to the woods without foregoing the comforts of home.
The lodge's partnership with Relais & Chateaux means that you can expect some eye-rolling good food here. The pancakes in the main dining room have been ranked in the top 10 in the country. Be advised that jackets are encouraged for post-breakfast dining (your grandpa would approve). For nights when you just can't bear to change out of your joggers, Maggie's Pub offers a casual atmosphere, a crackling fire, and a damn fine duck poutine.
Rediscover the simple pleasures with ice skating, ice fishing, and toboggan rides. Thrill seekers can drive 30 minutes to Whiteface Mountain for the longest vertical drop of any Eastern seaboard ski mountain, or visit the Olympic ski complex in the village of Lake Placid. If you'd like to see the top of the mountain without having to whoosh down, you can ride the Olympic gondola to the peak of Little Whiteface and enjoy a panoramic view of the Adirondacks from the observation deck.
Spend an afternoon inside to brush up on some old-timey library games like backgammon, bridge, or chess next to the blazing fire in the what room. Indulge in the soaking tub and follow it up with an in-room massage. Enjoy the nightly lakeside bonfire, along with complimentary hot chocolate. (No harm in asking the bartender to lace it with something nice.)
Quiet, cozy, and ever-so-nostalgic, the Lake Placid Lodge is ideal for people who want to retreat without going too far from home.
Churchill Wild (Manitoba, Canada)
Chief among Canada's many charms is its wealth of northern ecolodges. Sadly, many of them are closed during the winter months. (With good reason — who wants to glamp in sub-zero temperatures?)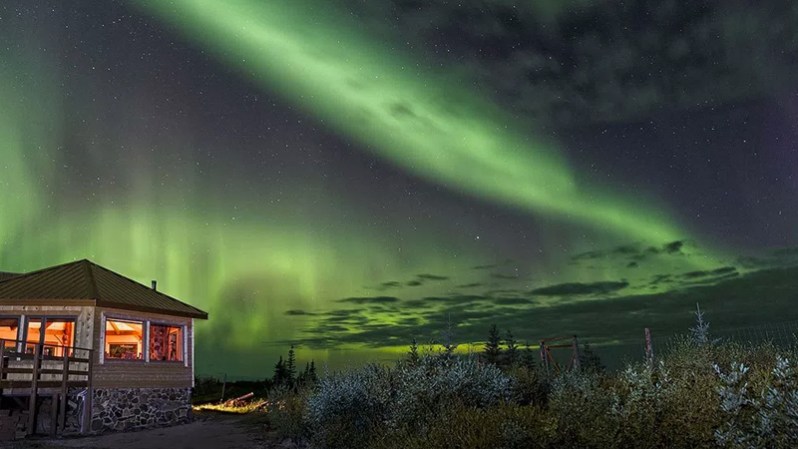 Churchill Wild luxury lodges are the exception. Chief among Churchill Wild's charms are wood-fired cedar hot tubs, mouthwatering provisions, picture windows perfect for viewing the northern lights, and, oh, and did we mention frequent visits from polar bears? The lodges are located smack in the middle of polar bear country on Manitoba's Hudson Bay coast, and offer arctic safaris guided by professional biologists. This is also where you'll nail those northern lights photos we were talking about earlier. And there's no better way to gloat over your "likes" than while enjoying a breakfast of banana-stuffed French toast.
If you're looking to kick off 2018 with true adventure, there's no better place than Churchill Wilds.
Salish Lodge & Spa (Snoqualmie, Washington)
How do we put this delicately …do you want to spend New Year's Eve in Twin Peaks? (Wow, Bob, wow.)
The Salish Lodge & Spa is the real-life Great Northern Inn from David Lynch's iconic TV drama, positioned at the top of Washington's Snoqualmie Falls. Although it doesn't actually cascade in slow motion, the waterfall nevertheless provides a picture-perfect setting for intrigue, mystery, and falling in love. Even if it's only with the 320-count bed linens. We're fine with that.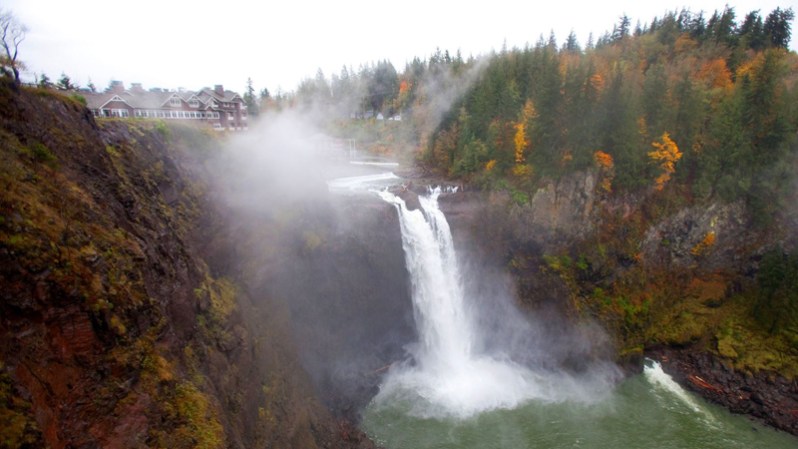 All rooms at the Salish include a double-wide jetted hot tub, wood-burning fireplace, and the services of a bath butler who will customize your soak to your exact desire. The gorgeous slate-floored spa, named among Condé Nast's top 50 spas in the country, offers steam rooms, a dry sauna, and therapeutic pools, as well as holiday specials like a dry exfoliation treatment or a spiced honey tea body scrub.
With an ambience both sensuous and suggestively demure, the Salish Lodge is designed to nurture passion. Surrender to romance with a glass of brut at afternoon tea, followed with a fireside couples massage. You can even enlist the help of Salish Lodge's "Romance Concierge" for an evening too hot to print.
As Agent Cooper advised, "Every day, once a day, give yourself a present." The Salish Lodge is tailor-made for couples who want to ring in the new year while holding each other close.
Ventana Big Sur (Big Sur, California)
Like a lost lover, Big Sur is always on our minds. New Year's Eve is the perfect time to reconnect with the moody jewel of the California coast.
The five-star Ventana Big Sur is the grand dame of hippie luxe, a place for free spirits, seekers, and visionaries to do some deep soul-searching in the throes of sensory comfort. Accommodations range from single rooms to suites to villas equipped with full kitchens and wood-burning fireplaces. (Be careful — you may come out of your meditation and realize it's halfway through 2018.) You can also go the minimalist route and book a glampsite amid the redwoods, instead. (It's not that minimalist—a picnic breakfast is delivered to your cabin daily.)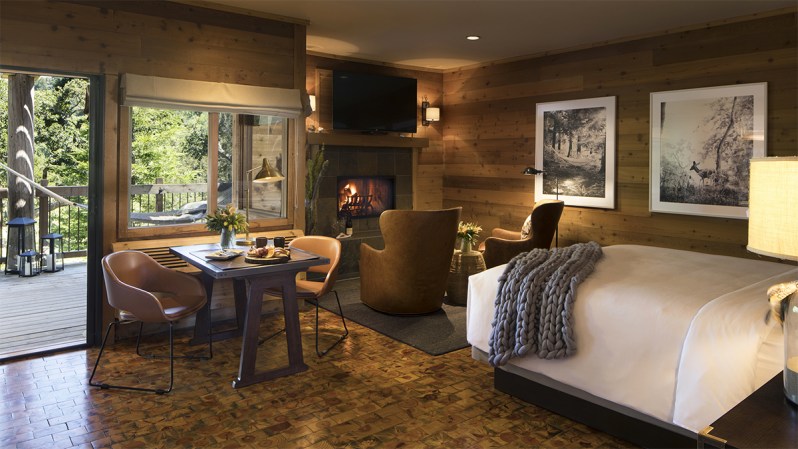 Ventana celebrates the new year in characteristically understated style. However, you will still find certain celebratory splashes here and there, starting with a Lillet-and-lemon soda cocktail offered upon your arrival. Enjoy a massage infused with peppermint oil, a scent that brings aura-cleansing benefits and nostalgic memories. Ventana's health-conscious menu bears a holiday twist, with roast turkey and cider-glazed brussels sprouts alongside tuna crudo and wild mushroom risotto.
Yoga classes are offered daily, along with guided hiking trips around Big Sur's coastal trails. If you prefer to chart your own course, the resort provides a wealth of trail maps, wildlife and history resources, even a handmade walking stick. If you feel like being social, go take in some art at the Glass House Gallery, dig the record collection in the music room, shoot some pool in the game room, or post up by the patio fire pit and wait for magic to happen.
Free your mind from the hullabaloo of 2017, and lose yourself in the quiet profundity of the Pacific redwood forest. Or, if you're staying in the city this year, blast our thumpin' New Year's Eve party playlist.
Article originally published by Amanda Gabriele on December 30, 2013. Last updated by Chelsea Batten on December 19, 2017.
Editors' Recommendations