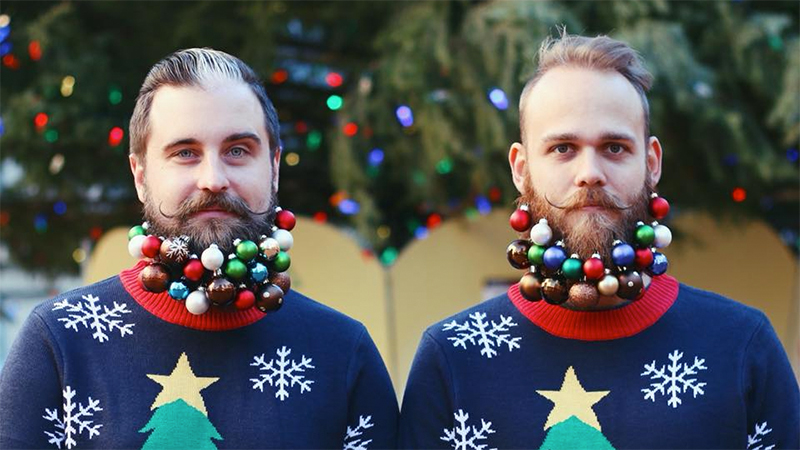 Whether subdued or substantial, fuzzy or full-grown, we all know by now that beards are a trend that is anything but fleeting. You can't visit a men's website without finding amazing information on the history of beards, how to keep them from itching, and roundups of the best beard oils in the world. Why is this? It's simple. There's a demand for details — men want to know how to grow the best beard they can have. There is so much demand, in fact, guys are out there making careers out of their big, beautiful, bearded selves
If you're able to make some cash of your chops, then nicely done — that's no easy feat. If not, but you wouldn't mind some pointers, you're in luck. We chatted with four guys behind three Instagram handles who have perfected the art of the photographed whiskers. Below you will find their best beard grooming tips.
Eliezer Infante
Eliezer Infante may have started his blog, North of Man, as a menswear site to showcase his personal style, but it — along with his Instagram account — has quickly expanded to include styling, photography, and creative direction. It seems as his following grew, so did his impressive face of hair. His beard may stop inching along one day, but if we had to guess, his success is only nearing five o'clock shadow status. Here are Eli's tips for how he grew his fashionable facial hair:

What is your morning routine?
Every morning I'll wash my beard with a 2-in-1 shampoo and conditioner. After I rinse, I'll apply a very small amount of leave-in conditioner. I find it the sooner I tend to my beard after washing it with the leave-in conditioner, the softer and less dry it gets. After I get dressed and do my hair, I apply a small amount of grooming oil.
What's the one tip you would share with a newbie?
The main tip I would share with someone trying to start growing a beard is to use Jamaican castor oil. It has properties that promote growth, strength, and conditioning.
What are other favorite products you like to use?
For my 2-in-1, I like to use Milkman Grooming Co. Shampoo and Conditioner. The leave-in beard conditioner I swear by is Shea Moisture Jamaican Black Castor Oil Leave-In Conditioner. My beard oil of choice is Kiehl's Grooming Solutions Nourishing Beard Oil — it's lightweight and smells great.
Paul Eli
Paul Eli seems to have stubbled into beard stardom almost by mistake. (Get it? Stubbled?) As the manager of the expertly curated Canadian men's and women's boutique. LEO, in Calgary, his Instagram side-hustle has developed seamlessly along his day job. Which is all the more reason to ask, how the hell do you keep your beard looking so damn good? He gives us a bit on insight below:
What would you tell someone who wants to start shaping their own beard?
Just allow the professionals to do what they do best. For the most part, men don't cut their own hair, so they shouldn't be grooming their own beards, either!
What do you do when you can't make it to the barber?
Between professional trims, I'll use a trimmer with a guard to clean up the under beard area and my mustache, but I'll avoid any further grooming unless I absolutely have to.
What are a few of your favorite beard products?
To wash and condition, I'm a big fan of Zeus Beard Shampoo and Conditioner. After that, I love Apothecary 87 Vanilla and Mango Beard Oil, and 5 O'clock Grooming Cafe Beard Oil.
The Gay Beards
You can't talk about the famous beards of Instagram without mentioning these guys. Brian and Johnathan, better known as The Gay Beards, decided to go floral with their facial hair back in July 2008, and the rest, as they say, is history. They brought the art of beardistry to the mainstream with not only their well quaffed, pristine facial follicles, but with their seemingly endless ideas as to how to adorn them. If you are looking to get creative with your beard, take inspiration from their site or their YouTube channel. If you are just looking for tips to get your beard to their picturesque status without any of the props, you're in luck, because they have shared some tips below:
What do you guys say is the most important part of beard maintenance?
Trimming your beard, no matter the size of your beard, is crucial to keeping it looking healthy and happy. A good trim once a month should suffice, and always do it post-shower (that's when your hair is the softest and easiest to distinguish what should stay and what should go). Beard oil is a lifesaver, particularly if you find your beard gets itchy. Once again, always apply post-shower.
What is your must-have beard oil?
The Groomed Man Co. out of Australia is our favorite beard oil thus far. And, needless to say, we have tried a lot of beard oil. [Other products The Gay Beards have used to maintain their beard perfection are The Art Of Shaving Beard Wash and Conditioner and the Northern Brewery At Home Micro Bru Brewery Kit. Because everyone knows good beer helps great beards grow. It's just a fact.]
What advice do you have to those guys who are frustrated by the thought of growing a beard?
Patience truly is key. Nobody's beard looks that great from the start, so push through the awkward phase, and we promise you won't regret it. Not all beards are created equal, and that is okay. Some are thick, some are thin, others brown, red, black, curly, straight, etc. The point being, embrace your beard, let it be an extension of yourself, and wear it proudly. You only live once, and it's very much a part of you, so love it and take care of it like it's your child!
Editors' Recommendations