Editor's Note: Last November we had the pleasure of spending 10 captivating days in Scotland. Below is but one adventure of many from our stay. We hope the joy we experienced comes through in all our posts and missives from our adventure, which no doubt read better with a wee dram in hand.
If you've never ventured to the land of kilts and tweeds, Scotland's capital will provide the perfect introduction to one of our favorite countries.
Edinburgh, Scotland is a place for gentleman. It is full of kilt-blowing hikes up its many hills, barrels full of whisky to sample, hearty farm-to-table feasts, and sartorially savvy shopping.
Nestled in the Lothian region of the country, Edinburgh (pronounced Edinbrah!) is the perfect-sized city with plenty to do, but not as overwhelming as London or Rome. It is also the ideal place to hunker down while exploring some of the lush countryside or cozy coastal villages. We could go on and on about 'Auld Reekie' but for now, here are our suggestions for your visit:
PLAY
The view from the top is out of this world.
A trip to Edinburgh wouldn't be complete without a gentle hike to Arthur's Seat. The dormant volcano is the highest point of nearby Holyrood Park and consequently, the view from the top is out of this world. If you're into history, a visit to the fort is a must.
After your hike be sure to tour this history packed old palace where Mary Queen of Scots once roamed and her private secretary ( err, possible lover) was murdered. Walk through the hall where Bonnie Prince Charlie held court for five weeks and explore the ruins of the magnificent abbey, which was destroyed in the 'Glorious Revolution'.
From Holyrood you can take a leisurely walk up the Royal Mile ending at Edinburgh Castle. To be honest, this is very much a tourist walk with lots of 'Made in China' shops and street musicians but there are some quality spots like Gordon Nicolson Kiltmakers and we had the perfect pub lunch at No. 1 High Street. Once you arrive at the ancient Edinburgh Castle we suggest skipping it unless you are a real history nerd. It needs a little upgrade on ye old mannequins with dusty beards. Simply enjoy the view from there before wandering to the next stop.

Food & Drink
Scran is slang for food and Scallie is short for Scallywags, so clearly this is our kind of establishment. While the vibe is very laid back, this gastro pub is well known for great Scottish food and artisan beers. We had the beef sausage with mash, paired with a side of cauliflower cheese and a beer flight. We were so gloriously full by nights end we could barely tap the Uber app. When asked where they source their beef our jolly waiter pointed out the window and said, "Oh, that farm down the hill!" It doesn't get much more local than that.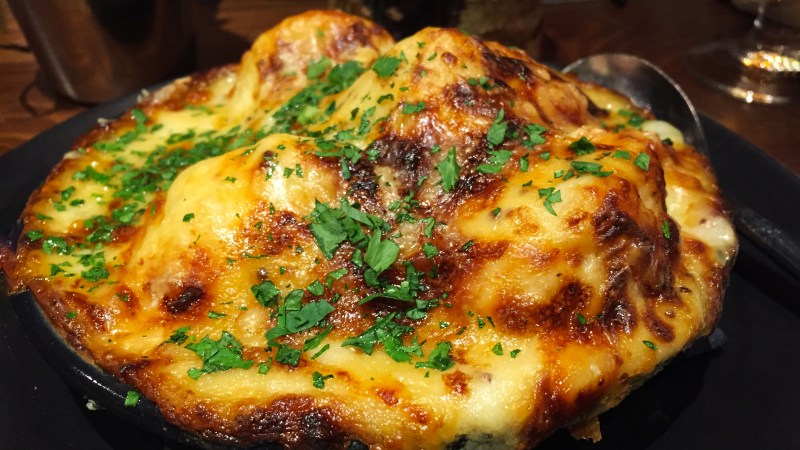 For a fancy night out we had a grand ole time at this establishment (which comes from the same people behind Scran & Scallie). This high-design culinary experience showcases Scottish produce at its best. The welcoming staff was eager to explain everything on the menu and recommend the best wines to make it all pop. Since this is another 'nature-to-plate' kind of restaurant, the menus change seasonally, but we have no doubt Chef Patron Dominic Jack's many years of training in some of France's top kitchens will provide a memorable meal.
When traveling to far off destinations, we always hope to find that one, utterly unique dining experience and Gardener's Cottage was it. Co-owned by chefs Dale Mailley and Edward Murray, Gardener's Cottage is committed to serving the best seasonal, local produce (they were also one of the early adapters to this trend) in a space that is straight out of a Kinfolk spread. The cottage was built in 1836 and is located in Royal Terrace Gardens at the foot of Calton Hill in the heart of Edinburgh World Heritage Site. The current owners completely restored the abandoned cottage and the interiors are minimal with simple candles on each table, a record player in the corner, and the din of the kitchen staff's chatter lending the feel of a home cooked meal.
The Scotch Malt Whisky Society
If you want to really go deep in the whisky rabbit hole on your trip to Scotland, this may be your new favorite joint. While 'SMWS' is a members only club, the first floor is open to the public. We sallied in here after dinner one night and our waiter was a wealth of boozy information. Their whole platform is to inform and educate their members on single-cask whiskies, so it's not about the brand, hence all whisky is presented in the same iconic Society green bottle. Instead it is all about the experience and what you are looking to try. As they explained to us, "Our commitment to taking members on a journey of flavor sensations means our quest extends to coveted casks from "silent" distilleries that are no longer in operation, giving our adventurous members the opportunity to taste whiskies which may be gone forever." Clearly this is not a place to get hammered, but to get schooled.
Hipsters and older boozers co-mingle in the most wonderful way.
Now for the getting hammered part. The Bow Bar is a cherished old spot in town where hipsters and older boozers co-mingle in the most wonderful way. There is only one small television (turned off on our many visits), no loud music and no scene, just raucous laughter, canoodling couples, and great cask beers and single malt whiskeys.
Located in a former Victorian pump house in the old town, this is one of the more sceney places in town and well worth a visit. While we shudder at the term 'mixologist', these bartenders know how to make a mean drink. With 200 whiskies on their shelves there is plenty of whisky to try, but give one of their cocktails a whirl like the Patti Smith made with Woodford Reserve, Cherry Brandy, Cynar, Peach, and Lemon.

Shop
Anyone who knows clothes knows Stewart Christie in Edinburgh.
Numerous editor and stylist friends said this was a must visit and of course they were spot on. We were lucky enough to meet the new owners of this grand old shop and, when I asked Victoria how long the company had been around she coyly quipped, "Oh just 300 years." Indeed they have piles of archival books that are centuries old and filled with illustrations of frock coats, military braids and, fabric swatches that we were very tempted to run off with.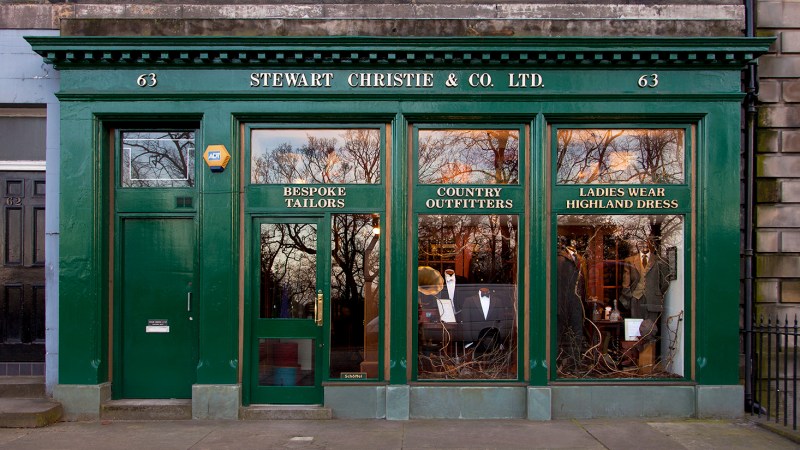 But the clothes. This is where you can come and buy a handsome pair of socks for dad or a full-bespoke suit for yourself. We are especially fond of their wall of corduroy in every color in the rainbow. Need a deer-stalking look? New shooting coat? A simple Harris Tweed cap? These kids gotcha covered. (Psst, ladies just launched too!)
We felt right at home in this warm and welcoming menswear store (near Bow Bar FYI). Here you can go from casual to tailored and everything in between. While they are known for tweed, we found some great Fair Isle sweaters, cufflinks, and bags in the mix as well. On their top floor is where you can find their tattooed tailor who we really enjoyed meeting. Besides having a steady clientele in their shops, Walker Slater has a partnership with Scottish Rugby and the Ryder Cup.
Stay
Formerly known as The George Hotel, the Principal group has updated this handsome old hotel while adding a very cool coffee shop (Burr & Co) and a swinging bar and restaurant (The Printing Press). It is located in the heart of the new town, 'new' having been built in the late 1700s. Request a room in the back with majestic views of the north side of the city overlooking the port and mountains. We also highly suggest dining at their restaurant and nightcapping at the bar.
Editors' Recommendations