Calling all indoor dudes: Do you scroll covetously through your friends' camping 'grams, but hate how nature can sometimes be insect-ridden and unpleasant?
There's a new, high-shine brand in luxury camping. Think the crackle of a fire with 'smores and a great Malbec, fresh linens stacked in mid century modern interiors, and even a weekly curated playlist to be the soundtrack to your semi-outdoor glamping adventure.
Autocamp lives up to its slogan: "adventure simplified." With locations in Santa Barbara and Sonoma County's Russian River, you can satisfy your wanderlust under a canopy of redwoods without getting a crick in your neck from tent sleeping. Their Airstreams — a staple of adventurous Americana if there ever was one — come equipped with an array of top-notch comforts like Casper mattresses, locally-roasted coffee, boutique bath products, and showers. If you've never been in the chrome trailers that have been a hit with America's road warriors since 1929, here's your chance.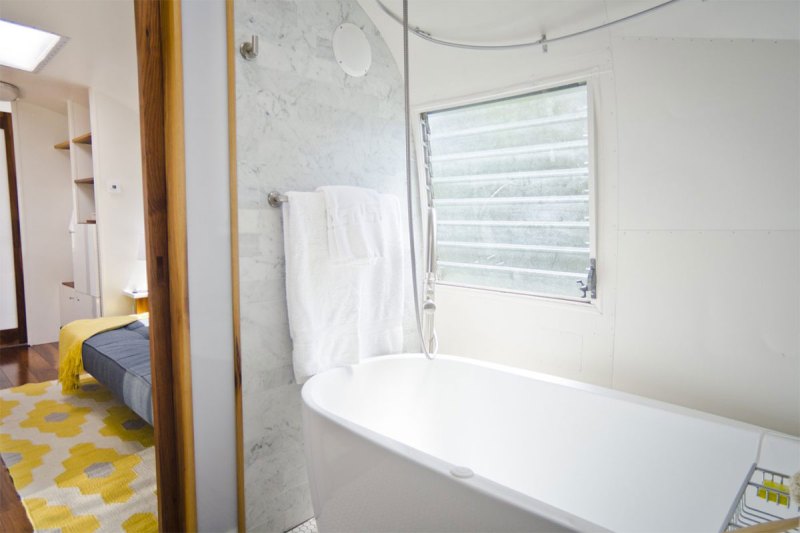 Yes, showers, thank heavens. Some sites also feature canvas tents, beach cruisers you can take yourself on tour with, and flatscreen TVs for when you've had enough of mother nature for one day. And city dwellers will breathe a sigh of relief along with that fresh Californian air when they learn that there's high-speed Wi-Fi throughout Autocamp's properties.
If you've ever wondered whether moving out to the woods in a tiny house is for you, their sustainable and space-efficient design will give you a taste of what a little ingenuity can do with the great indoors. There's even enough room for your dog if you ask nicely at booking. You might find yourself returning home with renewed inspiration about the ways you use your space and the sense of adventure you bring to your home.
Editors' Recommendations