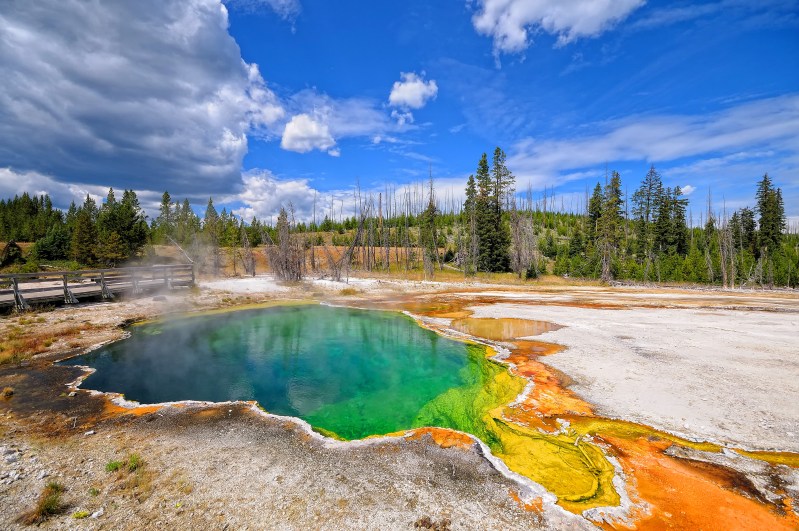 Get ready to pack your bags and hit the road! The adventure enthusiasts at Adventures on the Rock have done all the heavy lifting for you. They've created a Camping Index that analyzes each of the best states for camping based on ten critical elements to help you make the best decision about where to camp this summer.
The analysis used a range of statistics to assess each state, including the number of national parks and landmarks, hiking trails, RV parks relative to population, paid or free campsites relative to population, average fuel prices, yearly average rainfall, diversity of plant and animal species, death caused by dangerous plants and animals, and deaths per 10 million national park visits.
The best states for camping
Each state was given a score out of 10 for each category. Add that all up, and we have some easily comparable metrics. With 100 being the best and 0 the worst, here are the top ten state rankings to camp in this summer:
Wyoming (72.12/100)

Montana (69.29/100)

New Mexico (65.94/100)

Idaho (63.62/100)

Vermont (61.23/100)

South Dakota (61.12/100)

Utah (60.15/100)

New Hampshire (59.93/100)

Colorado (59.86/100)

North Dakota (58.81/100)
Why Wyoming tops the list
So what makes Wyoming so special? It's no secret that Wyoming has always been a popular destination for outdoor enthusiasts, and it's not hard to see why. With a whopping 26 RV parks, 118 regular campsites, and 45 free campsites per 100,000 residents, you'll be sure to get your top pick.
And that's not all. With a low average yearly rainfall and average fuel prices that won't break the bank, Wyoming is the perfect destination for an affordable and unforgettable camping trip this summer.
What truly sets Wyoming apart is its vast network of hiking trails. Wyoming also ranks third in the nation for the number of hiking trails, boasting an impressive 350 per 100,000 residents. Just imagine all the breathtaking views you'll encounter while hiking through the stunning Wyoming landscapes. While you're there, take the opportunity to explore the diverse range of flora and fauna, because it's truly a nature-lovers paradise.
Not only does Wyoming have an impressive range of hiking for every experience level, but it also has an incredible amount of state parks. From the majestic Yellowstone National Park to the iconic Devil's Tower National Monument, Wyoming has something for everyone. Whether you're looking for a leisurely stroll or a challenging climb, you'll find a trail that suits your experience level and preferences.
As the undisputed leader of the state rankings, Wyoming's impressive state parks and abundance of camping options make it a must-visit destination for outdoor enthusiasts.
Editors' Recommendations