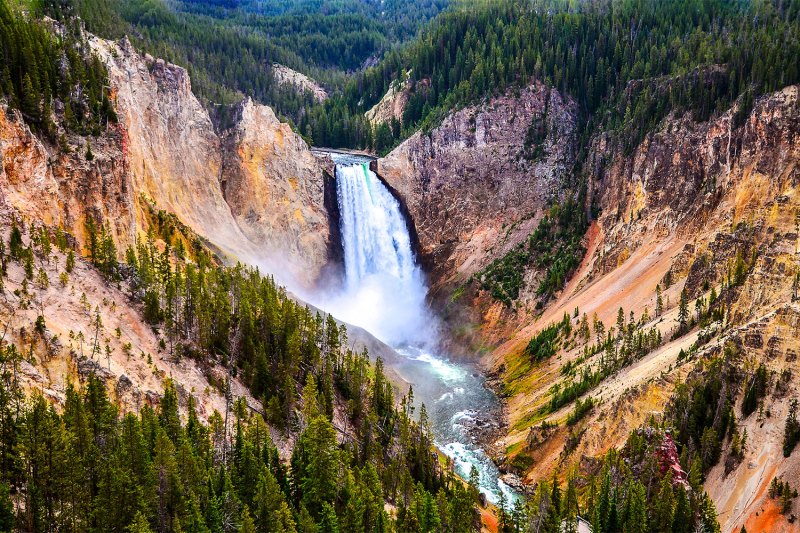 Yellowstone National Park is one of the crown jewels of America's National Parks system. It quite literally has it all: Majestic geysers, technicolor thermal hot springs, bison-filled forests and fields, craggy canyons, roaring waterfalls, and — you get the gist. Stretching nearly 3,500 square miles across northwest Wyoming, Idaho, and Montana, Yellowstone attracts millions of visitors and tourists looking to revel in the beauty of the country's most spectacular landscapes (just don't get too close to the wildlife).
Indeed, it's an absolute bucket-list-worthy destination for adventure-minded people who want to visit beautiful national parks this year. If the idea of its picturesque landscapes gets you excited, here's a list of the essentials you'll want to pack to stay safe and comfortable, so you can enjoy everything the park has to offer.
What to pack for day trips in Yellowstone National Park
Whether you're planning to visit Yellowstone in the spring, summer, fall, or winter, there's a whole host of items you'll need to pack to ensure your comfort and safety. Here's our expert packing list:
Daypack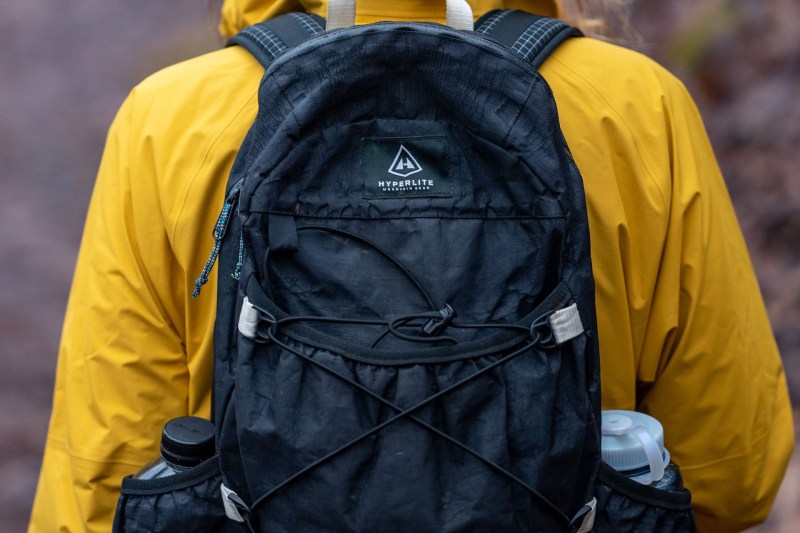 A comfortable, sturdy, and functional daypack that can hold all the supplies you need for a day, plus some extras for emergencies, is arguably the number one thing you'll need for a trip to Yellowstone. Exact requirements and style vary by person, but it's a good idea to get a daypack that's water-resistant or weatherproof, with adjustable straps that will feel comfortable on your back and shoulders. One of the best hiking daypacks we recommend is the 17-liter Hyperlite Mountain Gear Daybreak Ultralight Backpack, designed to store all your essentials without breaking your back or shoulders (or wallet).
Bear spray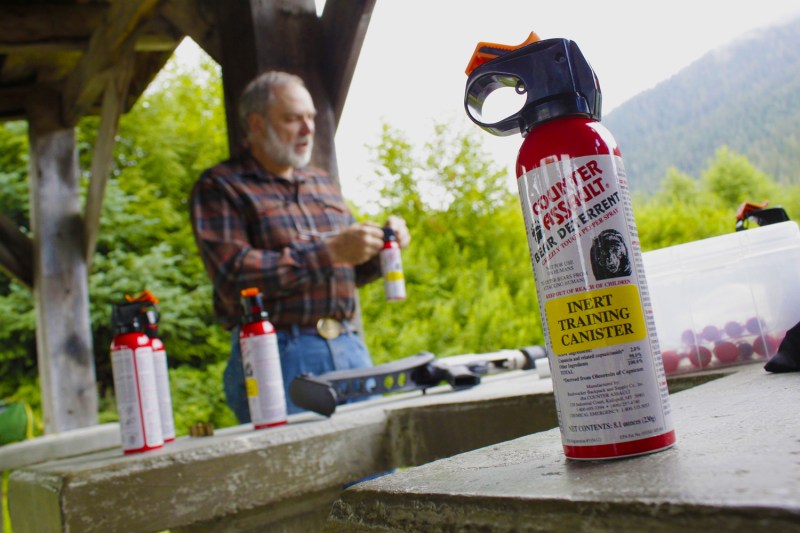 There are no lions or tigers, but there are bears aplenty throughout Yellowstone — both black bears and grizzlies. So whenever you're hiking, especially in the backcountry or in less-crowded areas, it's a good idea to bring a can of the best bear deterrent or bear spray, such as this one from Counter Assault. Bear spray should only be used if a bear is actively attacking or charging you. So be sure to make loud noises while hiking in bear country so they're aware of your presence and you can avoid confrontations in the first place. Feel free to check out our guide on how to survive a bear attack.
Insect repellent
During the summer, Yellowstone National Park has large swarms of mosquitoes that hang out around lakes, ponds, and other bodies of water. So if you're hiking, camping, or spending time near the park's rivers or lakes, adding bug spray to your packing list to keep those pesky skeeters at bay is essential. Yellowstone also has horse and deer flies, whose bite packs quite a punch, so be sure your bug spray will ward them off as well! We suggest getting this insect repellent from Sawyer since it offers 12-hour and eight-hour protection against mosquitoes and flies, respectively. DEET-based sprays are the most effective, but we've highlighted natural insect repellents that don't stink if you're looking for more natural remedies.
Binoculars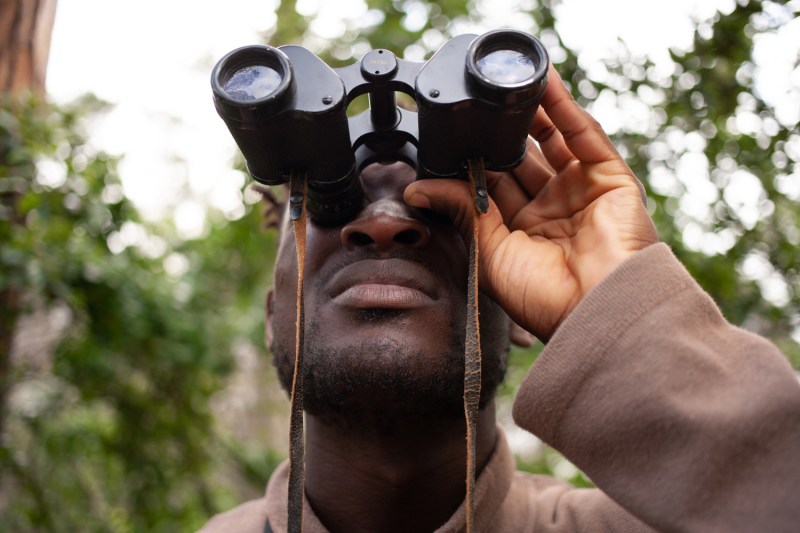 Yellowstone is renowned for its wildlife, including plenty of big game, like bison, bears, elk, wolves, and many more. For your safety and that of the animals, you need to give them plenty of space. Most often, you'll be observing these majestic beasts from a distance, requiring the use of a good pair of binoculars. We especially love Celestron's binoculars for their eight times magnification power so you can clearly view Yellowstone's fauna without disturbing them.
Camera
From wildlife to landscapes, there's always something to see and admire around Yellowstone, so consider packing a good quality (ideally waterproof) outdoor action camera like the to capture those moments. For close-up wildlife shots, you'll want a digicam with a solid telephoto lens. We love Panasonic's Lumix G100 with a compact, mirrorless design that's hiker-friendly and versatile enough for both still photos and high-def 4K video.
Sun protection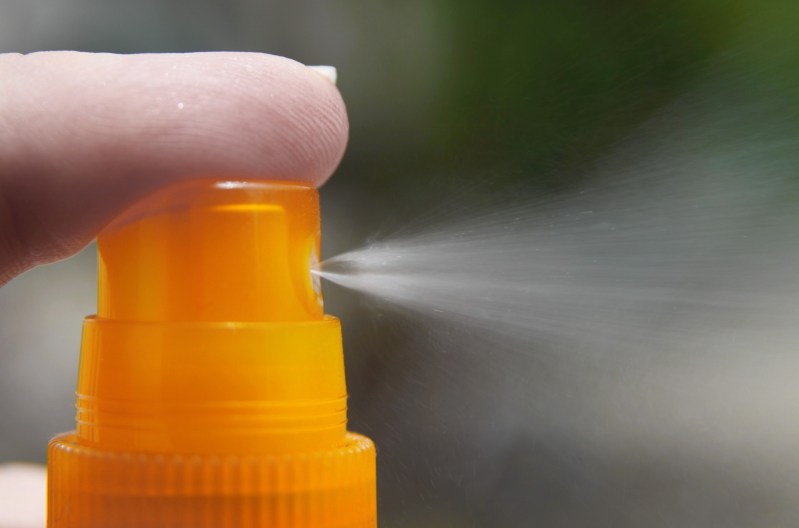 The sun burns hard on hotter days, so make sure you're equipped with the best protective sunscreens. We love EltaMD's Sport Sunscreen Lotion for its non-greasy formula and SPF 50 sun protection. It's also infused with vitamin E to help minimize free radicals. Pack your hat, sunglasses, and even sun shirts too to make sure you're fully protected.
Hiking boots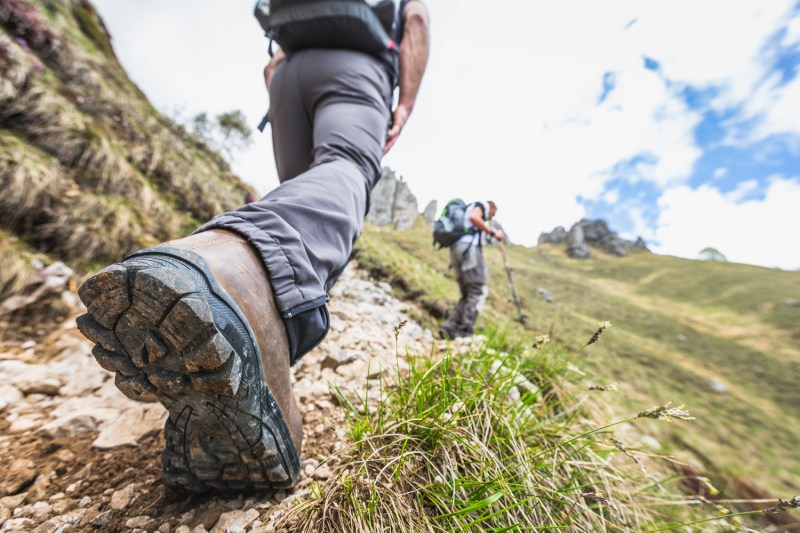 Next to your daypack, a good pair of hiking boots is a must. The latest Torre AT GTX Waterproof Hiking Boot from Vasque is a solid option with an advanced chassis for reducing foot fatigue and improving traction on the trail. Although everyone has their own preference for brand and type of hiking shoes, there are a few universal rules to keep in mind: They should be comfortable with good support, and if you bought new hiking shoes for the trip, be sure to break them in beforehand. There's nothing worse than going on a day-long hike in new hiking shoes and ending the day with bloody, blistered feet.
Water shoes or hiking sandals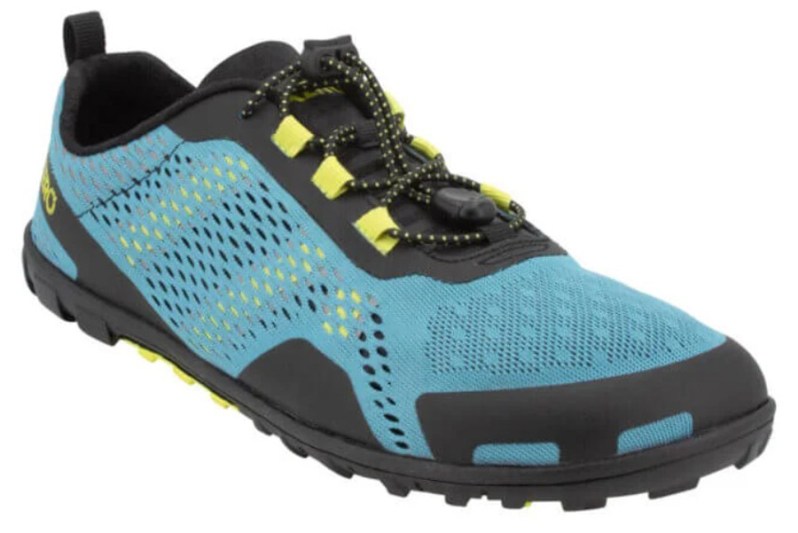 Planning on hanging out at Yellowstone Lake or in one of the park's 1,000 streams and rivers? Don't forget to pack sturdy water shoes or hiking sandals to splash around in. We love Xero Shoes' ultra-versatile Aqua X Sport with water drainage holes, adjustable lace locks, and a comfy footbed for all-day trekking in and around the park's many trails and bodies of water.
Hiking socks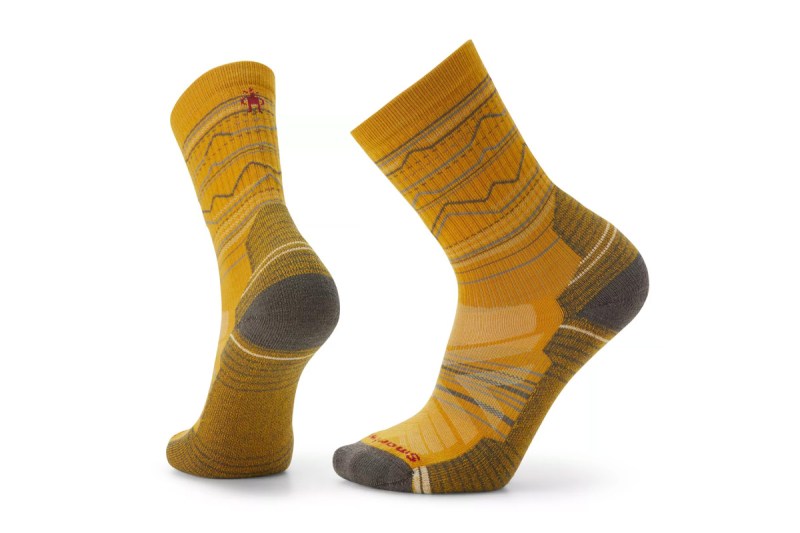 You'll likely spend entire days walking around, enjoying the sights, so you need sturdy, high-quality hiking socks that can wick moisture and won't rub against your feet and cause blisters. Smartwool's Hike Light Cushion Mountain Range Pattern Crew Socks offer maximum breathability, ample cushioning for your feet, and a very Yellowstone-appropriate golden mountain range pattern to boot.
Water bottle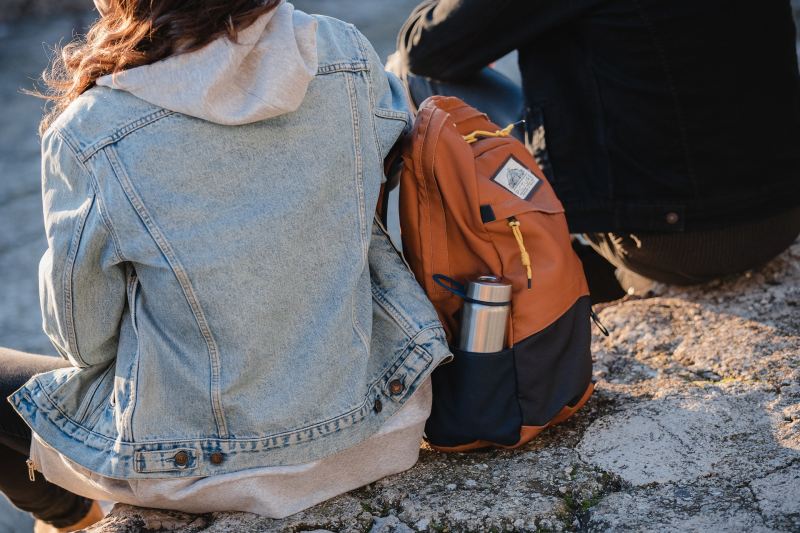 Temperatures in Yellowstone can soar to the 80s or higher during the warmer months, so it's important to stay hydrated. Add an insulated water bottle to your packing list, ideally one with vacuum insulation, like a HydroFlask water bottle, to keep your favorite hiking beverages icy cold for hours. Remember to drink water frequently, even if you're just driving around the park.
Layered clothing for all-weather use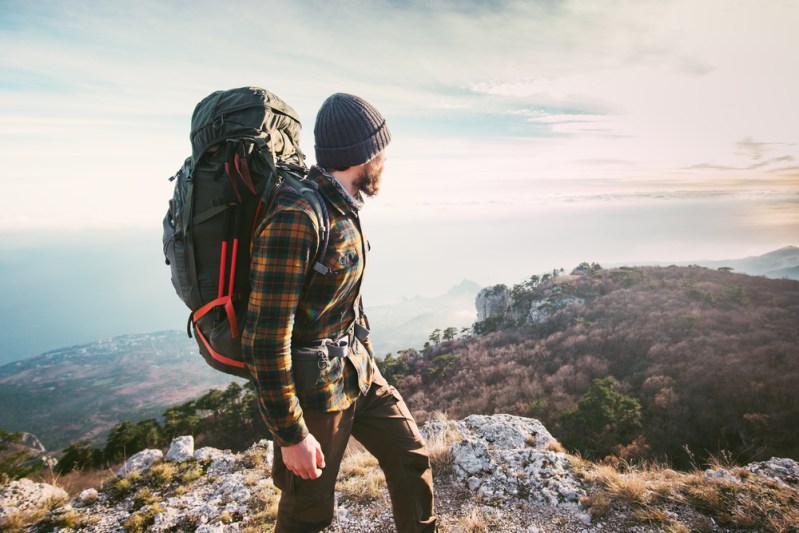 Yellowstone's daytime weather is generally sunny and fair, but in the afternoons, thunderstorms and heavy rain can frequently roll in. The nights during any season can also get pretty chilly. With such a wide variance in the temperatures and weather, it's a good idea to pack for all seasons. Start off the day in layers, with fleeces, warm hats, long pants, and any other cool- to cold-weather gear. As the day heats up, shed layers for warm-weather clothing like your best hiking pants or hiking shorts, short-sleeve shirts, and more. For hiking pants, we suggest investing in a pair with a zip-off system to keep your legs cool, like Kuhl's high-performance Renegade Convertible Pants.
Rain jacket (and other water-resistant gear)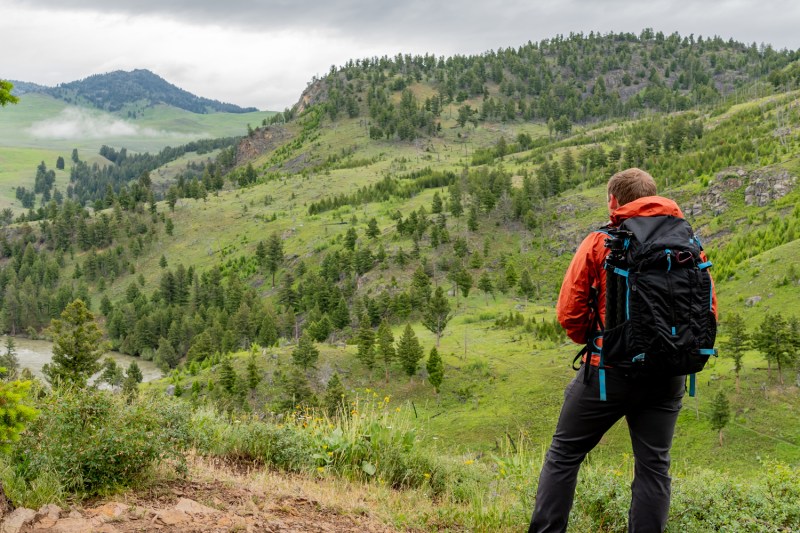 Because of the frequent afternoon thunderstorms, make sure to pack your best rain jacket or a full-on waterproof jacket (that can easily be folded up and packed in your daypack when not in use), waterproof shoes, and other waterproof gear. Although there is a plethora of rain gear available in the market, we love Jack Wolfskin's latest Tapeless 2.0 rain jacket for its lightweight, easy-to-pack design with a three-layer outer shell for fighting off even the worst downpours. Bonus: It's among the most sustainable rain shells on the market, thanks to the removal of more than 60 feet of seam-sealing tape from the manufacturing process.
First-aid kit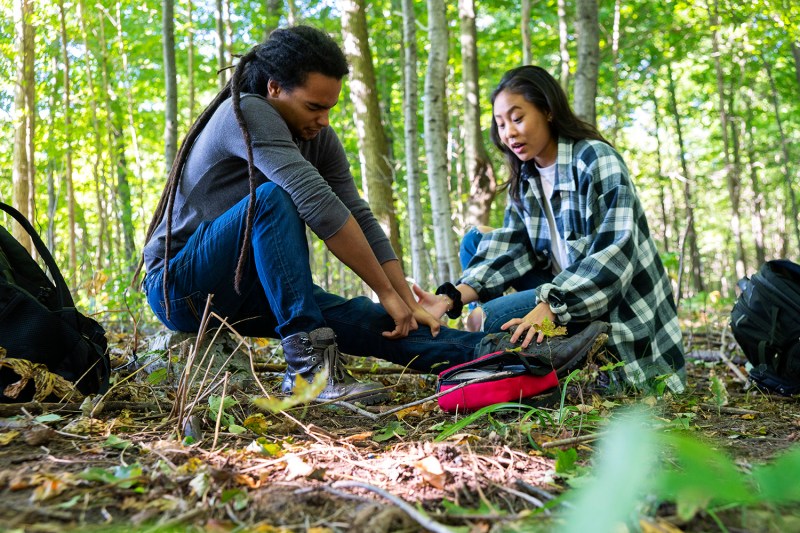 Even on easy day hikes, you can still get scratched up, so pack a small first-aid kit in your daypack with Band-Aids, disinfectants, and other essentials. There are many DIY emergency kits for your travels. If you're afraid that you might miss an essential, you can purchase the I Go 85-Piece First-Aid Compact Kit to help you prepare for minor injuries along the way.
Snacks
There are plenty of dining options around Yellowstone, but if you're primarily spending the day on hikes or visiting popular attractions, you'll want to bring your own food along to maximize your adventure time. There are plenty of packaged hiking snacks available, and some that you can make on your own. The best protein bars are good, too, particularly this offering from One. Packed with 20 grams of protein and only one gram of sugar, One's protein bars will keep you pumped throughout the day while giving you a too-good-to-be-true snacking experience.
What to pack for backpacking or multiday camping trips in Yellowstone National Park
For longer stays in Yellowstone's backcountry on multiday trips that require overnighting or even camping at a legit campsite near the main tourist areas of the park, pack all of the above, plus add these items to your packing list:
Tent
In the backcountry or camping in one of the better-outfitted front-country campsites, you'll want a good camping tent. Whether you are traveling to Yellowstone alone or with a group, be sure to pack one that's weatherproof to keep the rain out or bring along a rainfly. For an ultralight option, we recommend Six Moon Designs' or, if a legit tent is more your speed, Coleman's Sundome Camping Tent is perfect (and available in several sizes). For something more substantial, spring for MSR's all-new Habiscape 4-Person Family & Group Camping Tent.
Sleeping bag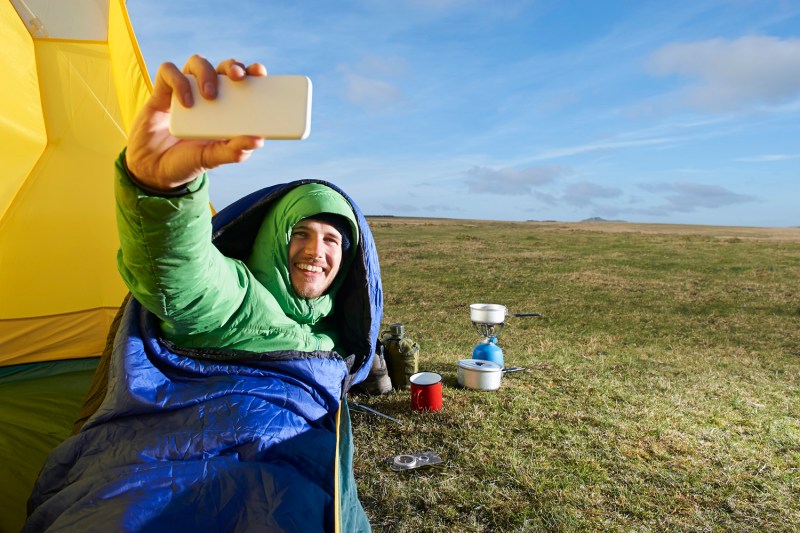 Few people want to sleep on the cold, hard ground, so pack a well-insulated, comfortable sleeping bag like Nemo's latest Forte Endless Promise Synthetic Sleeping Bag. It's good down to 35°F (or 20°F, if you're planning a cold-weather camp), plus the latest model is the brand's first-ever 100% recyclable bag!
Water filter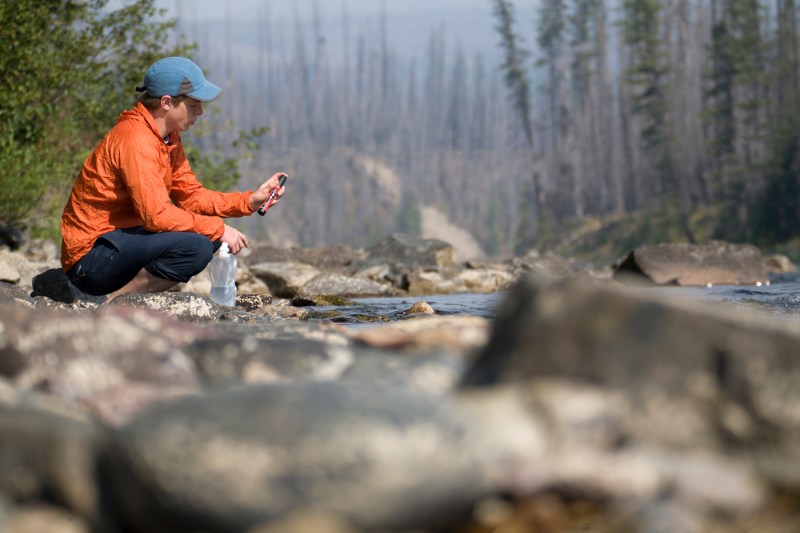 There is ample water throughout Yellowstone National Park from its thousands of lakes, rivers, and other bodies of water, but you'll still need to make sure it's safe to drink. Most portable water filters are compact and easy to pack, so this is one of the best ways to make sure you stay safe and healthy when you're in the middle of nowhere. We recommend LifeStraw's Personal Water Filter for your drinking needs as it eliminates salmonella and other water-borne bacteria.
Bear-resistant food storage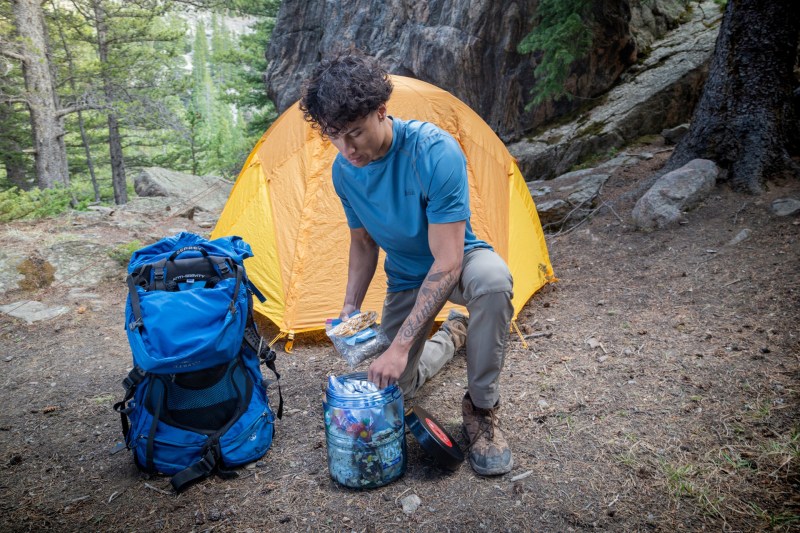 Don't let the bears get to your grub! It's dangerous for you and also endangers the bears as they can develop a taste for human food. Before going to sleep each night, pack your food in a bear-proof container that can be either hoisted into a tree or placed downwind from your tent. Our top pick is BearVault's BV475 Trek Bear Canister. The container helps suppress the smell of food to prevent famished bears from raiding your favorite snacks.
Toiletries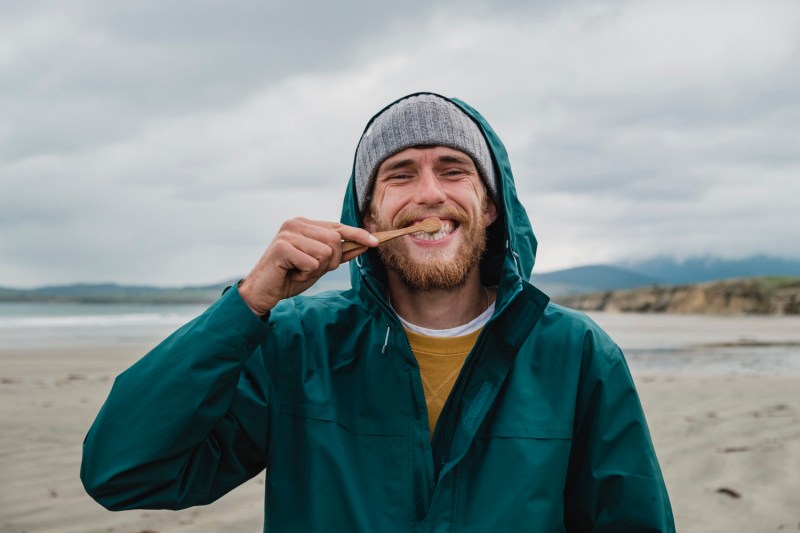 Don't forget the basics, like toothbrushes, toothpaste, deodorant, hairbrush, and other toiletry essentials. And all the better if they're eco-friendly and biodegradable! It's wise to invest in a compact carrying case for your camping toiletries, and this toiletry bag from Sea to Summit gets the job done thanks to its multiple mesh pockets.
Headlamp / flashlight
There's nothing worse than trying to go to the bathroom in the middle of the night without a good camping lantern or a headlamp. Never fear! BioLite's HeadLamp 425 will help you navigate in the dark with its 425-lumen white LED bulb. Plus, it's easily rechargeable via any standard USB-C outlet.
Ground mat / outdoor blanket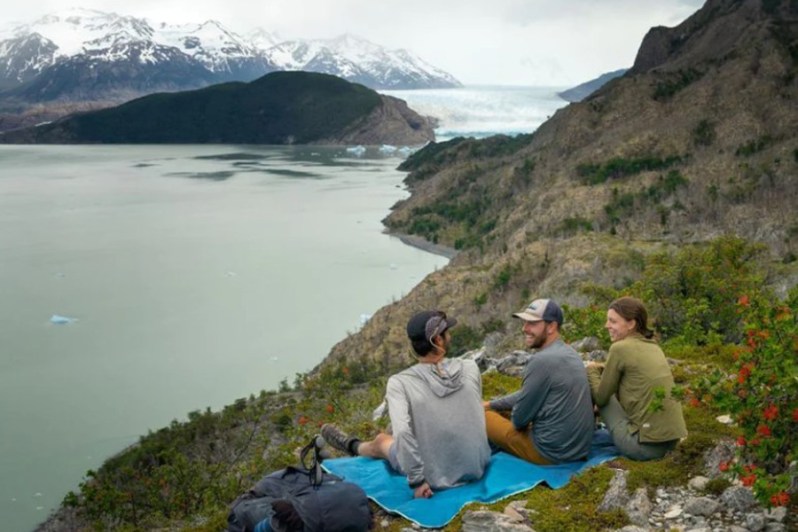 Whether you're looking to day hike to a beautiful picnic spot or you need a little extra space to spread out at basecamp, a legit ground mat is your man. Rumpl's aptly named Everywhere Mat is like a classic beach blanket on steroids. It's purpose-built for the great outdoors with a stain-resistant design, a waterproof underside, and built-in storage pouches and pockets to stash your smallest camping bits and bobs.
Permits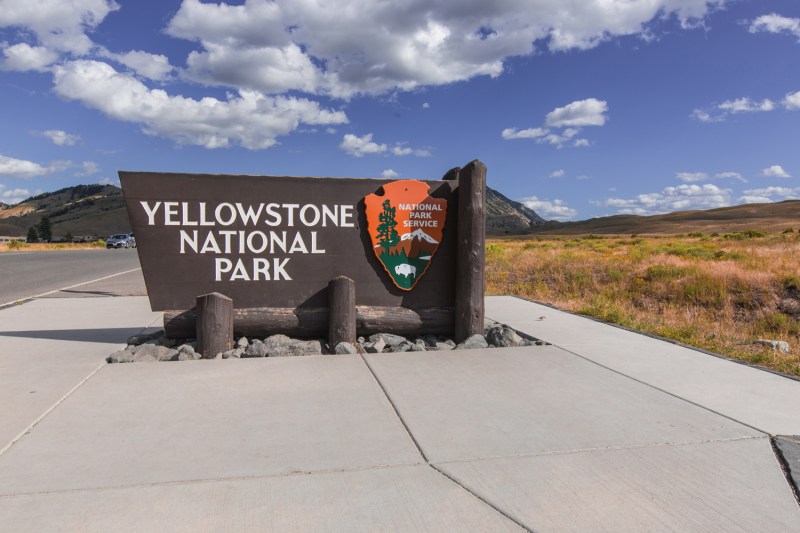 All overnight stays in the backcountry require a permit, so be sure to apply for yours well in advance!
When's the best time to go to Yellowstone National Park?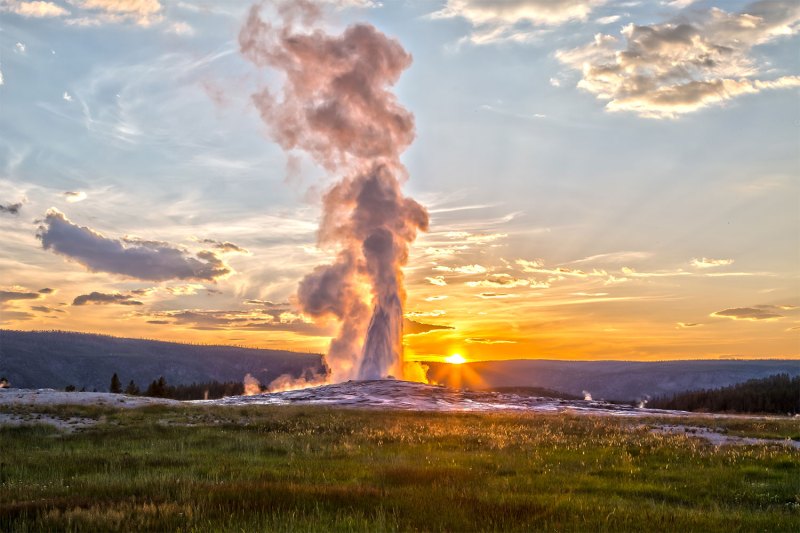 Yellowstone is most popular during the summer, which means that if you want to experience the park during fair weather but with fewer crowds, you should aim to visit during the shoulder season months of April to May or September to October. Visiting outside of peak season has many benefits besides reduced crowds: In spring, the foliage starts blooming, and the bison are in calving season, while in autumn, you get to see the park's spectacular fall colors.
The park is still open during the winter, but many of the roads, lodges, and other park infrastructure and amenities are closed, so access is significantly limited. It's still possible to get around by snowmobile, snow coach, snowshoeing, or skiing. But unless you're an experienced outdoorsperson, it's recommended that you explore Yellowstone in winter only with a guide or as part of a tour. If you are planning to visit Yellowstone during the winter months, you'll need to plan and pack accordingly for frigid temperatures, heavy snowfall, and other difficult weather conditions.
Editors' Recommendations